Traditional life-insurance shopping can be confusing and frustrating. 
Usually, you have to compare quotes from several companies or visit a comparison site whose salespeople end up hounding you to buy from them. 
On top of that, before you can get any quotes, you have to provide personal information. 
By the time you've collected rates from several insurance companies, you're second-guessing whether your information is secure and wondering if comparison shopping for life insurance is worth the risk.
That's why we LOVE Policygenius.
Policygenius simplifies life insurance shopping and provides a safe, secure way to compare and purchase policies from top companies. 
Unlike other online comparison tools, Policygenius doesn't sell your information to marketers or spammy sales teams.
Compare Rates In Under 3 Minutes And Save An Average 40%
At Policygenius, you can get several quotes from top companies without even having to share your name or email address.
Try it now! Answer a handful of easy questions such as your age, zip code, and health to view pricing and coverage comparisons. It's free and takes less than 3 minutes!
Looking for a million-dollar policy? On the results page, just move the coverage slider to $1,000,000 and your rates instantly adjust to show you the monthly costs of a million-dollar life insurance policy.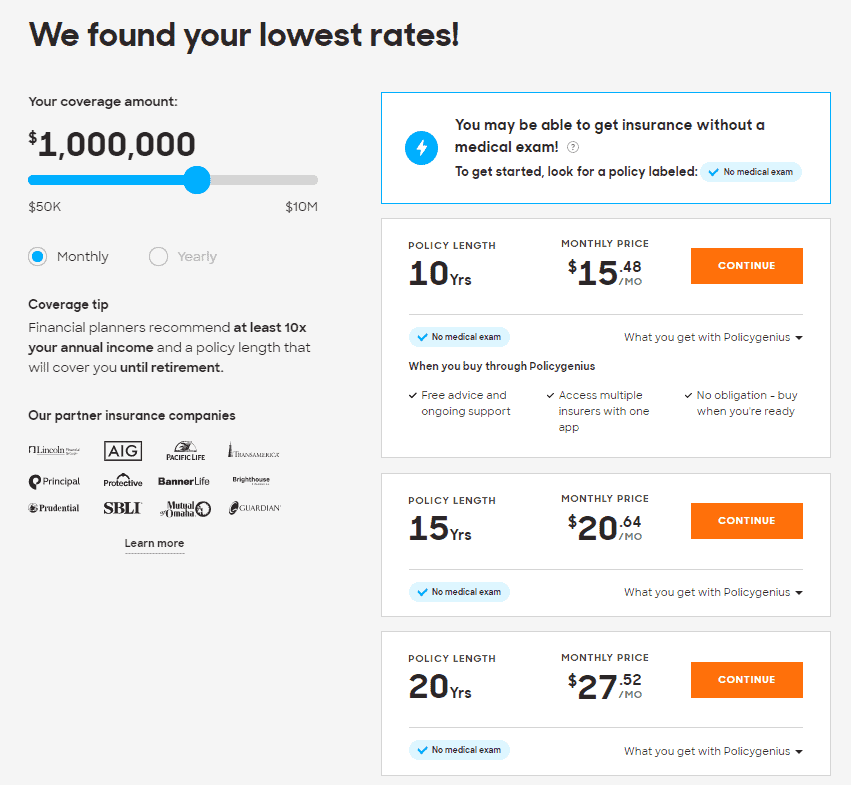 Did you know life insurance companies often charge different rates for the same policies?
When you choose a policy, you're usually locking in your rate for the next 10, 15, or 25 years, so finding the best rate can mean saving a lot of money over time. 
Comparison shopping on Policygenius can save you 40 – 50%, and there's no cost to use the service. You don't need to share your name or email to compare rates, and if you decide to purchase a policy through them, your information is secure.
How To Buy Your Million-Dollar Life Insurance Policy
Once you compare quotes and find the best rates, you can purchase your life insurance policy directly from Policygenius.
That's right — you can use Policygenius to compare AND purchase life insurance, without any pressure to buy from one company over another.
Policygenius is a 3rd-party broker, so their loyalty is to you, not an insurance company. 
Need help deciding between insurers?
The experts at Pg can guide you through the entire process of comparing and purchasing a life insurance policy, from start to finish, at no cost to you.
If you have questions, they can provide unbiased guidance to help you find the best life insurance package for your situation.
They can even help you negotiate rates and fill out paperwork. Plus, if your policy requires a medical exam, they can schedule it for you.
Most companies only help you compare quotes, but the folks at Policygenius are dedicated to helping you every step of the way. 
The #1 Best Way To Shop For Life Insurance
No matter what size policy you're looking for, Policygenius gives you a hassle-free way to compare rates and buy the best policy.
You can compare rates in minutes without sharing your name or email address, and the information you do share with Policygenius is always safe and secure.
Their licensed experts are standing by to answer your questions about life insurance, and if you need more help, they're happy to guide you through the entire process.
Try it! Compare life insurance rates on Policygenius now and find out how it can be to protect your family's future.
Keep Reading: