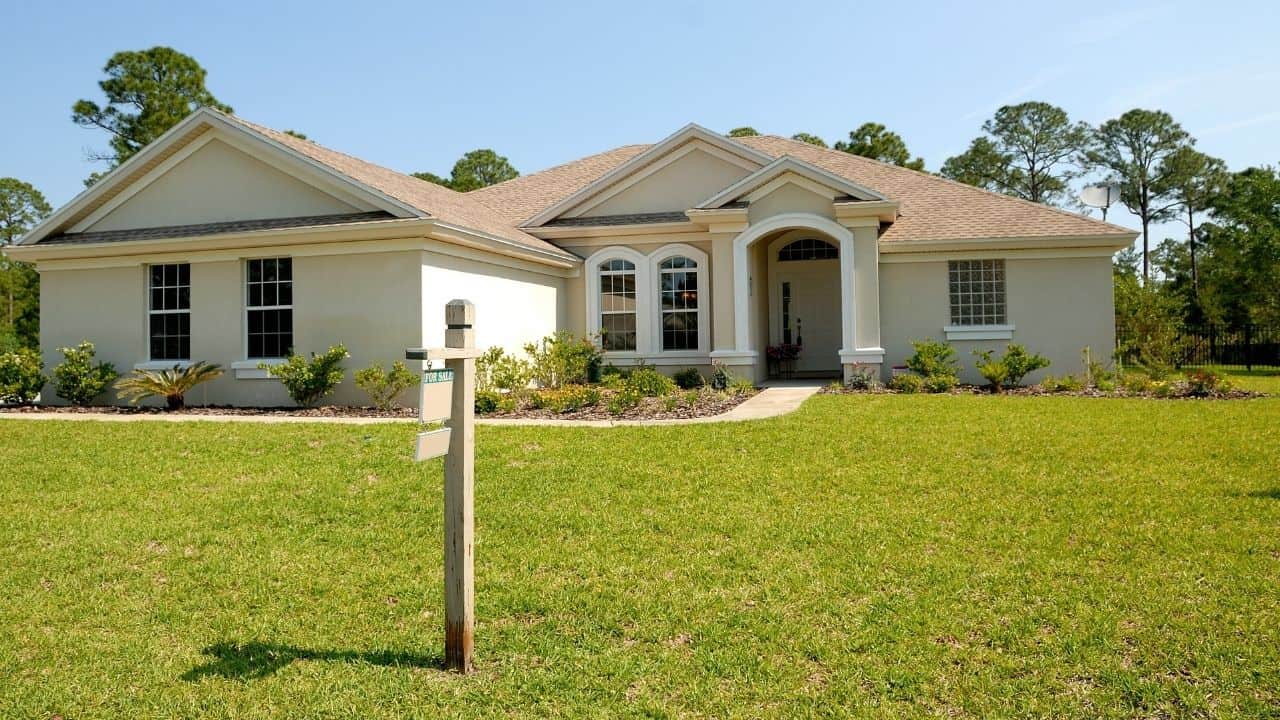 Disclaimer
We only endorse products that we truly believe in. Some of the links below may earn us some extra guac at no additional cost to you. Please pass the chips & thank you for feeding our habit.
Are you in the market for a home? Buying real estate is an awesome way to invest in a tangible, hands on asset that will increase in value over time if you're strategic. When my husband and I first started house hunting for our own home, we were astounded with the options out there. Did we want a "move-in ready" home? Or a "fixer-upper?"
It was up to us to decide which would suit our budget and our lifestyle. I scoured Zillow and received alerts daily about new listings popping up. We were quite overwhelmed with the options, but optimistic that our choice to buy a home was the right one. 
Now, as a seasoned homeowner, there are several things I would do differently looking back. I've found that foreclosures are actually a great way to get an awesome return on your investment if you are willing to put in the time and effort it takes to fix a house up. Hear me out: you don't have to be Joanna Gaines and DIY your way to a more expensive property.
You can hire out contractors to demo any part of the house you're not happy with, and before long you could resell your home for a profit. This is the route I would go for our next home purchase. I've looked at several tools to help my husband and I find our next investment property, and the best by far has been Foreclosure.com. 
Foreclosure.com is a legitimate and helpful resource to find real estate that you can invest in to make a profit. 
This database containing any and all available foreclosures near you boasts timely updates, comprehensive overviews, detailed photos, and incredibly helpful customer service for just $39.99 per month. In light of the money you'll save in buying a heavily researched foreclosure property, and selling it for profit later, this is a steal if you ask me. 
Platform
Minimum Investment
Fees
Link
$10
1% Fee
Other fees may apply
Learn More
$1,000
2% Fee
Other fees may apply
Learn More
$25,000
0.5% - 2.5% Fee
Other fees may apply
Learn More
There are also several types of foreclosed or near foreclosed properties offered on Foreclosure.com, so you can catch listings even before they officially foreclose. Here are the main categories to look out for:
Foreclosures
Most people are aware of what it means to encounter a foreclosed home. Typically, for whatever reason, an owner cannot pay their mortgage for a period of time, and the financial institution to which they owe the mortgage will take ownership of the property. This means it is vacant.
Preforeclosures
Preforeclosures are also pretty self-explanatory. These occur when an owner is behind on their payments, but the property has not yet been seized by the financial institution. These are good to be on the lookout for, and snatch up as they become available.
Short Sales
Typically, a short sale occurs when a homeowner is desperate to sell their home for financial reasons, or otherwise. These can be awesome deals due to the speediness of the sale.
As-Is or Rent-To-Own
As-is properties are just that. They might be in bad shape, and listed as a deal for an investor that's interested in fixing a property up.
With rent-to-own, these properties might be a great opportunity if you're not interested in typical financing. An investor might strike up a deal with an owner to eventually own a property, and rent in the meantime.
How To Use Foreclosure.com's Safe Web Platform To Find Real Estate
I always like to start with a web-based platform if a company offers both an application and a web-based experience. This way, it's easier to set up a secure password, navigate the site in its entirety, and eventually download the coordinating app. So, first we'll walk through Foreclosure.com's web-based system, and then their mobile app.
When you start looking for a foreclosed property, the key will be research, research, research. Foreclosure.com will provide you with all the online information you can possibly find about a property you're intrigued by, and then you'll talk to the experts. Here's a step-by-step process taking a look at how you'll set up your account online, and continue the research journey to find your perfect investment property:
Sign up for Foreclosure.com. Enter in your personal information, then add a card to charge the $39.99 monthly fee to use this awesome database. The good news is

you'll get a free 7-day trial!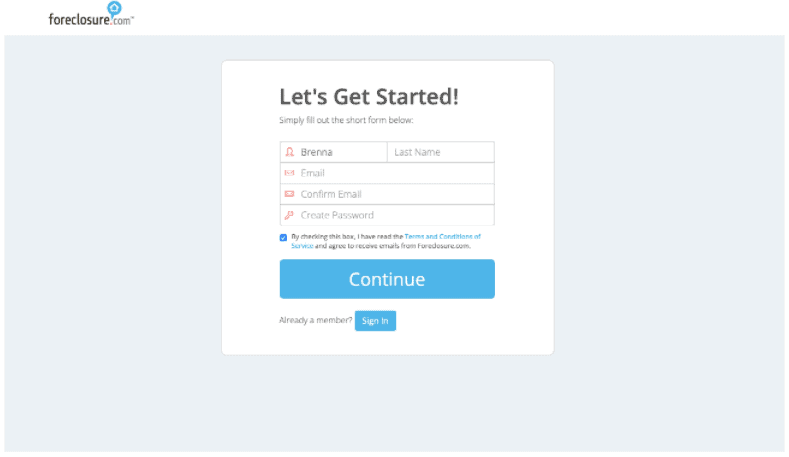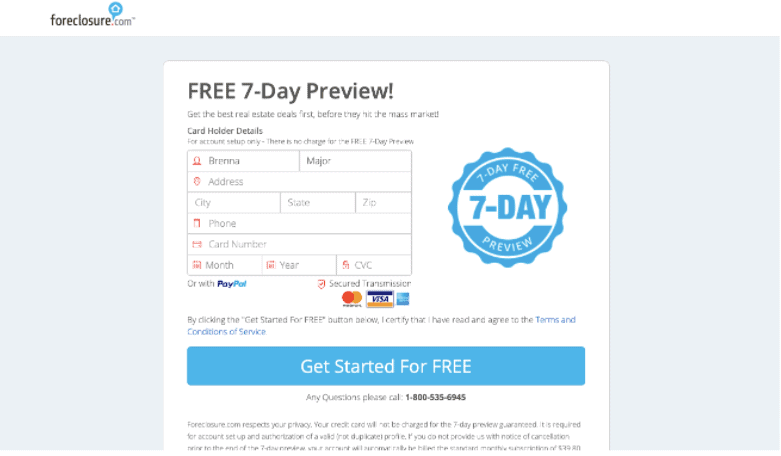 2. Start searching! Enter in the area you're looking at, and start searching for a great deal.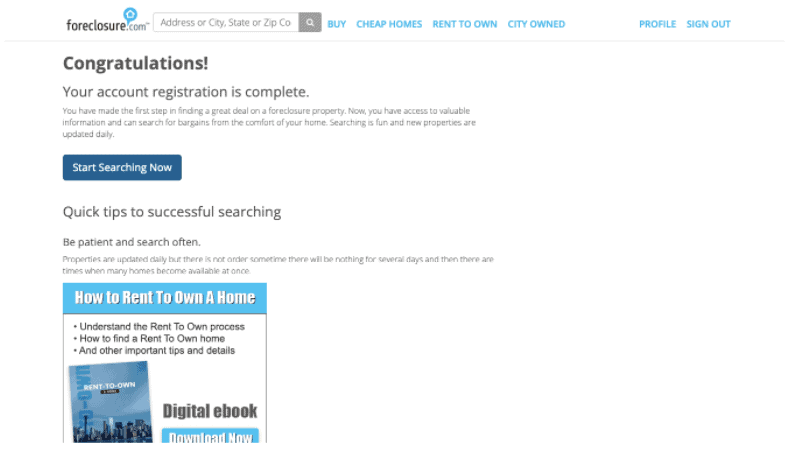 3. Check out a foreclosure you've been eyeing. Select the home that pops up and catches your attention, and dive into the details of the property.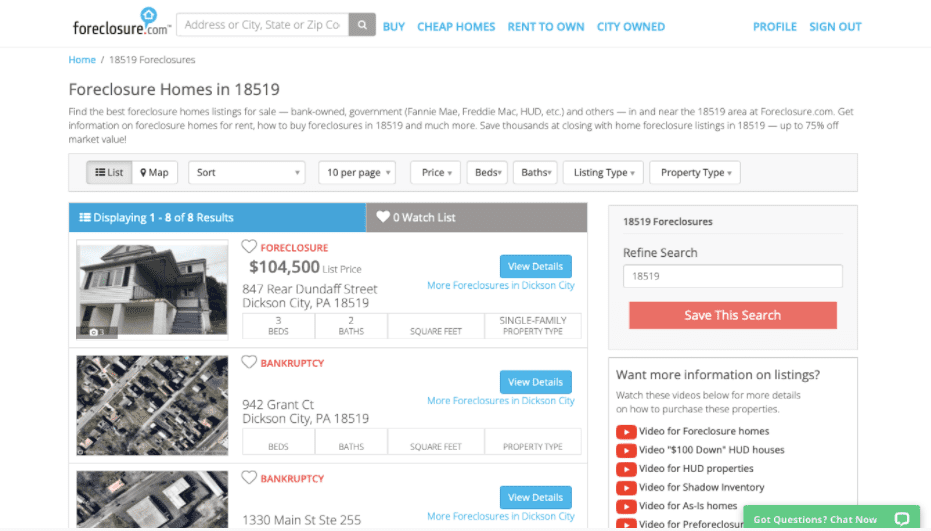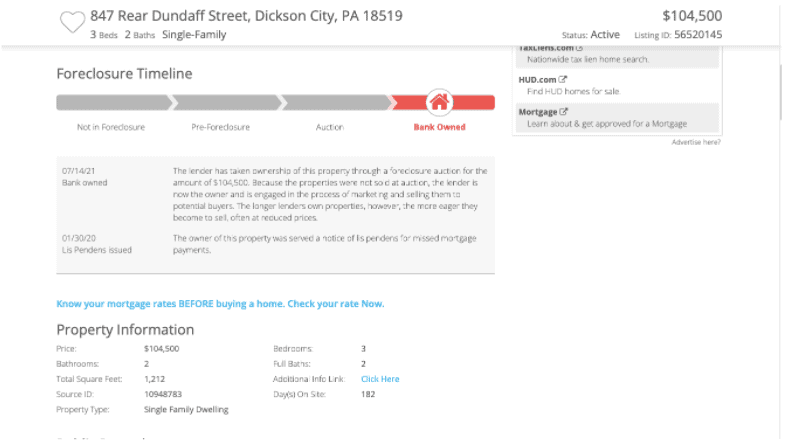 4. If you feel good about moving forward, now is the time to pull out your detective skills. Foreclosure.com gives you all the relevant information you need to contact the realtor assigned to the property you're interested in, so you can contact them and set up a meeting. Check out the property on-site (or send a trusted representative to be your eyes and ears). Here are some great ways to do your due diligence as you consider a property:
Continue asking about the property history. Ask the realtor, neighbors, and anyone who knows the property well about any issues or events at the property that might be a risk later on. 

Visit the property multiple times. Try to check out the home at night, during the day, on a weekend, and on a weekday. This way you'll get a good feel for the area, the curb appeal, and the property's general value.

Refer back to Foreclosure.com. You can find many tips, tricks, free resources, and highly responsive customer service representatives on Foreclosure.com. Make sure to utilize the site as you continue to vet the property. Here's an example of the detailed tips they provide: 
How To Use Foreclosure.com's Application To Find Real Estate
As you can see, Foreclosure.com's web-based platform is easy to navigate, and provides so many resources to investors. I found that their mobile application provided less features, but was still helpful for on-the-go research. 
I started by logging into my account, but quickly ran into an issue when I searched for listings. I didn't see the same listings in my area that were available on my laptop, and I couldn't even open the one listing that was present, because I had started with a free trial. Be aware of this hurdle when you download the application, and try to check out more listings once your free trial expires.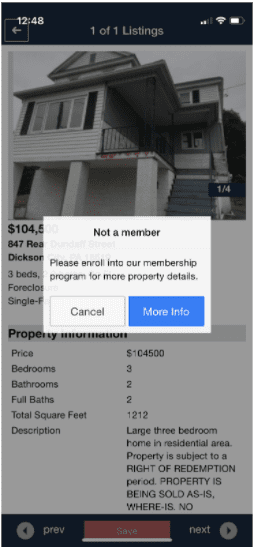 Next, I checked out all the search features on the app. My phone was unable to access most of these features, and some of the app's icons wouldn't pull up a new screen for me to try out the different search bars. It's possible that once my trial's up, I'll be able to access these features. 
All in all, the web based platform was the way to research foreclosures. If you're in a pinch on the road, the application might provide what you need, but I'd stick with logging into Foreclosure.com online.
Using Foreclosure.com As a Legit Way To Find Real Estate
Because of the detailed features mentioned above, you can see that Foreclosure.com is a legitimate way to zero in on a specific location to find details on a foreclosed property. This can be an incredibly helpful tool if you're looking for a great deal on an investment property. The wealth of information found on the site can guide you as you make moves to find out more about properties you're interested in so you can diversify your investment holdings with a real estate property (or ten). I've already begun scouring the site to find my next property!