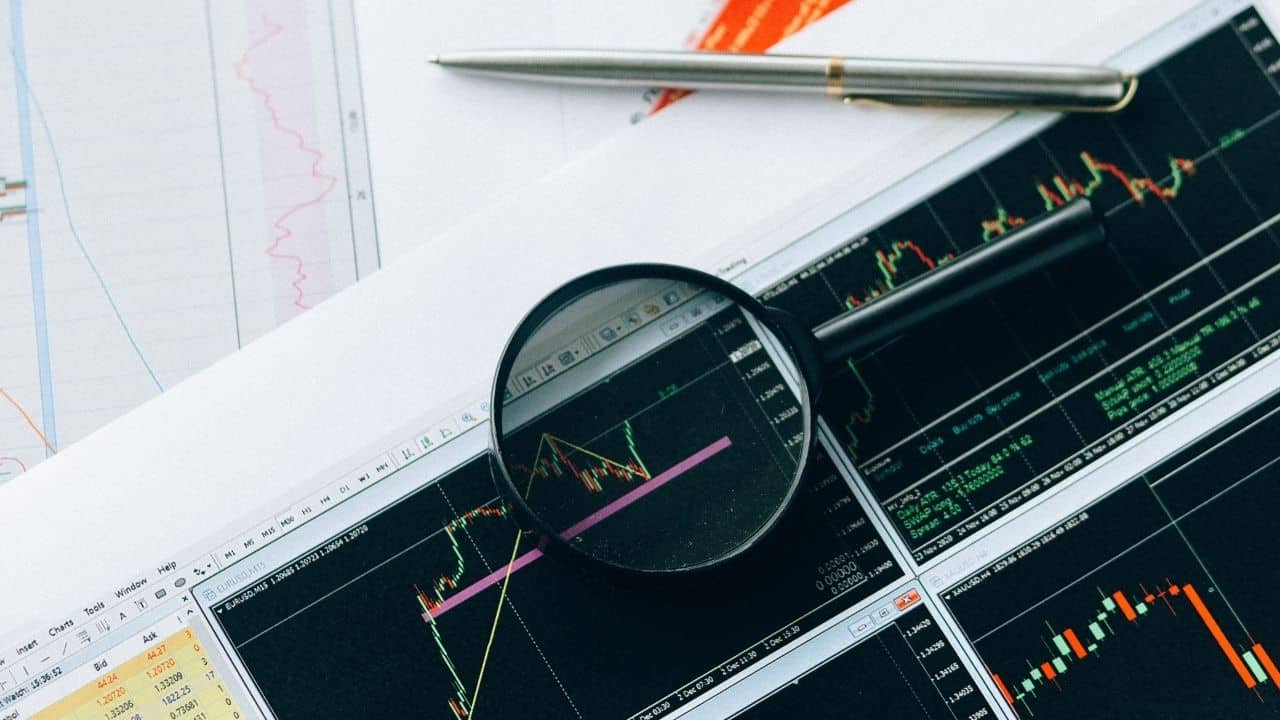 Disclaimer
We only endorse products that we truly believe in. Some of the links below may earn us some extra guac at no additional cost to you. Please pass the chips & thank you for feeding our habit.
Although my generation is certainly different, I grew up in a family where investing was viewed with suspicion. Anything that involved the bank raised eyebrows, and many of my family members would say, "Why invest? You're better off with a lottery ticket—it's all just a big gamble, anyway!" 
Well, after investing for nearly ten years, personal experience tells me that long-term investing is way, way more profitable than the lotto. 
But why do so many folks feel like investing is the same as a wild night at the casino or the equivalent of a Powerball ticket? 
Is stock market investing just gambling? Or is it a smart way to build wealth? 
We've got to draw the line between what separates these two very different types of speculation from each other. Here's a deep dive into why the stock market isn't just gambling.
Is The Stock Market Just Gambling?
No, the stock market isn't just gambling. That's because: 
Stock market investing requires calculated risk and research, unlike gambling, which is based largely on chance. 
Investing is long-term, while gambling is short-term. 
The stock market can generate dividends and passive income.
When you hear the words "investing" and "gambling," your mind might go to Vegas or your local blackjack table. And you've probably heard that investing in the stock market is a gamble—I certainly have! 
You've heard that the market is unpredictable and volatile, that you can't know if a certain stock will rise or fall, and that you can't predict if or when the market will go up. 
If you look at it that way, investing and gambling seem to have a lot in common! Both activities are inherently risky, and they each require a degree of skill to (hopefully) get a return on the money you put in. 
But while gambling and investing in the stock market share some of the same risk factors, they're miles apart in terms of building wealth. 
Even though the stock market isn't really a gamble, it can still throw you for a loop. That's because, like gambling, it's also unpredictable. You might buy a stock and find that it goes nowhere—or even worse, that it loses money.
While it's true that the stock market isn't a guarantee, that doesn't take away from the fact that investing in the stock market is actually a good idea.
Why The Stock Market
Isn't
Gambling
First of all, gambling and investing are two totally different concepts. 
According to Mirriam-Webster, gambling is "the practice of risking money in a game or a bet." But it defines investing as "committing money in order to earn a financial return; to make use of for future benefits or advantages." 
Sounds to me like these are definitely two different things. 
For example, casinos are places that take your money if you lose at games. The stock market isn't a casino—instead, it's a place where you buy and sell shares of companies that might or might not do well.
Unless you're covering your eyes and picking investments at random—and I hope you aren't doing that—you aren't gambling when you put money into stocks.
How Is Investing Different From Gambling?
While gambling is based on hoping for the best, investing is more about calculating the odds and understanding what you're getting into.
Let's take a look at some of the ways that investing is different from gambling.
Educated investors

: The entire point of gambling is to put your money on something that has very little chance of paying you back. But in the stock market, you can actually make money if you pick the right stocks. Sure, you can lose money, but the

S&P 500 returns an average of 10%

, which is way better than gambling in the long run.



Calculated risk

: Are you guaranteed to make money with investing? No, of course not. But even then, a good investor takes a calculated risk with every investment. As long as you put in the effort to invest in the right stocks, there's a good chance you'll succeed. Unlike investing, gambling is all about taking reckless risks and hoping it pays off—it's not exactly a strategy rooted in research or wisdom.



Long-term: Gambling is usually a one-and-done thing you do in Las Vegas. But investing through platforms like M1 Finance or Robinhood allows you to grow wealth steadily over time. You don't need to spend $5,000 at the blackjack table and hope it pays off—with stocks, you can steadily grow your wealth with dollar-cost averaging and even fractional shares.

Is Options Trading Or Day Trading Gambling?
Hm, that's a good question. I certainly don't recommend options or day trading for beginner investors, largely because it requires a lot of time and money—oh, and it's a lot riskier than traditional investing. 
While I wouldn't say that day trading is 100% gambling, it's closer to gambling than it is to traditional investing. 
With day trading, you make a lot of quick, short-term transactions with the goal of timing the market. Sometimes this pays off, but other times, it can lead to devastating losses. Day trading also requires you to be active in the platform all day, every day. 
Even so, day trading isn't gambling. That's because gambling is based largely on luck. Although day traders take on a lot of risk, they still do a decent amount of research to make informed decisions, which means that day trading isn't the same as gambling.
The Verdict – Is The Stock Market Gambling?
Is the stock market gambling? No. 
The stock market is full of risks and unknowns, but if you take an informed, long-term view of the market, you'll grow your money over time with less fuss. 
By following a proven investing strategy and learning the basics, you can reduce the risks and make money in the long run. And with so much to gain, why wouldn't you give it a shot?
Before you plunge headfirst into the world of investing, it's important to understand the basics. That's where we come in. Sign up for Market Insiders to not only learn about investing, but see how you can reduce your risk and improve your long-term wealth through strategic investing.