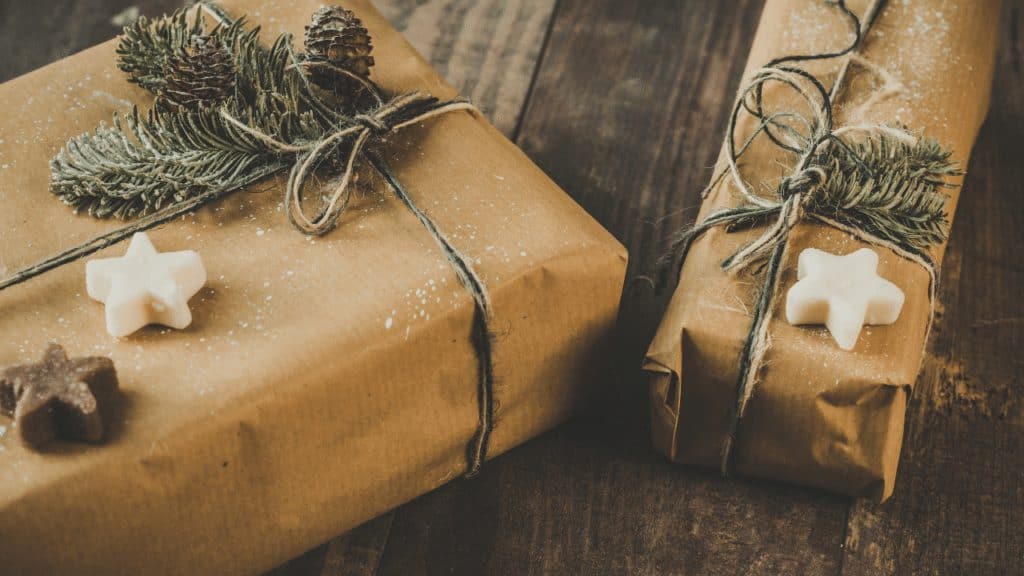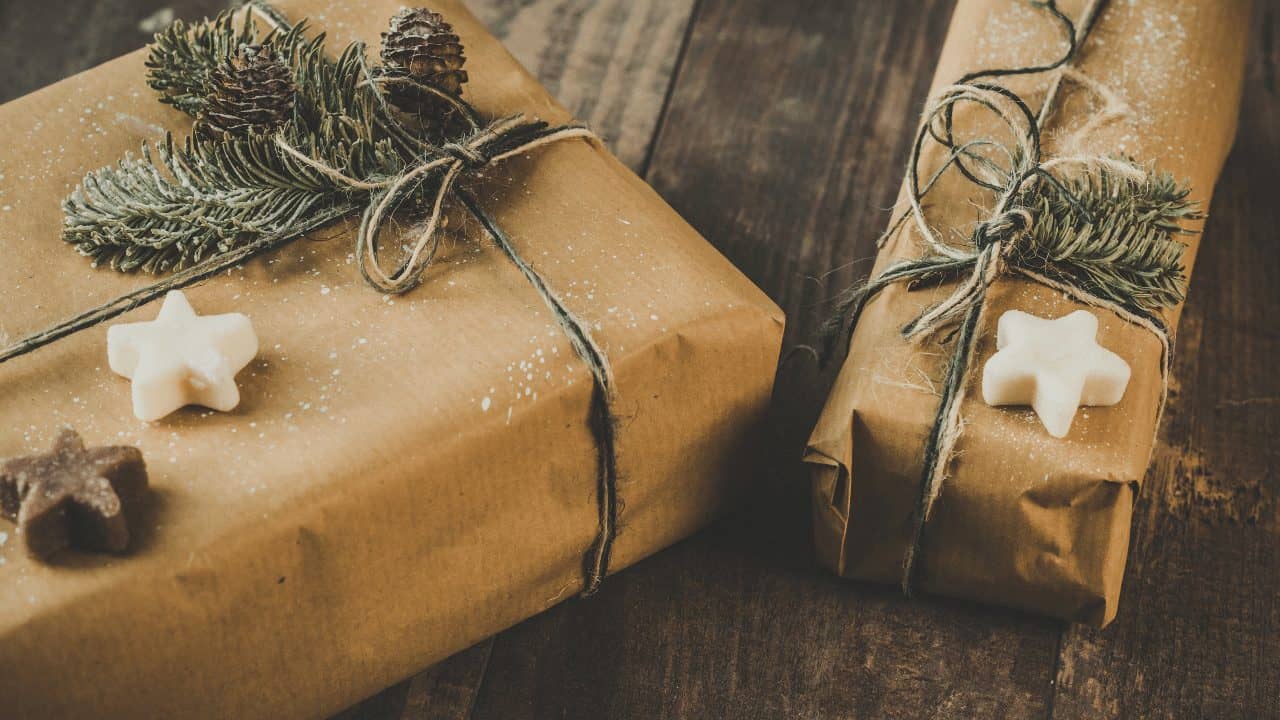 The holidays are here again. That means fabulous parties, counting our blessings, delicious treats, festive decorations, and plenty of thoughtful gifts. It's incredibly easy to get caught up in the hustle and bustle (not to mention the deals!) this time of year.
But here are a few tips to help make sure you can celebrate, give, and show appreciation for those you love without breaking the bank giving gifts this holiday season.
Quality Over Quantity
There are probably a few gifts you've received over the years that stand out in your mind. And as you reflect on them, you may realize that it was the thought behind them or the sentimental value they held that made them so special. Not how many of them you received.
My fondest memory of a sentimental gift is something my now-husband gave me our first Christmas together.  He crafted a gift tag out of metal on which he stamped "love" for the first time.
In hindsight, I'm not sure it was meant to be a gift, and I can't for the life of me remember what it was attached to, but I carry it on my key ring to this day.
With that in mind, put a bit of effort into thinking about who you're buying for and what they would really appreciate receiving. Consider their hobbies, what makes them excited, or recent conversations you've shared.
Yes, this might take you a few minutes of brainstorming as opposed to one-click ordering on Amazon. But the look on the face of the person who receives a gift they genuinely appreciate is well worth your time. Not to mention that you'll find yourself giving fewer, more meaningful gifts, which means savings in the long run.
Think Outside The Giftbox
As we get older, we realize that the best things in life are free or aren't even necessarily things.
Consider giving those you love an experience instead of an item. One year a good friend of mine decided to forgo presents entirely in favor of a day trip to the local ski resort with the family instead. Get creative with it, and don't limit yourself to physical items.
Tickets to a local concert, a food tour, or something else that will make the recipient feel like a tourist in their town are unique options that create an experience they'll remember for a lifetime. These gifts don't need to be lavish, like a night out at the fanciest restaurant in town.
In fact, most local events tend to be relatively inexpensive for what they're worth, especially if you use a site like Groupon or LivingSocial. And the recipient will never need to know that the tickets you got them were two for the price of one!
Make It a Game
A game like secret Santa or a white elephant gift exchange is a fun way of allowing family members to express themselves with the added benefit of each participant contributing only one gift.
This is a great way to spend time with loved ones and create memories without the pressure of stressing over if each person will like the gift you got them. You never know who at the party might appreciate a pooping pooches calendar. (Yes, I brought that to a white elephant exchange last year and someone stole it!!)
Pro Tip: If your family gets together for Thanksgiving, it's a perfect opportunity to promote the idea and draw names if necessary.
Consider Giving The Gift Of Time
Is there someone in your life, maybe a spouse, sibling, or close friend, who could really benefit from some alone time? It's likely the person who came to mind has several children and a full-time job.
Giving the gift of your time to someone who needs it is like a gift in reverse. Offer to perform a household chore, fix something for them, build the garden they've been dreaming about, or just watch the kids for a few hours while they go read a book at the park.
Time is one of the most precious gifts we have as humans. And selflessly gifting yours to another person is not only incredibly generous, but it's also free.
Set Limits
If your family is big on gift-giving and there's an expectation that you'll spend a certain amount, see if everyone is agreeable to setting a maximum amount per person.
You may be surprised by how many other family members will be on board with capping gifts at $20 or $50 per person. Very few people actually want to spend extravagantly over the holidays and get hit with a massive credit card bill come January.
Make It Yourself
Not everyone is blessed with the genes of a creative artist. And for those that aren't, there's Pinterest. There are so many fantastic ideas for homemade holiday presents that are incredibly thoughtful and won't take too much time or money. 
Every year my Mom and I make these homemade lip balms and give them out in packs of 3 to the fabulous ladies in our life!
If you have kids, this is an awesome way to get them into the holiday spirit and help them understand the real meaning of giving gifts. Plus, you'll get to bask in the glory of everyone fawning over your insane craftiness!
Opt For Gifts That Keep On Giving
Subscription boxes have become all the rage in recent years. You can now have clothes, wine, dog toys, date nights, ramen noodles, and virtually anything else you can think of delivered to someone's door all year long.
The best part about subscription boxes is that many of them have incredibly generous introductory offers for the first few months. That means you get a major discount on a gift that keeps on giving, and the recipient decides if they want to renew it after that.
(Pro tip:  If you're shopping for the man who has everything, the trial set from Harry's was a big hit with the men in my life last Christmas.)
Give To A Cause
Many organizations would sincerely appreciate a financial gift or the gift of time this holiday season. Consider taking the family to volunteer at a local food pantry or shelter or make a donation in your family's name in lieu of individual gifts.
There are many great ways to give to those in need this year, which allows you to emphasize spending money and time helping others. And that is something everyone can get on board with.
The holidays are a time to express gratitude for all the beautiful blessings we have throughout the year. But in a society that encourages consumerism and spending before the season's true meaning, it's easy to lose sight of the forest for the trees.
As long as you keep spending in perspective and don't forget what this time of year is all about, you're guaranteed to hit a home run without breaking the bank giving gifts this holiday season.
Contributor's opinions are their own. Always do your own due diligence before investing.
Keep Reading: