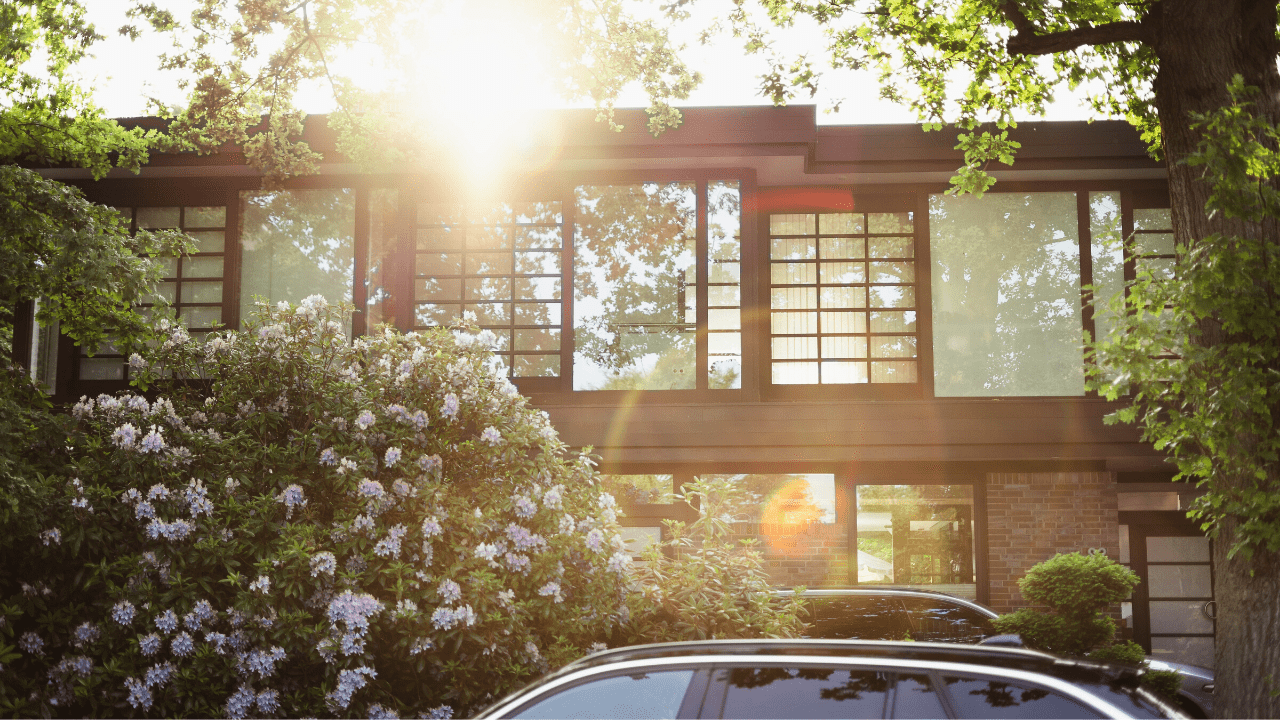 Disclaimer
We only endorse products that we truly believe in. Some of the links below may earn us some extra guac at no additional cost to you. Please pass the chips & thank you for feeding our habit.
Keeping your head above debt can sometimes feel impossible – credit card debt, student loans, mortgage(s), the list can be endless. But there's one thing you can do to relieve your financial situation: refinance your mortgage. 
Let this be your mortgage refinancing guide on why you should and exactly how to refinance your mortgage.
Believe me – if you bought a house three or more years ago and haven't refinanced yet, then you might be sitting on a golden opportunity without even realizing it.
What Is Mortgage Refinancing?
A mortgage refinance is when you replace your previous mortgage contract with a new one.
Refinancing allows you to start over and negotiate a new interest rate, term length, and monthly payments.
You can refinance your mortgage with any lender — you don't have to go through the bank that issued your original loan. And, you can refinance your mortgage as often as you like.
Some lenders require you to wait six months before refinancing again, while others are more liberal with timelines.
But remember that when you refinance your mortgage, the bank does a "hard credit pull," which may negatively affect your credit score by a few points.
However, you can get refinancing quotes from several lenders without harming your credit:
If you get all your quotes within 2-4 weeks, they all count as one — so the effect on your credit rating is minimal.
What Is The Purpose Of Refinancing A Home?
Mortgage refinancing is a popular transaction for homeowners because it lets you secure a lower interest rate while also offering you the chance to adjust the terms and conditions of your original loan.
When interest rates drop to all-time lows, people flock to their lenders to refinance because lower rates mean you can save thousands of dollars or lower your monthly payments.
7 Steps To Refinance Your Mortgage The Right Way
A mortgage is one of the biggest pieces of debt that most Americans possess. getting that payment down can not only offer financial relief, but better financial opportunities in the future.
And, the best part is, you don't have to sacrifice your home in order capitalize on refinancing.
Here are seven of the most common reasons why you'd want to refinance your mortgage.
1. Lower Interest Rate
When I bought my first house 17 years ago, I remember talking with my dad about the mortgage terms. I told him my rate was going to be 5.75 percent and he was floored.
Back when they bought their house, mortgage rates were around 9 percent!
Fast forward a few years later and interest rates continued to drop. I eventually refinanced my mortgage for 4.50 percent and was amazed by how much money we were going to save. To give you some idea:
Our mortgage balance was about $160,000 and our current monthly payments were $934. When we refinanced at 4.50 percent, our new payments dropped down to $811 per month.
That was an extra $123 of savings per month!
This is why it's so important to pay attention to the news and periodically check in to where the latest rates are at.
It might be an easy way to shave $100 or more per month from your budget that you can put towards one of your other financial goals.
2. Lower Monthly Payments
It makes sense that if you refinance to a lower interest rate then you should be able to expect your house payments to go down. But there's another factor here that can also help reduce your payment.
Some people will refinance their mortgages every 5 to 10 years just to "stretch them out" and re-spread the payments out over 30 years again.
By doing this, they'll effectively reduce their monthly payments and improve their cash flow.
Here's a simple example of this works:
Imagine you have a 30-year fixed-rate mortgage for $200,000 at 4.0 percent. Your monthly payment would be about $955.

After making payments for 5 years, your principal balance would be down to around $180,000.

You decide to refinance again and stretch out those remaining 25 years of payments over a new 30-year term. Assuming the same interest rate of 4.0 percent, the lower balance and additional 5 years would bring the monthly payment down to $859.

Thus $96 per month would be saved.
3. Pay Off Sooner
When my wife and I bought our current house, we took out a 30-year fixed-rate mortgage for $215,000 at 3.75%.
Our principal and interest payments were around $996 per month.
Then, during the 2020 COVID-19 pandemic as mortgage rates started to fall, we did something crazy: We refinanced into a 15-year mortgage. Our payments shot up to $1,451!
Why in the world would anyone want to go in the opposite direction and increase their monthly payments? For two very important reasons:
You'll pay your mortgage off in half the time. Instead of taking 30 years to pay down the full balance, your payments will be divided over 15 years. This means you'll not only accelerate towards the finish line faster, but you'll also build equity in your home much quicker with every payment.

You'll pay a lot less interest! How much? This might shock you … With our old 30-year mortgage, we would have eventually paid about $143,451 in interest over the life of the loan. But with our new 15-year mortgage, the total interest paid would be $46,248. That's $97,204 of total interest saved!
When you consider that your house payment will only go up by about 40 to 50 percent per month, that's not a bad price to pay, especially when the prize is eliminating one of your biggest monthly expenses.
And, if you can afford it, switching to a 15-year mortgage might save you a ton of money in interest over the life of your mortgage.
4. Change From ARM To A Fixed-Rate Mortgage
One of the products that mortgage companies push is something called an ARM (adjustable-rate mortgage).
This is a different type of loan structure where the interest rate will be very attractive for the first 3, 5, or 7 years.
However, after this brief introductory term, the interest rate will "adjust" to the current market rate.
That means if the rates go up, then you could be in for a rude surprise.
When my wife and I moved into our first home, many of the other young couples had purchased their houses using ARMs.
They weren't worried about a potential rate increase because they figured that they would either refinance eventually or move within the next 5 years.
But then the housing crisis of 2008  began. The economy started falling into a recession, and home prices plummeted.
A lot of the people in our neighborhood as well as others around the U.S. struggled to make their house payments. Some simply walked away from their mortgages altogether.
Long story short: If you applied for an ARM or any other alternative type of mortgage, then a refinance can help.
You'll be able to change over to a fixed-rate mortgage where you'll always know how much you owe and what your payments will be each month.
You don't need to worry about which way markets are moving or the politics surrounding those moves.
With a fixed-rate mortgage, you only need to make sure that you budget accordingly each month to cover your overall mortgage payments.
5. Cash-Out
Something that the loan officer will ask when you apply for a refinance is if you'd like to do a "cash-out".
A cash-out is when you apply for more money than what you owe on your house so that you can use it for other purposes.
For example, you might have only $175,000 left to pay on your mortgage. But when you go to refinance, you'll borrow $200,000.
By doing so, you'd effectively be taking $25,000 as a cash-out.
There are lots of reasons why someone would want to take a cash-out:
Pay off your debt like

credit cards

,

student loans

, or other loans

Renovate your home by adding an addition or remodeling a room

Use the additional capital for a business venture
Just remember that when you borrow this money, the payments will be spread out over the life of your loan.
That means if you applied for a 30-year mortgage, then you'll be paying it back with interest for the next 30 years.
The other thing to remember, particularly if you're using the money for a business venture, is that your home will be the collateral.
That means you have to be careful. If the business venture falls flat and you're not able to make your payments, then you could potentially lose your home.
But, if you're okay with the monthly payments, and you have a way to responsibly use the extra funds, then a cash-out refinance might help to buff up your overall finances!
6. Eliminate PMI
If you got your original mortgage by putting down less than 20 percent for a down payment, then your lender more than likely made you also agree to PMI.
PMI stands for private mortgage insurance. This is a special type of insurance policy that protects the lender (not you) in case you default on your loan.
Depending on the size of your mortgage, that might be another $100 or so per month charged to your escrow.
The reason they make you agree to this is that you came to the table with less than 20 percent. From the lender's perspective, they consider you to be a riskier candidate – even if you have a great credit history.
The only way to get rid of PMI is to:
Pay off your loan over time until you've acquired 20-25 percent equity in the property. The amount will vary depending on the lender's specific terms.

Refinance your loan and show that the value of your property has gone up.
A big reason why we pursued our first mortgage refinance was that we wanted to eliminate PMI and save ourselves $100 per month by no longer having to pay it.
We were sure that our property had increased in value and so we got a mortgage appraisal as part of the refinance process to prove it.
Here's how refinancing our house helped us get rid of PMI:
Our house's original value was $170,000. We owed $160,000 on our mortgage. Therefore, we had about 6 percent equity in our home.

Over the next 5-6 years, we paid off about $20,000 of our mortgage which brought it down to $140,000. All things the same, we now had about 18 percent equity in our home.

At the same time, our property had increased in value to around $200,000. By getting a new appraisal and demonstrating to the mortgage lender that this was its most current market value, the $140,000 we still owed on the mortgage meant that our true equity was 30 percent.
Since we now had evidence to show that we owned 30 percent of our house going into the refinance, we were able to drop PMI and eliminate this additional cost from our monthly payments altogether.
7. Go With A Better Lender
Not two years after moving into our first house, I got a letter saying that our mortgage company had "sold" our mortgage to another lender. I was surprised because I didn't know that they do this.
But apparently, it's a common thing because about a year after that, our mortgage was sold again to yet another lender.
What this means is that the original institution that was servicing your mortgage transferred the loan and all of its terms to a new service provider.

A bank, credit union, or other financial institution may do this so that they can free up some extra funds, which allows them to lend money to more people.
Not only was this annoying, but it created problems with my automatic payments. I was unclear about who I should be paying, if my payments were clearing, and if they even had my information correct.
On top of that, some of these lenders were pretty sketchy. They were companies that barely had working websites and no customer service phone number to speak of.
You can bet I felt pretty uneasy about sharing any of my banking information with these guys.
If this has happened to you and you'd prefer to work with someone more reputable, then a refinance can help you to get out of this situation.
That was another factor that motivated us to pursue our first refinance. We ended up going with the lender we did because they told us they specifically do not sell their mortgages.
It's not something that's going to necessarily save you any money or get you a better deal. But it did give us peace of mind that we'd finally be making payments to a legit mortgage company.
Mistakes To Avoid When Refinancing A Mortgage
Instead of trapping yourself into chronic overtime hours to keep up with the mortgage (for the next 30 years), avoid the following mistakes when you refinance your mortgage:
Don't skip the research it takes to find the best refinancing rates.

Don't refinance your mortgage for more than the amount you currently owe.

Don't pay exorbitant closing costs – instead, look for no-fee refinancing!

Don't agree to a loan that penalizes you for early payments.
Also, keep in mind that one of the greatest risks of mortgage refinancing is allowing your favorite banker to make decisions for you. Distance your banker from your wallet!
Lenders make money when people go deeper into debt, so they can be very convincing.
Know your refinancing strategy before you speak to a banker, so you don't get sidetracked by additions or perks that can harm your financial future.
When To Refinance Your Mortgage
If you're wondering if it might be time to refinance your mortgage, then here are a few simple questions that will help you gauge whether or not you're a good candidate:
What are the current mortgage interest rates?

 
Typically, if they're 1.0 percent or less than your current mortgage, then you'll almost be sure to save some money.
Don't forget to compare interest rates on both 30 year and 15-year mortgages since the ones for 15-year terms are generally a lot less.
Also, take note if the rate you're being quoted is with "points" or not since that will affect how much you'll ultimately pay at the refinance closing.
Do you want to free up a little bit of cash each month?

 
If so, then regardless of the interest rate, refinancing to spread your payments out over 30 years again is going to make your payments lower.
Generally, this is only recommended if you plan to live in your house for the long term.
Do you want to pay off your home as soon as possible?

 
Even though it will make your payments higher, a 15-year term will definitely help accelerate the process.
Plus, you'll save tens or possibly even hundreds of thousands of dollars in interest.
Do you want to get out of a bad deal like an ARM?
Switching to a 30- or 15-year fixed-rate mortgage is going to give you a lot of peace of mind.
Do you need a large sum of cash?
A refinance with a cash-out option will be an easy way to get the capital you need for that next project or activity you're planning.
How To Apply For A Refinance Home Loan
Figuring out how to refinance mortgage is not an easy job with all those lenders out there trying to squeeze as much money as possible out of your pocket.
So following these steps will help you enter the waters prepared.
Refinance Only The Amount You Owe
If you owe a $195,000 balance on your mortgage, then refinance for $195,000. 
Remember, bankers make money from debt, so lenders will often try to persuade you to add some cash into your mortgage refinancing.
Resist the temptation to use refinancing to get extra cash for a new car, boat, or long-awaited vacation.
Adding extra cash to your loan means paying out more interest over time. The debt will probably outlive any purchase you make, and you'll spend the next three decades working to pay it all off.
Compare Quotes
Before you choose a lender to refinance your mortgage, compare quotes from several places. Because interest rates and terms may vary from one financial institution to the next,  be sure to shop around.
When you're comparing quotes from lenders, consider looking for one that offers no-fee refinancing, which will help you save more money.
To quickly compare mortgage refinancing rates from multiple lenders visit Credible*.
Crunch The Numbers
With all of the data you've gathered, the next thing to do is to see if a refinance would be worth it or not.
You can calculate this yourself if you know how to do the equations in Excel or Google Sheets, or you can use a free online calculator like this one.
When making your comparison, don't forget to include things like closing costs for the refinance and interest over the life of the loan (especially if you plan on stretching out the term).
Also, be sure to include any costs for points if the interest rate you're being offered will include them.
Fill Out The Application
Once you're sure that the refinance will be beneficial and you've narrowed your search down to the best refinance mortgage lender, it's time to fill out an application.
You'll want to spend some time making sure you answer everything accurately, especially when it comes to your finances.
After you submit the application, it will take some time for the lender to verify your information and grant approval.
I recall during my last refinance that it took around 2 to 4 weeks from underwriting to closing.
Close The Refinance
Just like any other loan, the last step is to attend a closing and sign the refinance documents.
Most lenders work with networks of title companies that make it possible to do this in person either in your town or a nearby city.
Once you sign the stack of documents, the refinance will now officially become your new mortgage.
Your previous loan balance will be paid off in full and any money that was in escrow will either be refunded to you or transferred over to the new loan.
Continue With The Same Monthly Payments
Unless the goal of refinancing your home is to lower the monthly payments, the smart route to take is continuing with the same monthly payments.
So before you refinance your mortgage, make sure your new loan comes with no prepayment penalty and that any extra payments will go directly towards your principal balance.
Let's presume you have refinanced with a 30-year term length, and your monthly mortgage payment requirement is less than it was before.
So, if you were paying $2000 a month before you refinanced, and your new payments are just $1500, you'll keep making $2000 mortgage payments.
These overpayments create huge long-term advantages. 
For example, imagine you owe $200,000 on your mortgage, and you refinance at 4% interest with $1500 monthly payments over a 30-year term.
Instead of making the lower monthly mortgage payments of $1500 a month, you keep paying $2000 like you always have.
Your lender charges no prepayment penalties, and you've checked to ensure that the extra payments are going directly to your loan's interest.
Here's what happens: You save about $100,000 over the lifetime of your mortgage. Practically, you pay off your loan 15 years earlier than required and 5 years earlier than you would have if you never refinanced.
Refinancing Your Mortgage The Right Way – Final Thoughts
Some people refinance to get a better interest rate, eliminate PMI, or increase their monthly cash flow. Other people do it to change the structure of their loan.
You can even use a refinance to get a large sum of money that you can use to pay off other debt, remodel your house, or put towards a business venture.
Whatever your reason is, now that you how to refinance mortgage you can head to Credible and find a lender that will meet your needs.
*Advertisement from Credible Operations, Inc. NMLS 1681276, not available in all states. Click here for important information about Credible's licenses.