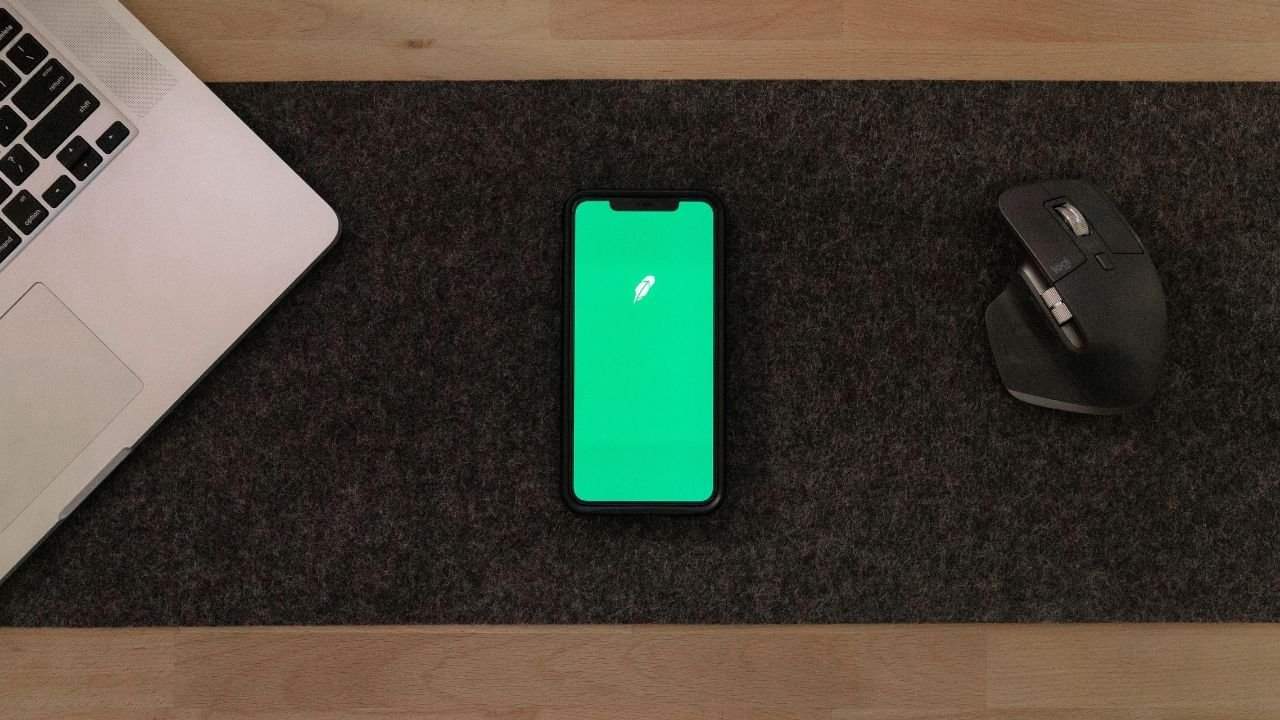 Disclaimer
We only endorse products that we truly believe in. Some of the links below may earn us some extra guac at no additional cost to you. Please pass the chips & thank you for feeding our habit.
Robinhood Review 2022
Robinhood has a lot of options for both seasoned and new investors. With no minimums and the ability to trade fractional shares, Robinhood is a great option for investors who have a bit of experience but can work for knowledgable investors.
Pros
More Than Stocks For Investing
Plenty Of Resources To Learn
Fractional Share Trading
Cons
No Retirement Option
Lack Of Transparency At Times
Caters To More Seasoned Investors
Popular investing app Robinhood is responsible for inspiring millions of people to get started investing, but many experts criticize its approach, claiming it encourages high-risk transactions. We did a deep-dive review of Robinhood to find out if it's a good platform for beginner investors or whether they should avoid it altogether.
Robinhood is an investment app that caters to beginners with commission-free trading, no investment minimums, and a highly-intuitive user interface. Its 19+ million account holders use the platform to buy and sell stocks, options, ETFs, and cryptocurrency, and to earn interest on uninvested cash.
Find out exactly what Robinhood is and why it's so popular with young people, plus learn why people lose money on the platform, and how you can avoid those losses, in our review below.
Robinhood Review
Brokerage firm Robinhood is a commission-free trading app with no minimum investment requirements where roughly 19 million account holders buy and sell ETFs, options, and cryptocurrency.
What Type Of Investor Should Use Robinhood?
Robinhood attracts young, first-time investors (average age is 31 and 78% of users are under the age of 35), thanks to features that make trading easy, such as:
A modern app that makes trading simple and intuitive

No trading fees

No account minimums
The company's simplified, intuitive user interface separates it from typical investing apps that look and feel like the ones your grandparents used.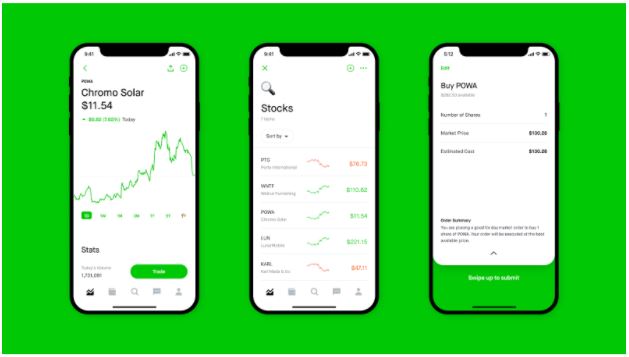 Its approach has successfully made investing more friendly to young, inexperienced investors.
However, Robinhood's simplicity, gamified approach, and loan program ("margin") can cause inexperienced investors to quickly lose money or even go into debt. 
That's why we recommend Robinhood for investors looking to gain experience with active trading but who already have some history of investing and have disciplined spending habits.
How Robinhood Compares To Other Popular Investing Platforms
Unlike popular investment apps such as M1 Finance and SoFi that support diversified and long-term investing to generate passive income or wealth-building, Robinhood focuses on active trading.
Robinhood's mission to "democratize finance for all" drives its goals of providing an affordable, intuitive, and fun experience for everyone — including beginners.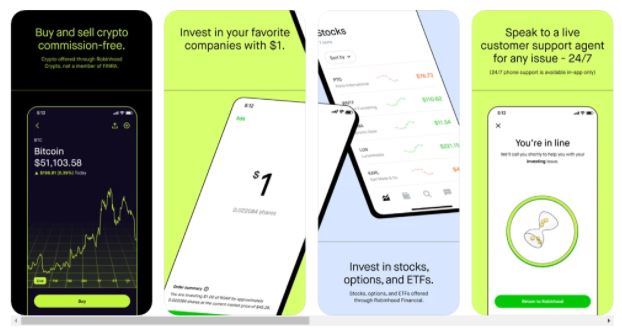 With Robinhood, you can buy, sell, and trade the following types of investments:
Stocks

: full shares, fractional shares, ETFs (including REITs), and options

Cryptocurrency

: bitcoin, ethereum, dogecoin, litecoin, ethereum classic, bitcoin cash, and bitcoin SV

Options trading
Unlike other platforms, the app does not offer mutual funds, bonds, or retirement funds, but instead focuses on active trading.
Robinhood's cash management services allow account holders to:
Receive their paycheck

Pay bills

Send checks

Withdraw cash from any of its 75,000+ free ATMs

Earn interest on uninvested cash

Move quickly on market opportunities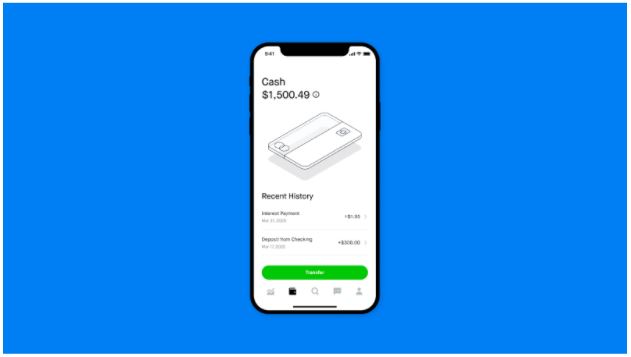 Its news and learning resources help investors stay apprised of the market and financial news and learn more about investing:
Robinhood Gold

: $5 a month gets you access to its premium service, "Gold," which provides you with professional research reports, level II data that grants access to view real-time bids and asks on any Nasdaq security, and margin investing.

Robinhood Snacks

: A free three-minute daily newsletter packed with the latest financial news

Robinhood Library

: A free library filled with guides to help you better understand all the terms, activities, and strategies associated with investing

Robinhood Investing Basics

: A free getting-started guide for new investors
Overall, the platform provides everything that inexperienced investors need to get started and begin trading — all within an intuitive interface that makes investing easy and fun.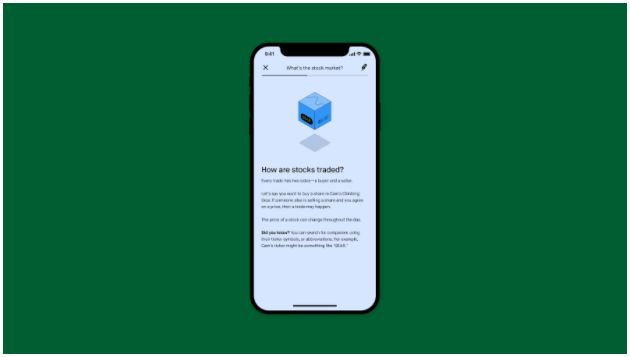 Compared to other investment platforms, Robinhood does a better job  of simplifying its user interface to make it easy for beginners to understand investing, make trades, and manage a portfolio. 
Robinhood also does an outstanding job of lowering the barriers to investing that prevent many people from getting started, by providing no minimum investment requirements and commission-free trading.
Potential customers who fully understand Robinhood's pros and cons before signing up are likely to be very happy with the service.
Robinhood Pros
Robinhood is popular for a good reason: it achieves its mission of "democratizing finance for all" and provides a way for beginners to start investing and learning, no matter how small their budget.
Some of the reasons people like Robinhood include:
Commission-free trading

No investment minimums — get started for as little as $1

Customized notifications to keep informed investors informed of their assets

Customized news that allows investors to personalize the information they see

Well-written training for beginners

Wide variety of investment choices

Real-time trading of fractional shares

Excellent app with 5-star ratings on Apple Store and Google Play
There are a lot of reasons to like Robinhood, however, the company is not without its faults. 
Understanding its "cons" and areas that need improvement may help you circumvent a bad experience by either avoiding its pitfalls or choosing a different brokerage service altogether.
Robinhood Cons
Before you invest with Robinhood, familiarize yourself with some of its "cons" to understand whether it's the best service to help you achieve your investing goals.
Some of reasons people dislike Robinhood include:
No options to invest in mutual funds, bonds, retirement, or passive-income generating accounts.

Promotes

high-risk options

investing as well as loans (margins) to inexperienced investors, which can result in a negative account balance.

Has demonstrated a

lack of financial transparency

that resulted in SEC fines and has faced lawsuits over its

Gamestop debacle

in which it restricted trading of several volatile stocks.
Most of the cons associated with Robinhood can be circumvented by people who have disciplined financial habits and a predetermined investment strategy.
If you think like the minority, you don't make emotional decisions when it comes to money, so you wont' take risks that are bigger than what you can afford to lose.
Regardless of the gamified atmosphere, notifications, and "nudges" that sometimes encourage risky activity, smart investors will follow a strategy that includes careful risk assessment to mitigate losses. Additionally, they'll put their money into long-term investments outside the platform.
People who have disciplined spending habits and know how to avoid emotional investing can bypass the behaviors that typically cause problems for investors on the platform.
Robinhood offers a lot of perks that make investing easy, fun, and inexpensive. We think it's an excellent platform for beginners who have a good understanding of how investing works and who also have developed disciplined financial habits.
Check out our video review below!
How To Use Robinhood In 2022
Getting started with investing on Robinhood is easy as long as you are 18 or older, have a valid social security number and U.S. residential address, and are a U.S. citizen or permanent resident. 
In many cases, you can also sign up if you are a citizen of another country but hold a valid U.S. visa (although in some cases you may be required to submit additional documentation).
Robinhood can be used on iOS and Android devices and in most web browsers.
How To Set Up An Account With Robinhood
You don't need any money to open an account on Robinhood, and submitting an application does not affect your credit.
Setting up an account on Robinhood requires 2-3 steps:
Submit your application.

Watch for an email from Robinhood that either confirms you've been approved or asks for additional documentation.

If you receive a request for additional documentation instead of an account confirmation, you may need to wait up to 7 days to have your application reviewed.
When you're ready to open an account, you'll start by tapping or clicking the signup button on its home page.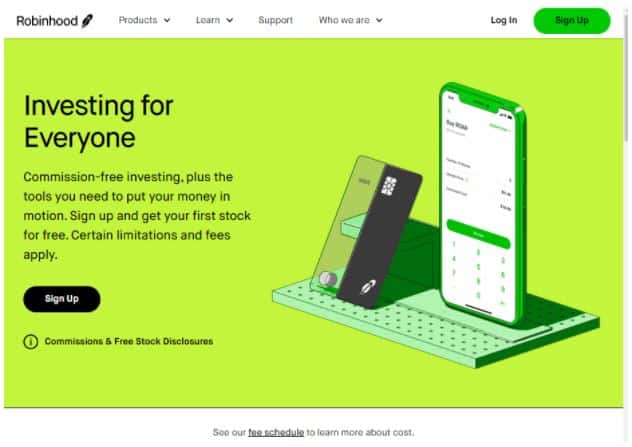 Begin by filling out your legal name and email address, and creating a password.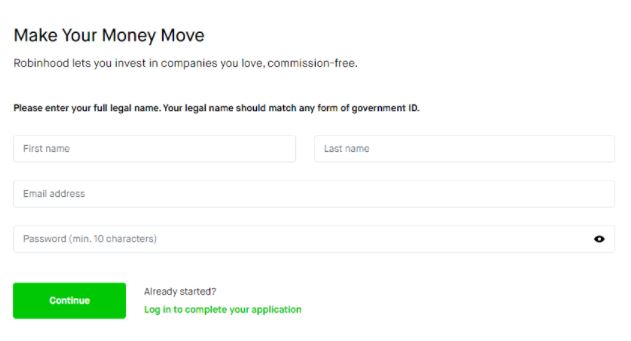 Next, you'll be asked to provide additional contact information such as your phone number and home address.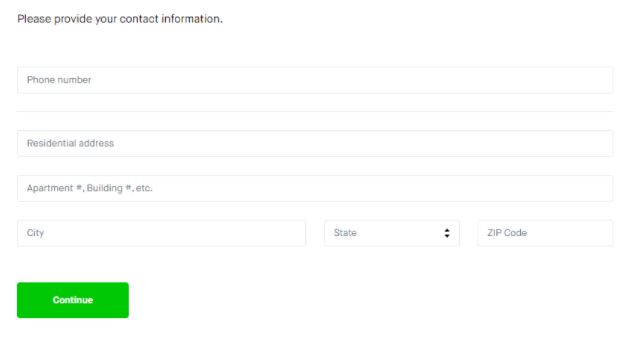 As you move through the application, you'll be asked to verify your identity by providing your social security, date of birth, and citizenship status.
Then you'll be asked a series of multiple choice questions, such as:
How much investing experience do you have?

Would you like to enable options trading once your account is approved?




We recommend answering "no," since options trading is a high-risk activity. You can always enable optional later if you change your mind.

What is your employment status, occupation, and name of your employer?

Are you or a family member a senior executive or 10% shareholder at a publicly-traded company, or working for another brokerage?
Once you complete your application and tap the "submit" button, you'll be asked whether you want to fund your account or wait until later. We recommend waiting until your application is approved before funding your account so that your money doesn't get tied up while waiting on approval.
Now your Robinhood homescreen has changed to a dashboard, complete with your personal portfolio profile.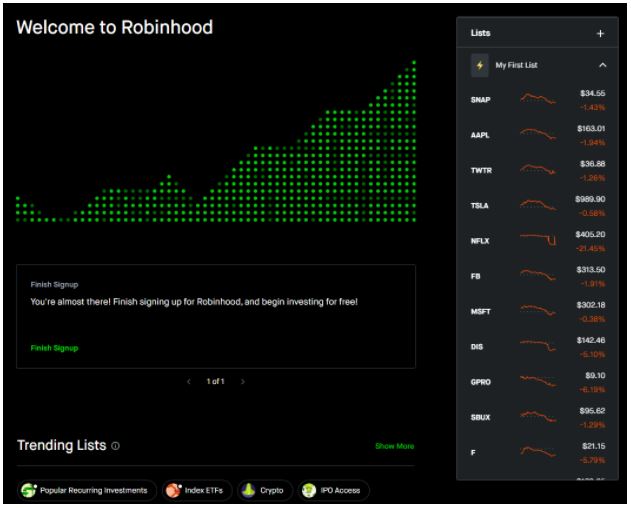 Scroll down below the initial screen to reveal news, tips, stock activity, and more up-to-the-minute information for investors.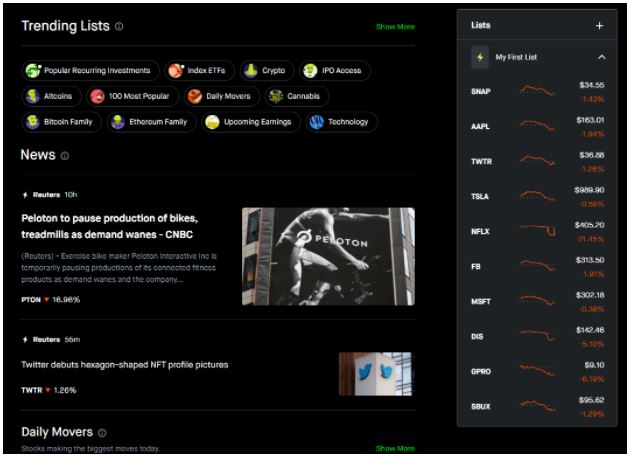 Setting up an account with Robinhood is simple, and you can get started investing once you receive approval by email, which usually takes between 24 hours – 7 days.
Once your application gets approved, you're ready to fund your account and begin investing.
How To Get Started Investing With Robinhood
Once you receive confirmation that your account has been approved by Robinhood, you're ready to get started investing.
You'll begin with its default account, the "Instant," with options to upgrade to a Gold or Cash account.
Robinhood Instant

is the default-level account that grants access to deposits up to $1,000 and extended-hours trading. This account does not grant access to margin investing (purchasing securities on credit).

Robinhood Gold

is an upgraded account that, for $5 a month, provides you with access to margin investing and larger instant deposits, plus level II data and advanced market research. If you're approved for options trading, this account allows you to enable margin investing.

Robinhood Cash

is a cash management account that allows you to access instant deposits up to the first $1,000*. Unlike the Instant and Gold accounts, the Cash account does not allow you to trade with unsettled funds, which means you will need to wait until your funds process when selling securities.
To start investing, begin by funding your account so that you can buy stocks or cryptocurrency.
How to Buy A Stock On Robinhood
Once you've been approved for an account on Robinhood, and after you've funded your account, you're ready to begin investing.
Here's how to buy a stock using the app:
Go to the stock's detail page and tap Trade>Buy, then enter the amount you wish to purchase. If you prefer ordering in shares instead of dollars, tap the "Buy in Shares" option in the drop-down menu titled "Dollars" in the upper right corner.

Review your order, then swipe up to submit it.
How to Sell A Stock on Robinhood
When you're ready to sell your first stock, here's how to do it using the app:
Go to the stock's detail page and tap Trade>Sell. 

Choose whether to sell in shares or dollars by accessing the menu in the upper right corner.

Review and submit your sales order.
There are many types of purchases and sales you can conduct on Robinhood, but buying and selling your first stock gives you a good feel for how the interface works. 
You can also buy and sell from nearly any web browser, if you prefer using your laptop for trading. The process is nearly identical to trading from the mobile app, with an intuitive, simple interface that makes buying and selling super-easy.
How To Invest Safely On Robinhood
Robinhood can provide a good experience for entry-level investors willing to develop a strategy before jumping in with both feet.
Investors should understand that no matter how good you are at buying low and selling high, your chances of earning more through short-term trading than long-term investing are very low.
Passive, long-term investors focus on building diversified portfolios and letting their investments stay put over time, to take advantage of the compound interest that grows money over the course of many years or even a lifetime. 
Long-term investing, when focused on balanced portfolios of index funds or ETFs, is a lower risk than most other types of investing.
Contributing a percentage of your income to long-term investments is a responsible move that can help you build passive income, prepare for retirement, and build wealth over time.
Active, short-term traders generally seek to buy low and sell high for big profits. 
Active trading, or short-term trading, is a high-risk investment that makes losing money very easy to do. When combined with margin investing (buying securities on credit), and options trading (high-risk) it can be a recipe for disaster, especially for young, inexperienced investors.
Fortunately, you don't have to make high-risk investments to use Robinhood. 
Some of the ways you can invest responsibly and lower your risks include:
Create a

diversified portfolio of 15 or more stocks

that you've thoroughly researched. Keep in mind that since there are no investment minimums on Robinhood, you can buy fractional shares of each stock without making large investments.

Buy into exchange-traded funds (ETFs) instead of individual shares. EFTs are collections of stocks or other securities that allow you to invest in a collection of stocks within a specific niche.

Build an inexpensive practice portfolio in which you can make trades without significantly affecting your wallet or personal budget.
To lean toward safer investing on Robinhood, build a diversified portfolio, buy into EFTs with a more traditional approach to investing, or build an inexpensive practice portfolio. 
Additionally, avoid jumping on trends or participating in margins or options investing to lower your risks on the platform.
Robinhood Review 2022: Our Final Recommendations
Brokerage firm Robinhood outshines its competitors when it comes to providing a fun, intuitive user interface that attracts young, inexperienced investors looking to get started trading stocks and cryptocurrency.
While most other investing platforms focus on long-term, passive strategies, Robinhood encourages active trading and makes it accessible to nearly anyone with commission-free trading and zero investment minimums.
The platform does an excellent job inspiring young people to get started investing, but  it has also received much criticism for guiding beginners toward high-risk investments that result in them losing money or even going into debt.
Fortunately, you don't have to take a lot of risk to invest on Robinhood, and there are plenty of safe and responsible ways to invest on the platform. Building a diversified portfolio, investing in ETFs, and building an inexpensive "practice" portfolio are excellent ways to get started.
To sign up for a free account on Robinhood and begin trading, fill out its simple application form and watch your email for approval. Once you're approved, you can begin buying and selling stocks with no minimum investment requirement and without paying any money in comissions.