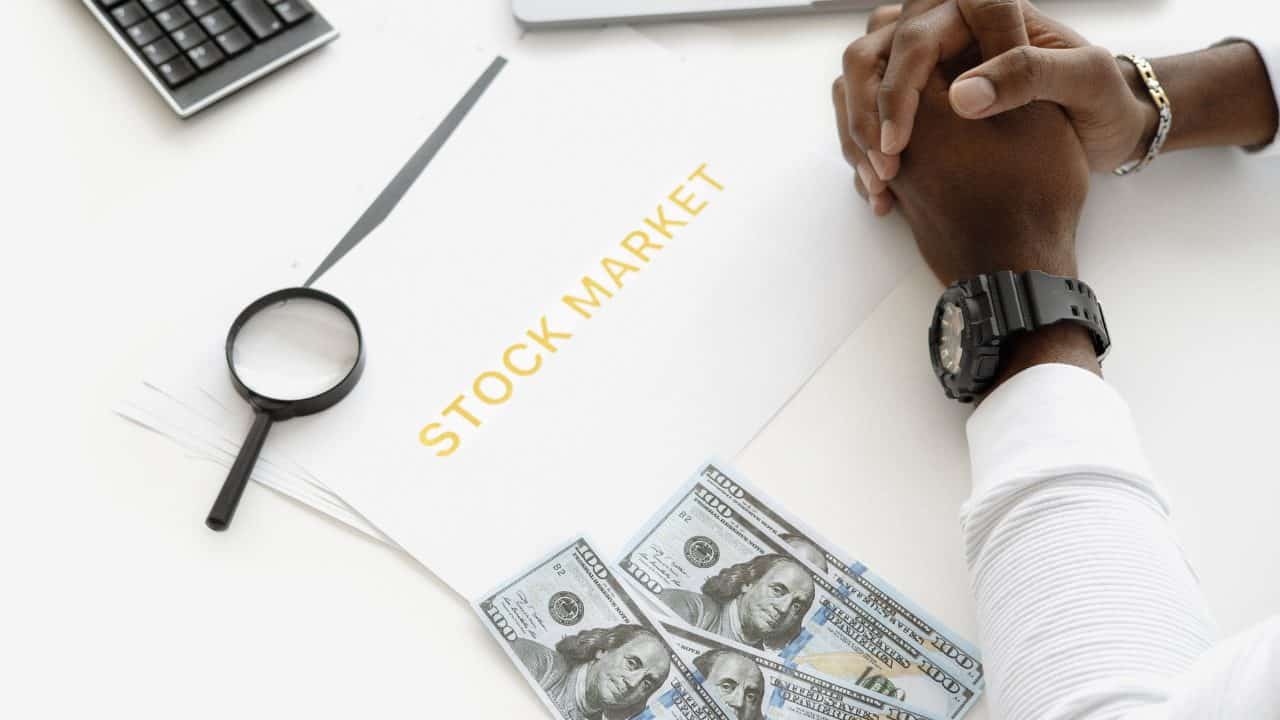 Disclaimer
We only endorse products that we truly believe in. Some of the links below may earn us some extra guac at no additional cost to you. Please pass the chips & thank you for feeding our habit.
Starting anything new gives me a rush of excitement as well as fear! If I'm starting a new project, coffee in hand, I'm full of new ideas and energy for the work ahead.
Starting a new relationship or friendship always feels new and fresh, but a little scary as I look for what's ahead. I've found that the reason for this fear, and excitement, is risk. With anything worth doing comes a little risk. All of these new things I mentioned pose the possibility of failure, or success.
So they make us a little nervous as we wonder if we'll succeed or fail.
Starting to invest was no different for me! I remember feeling so optimistic for my first investment, but also a little scared to start as I tried to learn the ins and outs of the stock market to be properly informed.
There was the possibility of huge returns, and also the possibility of failure and loss on my investments. But as I went along, I realized investing wasn't as scary as I thought it could be. In fact, starting to invest for my future was one of the best decisions I ever made and it was super easy to get started.
There were so many ways I could ensure that I was investing safely and wisely.
Are you in the same place? Have you been searching for a safe way to start your exciting investment journey? I've found that once I was armed with the knowledge I needed, starting to invest was a lot more exciting and a lot less scary.
Here's everything you need to know about investing safely in order to get you started on the right track!
| Platform | Fees | Promotions | Link |
| --- | --- | --- | --- |
| | $0 Fees | Get a cash bonus of $30-$500 when you deposit $1,000+ in the first two weeks. | Learn More |
| | $0 Fees | Get one free stock priced up to $225 when you link a bank account. | Learn More |
| | $0 Fees | Get two free stocks when you deposit $5 within 30 days. | Learn More |
| | $0 Fees | Start investing with as little as $1. | Learn More |
Investing Safely As a Beginner
Let's start with some investing options out there that are not as safe to start with, and the terms associated with these methods of investing:
Stock Volatility
The word volatility within the stock market world signifies movement. It means that a stock has been known to lose value, then gain it back, and vice versa, all at a rapid rate. If you were looking at a grid of the stock's performance, it would look something like a wave.
When you hear volatility, think risk. These more volatile stocks can either present huge opportunities if you invest at the right time, or they can cause you to quickly lose your investment.
Coming back from Covid, you might have a few hesitations when you're investing. In-person entertainment was out the window for a while, and investing in a company that specializes in this can be hit or miss. Take AMC entertainment, for example.
They're making a big comeback due to theater reopenings, and a consumer interest in in-person entertainment once more. This is a great example of a more volatile stock, since depending on the health of the majority and the state of the pandemic in the future, the public interest in the entertainment industry might ebb and flow.
AMC's stock price was just $3 at the start of 2021. By June it was valued at almost $60 and by August, 1 share of AMC was worth roughly $33.
Most stocks don't move with such volatility, but for other stocks, this is just par for the course.
Short Selling
When I first started buying and selling stocks, and setting up an investment account for my retirement, I learned about buying low and selling high. Essentially, I had to train my brain to buy stocks as they weren't doing well, and sell them when they had gained money.
This was so hard to do at first! It went against my inclination to jump on board and want to buy into a stock when it seemed to be doing it's best. We all want to own quality things, right?
Once I had the process of buying low and selling high under my belt, I learned about short selling. With short selling, I could basically create my own market for stocks. I was the middle man between investors and a company with shares.
One great example of a massive amount of short selling occurred earlier this year, with Gamestop stock.
So many investors were short selling the stock that had just hit the market, and the stock was so volatile, that short sellers attempted to buy back the stock they had sold (unfortunately at a higher price), and this caused the stock to continue increasing in value due to more demand.
While this method of investing can make you some serious dough, it is also very dangerous. Short-selling isn't something you want to start doing as your first stock investment, because there's a ton of risk to your investment.
Remember, no one knows for sure which way a stock will go in price, so if you're new to this, do your research and start with a safer investment for your first one. Short selling definitely isn't on the list of safe investments to start with, but it's good to be informed about this form of investing because it will help you to avoid what's risky, and instead, focus on the safest methods of investing!
Where to Begin
Now that you know a bit more about investing terms and the more risky options, let's explore some safe ways to invest:
Probably the safest place for all of us to start would be with investing for our retirement, because you'll be making consistent long-term contributions, regardless of what the market is doing. And, If you start early, you have a much better chance of building wealth to set you up in time for an enjoyable retirement. Here are a few of the safest options:
Roth IRA's (standing for Individual Retirement Account) allow your investments to grow and be withdrawn at the proper time tax-free. This means that you'll contribute your money after taxes, and it will grow over the years.
Essentially, you'll put your money towards a group of stocks or bonds instead of just one, which will minimize your risks, and maximize your gains.
Once you're ready to retire, you can withdraw from the account without paying any taxes! This is an incredibly safe and rewarding way to invest and save for retirement. And, because you're investing in many different stocks and bonds, you'll have a more diversified portfolio, which will protect you in case one or two companies crash in your portfolio.
This way, you'll have several others to rely on, so you won't lose your entire investment if stock or bond fails.
Your employer might offer a 401(k), which is an employer sponsored retirement account that you can contribute to directly from each of your paychecks. These accounts are similar to a Roth IRA, in that you're investing in a group of assets through your employer.
You may even have a few choices based on your interests, risk tolerance, or goals.
My husband takes advantage of his employer's 401(k), and he also gets a portion of our contributions matched by the employer. This means that means if my husband contributes 3% of his paycheck, his company will match that contribution and add 3% to his retirement savings as well.
This is a common feature of 401(k)'s that may make them a great and safe option for any investor. Free money for retirement! What could be safer?
Bonds can be a great way to start your investment portfolio off on the right foot. They represent a portion of a loan, and they let investors get in on the lending process. Basically, you'll loan money to the government or a corporation, and they'll pay you with interest payments over the lifetime of the loan.
When you purchase a bond, make sure it's from a reputable company that is known for transparency and success, so you get your money back and more in the end. This option is considered a safe investment, because oftentimes you're loaning money to the government, and the government as a whole is unlikely to fail for the foreseeable future.
Meaning, you're almost guaranteed to receive interest payments on the bond for the lifetime of the loan.
ETFs are another popular place to start with new investors. They are a conglomeration of easily traded funds that aren't actively managed, so they have low fees.
They might be compiled of funds from a certain index, or even options and futures. The low fees and "tradeability" make these funds a great place to start!
Index funds seem complicated at first, but they boil down to a few key attributes:
They aren't "actively managed" by a fund manager which makes the fees involved in buying them much less than an actively managed fund like a mutual fund.
Like their name indicates, they are a compilation of a market index or segment of the market like pharmaceuticals or technology.
Because of the low feed and the diversification of owning several pieces of the same index, they can be a great place to start your investment journey.
These funds allow the sum of your investments to balance out and hold their value over time. Many investors like to include money market funds in their line-up to balance out any riskier investments they hold. With a money market fund, you are essentially investing in cash.
Your investment probably won't gain or lose much over time, but it will be highly liquid, meaning it can be sold for cash quickly. I have a money market fund included in my retirement portfolio! It's a very safe place to start, because the value of the dollar does not rapidly change. It may steadily rise or decrease, which is a lot easier to follow than a volatile stock.
Now that you know your options, you need some practical steps. It's important to choose some investing goals for yourself. Then you'll choose where you want to invest, and how much you'd like to fund your investment.
Choose Your Investing Goals
Before you decide how much you want to invest, you'll need to explore your investing goals. This means you'll have to examine what type of account you'd like (if any), how long you'll keep your money invested, and what purpose the money you make will serve.
First off, you can decide if you're more comfortable with an investment account with a financial advisor, or one on your own. Do you need a little guidance? Opt for a financial advisor. You can also forgo having a formal account, and just invest in separate stocks on your own.
Do you need a retirement account? This can be a very purposeful investment account. I chose to buy and sell individual stocks on my own, as well as utilize a financial advisor to help me with my retirement account.
Next, you'll decide how long you'd like to keep your money invested. If you're in your twenties and saving for retirement, you probably have a timeline of about 40 years. If you want to trade stocks on the market, you might have a very short timeline of 2-3 days or weeks to keep your money invested in one stock.
For each option, there will be a timeline that feels right to you. Even if the stock market ebbs and flows, I try to be patient and stick with my timeline for each of my investments!
The purpose of your investment will go hand in hand with the method. If you want to save for retirement, a good place to start would be an employer sponsored retirement account. If you want to save up for your vacation, maybe opt for a standard investment account that you can withdraw from without penalty.
Your purpose might even be to just have some extra fun money while you learn the ins and outs of the stock market. This works too!
What to Invest in
Like I mentioned before, one basic example of investing etiquette includes buying low and selling high. When you buy your first individual stock, you'll want to make sure it's from a company or good you trust to do well in the future.
So you'll buy when the stock isn't doing as well, so it can gain value if you see this as a possibility. Personally, the first stocks I invested in were Tesla, Apple and Amazon just to get my feet wet with companies I was familiar with that I also expected to grow.
I invested when these stocks weren't doing the best so I could make some money on their growth. Because they are more volatile, I've sold some of these stocks recently when they were doing well and made quite a profit.
On top of choosing individual stocks, you can also use any of the safe investment vehicles I mentioned earlier. You'll want to diversify your investments, meaning that you have many options and risk levels within your total investments.
Don't feel like you have to do this all at once – as you become more comfortable with investing you'll expand your experiences and accounts.
How Much to Invest
Now we can get into how much to invest! When I first started investing, I made sure to prioritize my retirement account and save up as much as I could here. I put aside 3% of my paycheck each month to go towards my account.
I am still working towards getting a good 10% of my paycheck into my retirement account each month, because I know that as a general rule of thumb, many experts recommend the 70-20-10 rule. This means that:
70% of your income will generally go towards living expenses (your mortgage, groceries, etc)
Another 20% will go towards savings (retirement, an emergency fund, etc.)
The last 10% of your income should go towards paying off debts (think car payments & credit card statements)
You can even break this rule down more and make sure to contribute 10% towards your retirement, 5% towards an emergency fund, and 5% to save for things like vacation and a new pool.
You'll need to assess your finances to see which of these "savings opportunities" you should prioritize, and which ones you already have set up for success.
With each of these ways to save and invest with purpose, you'll usually take a more passive approach. This means that you'll invest your money in the funds and portfolios of your choice, then step back and monitor its growth over time, whether that be 1 year or 40.
After you work out your budget to roughly fit the above rule, you can see if you have some margin to invest recreationally, rather than for more specific purposeful planning. Recreational investing (or investing for fun) is typically more active.
This means that you have the option of buying and selling your stocks frequently (if the time is right) in a more hands-on way. It's important to differentiate between these two investing styles and apply them to the right situations.
Now that I have some more recreational money in my budget, I enjoy investing in specific stocks on the market when I see that their value is falling. I use some apps to track their progress and buy and sell each week! With both of the apps I currently use, buying and selling is a breeze.
I simply search for the stock I'd like to buy (or search for stocks that aren't performing the greatest to try to buy low) and select how much I'd like to spend on the stock.

Then, I watch my money rise and fall and sell my stocks when I feel that they are at their peak. It's great practice in investing, patience, and money management.
Two apps I have recently been loving include:
Recently Robinhood has been getting alot of buzz for shutting down the Gamestop trading I was talking about earlier, but they are really a great application for buying and selling small or large amounts of stock.
The easy to use home page shows your current standing and a visual of your stocks' performance.
Surprisingly enough, Cash App seems to be juggling its main purpose (to send and receive money between parties) as well as an extra feature they recently added on – buying and selling small portions of stocks.
I like to toggle between my home page and my stock page to check up on how my investments are performing with their aesthetic performance tracker.
When you first start investing, it's up to you how much, why and where you want to invest your money. But it's important to realize the huge value in deciding to invest now.
Being familiar with investing and prioritizing it in your financial journey can be the difference between building incredible wealth and having to live frugally in your later years due to ill planning. Invest away!