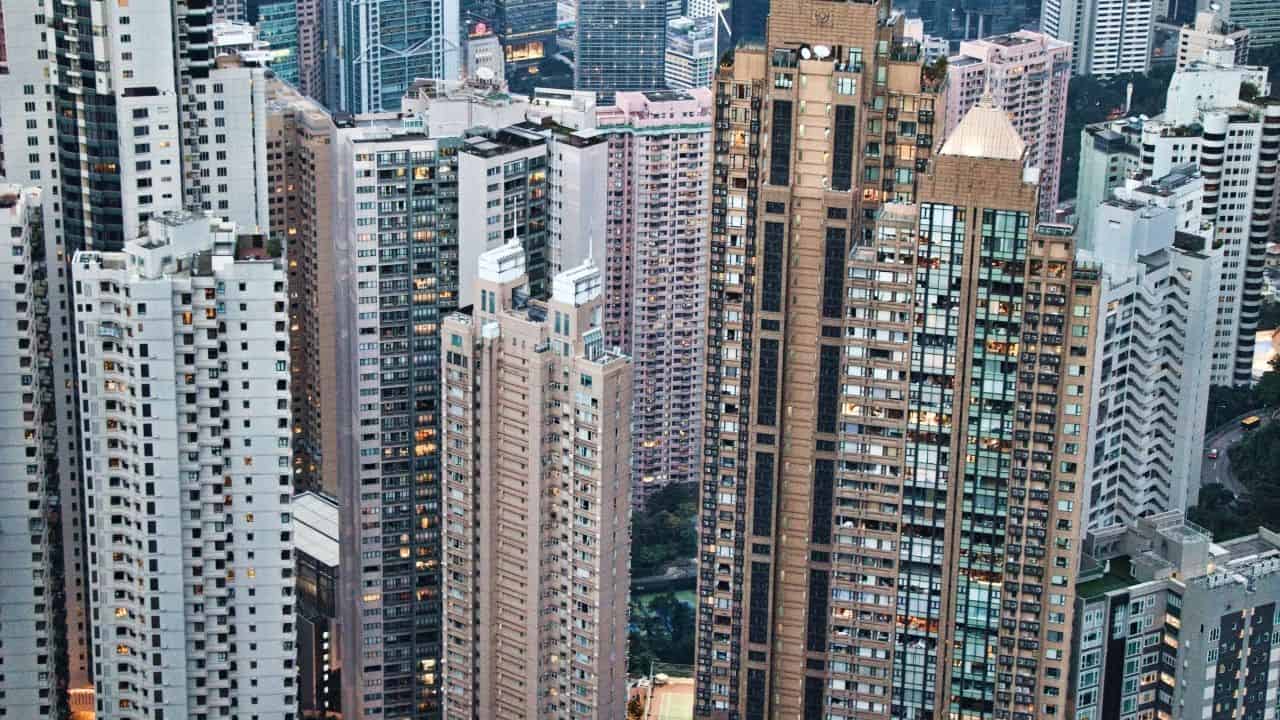 Disclaimer
We only endorse products that we truly believe in. Some of the links below may earn us some extra guac at no additional cost to you. Please pass the chips & thank you for feeding our habit.
Our household is incredibly grateful for the rent checks that come from our rental property. But the idea of investing in more physical properties kind of makes my head spin. 
That's why we've started using apps like Fundrise that break down barriers to real estate investing and make it super easy for anyone to start their real estate investing journey. However, while Fundrise is a great real estate investing app, it's not for everyone. 
Luckily, there is a wide selection of attractive alternatives out there for investors to choose from.
These apps help new investors dip their toes into real estate without committing to taking on an entire property.
In addition, they offer benefits like small investment minimums (aka not making a down payment-level investment in a property) and receiving regular returns for only a small management fee.
In this article, we'll deep dive into the best 6 Fundrise alternatives new investors can consider if they want to get into the real estate game but don't want to use Fundrise.
But first, we'll explore the basics of Fundrise, why it's a great real estate investing tool, and why it may not be the best choice for every real estate investor.
Platform
Minimum Investment
Fees
Link
$10
1% Fee
Other fees may apply
Learn More
$1,000
2% Fee
Other fees may apply
Learn More
$25,000
0.5% - 2.5% Fee
Other fees may apply
Learn More
Is Fundrise Good For Real Estate Investing?
Fundrise is a well-known first mover in the real estate investing app space. However, some things like underlying costs and lack of liquidity within your investments, may make some real estate investors search for alternatives.
In addition, Fundrise investments can be very complex, which may require an investor to commit a lot more time and energy researching each fund, before investing.
With that being said, Fundrise is currently one of the largest and most accessible real estate investing apps on the market.
They operate on a crowdfunding business model and cater to entry-level investors with account minimums of only $10 for their starter tier.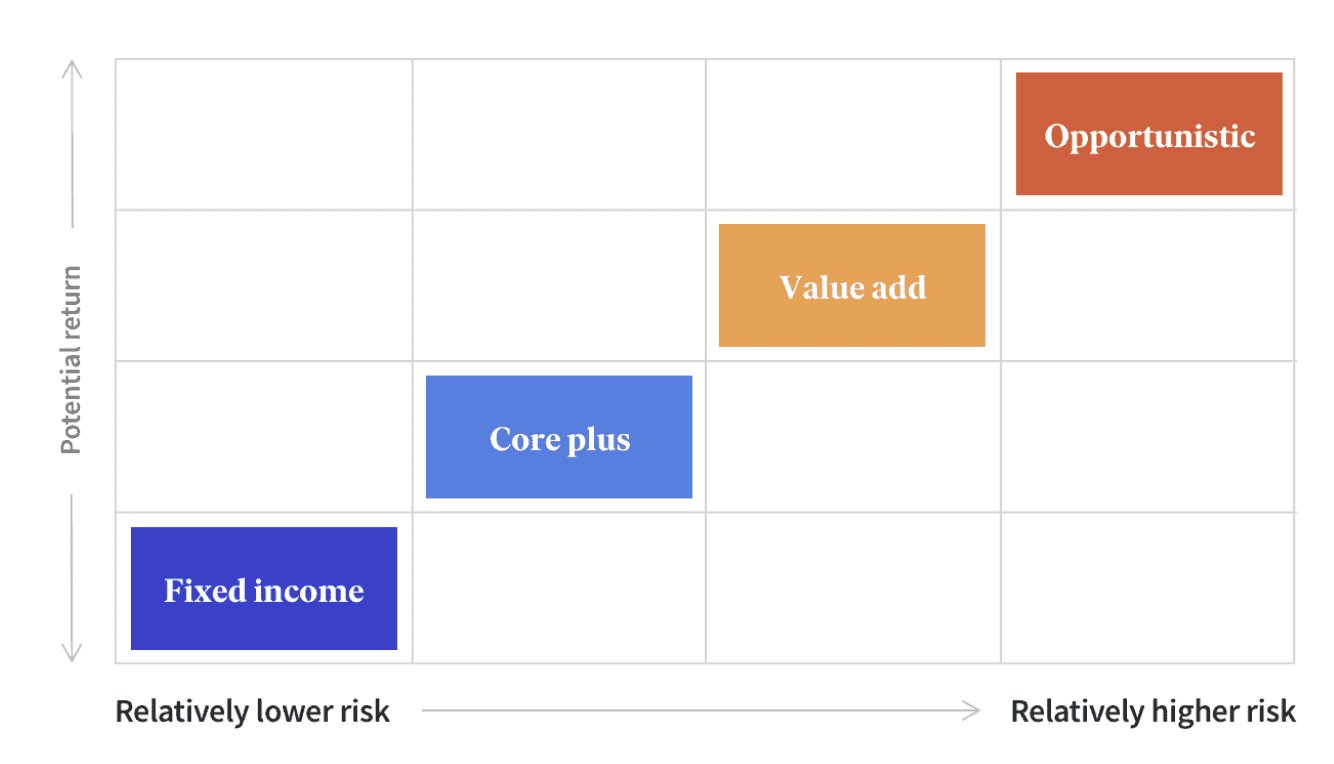 The way it works is Fundrise investors purchase shares (or fractional shares) of private REITs, then use that money to purchase actual properties, remodel them, rent them, and send resulting dividends back to their investors quarterly. 
This is a way for people to dabble in real estate investing without having to go buy a property.
But Fundrise isn't the best option for every investor. There are a few reasons why real estate investors may look to Fundrise alternatives:
Diversification in real estate investing apps:

Diversification is a critical part of investing, but it doesn't just apply to the kinds of stocks you hold in an account. Savvy investors may also want to use multiple accounts. For example, I use Acorns for investing in stocks, but also Robinhood.

Dissatisfied with the Fundrise platform:

Sometimes, people just flat out have a poor experience with an app. It happens. Maybe it was a technical issue or an inability to retrieve funds when you want them. Either way, you might be ready to move on.
Looking for a different fee structure: Fundrise assesses a flat 1% management fee on all investments. While this is extremely low, it may also not be the right move for everyone. Specific Fundrise alternatives we'll discuss below charge fees differently, with some of them coming in hot with "no fees" (but nothing is free, so that seems fishy to me.)
6 Best Fundrise Alternatives for Real Estate Investing
In compiling this list of Fundrise alternatives, we looked at things like investment minimums, how investors make money, available investments, and more. 
Before putting money into any investment app, though, it's always best to do your own research and consult with a financial professional as needed. 
1. GroundFloor – Best For Long-Term Investors
Best for: Investors with a long investment timeline that aren't afraid of debt.
Groundfloor is a unique real estate investing app in that it doesn't necessarily operate in the purchase and sale of properties but rather in loans for people looking to fix and flip a property. 
Groundfloor evaluates projects to assess risk and potential return, then once a project is accepted for a loan, it's funded by Groundfloor investors, like you or me.
With Groundfloor, you create a portfolio of high-yield, short-term, real estate debt investments. Once those jobs are funded, investors make back their money plus returns (Groundfloor claims to show returns of around 10%+) in an average of 6 to 9 months. 
The significant benefit for investors is the fees are paid by borrowers. And that means this is a fee-free investing option.
Since Groundfloor plays in another real estate arena than Fundrise (debt vs. equity – but Fundrise does dabble a bit in debt too), this could be a good look not just as an alternative to Fundrise, but as a place to invest in addition to it.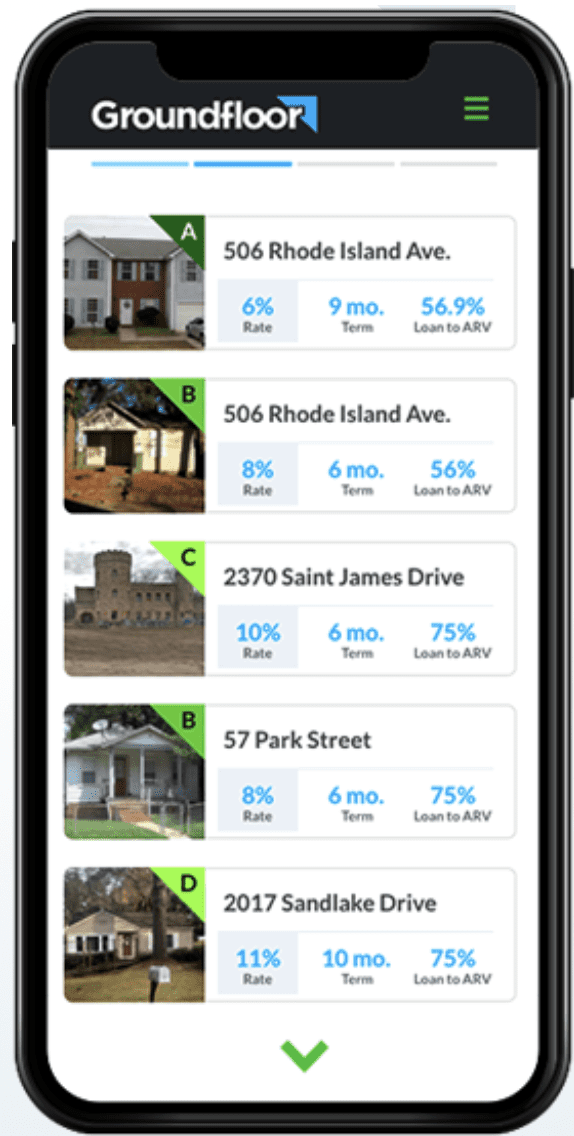 And with account minimums of $10, there's very little reason not to try it out if you're comfortable waiting until a project completes to see your returns.
Ultimate Investing Transparency
For investors that want to deeply understand what they're investing in, Groundfloor is about the most transparent company you can find. 
For one, they publish monthly asset management updates on their blog (like this one from October 2021), which give full visibility into loan repayment activity down to the individual property.
Then, Groundfloor goes one step further, giving investors a quarterly portfolio analysis (like this analysis from Q3 2021) that talks about higher-level impacts, like how COVID-19 has impacted the investment portfolio. When Groundfloor says they're committed to their investor's success, their actions and transparency indicate they mean it.
2. DiversyFund – Best For Multifamily Real Estate
Best for: Investors looking to diversify into multifamily real estate.
DiversyFund is another app that offers access to a public non-traded REIT. But the fund focus is on multifamily real estate (read: apartment buildings).
DiversyFund purchases buildings, improves them to increase cash flow, then sells them. And it's only after the sale that investors get paid with an option to take the money and run or reinvest it for the next project.
DiversyFund opens up to all investors through its removal of net worth restrictions and a minimum investment of only $500. But on the fee front, it comes in quite a bit higher than other options with a 2-8% developer fee for every project.
Zero Liquidity
Like many other investing apps we've mentioned, DiversyFund advises investors to look for returns on a five-year-plus time horizon. But what's unique about DiversyFund is that it doesn't extend dividends to its investors before a property is sold. When you add to that the company's commitment to making the most for its investors, it could be more than five years before investors see a return.
That means investors looking to make money with DiversyFund should be committed for the long haul. Anyone who feels they may need to retrieve their investment prematurely or wants to see cash flow to know their investment is working for them might be better off with other options.
3. RealtyMogul – Best For Monthly Dividends
Best for: Investors looking for monthly dividends.
While Fundrise is a great option for the everyday investor, RealtyMogul tends to cater to higher net worth investors. But the app does offer several REITs for non-accredited investors. But the bad news is those REITs have a $5,000 minimum investment, which sadly isn't always practical for the everyday investor like you or me.
From a fee perspective, RealtyMogul fees vary, though they generally come in at around 1-1.5% per year, which is quite comparable to Fundrise.
A major benefit to the RealtyMogul platform is that distributions from one REIT are paid monthly, with the option to automatically reinvest them, thereby boosting the investment. But, of course, other REIT options have quarterly distributions as well.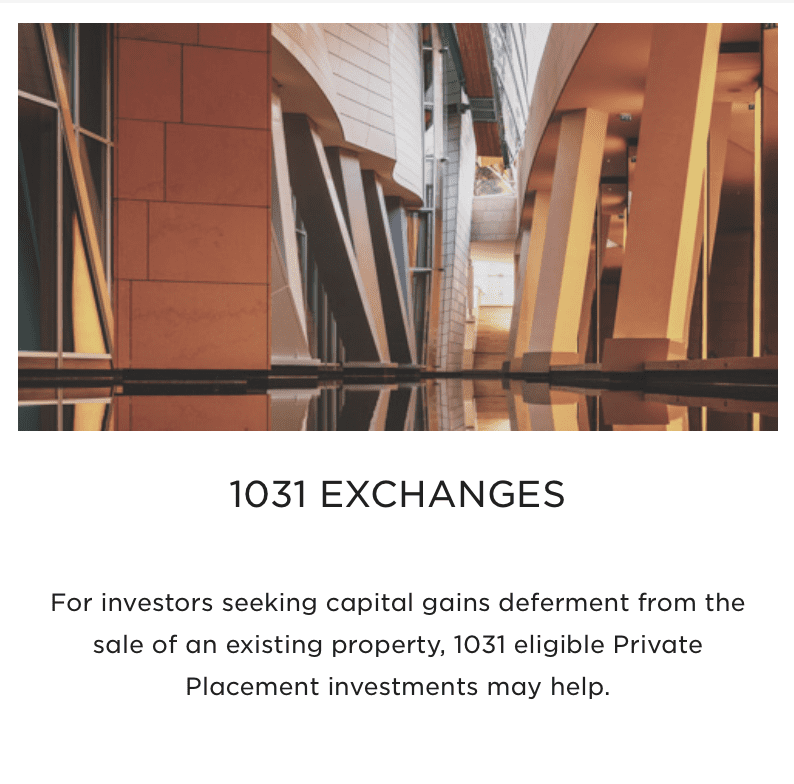 Support for 1031 Exchanges
The RealtyMogul platform is truly catering to the needs of real estate investors. In addition to allowing investors to invest in REITs and standalone properties, they also offer the option to do 1031 exchanges through the platform to defer capital gains. 
This feature is uncommon among typical real estate investing apps and can be a major draw for investors making more frequent transactions.
4. HappyNest – Best For Low Capital Beginners
Best for: Beginner investors looking for low account minimum REITs.
HappyNest is yet another Fundrise alternative that allows investors to get into the game for only $10. That's a direct reflection of HappyNest's dream of democratizing real estate investing for the 99%.
With a mobile-first approach, HappyNest is only available in app form. And their big draw is that they claim 0% broker commissions plus 0% platform fees. Which leaves any savvy investor to ask, how in the world are they making money?
When you dig in a bit further, you see that HappyNest is a rapidly developing app that's still in the very early stages. But in the future, investors could see the assessment of a $1 per month management fee. 
And on the back end, HappyNest has backers who will take a cut of the REIT's proceeds as well. So it's wise to keep an eye out for upcoming changes if you plan to get in on the Groundfloor of HappyNest.
Round Up Your Investments
More and more investment apps seem to be getting into the loose change game. HappyNest is now among them, allowing its investors to link to a bank account to round up purchases. 
Once those spare cents total $5, the money will be deposited into HappyNest, helping investors grow their real estate nest egg instead of just sliding that money into a savings account.
5. CrowdStreet – Best For Accredited Investors
Best for: Accredited investors looking for fee-free investments
If you were thinking RealtyMogul account minimums were a stretch, then you may as well skip on past CrowdStreet. With a minimum $25,000 investment, this is only an option for accredited investors.
But for those who have extra change to spare, CrowdStreet lets you invest in individual properties or even create a tailored investment portfolio with a mix of commercial real estate investments. 

And with targeted returns above 15% on most properties, investing with CrowdStreet could be a highly lucrative decision.
Great Educational Resources
CrowdStreet offers significant educational opportunities to its accredited investors. CrowdStreet is focused not only on providing investment opportunities but making sure investors are educated and able to make the most of every deal. Their abundant educational opportunities include:
StreetBeats:

A monthly podcast with real estate industry experts offering insights like advice for new real estate investors to the ongoing impacts of COVID on multi-family real estate.

Investment thesis

: CrowdStreet lays it all out for investors in their investment thesis, which deep dives into what kind of investments they take on and why.

Help Center

: The help center gives investors information about how to use the CrowdStreet platform to make a deal and answers general FAQs about the multi-family real estate market.
Check out a complete list of CrowdStreet's available resources in the Investor Center.
6. Streitwise – Best For Commercial Real Estate
Best for: Average investors looking to earn commercial dividends.
The Streitwise real estate platform is another where investors will need a slightly higher minimum investment of $5,000. But that said, this option is open to non-accredited investors looking to earn steady dividends.
Streitwise is another app that offers investors a public, non-traded REIT. That means investors have a chance to get dividends plus long-term appreciation. The platform has fairly significant fees, with a 3% upfront fee and 2% annual management fee. But since the company doesn't collect on a property's sale, there's a greater likelihood they'll keep an asset that's performing for investors.
Dividends are distributed quarterly with an option to reinvest. And with historical returns coming in around 10%, Streitwise proves to be a good look for those looking to diversify into commercial properties.
Accepts Cryptocurrency Investment
Streitwise is ahead of the game in accepting Bitcoin and Ethereum as investments. (Fear not, traditional investors, they still accept ACH, wire transfer, and checks too.) 
But certainly, being crypto-friendly is a big draw for investors that may be looking to use some of their crypto portfolios to dabble in commercial real estate.
Making the Most of Fundrise Alternatives for Real Estate Investing
Each one of these Fundrise alternatives is different. Some options, like Groundfloor, DiversyFund, and HappyNest are best for investors looking to explore real estate investing for less than $1,000. But the high rollers out there may look to RealtyMogul, CrowdStreet, and Streitwise. 
Within those parameters, some apps are more focused on commercial properties while others dabble primarily in the residential space.
Ultimately, which app, account, or company you ultimately use to invest in real estate will depend on your unique financial situation and investment risk profile. 
So while some of these Fundrise alternatives look pretty tempting, you'll need to perform some further research before you hop in.
Personally, I plan to dive deeper into several of these options as I think about switching gears from investing in physical property to exploring the world of public, non-traded REITs. 
While account minimums and available investments are certainly a concern, my ongoing research will primarily be around company reputation, stability, and forecasted future returns.
Good luck in the wild west of real estate investing apps, and be sure to always consult with a financial professional before you do anything crazy.