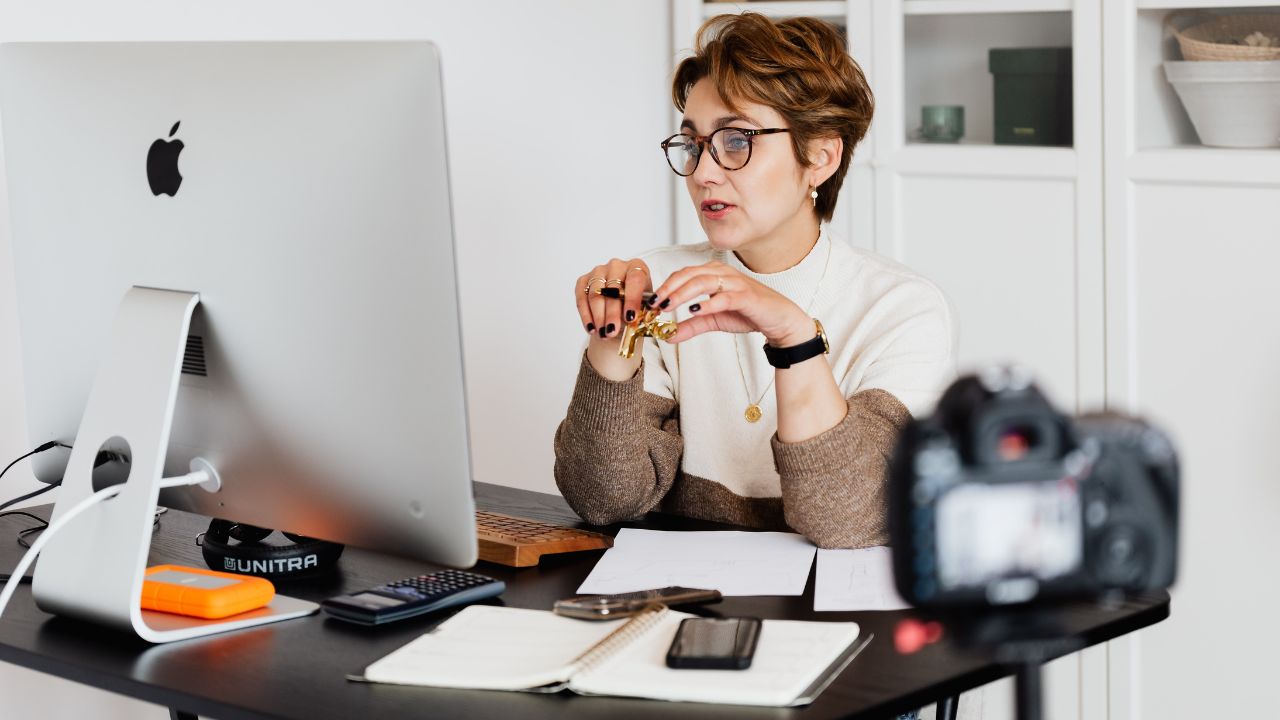 Disclaimer
We only endorse products that we truly believe in. Some of the links below may earn us some extra guac at no additional cost to you. Please pass the chips & thank you for feeding our habit.
So, you want to start investing. That's great news!
Every investor has to start at the same place: square one. But after trying to self-educate yourself on topics like compound interest, stocks, ETFs, IPOs—it gets a little overwhelming, right? 
When I was learning how to invest, I found that most online resources were either too vague, too out-there, too complicated, or downright contradictory. In a world dominated by self-proclaimed gurus and expensive courses, it was surprisingly hard to find trustworthy, no-nonsense information about stock market investing online.
In my experience, online courses are the best way to do a deep dive into stocks, whether you're a total beginner or you're more advanced. 
The good news is that you can learn just about anything online now. There are both free and paid courses on stock market investing, so there are plenty of options to get you up to speed.
Where to find a legit stock market investing course:
Minority Mindset Market Insiders
Beginner's Guide To Investing
TD Ameritrade Immersive Curriculum
Morningstar Investing Classroom
Bulls On Wall Street
Udemy: Stock Market From Scratch for Complete Beginners
Bear Bull Traders
Udemy: Ultimate Stock Market Investing
University of Central Florida
Coursera: Financial Markets
Coursera: Bitcoin and Cryptocurrency Technologies
The Benefits of Online Stock Market Investing Courses
You know you want to invest, but nobody teaches you how to invest. You turn 18 and the world expects you to magically understand compound interest—but I certainly didn't. 
I tried to get information by Googling and YouTubing my heart out, but I was more confused than informed. That's why I switched to classes: they condense the information for you. With just one expert viewpoint and engaging formats, stock market investing courses are the best way to level up your knowledge. 
They have other benefits, too, like: 
Affordability

: There are plenty of free and low-cost ($10ish) courses that are darn good. Some of the courses I've found are hundreds of dollars, but that's still cheaper than hiring a financial advisor or paying to audit a college course.

Empowerment

: When I started investing, I had zero confidence in my abilities. The most valuable thing I learned from stock market investing courses was the fact that I was capable. If you want to feel empowered about your investment choices, classes are the way to go.

Better investments

: Look, no investment is a guarantee. But you really need to know what you're doing before you put money into the stock market. Knowledge and experience will tell you if a stock is actually a good move long-term. With education, you can make decisions based on your goals instead of flying by the seat of your pants.
Stock market investing courses make it possible to get educated about investing with stocks. These courses level up your confidence by arming you with the knowledge to pick the most effective stocks for your goals.
Where To Find A Legit Stock Market Investing Course
Unless your parents were really on their A-game, nobody ever taught you how to invest in the stock market. My economics teacher hinted at it, but he never showed us how to buy stocks, manage investments, or build a retirement fund. 
Whether you're starting from scratch or you're already an experienced investor, classes are the way to go. Curious about where to find a legit stock market investing course? These 11 options are a great place to start.
Minority Mindset Market Insiders
Some courses focus on day trading, but Market Insiders is all about building long-term wealth for yourself. With this platform, you'll learn about investing in: 
Real estate

Stocks

Crypto
Market Insiders isn't a class: it's actually a coaching program that's served over 1 million investors. We don't tell you which stocks to pick; we arm you with the knowledge and structure to pick stocks for yourself. With live weekly coaching calls, you can ask questions and get individualized help to master investments as you go.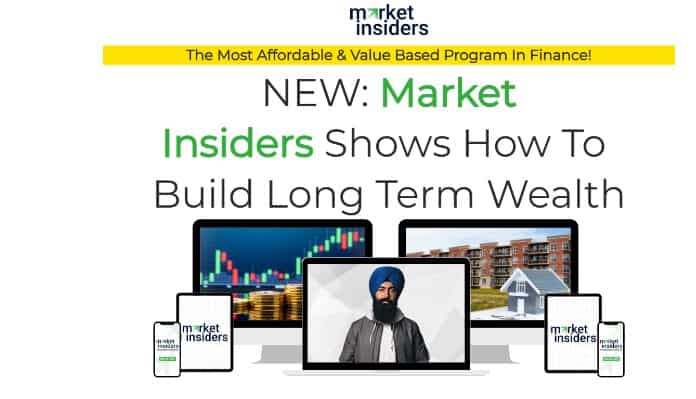 You also get access to a private Discord community and recordings of all past calls. Try it out for free for 10 days, and then it's a sweet-n-low $27/mo after that point.
Beginner's Guide To Investing
Taught by Erin Lowry (AKA Broke Millennial), you can score this beginner-friendly course for $14 – $29, depending on specials.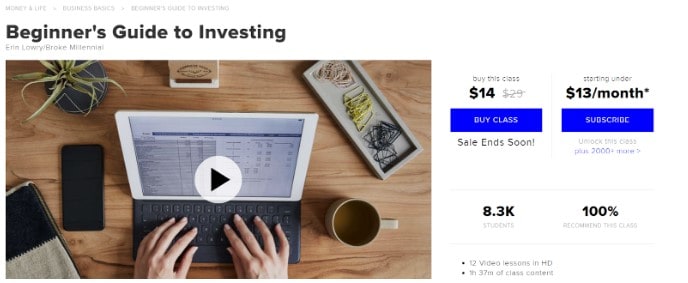 With 12 lessons and 1.5 hours of content, this course is streamlined and helpful. You'll learn basics like: 
Compound interest

Inflation

Fees

Investing with debt

Retirement
If you want the bare-bones basics for investing in the stock market for retirement, this low-cost course is a favorite with beginners.
TD Ameritrade Immersive Curriculum
Do you already have a TD Ameritrade account? If so, you have access to their 100% free learning portal. They offer all kinds of classes for free, including courses that cover: 
Retirement

Analyzing stocks

Investing for income

Trading options

Futures

Options

Managing volatility
The only downside is that you need to have a TD Ameritrade account to access the courses. They're also not super in-depth and are mostly text-based, so keep that in mind.
Morningstar Investing Classroom
Like TD Ameritrade, you'll need a Morningstar account to access these free courses. It's free to sign up, but you do go through the hassle of creating an account and all that jazz.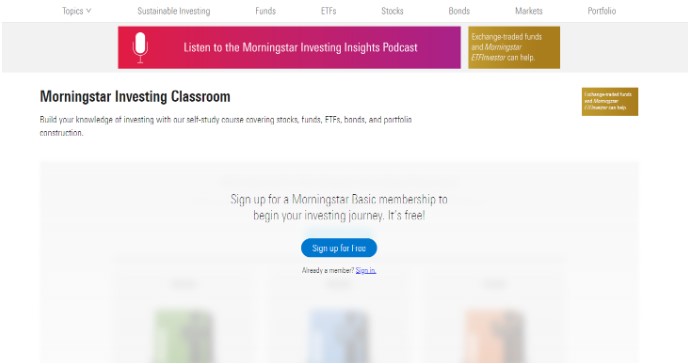 They offer 170+ courses on topics like: 
Stocks

Funds

ETFs

Bonds

Building a portfolio
Morningstar's classes are self-paced and pre-recorded, which is ideal for busy folks who don't have time to do a scheduled course.
Bulls On Wall Street
Bulls On Wall Street is a membership site that focuses on day trading and swing trading. I caution beginners to stay away from day trading, so this investing course is better for the pros. 
However, if you're curious about the basics of day trading, Bulls On Wall Street does offer a free Intro to Trading Course. 
If you pay for a BOWS subscription, you get access to course content as well as live events and a special Discord room. They also have courses available for $197 – $297 apiece, as well as a brand-new cryptocurrency investing course that's going for $400. 

Obviously, this isn't affordable for complete beginners, but if you're an experienced investor who wants to try day trading, BOWS is a reputable source. I do want to caution you that day traders tend to lose money, so be very careful if you choose this option.
Udemy: Stock Market From Scratch for Complete Beginners
Udemy is, hands down, my favorite learning platform. This course from Jatin and Rajan Taneja is affordable and beginner-friendly. Although the price changes based on the deals Udemy is running, you can get this course for anywhere from $10 – $50, which ain't bad at all. 
If you want to learn the fundamentals of the stock market, this is the course for you. With this course, you'll learn: 
How to pick a broker

How the stock market works

Basic ways to evaluate stocks
You don't need to know a thing about the stock market to enroll in this course, either. There are 7+ hours of content broken up into 10-minute videos that are easy to digest, so there's definitely a lot to learn!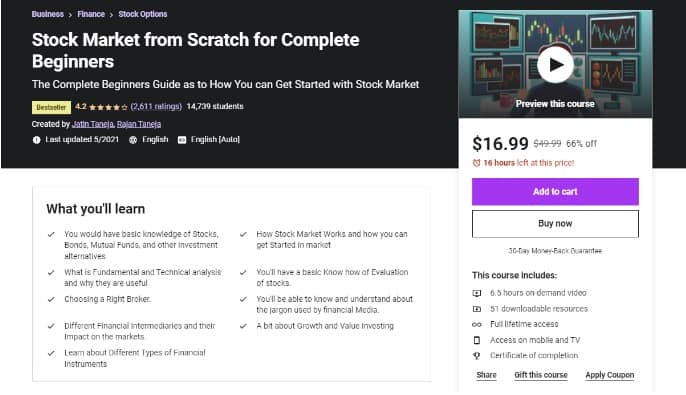 They do caution that this course "isn't for you if you want advanced stock market knowledge," so save your money if you're looking for a more expert-level course. 
Bear Bull Traders
Bear Bull Traders is a community specifically for traders. These are folks who live and breathe trading on the stock market, so it's definitely not a space for beginners. 
For $39, you can test drive the community for a week. You'll have access to their chat room, as well as a virtual onboarding session. If you like what you see, you'll pay $99/mo for the Basic membership or $199/mo for the Elite membership. 

Basics is ideal for learning the foundations of trading, while Advanced courses are only available to Elite members. I don't recommend the Advanced courses unless you want to start a full-time trading career, so keep that in mind. 
Aside from their trading expertise, Bear Bull Traders has a thriving community. It's a great place to go if you want to talk to a living, breathing human about more advanced stock market topics.
Udemy: Ultimate Stock Market Investing
The price of this course ranges from $15 – $50, depending on Udemy's specials. With over 3.5 hours of video content and 40+ resources, this is one of the best paid courses for stock market investing. 
If you know the basics of the stock market and want to learn how to get results from your stocks, this is a good course for you. It even includes a discussion board where you can ask the instructor questions!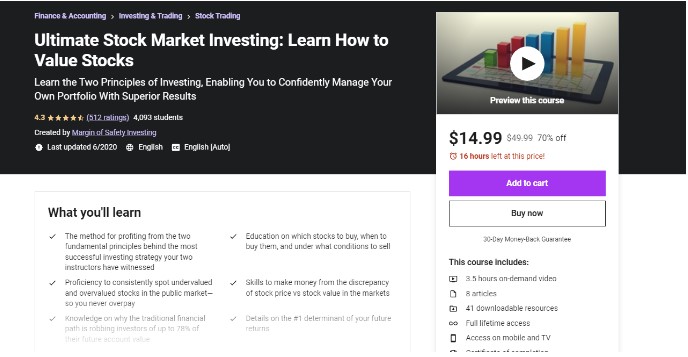 In my opinion, this course is better for investors who have some experience already, but who aren't experts just yet. If you want to build a better portfolio and gain more control over your stock picks, this is a solid option.
University of Central Florida
Did you know that universities frequently offer low-cost online courses? That's the case with this course from the University of Central Florida. Its Stocks, Bonds, and Investing: Oh My! Course will teach you the basics of stocks, bonds, finance, and investments. 
Taught by Certified Financial Planner Matt Crabtree, this course is great for beginners. It has lessons every Wednesday and Friday for six weeks, with course dates starting monthly on a rolling basis.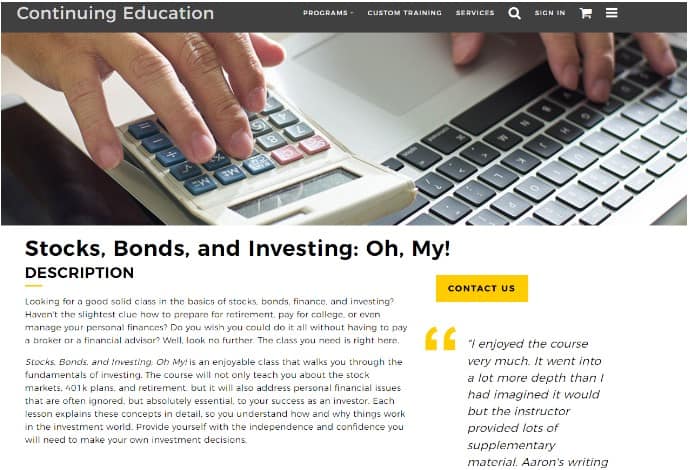 But don't worry, you can also choose a self-paced option if that's too intimidating. Both the instructor-led version and self-paced version of this course will set you back $129.
Coursera:
Financial
Markets
This is a 100% free course by Yale on Coursera. Over one million people have taken the course to learn the basics of the stock market.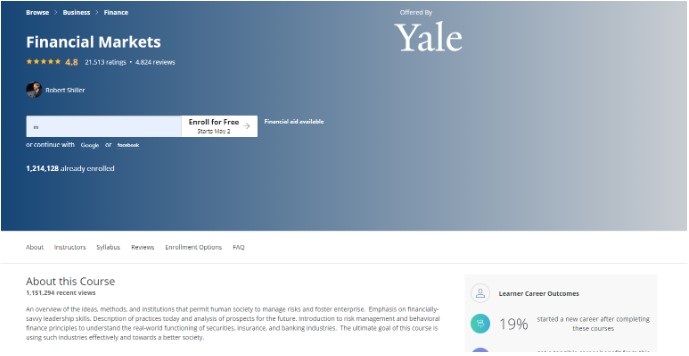 Taught by Robert Shiller, Professor of Economics at Yale University, this course will teach you about the basics of macroeconomics. It can get a little dry, so I recommend it to people who are more advanced in their investment journey.
Coursera: Bitcoin and Cryptocurrency Technologies
Here's another free Coursera class that's taught by experts at Princeton University. Over 600,000 people have taken this course to learn about the ins and outs of investing in crypto. 
Is this about the stock market specifically? No. But with more funds in the stock market speculating on the price of crypto, it's good to know the basics of crypto as an investor.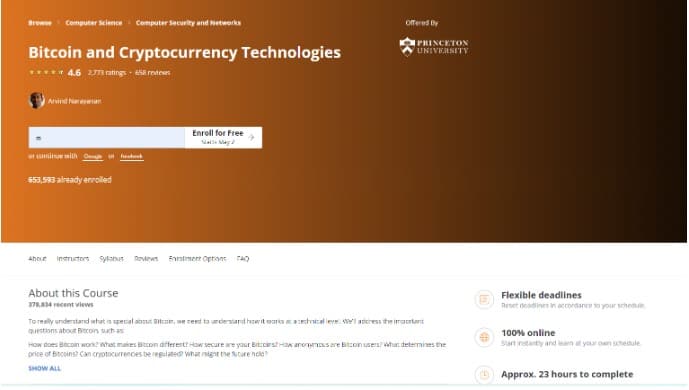 And since this course has 23+ hours of content, there's definitely no shortage of crypto-centered financial content here for your viewing pleasure.
Where To Find A Legit Stock Market Investing Course – The Verdict
Sure, you can learn a lot on your own via Google, YouTube, and TikTok, but at a certain point, you're going to have a lot of questions that a Google search can't solve. Stock market investing courses are great for both newbie and advanced investors.
You just have to find the right course for your needs, which comes down to:
Topics covered

: Do you need more general knowledge about the stock market, or do you want to learn something more specific? For example, if you want to learn just about stock picking, there are courses that just focus on that topic.

Time commitment

: How much time do you have for a course? Some courses are 40+ hours, which is a lot of content to go through. You should also check if a course is self-paced or if it operates on a schedule, which would require carving out time in your daily routine.

Budget

: How much money are you willing to spend on a course right now? There are plenty of free options, but if you want more advanced knowledge or hands-on help, you'll likely need to pay.

Current level

: Are you a total beginner, or are you already familiar with stock market concepts? Evaluate the difficulty level of a course before you pay for it! You don't want to attend a course that's too complex or too simple.

Format

: How do you prefer to learn? Some courses are text-only, while others have cool formats like audio or video.

Reviews

: I vetted the stock market investing courses on this list, but it's always good to check reviews before you buy anything. Make sure that previous students had a good experience so you spend your time and money on a course that will actually help you.
So, are stock market investing courses worth it? My vote is yes! However, it's good to see what you can learn for free first. From there, try paid courses so you get the most bang for your buck.
You're already doing great because you've decided that you need to start learning. Put on your thinking cap to find the course that best fits your needs. If you want to learn a little bit of everything from an experienced investor, give Market Insiders a try for 10 days, free.