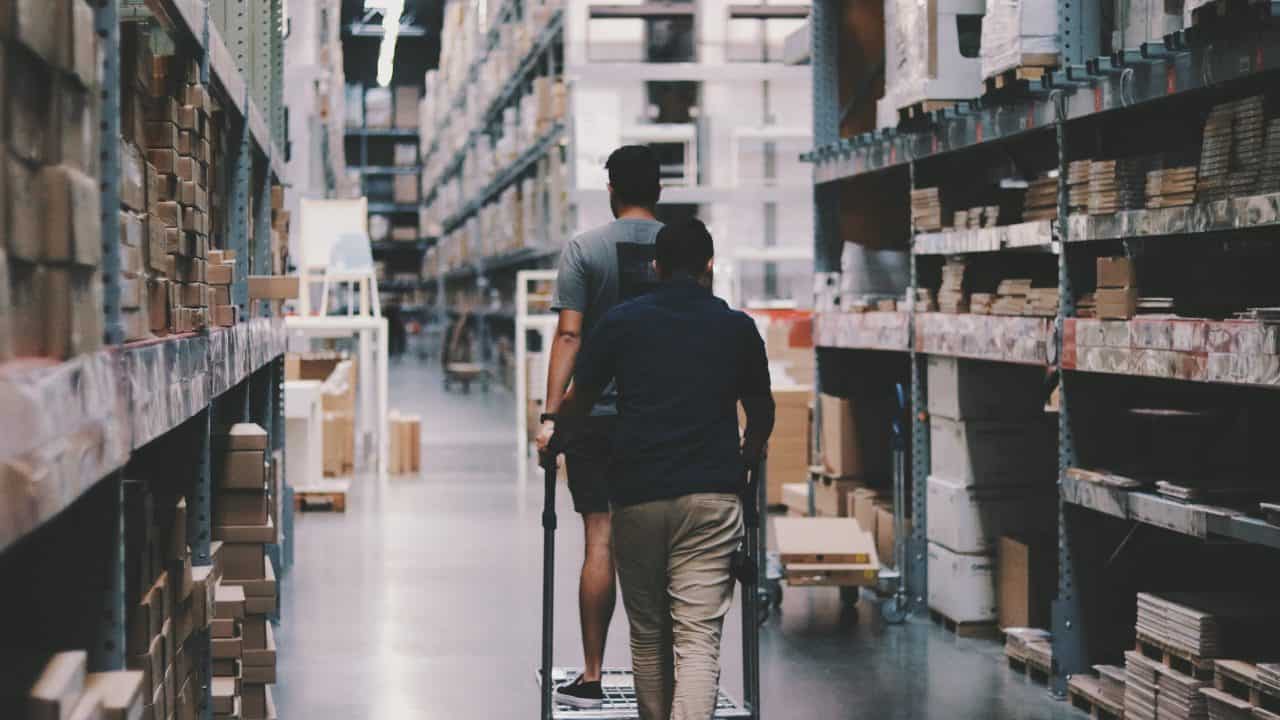 Disclaimer
We only endorse products that we truly believe in. Some of the links below may earn us some extra guac at no additional cost to you. Please pass the chips & thank you for feeding our habit.
I've been a Costco member since 2014, when my boyfriend (now husband) was nice enough to add me as the second person on his account. Every year since, we've doled out the $60 Costco membership without much thought.
But no matter whether you shop at Sam's, Costco, BJ's, or another wholesale club, it's fair to ask, "Is a wholesale club membership saving me money?" After all, $60 is a lot of money—I have to shop wisely to make my money back.
The good news is that wholesale club memberships are worth it as long as you can make up the cost of the membership. In many cases, the bulk prices on groceries alone can make up for the membership fee, but I also save a ton of money on:
Gas
Tires
Electronics
Vacations
It all depends on how often you shop at your wholesale club and what you buy. After all, if you shell out $60 and then never shop at Costco again, it's clearly a waste of money. But hey, everyone is different! Let's dive into how these wholesale club memberships work and whether they're a fair deal.
How Wholesale Club Memberships Work
First things first, it's good to understand why millions of people buy wholesale club memberships. Generally speaking, most retail stores like Walmart or Target have markups in the 25 – 50% range.
But warehouse stores only markup their prices by about 14%, which means their products are often cheaper than retail stores. Warehouse stores are able to charge lower prices thanks to their membership fees, which help them recoup the cost of charging way less than their competitors.
Of course, you need to shop at your warehouse club of choice frequently enough to make up for the membership fees they charge:
Sam's Club charges $45 – $100/year.
BJ's is $10 – $110/year.
Costco is $55 – $120/year.
If you don't want to buy an annual membership, you could try shopping without a full membership. Sam's Club charges you a 10% service fee, BJ's charges 20%, and Costco charges a modest 5% fee to non-members.
But you won't access all of the club deals as a non-member: wholesale stores give exclusive discounts to members in exchange for their loyalty.
So, if you aren't a fan of paying an expensive membership fee, you're free to pay a service fee instead. But if you think you'll shop at a wholesale club at least once a month, I think it's worth the money.
The Pros of a Wholesale Membership
What's so alluring about wholesale club memberships? Frugal folks have been loyal members to stores like Costco and Sam's Club for decades, and these 6 perks certainly make it a tempting decision.
1. Lower prices
That's right: you can save a lot of money if you buy the right things at a wholesale store. It's not unusual to see a 20% discount on items that you would normally buy at the grocery store, like rice, pasta, or frozen foods.
Because you're buying in bulk, warehouse stores like BJ's, Costco, and Sam's are able to pass on greater savings to you. As long as you have a method for storing 20 pounds of rice, you'll definitely enjoy lower prices with a wholesale club membership.
2. Higher quality store brands
Consumer Reports found that many of Costco's Kirkland brand products were just as good (if not better) than name-brand products. For example, I like to stock up on Kirkland brand medicine, chocolate, and tissues that are just as good as "the real thing." In the case of wholesale clubs, off-brand is an awesome deal that usually doesn't come with a tradeoff in quality.
3. Less frequent shopping
Sick of making a weekly shopping trip? I go to Costco once a month to stock up on cups, plates, toilet paper, flour, and more. What I buy at Costco changes from month to month depending on what we need, but it's certainly cut down on my grocery store trips.
Since I'm tempted to buy a bunch of random things every time I make a grocery trip, less frequent shopping is definitely a boon for my budget, too.
4. Awesome customer service and return policies
If you shop at Walmart and have an issue, you're out of luck, pal. But if you pay for a wholesale club membership, you're going to see outstanding customer service. Whether over the phone or in person, I've always had positive experiences with my warehouse club.
And if you need to return something? Man, you can return just about anything. Costco and Sam's Club have a 100% money-back guarantee where you can return a purchase (except electronics) for any reason at any time, as long as you have the receipt.
For example, I once bought a huge pack of strawberries at Costco. When I got home, I realized a third of the container of berries was rotten. I returned to Costco and they refunded the entire cost of the strawberries.
5. Cheap meals
I can't tell you how many cheap Costco food court dates my husband and I enjoyed in the early years of our relationship. Costco is famous for its $1.50 hot dog and soda combo, which is one of its biggest loss leaders.
But wherever you choose to shop, wholesale clubs serve some dirt-cheap meals in their cafeteria. I recommend eating before you shop so you aren't making decisions while you're hungry. But you can't beat a $3 burger, $1 bottled water, and other cheap treats. It's mostly greasy fast food, but if you're trying to eat on a budget, these cafeteria meals are an awesome perk that help you make back your membership fees.
P.S. If you want to stuff your gullet with free food, try visiting your wholesale club on a weekend to enjoy tons of free samples.
6. Add-on services
The last big perk to a wholesale club is the add-on services you can enjoy as a member. Wholesale clubs negotiate relationships with other vendors and pass on some great discounts to you.
You can buy a garage door, a vacation package, and even insurance through a wholesale club. I saved $200 booking a vacation through Costco Travel, which more than made up for our $60 membership fee.
Just make sure you're aware of your membership benefits! Few members take advantage of these perks, but they really can make up for your membership fees.
The Cons of a Wholesale Membership
I personally think my wholesale membership has been worthwhile, but these memberships aren't perfect. They have some downsides you'll need to consider if you're on the fence.
1. Very expensive impulse buys
I once bought $15 worth of granola at Costco because it looked good. Spoiler alert: it was nasty. That meant I had to toss $15 worth of granola.
If you buy something on an impulse at a wholesale club, you're going to spend more on it because you're buying large quantities. These stores are designed to get you to buy more than you planned, so stick with your shopping list to avoid this trap.
2. Bulk quantities
Sure, you'll save a lot of money buying 20 pounds of flour at one time, but do you have the space to properly store everything you buy? Do you have enough freezer storage for a 10-pound bag of frozen fries?
It's a terrible feeling to get home and realize you can't store everything you bought. It's especially awful if you buy perishable items in bulk and you can't use them in time! That's why I stopped buying produce at the wholesale club and just got it at the grocery store.
3. Traffic and hours
I'm self-employed, which means I can go to Costco whenever I want. The thing is…there is never a good time to go to the wholesale club. It's always busy, both in the store and the parking lot. The weekends are worse, but not by much.
My wholesale club doesn't open until 10 AM and it closes pretty early on weekends at 6 PM. While most grocery stores are open early in the morning and late at night, wholesale clubs' limited hours can be inconvenient.
4. Coupon restrictions
I used to love extreme couponing, but wholesale clubs generally don't allow it. Because their prices are already so low, you aren't allowed to coupon at Sam's or Costco.
Now, BJ's does accept coupons, so if you're really into coupons and can't choose between different memberships, this is a big plus for BJ's.
The Bottom Line
Everybody's finances are different, but as long as you shop at least once a month at the wholesale club, the membership pays for itself in the form of:
Cheaper prices.
Quality store brands.
Fewer shopping trips.
Great service and return policies.
Cheap cafeteria meals.
Add-on services.
I love my wholesale membership, but factors like:
Expensive impulse buys
Bulk buying
Store hours
Coupon restrictions
…can make wholesale club memberships less worth it. If you shop there frequently, stick with a list, and you can cope with the hours and traffic, I would say a membership is worth the money. But hey, you do you: crunch the numbers to make sure a wholesale club membership makes sense. You can always do a one-year membership, see how you use it, and reevaluate whether it makes sense to continue.