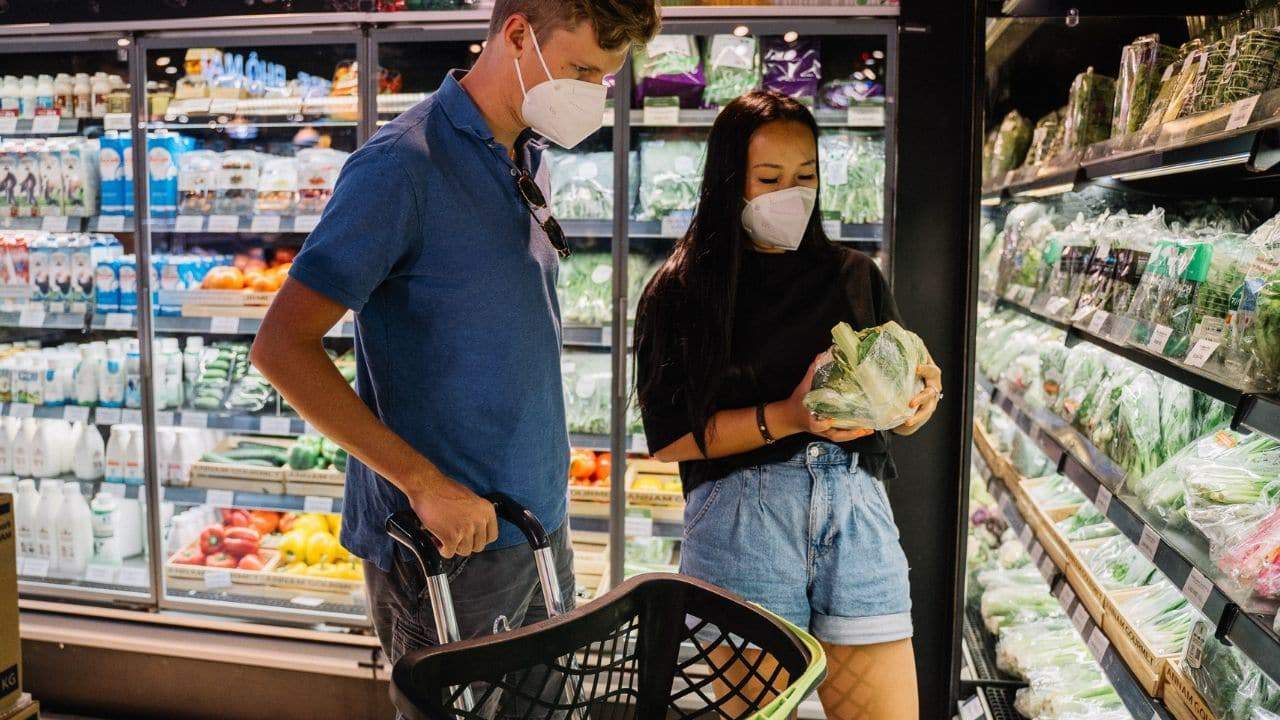 Disclaimer
We only endorse products that we truly believe in. Some of the links below may earn us some extra guac at no additional cost to you. Please pass the chips & thank you for feeding our habit.
With over 1,800 stores across 35 states, Aldi is slated to become one of the biggest grocery chains in the US by 2022. Aldi has a cult-like following thanks to its German-inspired efficiency and low prices.
In fact, if you stroll through an Aldi, you'll probably be taken aback by the low prices. Although they have a famously limited selection of goods, their prices rival grocers like Trader Joe's.
I'm a no-frills kind of gal, and Aldi definitely makes my minimalist heart happy. There's usually one of any good you need at the store, which eliminates the need to choose between different brands. I also like that it carries its own brand of products, which keeps costs down.
And name-brand goods are overrated, am I right?
You can save money just by shopping at Aldi, but there are a few ways to slash a couple of bucks off your grocery bill. Follow these 8 tips to help you save even more money at Aldi.
1. Always Shop the Sales
Unlike Trader Joe's, Aldi doesn't take any manufacturer's coupons. For coupon-lovers like me, this probably feels crazy. But you can still save money by shopping their sales.
Aldi's weekly Aldi Finds flyer will give you the 411 on what sales are at your store this week, from meat markdowns to produce discounts. You can receive it by email for free.
You can check out this week's deals at your local Aldi online, too, if you don't want to fork over your email address. 
But here's a fun secret: Aldi also has clearance bargain bins located throughout the store. They don't advertise these deals, so you'll need to visit the store to find them.
It's not unusual to find deals on food that's about to expire or goods that are the last in stock at the store.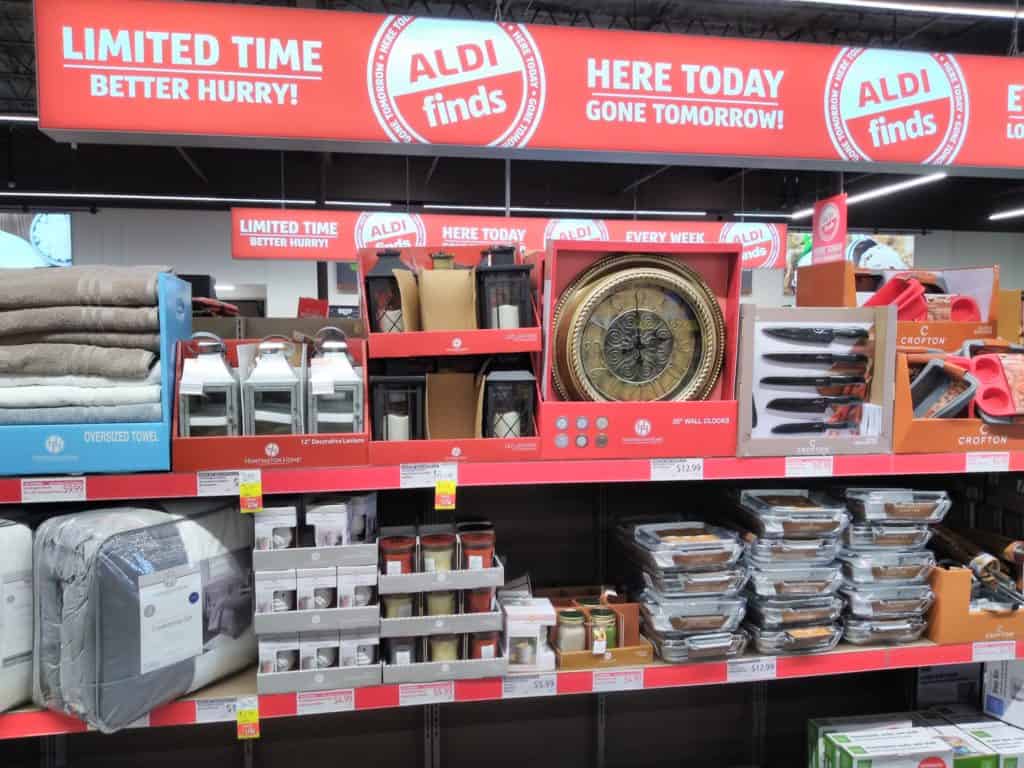 2. Earn Cashback
I love cashback apps, but you need to use them correctly if you want to save money at Aldi. Because Aldi doesn't carry a lot of big-name brands, you probably won't earn any money on most cashback apps.
However, certain cashback apps don't require you to buy name-brand goods to earn points. Sign up for apps like Dosh or Fetch to earn more when you shop at Aldi.
P.S. You can double dip by paying for your groceries with a cashback rewards credit card! I earn about $1,000 a year doing this and it pays for Christmas gifts every year.
3. Bring Your Own Bags
Stores like Whole Foods will charge you for bags, but Aldi follows this policy to the extreme. Some stores will charge you 5 – 10 cents per bag if you forget to bring your own. But other Aldi stores won't even offer bags at all!
Make sure you bring your own bags any time you shop at Aldi or you'll be on the hook for annoying fees. …Or you'll have to haul your groceries without bags, and that's no fun.
If you're in a pinch and forgot your bags, they'll allow you to carry your stuff in leftover cardboard boxes lying around the store.
4. Use Their Amazing Return Policy
Aldi is a discount grocer, and that means there's a tradeoff between price and convenience. In this case, the expiration dates aren't always the best. While you can combat that by buying items further towards the back of the shelf (those tend to be the freshest), that might not work out.
If you accidentally buy expired food at Aldi, though, you don't have to suck it up! Aldi's Twice As Nice Guarantee will give you a replacement and a refund, which is pretty cool.
Keep in mind that you need your receipt and any unused product to qualify for the refund.
5. Shop the Best Deals
If you must buy name-brand products, Aldi might not be for you. Most of its better deals come from its own line of products. While you might not find a great selection at Aldi, several items are cheap enough to be worth the trip:
Eggs: A dozen eggs cost 89 to 99 cents at Aldi, which is a steal.
Chocolate: I am a chocolate fiend and Aldi's high-quality chocolate bars (from nice chocolatiers, no less) are a great grocery trip treat.
Produce: Aldi's organic produce is more expensive (usually 10%) than conventional, but it's still cheaper than what you'd find at Whole Foods.
Milk: This costs $1 to $2.50 per gallon. For my vegan buddies who drink almond or soy milk, Aldi has great prices on milk alternatives, too.
Health foods: If you're a fan of Whole Foods, check out Aldi's Fit & Active product line for cheaper alternatives.
Canned goods: It's not unusual to pay 50 cents for a can of green beans at Aldi that usually cost me $1 at another grocery store.
Baked goods: Aldi's pastries go for $1, but sometimes you can get them on sale. Go to the bakery area and look for day-old baked goods. They usually sell old bread for 50% off and it makes amazing French toast!
I don't buy personal care products at Aldi, but I've heard that items like toothbrushes and skincare products are cheaper at places like Costco. Do the math to see which products are a good deal at your local Aldi.
6. Shop Right After the Holidays
I bought my Christmas tree right after the holidays for a massive 60% discount. If you're in the market for holiday-themed goods, decorations, or food, shop the day after a holiday.
Case in point: every year on February 15, I go to the grocery store to score chocolate at half-price.
Because Aldi is already so cheap, you can score some awesome discounts if you shop after a holiday ends. Walmart, Walgreens, and CVS are good for this, too, but you can't beat Aldi's prices so start here first.
7. Install Aldi's App
There's an app for everything these days, and that includes your Aldi's savings. You can download the Aldi app for useful features like:
Weekly deals
Recent price reductions on items you regularly buy
New items and releases at your store
An in-app shopping list
Store locator
QR scanner
8. Return Your Cart
As a German store, Aldi works differently than good ol' American Walmart. They do anything to keep costs low, which means you bag your own groceries and you're responsible for returning your cart.
In fact, if you want a cart, you have to insert a quarter to "rent" one. As long as you return your cart after your trip, you'll get that quarter back.
For folks like me who aren't used to carrying cash everywhere, this is a minor annoyance. It means you need to keep a quarter in your car for shopping trips.
This seems like an inconvenience, but it keeps Aldi's overhead costs super low, which saves you more money.
The Bottom Line
Aldi is usually a cheaper option than other national grocery chains. But not everything is cheaper at Aldi, so learn what products are the best price at your location. That might mean shopping at Aldi and Kroger every week, but when you're trying to save money on food, that's not a bad tradeoff.
You can cut down your costs even more when you:
Shop the sales
Use cashback apps
Bring your own bags
Take advantage of their great returns policy
Install the Aldi app
Shop at the right time
Return your cart
Of course, the best way to save money is to not spend it at all. Don't let Aldi's super-low prices convince you to buy anything you wouldn't normally purchase.
Self-control is the key to saving money on groceries, so rein it in the next tip you're at Aldi.
Keep Reading: