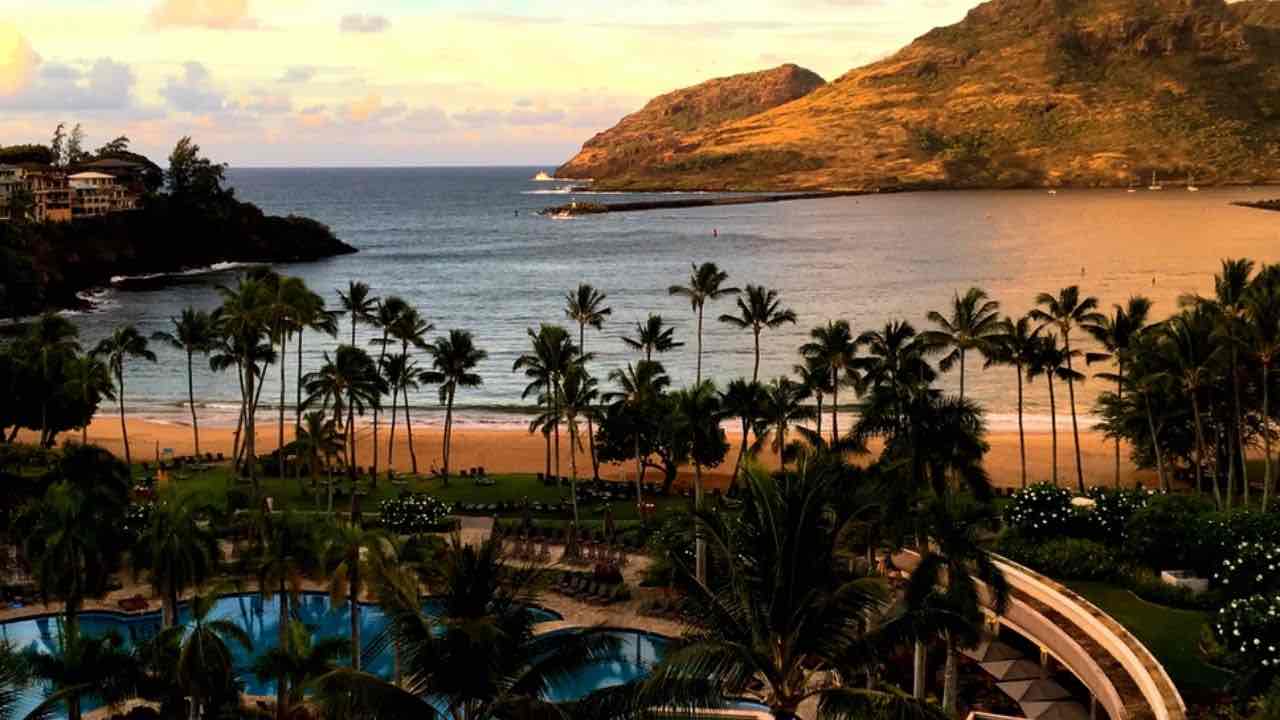 Disclaimer
We only endorse products that we truly believe in. Some of the links below may earn us some extra guac at no additional cost to you. Please pass the chips & thank you for feeding our habit.
I had never seen the Pacific Ocean, but it was a view that I could get used to. From the veranda of the oceanfront condo we were staying at, the sun was just starting to peek up above the waves, and it began to illuminate the sandy beaches and tops of the palm trees just ahead. 
Holding a warm mug of coffee and sinking back into a patio chair, I thought to myself: We finally did it. We made it to Maui.
Our dream had finally become a reality. And we didn't even have to put ourselves in debt to achieve it either.
But how did we get here? And how could we seriously afford it? Last time I checked, flying a family of four all the way from the east side of the U.S. to Hawaii was easily $5,000 or more.
And that was just the flights … Once you tacked on a decent resort, vehicle rental, and a few once in a lifetime excursions, you're easily looking at spending upwards of five figures for a one-week family getaway.
Luckily for us, that wasn't at all the case. In fact, on this trip alone, we saved over $5,000 off the sticker price of what this trip should have cost!
Thanks to planning ahead and strategically taking advantage of several travel rewards credit cards, we've been using this same technique year after year to save thousands of dollars when we travel. 
Here's how we did it and how you can too.
The World of Travel Rewards Credit Cards
Two years before our Hawaii trip, planning a vacation for me was pretty much just like how everyone else does it:
     

Go on Expedia (or whatever travel price you use)

     

Type in your dates

     

Pick a nice hotel and some flights

     

Pay whatever the computer screen tells you.
Unless there was some awesome deal going on or bargain flights available, we were basically stuck paying full retail price for the full vacation package.
Then I had a breakthrough …
I was listening to a podcast by the Mad Fientist where he interviews two other bloggers: Brad and Alexi. The two of them were promoting a new project they were working on called Travel Miles 101, and the interview was packed full of all kinds of strategies for something I had never heard of: Travel hacking.
Travel hacking, or "travel rewards" as some now call it, is when you systematically accumulate points from credit cards that you intend to use for free travel. In many cases, these are points for specific airlines and hotels. But it can also include cash-back points that you'll later use or convert for travel points; usually at a higher conversion rate!
Travel rewards can generally be earned in two ways:
Sign-up bonus.

Most credit cards companies will offer you a big chunk of points up-front as long as you meet some kind of minimum spending requirements within the first 3 to 4 months (usually $3,000 to $4,000).

Points for spending.

Each card will give you some fixed number of points for every dollar you spend (usually 1 point for each dollar). However, some categories might result in even more points per dollar. For example, some of my cards will pay up to 5 points per dollar on gas, groceries, travel, etc. 
I started digging into this and began to notice that all kinds of people were taking advantage of travel rewards. They were reporting spending pennies on the dollar to take cool and exciting trips across the U.S., Europe, and even Asia.
I wanted in!
Finding Success with Travel Rewards
My first travel rewards card was the Chase Sapphire Preferred card. As I was learning, Chase credit cards were among some of the most valuable and flexible ones to get thanks to their popular Chase UR (Ultimate Rewards) points system. 
On the surface, UR points can be redeemed at a cashback rate of 1 cent per point. However, exploring my options a little deeper, I found they had others that were far more lucrative. For example, travel booked through the Chase UR Travel Portal increased the value of these points by 25 percent. (Some of their other cards even bumped this up to 50 percent.)
Chase also has extensive partnerships with various airlines and hotels, and that meant you could convert your UR points into the specific point system of those services. In some instances, paying with points for those companies could end up being a cheaper price than the standard monetary rate. 
I decided to try this for myself and booked a round of flights for my family to Florida for the following summer. How much did we spend? Out of pocket, we should have spent around $1,400 with Delta. But with our Chase UR points, the flights were free!
After that, I didn't want to stop there. The next thing we did was to convert our remaining Chase UR points to Hyatt hotel points. That resulted in a free week's stay at a Hyatt hotel just outside of the Universal Studios theme parks. I was on a roll! 
We then applied for two more Chase cards: The Sapphire Reserve and Ink Business Preferred. Thanks to some pretty amazing sign-up promotions they were running at the time, we now had enough points to book a second trip that summer to an all-inclusive resort in Los Cabos, Mexico. 
For the whole package (flights and resort), that trip would have normally cost $1,877 out of pocket for my wife and I. But because we paid for the whole thing with our Chase UR points, it was free. Happy anniversary to us! 
Planning Our Trip to Hawaii
Hawaii had been a dream destination of ours for some time now. But every time we priced it out, the cost was always way more than what we felt comfortable spending.
Having now gone on two incredible vacations for next to nothing, I decided to step up my game and use all my new knowledge about travel hacking to make Hawaii as affordable as possible. Challenge accepted!
Right off the bat, I knew the flights would be the most expensive part of the vacation. So all of my effort went into figuring out how I could get the flights for free.
The first thing I did was research flights from our airport to Hawaii. Right away, I noticed the majority of them were offered by Delta. From there, I went to Delta's website and reviewed several options for flight dates and how many Delta Skymiles they would cost per person.
I came up with a number we needed to hit and found two different Delta-branded credit cards that would give us enough miles to hit this target. Both my wife and I opened completely separate accounts so that we could effectively get double the points with each card.
After several months of opening cards and accumulating points, we finally had exactly the number we needed to book those flights on just free points. If that wasn't cool enough, our Delta credit cards also let us check our bags for free too.
But of course, why stop there? Still having our Chase credit cards, we had a decent number of UR points available. So I decided to use these points to rent a Jeep for the week. Nothing like getting a free ride around Maui!
How You Can Travel for Free Too
If you're a responsible and avid user of credit cards, then you've got some pretty lucrative opportunities waiting ahead for you. There are plenty of great travel rewards cards with generous sign-up bonuses that you and your spouse can each get and start taking advantage of right away.
The best way to begin is to become educated on how exactly travel rewards work, which cards have the best offers, and how you can optimize your efforts.
Next, start strategizing where you'd like to travel to and how you can use your points to get there. Thinking back to my story, I knew from researching the flights up-front that Delta was going to my best bet, and so I only focused on credit cards that were going to get me there. You could do the same thing with your favorite airline or hotel chain.
To stay up to date on the latest credit card offers, check out any of these popular travel rewards sites:
Above all, remember to only use your credit cards to accumulate points on things you were going to buy anyways. Even though earning free travel can be exciting, don't fall into the trap of:
Over-spending beyond your monthly budget

Racking up unnecessary high-interest debt

Potentially damaging your credit score

Paying excessive annual fees
Play it safe and smart with your credit cards, and you'll find out just how easy it is to start traveling to places you've always wanted to go.
Contributor's opinions are their own. Always do your own due diligence before investing.
Keep Reading: