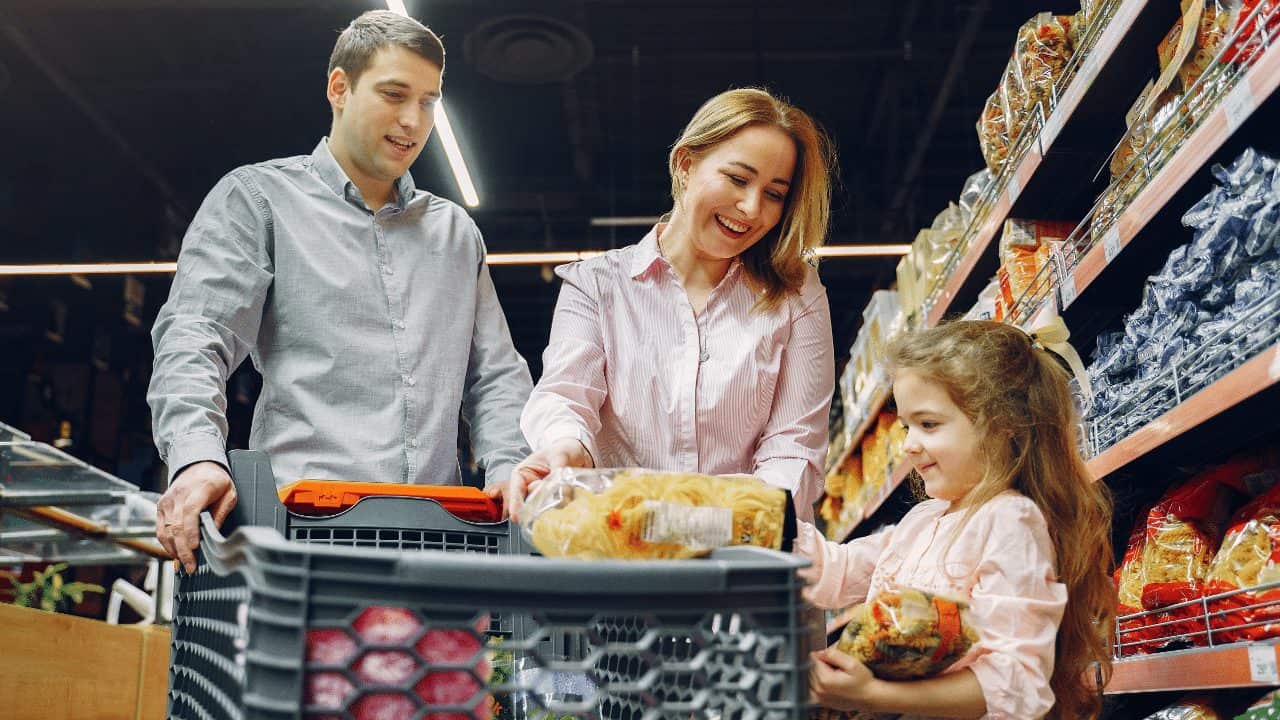 Disclaimer
We only endorse products that we truly believe in. Some of the links below may earn us some extra guac at no additional cost to you. Please pass the chips & thank you for feeding our habit.
After discovering it for myself in 2013, Trader Joe's has become one of my favorite grocery stores. The luau theme, the happy employees, the crazy-delicious food—if my closest Trader Joe's weren't 20 minutes away, I would shop there every week.
The thing is, if you've ever had a chance to shop at Trader Joe's, you'll never leave the store with only the items you intended to buy. Like Target, I always walk out of Trader Joe's with more tasty morsels in my bag than I planned on buying.
While I love Trader Joe's, shopping there frequently can really add up. Its prices are lower than many of its competitors, like Whole Foods, but still. Trader Joe's says it doesn't do "sales" because its prices are already so low, but if you're trying to save money, you might be looking for other ways to save.
After nearly a decade of shopping at Trader Joe's, I've learned these 10 tricks to shave a little bit more off of your weekly grocery bill.
1. Sign Up For The Fearless Flyer
Like most grocery stores, Trader Joe's publishes its own sales paper. While you can sign up to have it mailed to you, you can also check the website every week or sign up for email alerts (in the website's footer). 
The Fearless Flyer shows what featured products or specials are happening at Trader Joe's this month. For example, the February Fearless Flyer always features deals on flowers. You can get a dozen roses for $12.99 a pop, which is a steal compared to the $30 dozen roses at my local grocery store. If you're looking for a particular product, the flyer lists everything by category, complete with a small writeup and pricing.
2. Shop At Off-Peak Hours
Honestly, this is a tip that every frugal shopper should follow regardless of where they do their shopping. I'm that crazy person who shops at 8 am just to avoid the crowds.
When you feel rushed in a crowded store, you're more likely to forget items or just not find what you need. In my case, it means I pick up a lot more of Trader Joe's dark chocolate peanut butter cups instead of what's actually on my list.
3. Use Manufacturer Coupons
Trader Joe's is famous for its name-brand products, which is mostly what it stocks in-store. If you're buying TJ-brand items, you won't find any coupons. Trader Joe's claims this is because it already prices its products low and has no need to offer coupons.
That's bad news for my fellow couponers. However, there's good news!
Trader Joe's also stocks other food brands at its stores. Sometimes these third-party brands will offer coupons, which are called manufacturer coupons. It's totally fine to use these on your next shopping trip. I've done this a few times and saved a couple of bucks on Amy's brand frozen meals.
4. Scope Out The Best Deals
Some items at Trader Joe's are better deals than others. It's like how everyone knows Costco's rotisserie chickens are one of the best deals in the store. 
In my experience, these products are some of Trader Joe's best deals:
Frozen meals: When I was in college and felt like treating myself, I would buy a couple of Trader Joe's ready-made frozen meals. What a treat! Most of these frozen meals are a good price, actually. The Trader Joe's brand meals are always tasty and interesting, and its third-party brands are usually cheaper than you'll find at other stores.
Fancy cheese: Trader Joe's has an impressive cheese section that rivals stores like Whole Foods. I've assembled lower-cost cheese platters using Trader Joe's cheese, so check them out if you're in the mood to get fancy.
Two Buck Chuck: This is Trader Joe's infamous bottom-of-the-barrel wine. It might not win any awards for flavor, but it's cheap wine for getting buzzed on a budget.
Meat and fish: My husband loves Trader Joe's pre-seasoned or marinated meats. They're not priced as bad as you might think, especially if the marinate contains ingredients that would be expensive to buy per-meal.
Fresh flowers: I love Trader Joe's flower section. While the flowers at my other grocery store always look questionable and old, the flowers at Trader Joe's always look great. Plus, they're usually a few bucks cheaper than other stores.
Bananas: Trader Joe's allegedly hasn't changed the price of its bananas since the 1970s, so always pick up a bunch here if you want to save a few bucks.
5. Bring Your Own Bags
I love the paper bags that Trader Joe's uses to package groceries; you can reuse them in so many cool ways. However, after shopping at Trader Joe's a few times, I realized I could earn money just by bringing my own bags.
When you bring your reusable shopping bags to Trader Joe's, the cashier will give you a ticket to enter a weekly raffle. If you win, you get a $25 Trader Joe's gift card. It's an easy way to save money, so why not try your luck?
6. Eat The Samples
I adore Trader Joe's sample area. It's located in the back of my store in a cute mini-deli area. In my experience, the samples are pretty generous, so that's always a plus.
But samples are also important because they allow you to try products before you buy them. I've impulsed-purchased far too many neat-looking groceries at Trader Joe's and ended up not liking them. So, if there are samples of some funky new product, give it a try so you don't waste money.
7. Get A Refund If You Need It
Hey, even the best grocery stores make mistakes. If there's something wrong with a product you purchased (or for any other reason, really), you can ask for a full refund. I've only done this once because half of the fruit I bought was spoiled and moldy. Trader Joe's gave me a no-questions-asked refund.
Yes, this is a hassle, but if you had a bad experience, let Trader Joe's make it right. There's no sense in spending extra money on spoiled or bad food. And while this doesn't happen often, you'll want to get your money back just in case it does.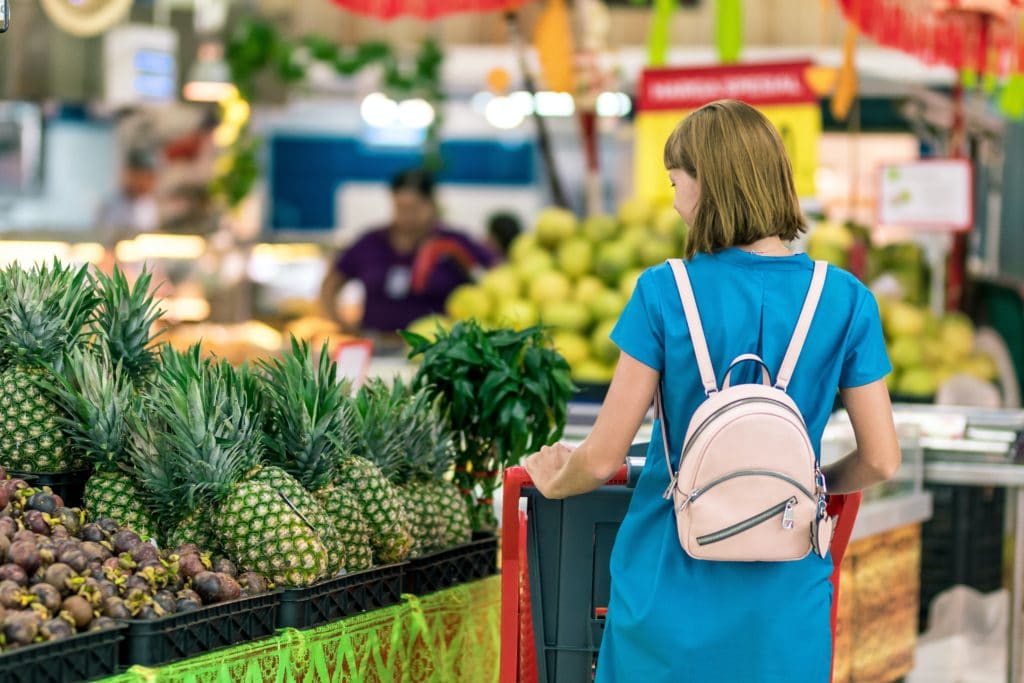 8. Avoid Convenience Foods
Processed cheeses and veggies might be convenient, but they're more processed. That means you're paying extra for them. For example, you'll pay 20 – 50 cents more per ounce when you buy pre-shredded cheese. 
Trader Joe's charges more for these foods, so if you have the time and want to save money, avoid pre-cut, pre-portioned, or pre-packaged foods. Sometimes the time savings will outweigh the costs, so watch the price per ounce to find the best deals for your budget.
9. Don't Fall For The Novelty
One of the reasons I love Trader Joe's is that I can buy things there that no one else sells. Where else can you buy something as bizarre as Cookie Butter?
The problem is that I was spending way too much on these interesting, curious products. That left me with a fuller cart and a bigger grocery bill. The kicker was that I didn't even like half of the novel stuff I bought! So I spent more money on products I didn't even like.
There's nothing wrong with trying Trader Joe's zany products, but try to rein it in. Try one new thing a week to satisfy your curiosity without busting your budget.
10. Strategically Buy Produce
The one big ding I have against Trader Joe's is how it treats produce. While you can buy some produce, like oranges and apples, by the pound, most of its produce is pre-bagged.
That's not the end of the world, but it does mean the produce tends to be less fresh. In my experience, it's also hard to tell if you accidentally buy fruit that's gone bad because the packaging is opaque.
Also, you don't have to buy organic produce. Trader Joe's is known for offering tons of organic products, but conventional is usually fine if money is your primary concern. If you want to balance the health benefits of eating organic and saving money, refer to The Dirty Dozen. 
The Bottom Line
A piece of my heart will always belong to the lei-clad employees of Trader Joe's. I adore this grocery store, but if you aren't careful, you can spend a lot more money than you should.
You don't have to shop at the discount grocery store to eat well on a budget. Take advantage of Trader Joe's deals and policies, shop at off-peak hours, enter the weekly raffle, avoid cool or convenient foods, and shop for the best deals in-store. Follow these 10 tips to make your trip to Trader Joe's better for both your stomach and your wallet.
Keep Reading: