In this guide to getting your first career job, you'll discover everything you need to know about how the hiring process works and what you can do to set yourself apart from the competition.
This guide walks you through every stage of finding your first career job, including:
You'll learn how to build an online presence that catches the attention of recruiters and employers, how to find your way to the best jobs, and how to give yourself a significant edge on the competition.
Whether you're a recent college graduate or looking for your first position in a new career, you'll discover valuable tips that help you carve a path to your dream job.
What Type Of Job Should You Pursue?
If you're a new college graduate or if you're hoping to start a new career this year, you probably already have a "dream job" in mind.
However, landing that dream job before you're ready isn't a good way to succeed within your profession.
When you do land your dream job, you'll want the ability to impress your bosses, work well with your colleagues, and produce high-quality work.
Suppose you accept a job that you're not ready for and don't excel in the position. You may develop a bad reputation that makes it nearly impossible to grow within your field or network as a respected member of your industry.
As you become more experienced, taking risks on bigger jobs can be a great move. But for your first career job, it's better to find a position that allows you to build connections and walk away with a glowing recommendation.
If you're a recent college graduate or just getting started in a new career, focus on looking for work that helps you gain experience, develop your instincts, and build relationships that can help build a path to your dream job.
Focus your job search efforts on positions that help you build experience, instincts, and connections for your future dream career.  
Having a "perfect job" in mind is a good thing.
That ideal can help you identify career-building jobs.
Career-building jobs help you develop the skills and connections you'll need to bring the value and confidence you need to succeed in the future.
Every college grad wants to find a job in their field. However, it can take years to land an entry-level position in your future profession.
"You know who I'm envious of?" asked TED speaker and entrepreneur Jason Shen, "People who work in a job that has to do with their college major."
According to Shen, one study found that only twenty-five percent of college graduates work in a field that relates to their degree.
Practically speaking, the likelihood of landing a degree-worthy job after college graduation is also very low.
By the end of 2020, 40% of recent college graduates and one-third of all college graduates were underemployed (working in jobs that typically do not require a college degree).
In the chart below, NewYorkFed shows that high underemployment rates among college graduates have been the norm since (at least) 1990.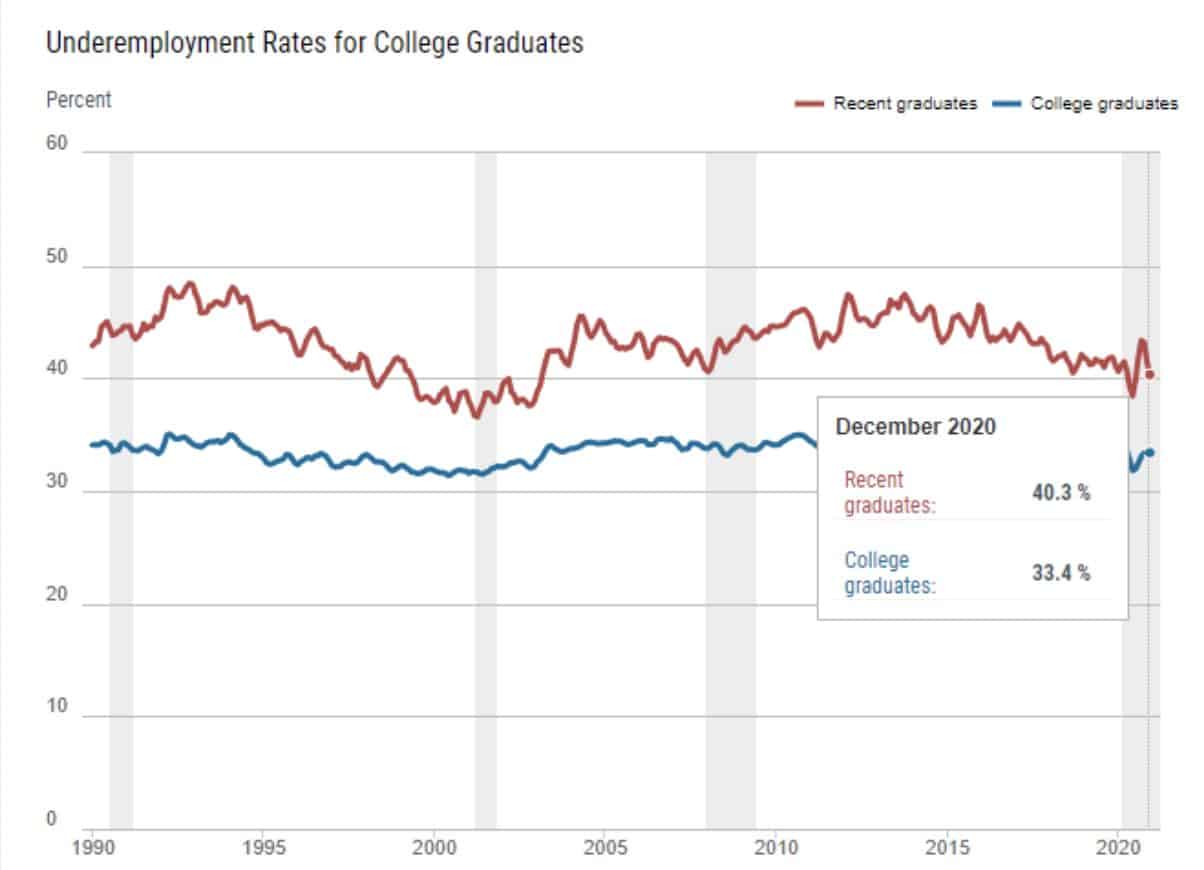 While people with college degrees generally earn 75% higher salaries than those with only high school degrees, college grads are more likely to end up unemployed than high school graduates.
For example, the unemployment rate for high school graduates is 4.3%, which is much lower than the jobless rate of many college grads:
7.8% of Mass Media majors are unemployed
6.6% of Anthropology majors are unemployed
5.8 % of Liberal Arts & Humanities majors are unemployed.
However, certain fields of study give you a significant advantage in finding a career-level job after college.
Compared to the 6 – 8% unemployment rates of people with degrees that are not in demand:
Just 1% (one percent!) of General Education majors are unemployed.
Only 1.8% of General Medical and Health Services majors are unemployed.
What To Do If You Can't Find Work In Your Field
If you're thinking that it's better to wait for the "right" career job to come along — think again.
Every day that you're unemployed is a day that you miss out on the opportunity to build the experience, instincts, and connections you'll need to succeed in the future.
So perhaps you can't land the perfect job right away. That's okay.
Instead, you can search for career-building work that helps you reach your ultimate goal.
Career-building jobs form a clear path to your dream career and bring you closer to the ultimate goal; to succeed in your field instead of merely landing a good job.
The good news is that when you expand your search to include career-building jobs, you'll discover endless opportunities.
Eight Career-Building Strategies For Recent College Graduates
The following eight strategies can help you to immediately start building a career related to your major (or field of interest) by developing the experience, instincts, and connections you need to succeed.
Note: The examples below refer to marketing, but they translate to nearly any type of profession or industry.
Anything within your profession: If you hope to become a marketing director someday, consider any job at a creative agency that produces advertising, marketing, or influencer promotions. Even if all you can find is a job answering phones or sorting mail, working within your profession helps you begin to develop instincts and connections that will serve you down the road.
Anything within your niche: If you already have a niche in mind, consider job-searching at businesses related to that niche. For example, if you hope to become a marketing director someday and have a passion for cars, perhaps you'd like to become a marketing director for an auto company.In this case, looking for work in the sales or business side of the auto industry (even if it's not in marketing) would give you inside knowledge and experience within your niche.
A job with career-related tasks: Many jobs require employees to take on multiple responsibilities, which can give you a chance to work on projects related to your career. Smaller companies usually require employees to multi-task. If you ask, many are willing to expand your responsibilities to include work related to your field of interest.For example, a receptionist at a 10-person company might be required to write and place ads or plan events in-between phone calls.
A customer service person might be asked to write the company newsletter or review resumes for new hires. Both jobs place you in an excellent position to ask if you can write social media posts for the company, which is fantastic marketing experience.Keep an eye out for positions that require tasks related to your field, even when the initial job description doesn't line up with your college degree. Ask if you can take on additional responsibilities related to your field of interest.
Sales in an industry that interests you: If your ideal job is related to any business that relies on profits to survive, then all departments lead to sales. Sales jobs give you an insight into human behavior and into your industry that will benefit your career for a lifetime.Sales work gives you an understanding of how to serve, persuade, and communicate with customers. Working a sales job within your future industry or profession can significantly further your future success.
An internship  with a company you admire: If you want to work in marketing and always thought it would be great to work at the local tv or radio station, then now's the time to ask about internships. Broadcasting is a critical part of marketing, so an internship in the sales department, or even as a technical assistant, would help build your career in that direction if you want to get an on-air job.Whatever profession you're aiming for, internships and apprenticeships can provide excellent experience and connections that accelerate the path to your dream job.
Start writing about your field: If you are a college graduate or have a good handle on the English language, you can probably write well enough to get entry-level work as a writer. Consider picking up some assignments as a writer or editor by contacting business blogs related to your field and asking if you can submit an article for consideration. While you may not earn a lot of money (if any) in the beginning, writing well-researched papers related to your profession will help you to establish yourself as an expert in your field, especially if the publication prints your name in the byline.Eventually, writing pays an excellent wage if you develop your skills and connections. More importantly, when you continually publish articles related to your degree, recruiters may eventually reach out to you to fill jobs within your profession.
Tip: If your English needs a little work, try hiring an inexpensive copy editor, editor, or proofreader. Their changes and comments can help you to gain confidence as you master English writing — while getting paid to do it! You can find good, inexpensive copywriters by visiting Upwork. Or, try contacting your local college's English department for referrals.
You can learn more about remote writing work in the Writing, Editing, and Proofreading section of the Minority Mindset report 64 Types Of Work-From-Home Jobs Available Right Now.
Start your own business: Starting your own business can be an excellent way to earn an income and position yourself for your future dream job. It may even end up being your dream job.Whether you have the next big idea for Shark Tank or you simply write resumes or mow lawns, starting your own business gives you priceless experience and training for the future.
Work as a freelancer: If you don't feel ready to start your own business, consider picking up some freelance work that relates to your field of interest. As a freelancer, you are self-employed and, technically, running your own business. However, freelance work is often less demanding of your time and requires very little financial investment.If you need ideas for starting your own business or working as a freelancer, check out these 25 ideas for opening a low-cost business and 22 ways to make money with your hidden talents.
What If You Still Don't Know What You Want To Be "When You Grow Up?"
Do you have so many interests and pursuits that it's a challenge to zero in on just one profession?
Perhaps you switched majors several times in college, or you've held multiple jobs because you can't choose the "one right path" for yourself?
The majority of people will pressure you to choose one profession, and often hint that there's something wrong with you for struggling to make a choice. This can create personal conflict and dis-ease within yourself if you believe them.
If you are a person with multiple passions, you are not broken. In fact, you are probably just the opposite.
You are probably a future entreprenuer.
Award-winning author and community-builder Emilie Wapnick refers to people with multiple passions and creative interests as "multipotentialites."
According to Wapnick, people with multiple passions have three distinct advantages:
An exceptionalability to develop new and unique ideas ("idea synthesis")
A skill for rapid learning (usually developed by a love for jumping in and trying many different things)
A heightened ability to adapt to new surroundings
Instead of viewing multiple passions as a limitation, recognize the exceptional traits that you bring to the table, and look for opportunities that can help you capitalize on your unique personality.
When searching for a job, look for opportunities to learn more about fields that interest you, even if it means accepting a job that doesn't utilize all your talents.
For example, customer service and sales positions provide an in-depth understanding of how business works, how an industry works, and how customers think.
Although sales and service jobs may not sound exciting, both provide you with valuable career experience.
Starting your own business is another way to gain priceless experience for the future.
Career-building work may come in the form of a job, business adventure, volunteer work, or even a hobby. It's work that will help you build a path to reaching your ultimate goal and something you'll want to consider when searching for your first career job.
How To Prepare For A Job Search
The mechanics of job-searching have changed dramatically over the past five to ten years.
New recruiting software and skills tests mean your job applications will likely get evaluated by a computer that determines whether the human resource director should even take the time to view it.
Recruiters use social media as a tool to research potential candidates.
Background checks often include social media and Google research to learn about your personal life.
The good news is that you can give yourself an edge by preparing for your job search before you begin submitting applications using these three steps:
Understand the current job market.
Develop an effective resume.
Build a professional online presence.
Below, we guide you through each of the three steps so that you understand how to best prepare for your job search.
Understand The Current Job Market
Whether you've just graduated college or do not have a degree but hope to start a new career, the first step in your job search should be to understand the current job market.
Researching the job market doesn't mean relying on tips from your friends and family or listening to their opinions on the job market.
To understand the current job market, you'll need to dig into recent factual data and information from reliable sources, such as:
Blogs, groups, and forums that provide information on career jobs within your professionNote: avoid paying for courses and advice on how to get work in your industry, at least until you have enough experience to understand which are worth the investment.
Why do unemployment rates matter?
Current unemployment statistics help you understand how to search for jobs, which jobs to search for, and how creative you need to be to stand out.
For example, unemployment rates during the spring of 2020 were very high. Many people assumed there was no work available, so they didn't even try looking for a job.
However, if you got creative enough to research the remote job market during the spring of 2020, you would have discovered something interesting; Professional job openings for remote workers increased, even as unemployment rates were skyrocketing.
Imagine the experience and connections you could have made in one year's time, when many of your peers were at home watching TV, or scrolling through social media.
Conducting deep research within your field can help you uncover opportunities that your peers miss, giving you the chance to excel in your profession.
Another reason to research unemployment rates is so that you can understand your recruiter's mindset.
For example, in the spring of 2019, unemployment rates were at their lowest since 1969.
During this time, employers couldn't find enough qualified candidates to fill their positions.
Candidates often ghosted potential employers during the hiring process, and new hires frequently quit within the first few months if they didn't like their jobs.
Recruiting new employees in 2019 became a challenge for most businesses. As a result, job candidates were often able to negotiate higher salaries and more flexible benefits packages.
In April 2020, employment rates shot up to 14.7%. 
Unemployment rates went up dramatically in April 2020 as the pandemic pushed people out of offices, restaurants, and retail buildings.
If you had been job-searching in 2020, you would have had the opposite experience, thanks to the pandemic. To find a job (or keep a job) in 2020, you would have needed to exercise great flexibility in both your salary and the type of work you were willing to do.
That's why it's essential to learn, first-hand, about the job market and your industry before you begin searching.
Remember, high unemployment rates don't mean you can't get a job. It only means that you may need to get creative with your job search, reimagine your expectations, and be willing to temporarily adjust your goals to find work.
What comes around goes around.
Treat any job as if it's your dream career, putting in 110% of yourself along the way. Bring your creative ideas, positive attitude, and service-oriented mindset to any job you accept.
When unemployment rates drop back down, most businesses will go out of their way to retain good employees. This means your employer might consider giving you a promotion or higher salary, or even creating a new position to match your career goals.
At the very least, bringing value to any job you accept will help you build an excellent track record for future recruiters who check on your work history and references.
Create Your Resume
A resume is a 1-2 page document that you provide to potential employers when applying for jobs.
Your resume should briefly outline your skills and abilities, and hopefully make you stand out to recruiters so that you can land an interview.
Although you should write your resume before you begin job searching, you will ultimately tailor it to each job you apply for.
Many websites and resume services are packed with advice on how you should format and fill out your resume.
Your friends and family will also have advice for you, based on their own experience or "something they read."
Ignore all resume advice that comes from people who do not work in your field.
Only the people or organizations within your profession or industry can give you reliable advice on writing a resume that catches their attention.
For example, suppose you're applying for a job as a human resource manager. You could go to a site such as SHRM (the Society for Human Resource Management) for excellent advice on writing human resource resumes.
Or, if you're applying for marketing positions, you might check out HubSpot's tips on how to write a marketing resume that gets noticed.
Instead of looking to general job boards or resume services for tips, go deeper within your industry or profession for guidance that's more current and effective.
Finally, no matter who's providing you with guidance, avoid any advice that encourages you to exaggerate or lie about your abilities and experiences.
If you want to find a job that's a good fit for you, then you must be authentic, sincere, and honest throughout the entire job search process — beginning with your resume.
And remember – The goal of a resume is not to get you the position that you're searching for.
A resume shows an employer that your skills & abilities match the posting requirements, which will hopefully get you an interview with the hiring manager.
Build A Professional Online Presence
Nearly all potential employers will check your online presence as part of their hiring process.
If you haven't already built a professional online presence, you'll want to make it a priority and complete the process before you begin applying for jobs.
Your online presence refers to anywhere that you publicly appear online, such as:
Facebook
Instagram
LinkedIn
TikTok
Forums
YouTube
Twitter
There are three steps to building your professional online presence:
Clean up your current online presence.
Create professional social media accounts.
Begin networking in professional groups and forums.
These three steps can help you avoid getting red-flagged or ignored by recruiters. They can also help you stand out to potential employers and give you an edge when competing for jobs.
Step #1: Clean Up Your Online Presence
Before you begin your job search, audit your online presence and remove any posts, likes, and comments, or other material that could prevent you from getting a job.
According to a report by CareerBuilder, 70% of employers use social networking sites, and 66% use search engines to research potential employees.
Nearly sixty percent of employers (57%) who conduct online research have turned down job candidates due to content they found on their social media channels.
The Top 3 Reasons Candidates Get Turned Down After Social Media Research:
Provocative or inappropriate images, videos, or information
Information about the candidate drinking or using drugs
Discriminatory comments relating to race, gender, religion, etc.
Additionally, employers also turned away candidates when social media revealed that they were linked to criminal behavior, lied about their qualifications, bad-mouthed a former employer or fellow employee, had poor communications skills, shared information from previous jobs, lied about an absence, or simply posted too frequently or appeared unprofessional.
So what do you do about all those less-than-professional posts and conversations from your high school and college days?
Clean it all up!
You can start by auditing all your social media channels, especially Facebook, Twitter, and LinkedIn, which are the three leading platforms employers tend to check.
No matter how time-consuming it is, if you want a professional job, then you'll need to sift through every aspect of your social media history, including:
Your posts and comments
Posts you are tagged in
Pages you have liked
Comments you've made on public pages
Although it might be tempting to delete all your social media history and start fresh, that could do more harm than good.
Nearly half (47%) of employers are less likely to call you for an interview if they can't find you online.
The good news is, once you remove all the "red flags" from your accounts, you can build an online presence that gives you a competitive edge when applying for jobs.
Step #2: Build A Professional Social Media Presence
When you remove all the red flags from your social media accounts and build a positive, professional online presence, it shows potential employers that you are fit to represent their company.
The top ten reasons employers are inspired to hire candidates after researching their social media accounts, according to the CareerBuilder report, are:
Background information that supports your professional qualifications
Creativity
Professional image
Well-rounded range of interests displayed
Personality appears to be a good fit with company culture
Good communications skills
Awards and recognition
Great references posted
Compelling video and content
Large following
We recommend that job-seekers begin building an online presence with LinkedIn.
87% of recruiters use LinkedIn to check candidates
LinkedIn is a professional, business-to-business network that allows you to:
Network with professionals
Learn from leaders in your industry
Search and apply for jobs
Before you open or update your LinkedIn account, do some research to learn the best ways to fill out your profile. Then, expand your social media on other channels to include some of the traits that inspire employers to hire you.
Cleaning up your social media accounts and re-building them into a professional tool can take a lot of effort, especially if you have a lot to scrub.
However, taking the time and energy to build a professional online presence will serve you well for many years to come. Once you've put in the work, you can move forward with confidence in the interview process.
Cleaning up your online presence will also save you from potential problems with your future employers since most of the businesses that conduct social media screening continue to monitor your accounts even after you're hired.
Step #3: Network With Other Professionals Online
If you haven't already begun networking within your field, now is the time to start. Employers will look for your professional activity and may be hesitant to hire you if they don't find any.
Additionally, many groups and forums welcome college graduates or hopeful candidates looking for advice and often post jobs to the group before publishing them publicly.
You can find professional networking groups in several places, including:
LinkedIn
Facebook Groups
Forums on industry-related websites
Future employers may see your communications within these groups, and many are probably members themselves. For this reason, be conscientious about what you write and ask yourself how it would look to a future employer.
Networking with professionals in your industry also gives you an insider's look into your field, which will help you develop the instincts you need to bring additional value to your future career.
To position yourself to land a good job within your profession, clean up your online presence by auditing your social media accounts, building a professional social media presence, and networking with others in your industry.
How To Find Jobs And Land Interviews
In this section, we show you how to find jobs that fit well with your personality and skills so that you have a better chance of landing an interview.
How To Find The Best Jobs
Once you've decided what type of job to pursue, created your resume, and built a professional online presence, you're ready to get out there and begin looking for work.
Instead of starting your search with job boards, consider finding companies you're interested in working for and look for openings at those companies.
When you prioritize the company over the job position, you can find work that provides more than just a good salary and excellent benefits.
Company culture and values account for 22% of employee satisfaction, compared to company benefits (such as vacation time and retirement accounts), which account for only 12% of employee satisfaction, according to a report by GlassDoor.
Some of the traits you may want to consider before applying to a company include:
What are the company values? You can learn a lot about a business by reviewing its mission and corporate social policies.
What's the company culture like? You learn about a company's culture on its website and social media pages. Start with the company's social media, then trying Hashtag searches to pull up employee posts. Or see if you have any connections that already work for the company and ask them how they like working for them.
One of the best ways to learn about a company's culture is by checking its employee reviews on GlassDoor — 93% of millennials mention company culture in their reviews.
What are the employee policies? Policies vary widely from one company to another and can include anything from uncomfortable regulations to generous allowances. For example, some company policies include constant employee monitoring, recording every keystroke you make and all the websites you visit.
On the flip side, some companies are so accommodating that they give employees paid time off work to do volunteer work. Some companies demand employees to work after hours without extra pay. Others provide generous vacation and family leave, and often grant flextime that allows employees to work remotely a few days per week.
Company policies can make or break your happiness level on the job. To learn about them, check with the company's website, social media pages, and employee reviews.
You can learn a lot about a company by browsing its website and social media accounts, where you'll often find pages dedicated to its culture, mission, social policies, and more.
If you're not sure who you'd like to work for, ask your friends and professional connections for recommendations. Or check out Fortune's list of Best Companies To Work For.
Once you've found a company that you want to work for, there are several ways to find out about their job openings:
Look for job openings on the company's website, social media accounts, or on a job search site like Indeed, Monster.com, or LinkedIn. Remember to search for the company on these sites, rather than just browsing to see if anything is open in your field.
Call the human resources director or hiring manager and ask about open positions.
Search your personal and professional connections to find out if you know anyone that knows who works for the company. Ask if they might be willing to check for job openings or introduce you to the hiring manager.
Searching for jobs by seeking out work at companies you love is usually a more effective way to find a position that you'll enjoy for many years to come.
How To Land More Interviews
Major companies typically receive about six times more applications than there are employees in their company — for a 30,000-employee company, that's 180,000 applications in a year!
Because of the overwhelming competition, many job-seekers get caught up sorting through endless public job postings and submitting applications online that never solicit a response.
While it's true that landing a job interview can be a bit of a numbers game, submitting tons of applications with the hopes of landing one interview is like playing the slots in Vegas when you should be playing chess with the masters.
According to Matt Youngquist (president of Career Horizons), in an interview with NPR, 70 – 80 percent of jobs are not published, yet most people put 70 – 80 percent of their search efforts into browsing online.
Instead of spending the majority of your time sifting through online job postings, put more of your efforts into networking.
Try to connect, person-to-person, with at least one hundred people per month.
Here are several tips for launching a productive job search that will land you more interviews:
Approach your job search as if it's a full-time job. Wake up early, get dressed, and begin interacting with people as soon as business hours begin.
Network relentlessly. Reach out to your professional groups, networks, and forums and let them know you're looking for work. Ask them for recommendations, guidance, and advice.
Look for opportunities to help other people in your networks and in your field when you have something to offer, even if it doesn't pay. Of course you don't want to do free work, but if you can help someone by making an introduction, showing up to a ball game, or helping out with a volunteer project, these are priceless opportunities. Finding ways to help and support people within your industry forms a genuine human connection and helps you stand out as a team player.
Build in-person connections. Set a goal of meeting a certain number of people per month (perhaps 100), and attend in-person networking events to make it happen.
Keep your motives in check. Attend events with the intention of learning something for yourself and finding ways that you can help others. To create authentic and memorable connections:
Learn about and remember people's name and personal stories
Introduce similar people to each other
Offer to help with setup, cleanup, or organizing future events
Attend local networking events such as:
Professional groups on Meetup.com
Events at your local Chamber of Commerce
Professional enrichment programs such as Toastmasters
Attend in-person seminars, workshops, and conventions within your profession or industry. Events like these are typically packed with exactly the kind of people you want to meet: driven, conscientious, and connected to other people in your industry.
Limit non-network job applications to less than 25% of your time. In other words, you do want to spend some time searching and applying for jobs online, but you should limit those activities so they don't interfere with the more effective approach of networking within your field.
When you do find an online job posting that appeals to you, take the time to learn about the company's social media channels (so you understand the culture), write a thoughtful cover letter, and tailor your resume to the position.
Tailor your resume to each job you apply for.
Include keywords in your resume and application that represent the most-valued traits and skills in your field.
Making a human connection with a brand or company will help you land more job interviews with your favorite companies.
Use your connections to help get your foot in the door, or contact hiring managers directly to help your application stand out so that you can land more interviews.
How To Nail The Job Interview
Congrats, you got the interview!
That means the company believes that the skills & experience you listed on your resume may make you an ideal candidate for the position. Furthermore, you may have made yourself stand out with your professional online presence.
No matter the case, what do you do now?
On average, about four to six candidates will be called for interviews for corporate jobs.
If employers are also interviewing internal candidates, the competition becomes even steeper, since employers are more likely than ever to hire from within.
Understanding how to prepare for your job interview will give you an edge, though, and we've got some excellent tips to help you overcome the odds.
Tip #1: Stress Your Interest In A Long-term Position
Show your future employer that you're in it for the long run. Stress that you are willing to adapt to the needs of the job and that you are a quick or passionate learner. Be prepared to point to examples in your history that back up these traits!
Replacing employees is a significant expense for employers, costing the equivalent of about 4-6 months' salary in recruiting and training costs — and data shows that internal hires are 61% more likely to stick with the company, and 39% less likely to get fired than external hires.
To top it all off, Millennials have a bad reputation for quitting their jobs and, worse, ghosting their employers when they quit.
Going into your interview, you can help offset their concerns by thinking of ways to outline your long-term business interests and relationships and your desire to find a long-term position.
Tip #2: Do Your Research
To give yourself the best chance of getting the job, conduct thorough research before your interview.
Hopefully, you did some basic research on the company and its work culture before you applied for the job as we mentioned in the How To Prepare For A Job Search section of this article.
Now, you can take your research a bit further to give yourself an advantage during your job interview.
You can use the company website, Google, and social media to learn about:
The product(s) or service(s) that the company provides
The company itself
The person doing the interview
The skills and traits that the company most values
Recent company news and events
Tip: Use LinkedIn when researching companies. In many cases, you can find all the information you need on Linkedin.
Tip #3: Check Your Mindset
Once you've done your research, you'll be ready to approach your interview from an informed, and hopefully creative, frame of mind.
Before you do the interview, though, check your mindset to ensure that it's on track.
You may have noticed that everyone has advice for job-seekers, whether you ask for it or not.
Some of that is probably helpful, however, people also give outdated advice that could harm your chances of landing the job.
For example, many people will tell you to exaggerate on your resume or to agree to everything during the interview — which is bad advice.
When interviewing for a job, remember to be:
Keep in mind that in order to find a job that you love, you have to be yourself at the interview — so you both can determine whether the company is a good fit.
Tip #4: Prepare To Communicate
While you don't want to create pre-planned answers to interview questions (because that wouldn't be authentic), you do want to make sure that you can articulate the reasons why you feel you should get the job.
Get ready for your job interview by preparing to talk about the following:
How you will bring value to the company
The strengths, traits, and skills that make you a good match for the job
Volunteer work and extracurricular activities that prepared you for this job or that make you a good match for the company.
Intelligent questions to ask the interviewer (about the job or company)
In his final shareholder letter as CEO of Amazon, Jeff Bezos summed up what every employee, client, and business must deliver:
"If you want to be successful in business (in life, actually), you have to create more than you consume. Your goal should be to create value for everyone you interact with." – Jeff Bezos
Before your job interview, consider how you will "create more than you consume" by delivering value that outweighs your salary.
Tip: It may be a challenge to talk about yourself in a way that "promotes" your accomplishments, skills, and personality. If so, ask your friends or family to help you by conducting  "mock" job interviews in advance!
The interview is a great opportunity for the employer to learn more about you & for you to show them why you're a good fit for the position.
But it's also the perfect moment for you to decide once and for all whether or not the company or job is right for you.
So, while they're learning about you, make sure you pay attention to the way the company has conducted themselves thus far. Ask yourself: Does the online presence you research online reflect the attitude of the hiring manager?
Furthermore, when asking questions, make them thoughtful, and geared towards anything that you might not know about the company. This will give you a clear and first hand experience dealing with the company, which will come into play later if they decide to extend you an offer.
Tip #5: Follow Up After The Interview
The job interview isn't over when you walk out the door!
What comes next — the follow-up — may be one of the most critical parts of landing the job.
Send a thank-you email immediately.Include any follow-up information you promised to send. You may want to include more detail in your thank-you note, such as why you're excited about the job position or what ideas you have to bring more value to the company. Say it all in a sentence or two or use the number they gave you to give them a quick phone call!
Follow up, follow up, follow up!Follow up if you don't hear back from the company. If they don't contact you, it doesn't mean you didn't get the job. Instead, it's very possible that the manager got too busy, in which case your follow-up could be the thing that tilts the job in your direction.
Understand the difference between "persistence" and "pest."Do continue to follow up on the job possibility, but not in a way that sends off "stalker" vibes! (For instance, following up multiple times a day may not be your best bet. Instead, try just a few times a week.)
Following up after a job interview is a critical part of your job search. Hiring managers may even be holding out on their decision to observe how you handle the follow-up phase of your interview.
| Platform | Promotions | Link |
| --- | --- | --- |
| | Get a cash bonus of $30-$500  | Sign Up |
| | Get one free stock priced up to $225  | Sign Up |
| | Get up to $1,000 after funding a new account | Sign Up |
| | Get a free slice of stock worth up to $300 | Sign Up |
9 Things To Consider Before Accepting A Job Offer
To find a job that you enjoy and can succeed at, consider the following questions before accepting any offer:
Is the job a good fit for your skills, education, and personality?
Will the job contribute toward the instincts, skills, and experience you need to reach your long-term goals?
Is the company culture a good fit for you?
Are the company values in line with your own?
Does the company provide skills training or other enrichment opportunities?
What do current and former employees say about the company?
Is the commute reasonable enough that you can see yourself working at the company for a long time?
Will the salary and benefits allow you to pay your bills and healthcare expenses?
Does the position offer room for growth over time?
If you're a recent college graduate looking for your first career job, you don't need to focus on the comforts and luxuries that you get from salary and benefits.
Salary and benefits are nice perks, but your first goal should be to find a job that's a good fit and that allows you to learn and thrive in your field.
Over time, working at the right job for the right company will provide you with the skills, experience, and connections you need to bring more value to your employers — which leads to bigger salaries and better perks.
And remember – never work for free! If the job doesn't pay you in experience, education, or an acceptable salary, you may need to pass, and start looking elsewhere.
Use Job Search Strategy To Outsmart Your Competition
Regardless of the current state of employment or the massive competition for jobs, the right strategy can help you get to the perfect job.
If you're a recent college graduate or just getting started in a new profession, begin by understanding what type of job is best for you, then remain open to career-building positions instead of looking for the "perfect job."
Prepare for your job search by building a professional online presence, then begin networking with others in your field. After, build a resume that best represents who you are, what you've done, and why you'd be a good fit for a specific position.
Research is the key to standing out in your job interview, and how you follow up afterwards could make or break your potential with the company.
By understanding how employers think and what they're looking for, you can bypass much of the competition for jobs and boost your chances of success in any new profession.
| Platform | Promotions | Link |
| --- | --- | --- |
| | Get a cash bonus of $30-$500  | Sign Up |
| | Get one free stock priced up to $225  | Sign Up |
| | Get up to $1,000 after funding a new account | Sign Up |
| | Get a free slice of stock worth up to $300 | Sign Up |