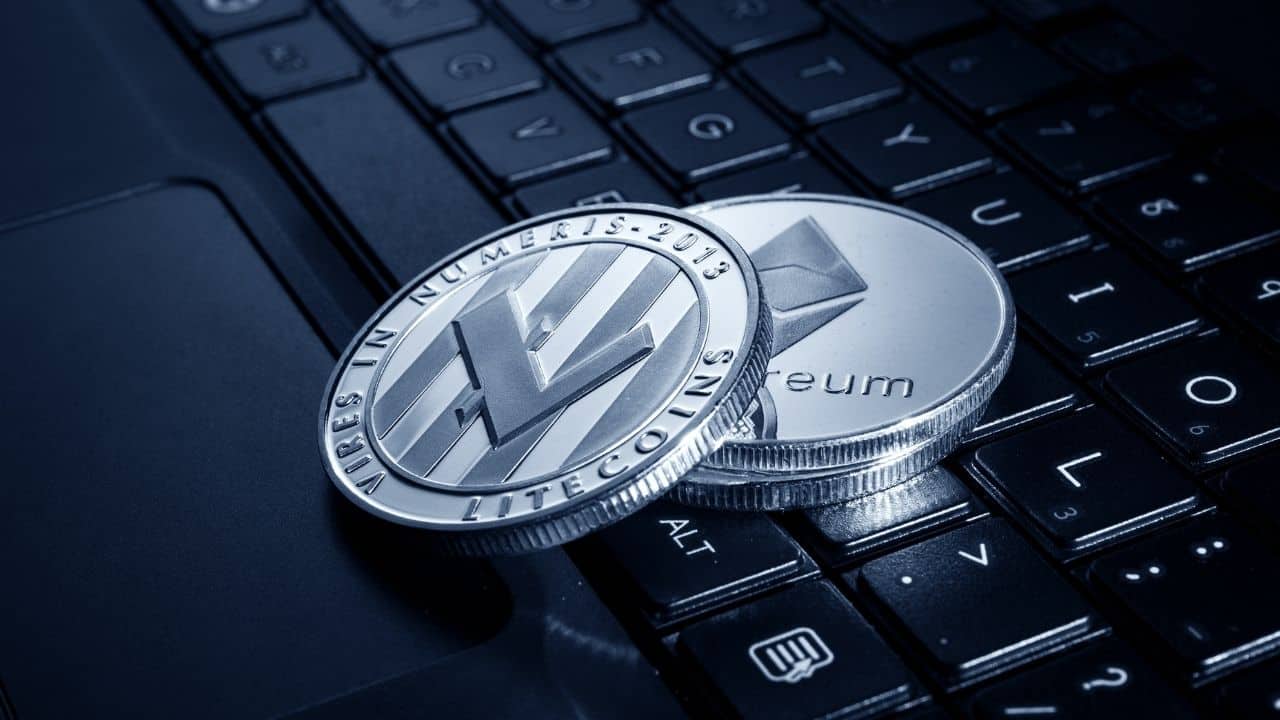 Disclaimer
We only endorse products that we truly believe in. Some of the links below may earn us some extra guac at no additional cost to you. Please pass the chips & thank you for feeding our habit.
In the past few years, Bitcoin has certainly made an impression on the general public. From billionaires like Elon Musk tweeting about using it as a payment method for Teslas to companies like Microstrategy converting the majority of their cash holdings into Bitcoin, it seems as if cryptocurrency has gone mainstream and is here to stay.
With an estimated 100,000 people who are now Bitcoin millionaires (some perhaps billionaires), this begs the question: Could there be other cryptocurrencies that will have the same explosive growth as Bitcoin and be opportunities for capitalization? As of now, there are more than 8,000 different cryptos available on the market, with new ones being introduced every day. Surely one of them could be the "next Bitcoin", right?
Anytime there's a lot of buzz around an investment, especially when it's something not very well understood like cryptocurrencies, investors need to be cautious. However, that doesn't mean that there aren't other coins out there that could also be profitable.
Investors looking for the best Bitcoin alternatives should look to cryptocurrencies that have shown the greatest potential for long-term growth. This includes such cryptos as Ethereum, Cardano, Litecoin, Polkadot, and Solana. Other Bitcoin alternatives investors can take advantage of include collecting interest on stablecoins or buying shares of ETFs that specialize in cryptocurrency or blockchain companies.
Platform
Fees
Promotions
Link
$0 Fees

Earn up to $250 in BTC bonus when you sign up and fund your new account.

Learn More
0.5% - 4.5% Other fees may apply.
Get $5 in Bitcoin when you complete your first trade.

Learn More
0.9% - 2% Other fees may apply.

No promotions at this time.
Learn More

0.5% - 3.99% 

$20 of BTC 

for new users after trading $100 or more within 30 days.

Learn More
Let's explore each of these options more thoroughly and help you determine what your next investment in cryptocurrency could be.
Best Bitcoin Alternatives to Invest in for 2022
Even though Bitcoin has clearly become a focal point in the world of cryptocurrencies, several other coins seek to improve upon its code, be more green and eco-friendly, and provide utility to developers that Bitcoin can't. Below is a list of other cryptos that investors will want to consider going into 2022 and beyond.
1. Ethereum (ETH)
Key Points: Ethereum is the second-largest cryptocurrency which is predicted to grow throughout 2022.
While Bitcoin aims to be a world currency, Ethereum exists to be a sort of "world computer" that programmers can use to run complex applications. In some analogies, if one were to think of Bitcoin as gold, then Ethereum could be perceived as oil.
To conduct these transactions, Ethereum uses a token called ether. When the platform launched in 2015, the price of one ether was $0.311. During its height in 2021, ether rose to a price of around $4,800. This makes it the second-largest cryptocurrency by market capitalization, behind Bitcoin.
Because of this rapid value increase and the potential for what its blockchain can be used for, many people believe that Ethereum has the power to surpass Bitcoin over the next few years. In fact, in a recent Minority Mindset poll where readers were asked "Would you rather invest in Bitcoin or Ether?", the vote was nearly 2 to 1 in favor of ether.
This optimism for Ethereum may be realized in 2022 as the platform is transitioning its technology to a less energy-intensive version (dubbed "Ethereum 2.0."). If this upgrade is successfully implemented, then it could make it more appealing and sustainable for widespread use.
For these reasons, here are some price predictions for ether over the next year:
$4,000-$4,500 – Bloomberg intelligence analyst Mike McGlone

$6,500-$8,000 – Ian Balina, investor and founder of crypto research and media company Token Metrics

$12,000 or more – Coinpedia
2. Cardano (ADA)
Key Points: An alternative to Ethereum, Cardano is more energy and time efficient than Ether and is projected to grow significantly over the next 2 years.
Cardano is a blockchain platform that markets itself as an alternative to Ethereum. Its primary use is for participants to execute smart contracts. However, the time and energy used to process transactions is much less than what it takes to run on Ethereum.
After launching Ethereum, co-founder Charles Hoskinson recognized the challenges to using a proof-of-work (PoW) methodology – the fundamental way that both Bitcoin and Ethereum currently use to validate transactions. In 2017, he began developing Cardano to use the more efficient method of proof-of-stake (PoS).
With its native token ada currently hovering around $1, Cardano has lots of technology development planned for 2022. As a result, price predictions for ADA are bullish at $3.127. Some analysts even believe it will be as high as $12 by the end of 2023 and $18 by 2024.
3. Litecoin (LTC)
Key Points: Lighter and faster than its predecessor, Litecoin is a great Bitcoin alternative and is also predicted to increase in 2022.
Because Bitcoin has open-source code, developers are free to copy it, add improvements, and then call it their own. These are referred to as "altcoins", and this is how Litecoin began.
Conceived by Charlie Lee, a former Google engineer, there were several modifications to make it lighter and faster than Bitcoin. For instance, instead of using the standard validation method, Litecoin uses a less resource-intensive algorithm.
Some experts predict that Litecoin will be more favorable for institutions that require faster processing times than what Bitcoin can offer. Additionally, Litecoin is scheduled in 2022 for what's been called the MimbleWimble upgrade which will allow some users to opt-in to confidential transactions.
For these reasons, several crypto experts predict LTC to go up in value in 2022. Starting the year at around $150, analysts expect it to go anywhere from $186 (Digitalcoin) to $268.84 (Gov Capital).
4. Polkadot (DOT) 
Key Points: Polkadot can securely communicate with other coins to make transactions work – something few other coins can do.
With so many different blockchain platforms being created and no central authority, it might lead some to wonder how they're all supposed to eventually work with one another.
This is exactly the problem that Polkadot was designed to solve. The protocol can be used to let two unrelated blockchains securely communicate with one another (such as Bitcoin and Ethereum). And because it uses these other blockchains, transactions are speedy and scalable.
The native Polkadot token is called Dot and is currently priced at around $27. According to Coin Price Forecast, they expect Polkadot to be worth as much as $58.52 by the end of 2022 and possibly $81.39 by the end of 2023.
5. Solana (SOL)
Key Points: Solana boasts lower fees and faster processing. It is another great Bitcoin alternative that is poised to grow in 2022.
Solana is another smart contract blockchain platform that serves as an alternative to Ethereum and Cardano. Launched in 2017, Solana can run applications for lower fees and process more transactions than its competitors.
Notably, Solana's native token (also named Solana) had an enormous growth spurt in 2021 going from $1.84 at the start of the year to $169.98 by the end of the year (a growth of over 9,000%). Though it has since dropped in value to roughly $89 at the end of January 2022, investors are very optimistic. The site PricePrediction predicts Solana will raise to approximately $128 by the end of 2022 while another site Wallet Investor is forecasting $313.
More Alternative Ways to Invest In Cryptocurrency
In addition to buying other cryptocurrencies besides Bitcoin, there are a few other good ways to get involved with the crypto market. Here are a few strategies to consider.
Stablecoin Interest
While some cryptos have produced incredible returns over the past few years, to say it's been a bumpy ride would be putting it mildly. Single-day price fluctuations can sometimes be in the double-digits. For risk-averse investors, that's not going to let them sleep very easily at night.
As an alternate strategy, some investors are cashing in on crypto interest accounts with something called stablecoins. A stablecoin is a specific type of crypto whose price is designed to always be "stable". It's usually indexed to a fiat currency such as the U.S. dollar, and so its value is always maintained at $1, give or take a penny. 
Stablecoins are generally used by crypto exchanges to serve as brokerage account tokens for buying other coins. However, some of these exchanges are now also starting to act like banks allowing users to borrow money to buy more crypto. These borrowers are charged hefty fees, and in return, the exchanges are paying account holders generous rates of interest.
How much interest? Exchanges like BlockFi are offering as much as 8 to 10 percent depending on which type of stablecoin you have and how much. Some common types of stablecoins include:
Tether (USDT)

Gemini (GUSD)

USD Coin (USDC)
Here's a screen capture of the interest rates account holders can expect to receive: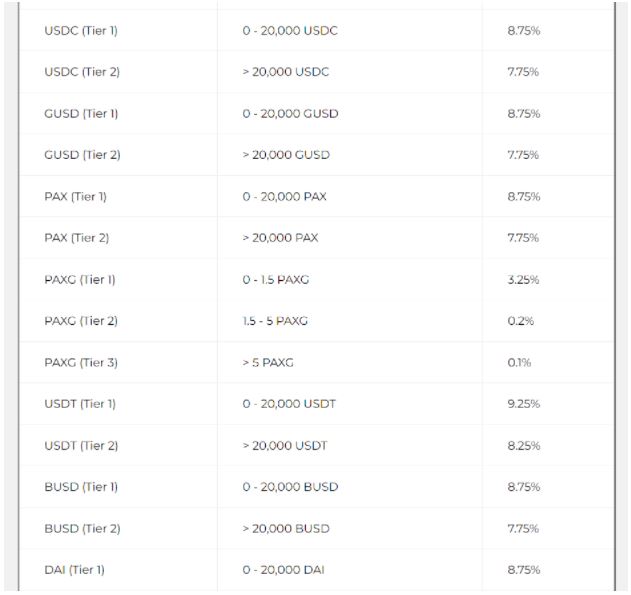 Account-holders should take note that these are not the same thing as savings accounts. These stablecoins are not backed by FDIC insurance like a traditional bank account. This means that even though the stablecoin should be relatively safe, they're not guaranteed and should be treated like any other investment. 
For this reason, crypto interest accounts have become the target of regulators. While BlockFi is still actively paying interest, time will tell how much longer they will be allowed to do so.
Cryptocurrency ETFs
Another way that crypto-curious investors can get involved is to purchase shares of exchange-traded funds or ETFs. 
ETFs have been around for decades as tools for investors to buy bundles of stocks and other securities. This allows them to diversify over several types of investments in hopes of optimizing the risk versus reward relationship.
With the same goal in mind, several new ETFs now specialize in Bitcoin futures and altcoins. Some even focus on the companies that are advancing blockchain technology.
Here are a few of the most popular ETFs (excluding the ones that focus on Bitcoin):
Bitwise 10 Crypto Index Fund (BITW)

Grayscale Ethereum Trust (ETHE)

Amplify Transformational Data Sharing ETF (BLOK)
Note that anyone who buys shares of one of these ETFs will not actually own any cryptocurrency. They will own shares of an investment company (i.e., the ETF), which in turn holds the crypto.
Finding the Best Bitcoin Alternatives
Whether an investor wants to find opportunities for reasonable returns or explosive growth, there will be a few fundamentals that they'll need to investigate.
Bitcoin Alternatives: Market Price, Capitalization, and Supply
Just like the stock market, crypto market prices are fickle. Sometimes they go up and down because of investor reactions to the latest news, gossip, or other reasons that have nothing to do with the cryptocurrency itself.
Understandably, just because a crypto's price may be down, this might not mean that there's anything wrong with it. In fact, to a savvy investor, this may signal a potential buying opportunity.
A good place to start investigating potential cryptocurrency investments is to rank them by their market capitalization. Market cap is the current price times the total number of coins that have been mined so far. To some degree, the market cap can be used to gauge investor confidence in a particular coin.
However, investors also need to be careful and check the supply too. If too many coins have been issued at once, then this can artificially inflate the market cap. Coins with too much supply will cause their value to become diluted, and it will be unlikely that the price will ever recover.
Utility Of Bitcoin Alternatives
Another important aspect of selecting which Bitcoin alternative to invest in is what someone can do with it once they have it. In other words: What is its utility?
For example, one of the reasons that Ethereum is so popular is because its blockchain platform was designed to do more than just recording financial transactions. Ethereum allows developers the opportunity to test and run applications without the normal challenges of having to meet strict central authority requirements.
For relatively newer coins, much of this information will come from their development team. Just like a new startup company that's about to have an IPO, the development team behind the crypto will let the world know what their intentions are and what problems they hope to solve with their new coin.
Investors who want to find this information will often have to seek it out for themselves. However, there are some reputable cryptocurrency media sites such as CoinDesk that will also curate this information for their readers.
Like any investment, you have to be cautious. The media has a history of over-hyping companies (and their future stock prices) that ultimately don't deliver. The same can be true for some crypto, and investors need to be vigilant to separate fact from fiction.
Long-term Value Of Bitcoin Alternatives
While some investors may get into cryptocurrencies hoping to take advantage of the market fluctuations and dips, the majority of people will be looking for an asset that will deliver long-term appreciation.
This is an important characteristic of any investment. Given its utility, what are the long-term prospects that it will be around in ten years or even next year? On the other side of the equation, what is the potential that buyers will still be interested?
There's a great quote from legendary investor Warren Buffett that says, "if you don't feel comfortable owning a stock for 10 years, you shouldn't own it for 10 minutes." True investing isn't about short-term price speculation. For your money to grow and remain secure, it has to be put in assets (including crypto) that you believe will prosper in the future.
Should You Invest in Bitcoin Alternatives?
While Bitcoin may be the cryptocurrency that captures all of the headlines, it's far from being the only one on the market or way to capitalize. There are thousands of other coins investors can buy; some great, some not so much. So which ones have the most potential?
Investors looking for the best bitcoin alternatives may want to check out the following cryptocurrencies: Ethereum, Cardano, Litecoin, Polkadot, and Solana. Each one has shown significant developments, proven its utility as being value-added, and has a vision for future prosperity. This is also coupled with relatively high market capitalization and industry optimism for growth potential.
To find the best alternatives to Bitcoin, investors need to consider the fundamentals. Look at the price, market cap, and supply. But also ask yourself: What problem or utility the crypto solves, and will that remain relevant as we go into the future?
Ultimately, choosing which cryptocurrencies to invest in is a lot like any other investment. Separate the facts from the hype, and don't buy into speculation. Just like the early investors of Bitcoin, go with the ones that are the best long-term prospects and will have you saying someday "I'm glad I bought that when I did."