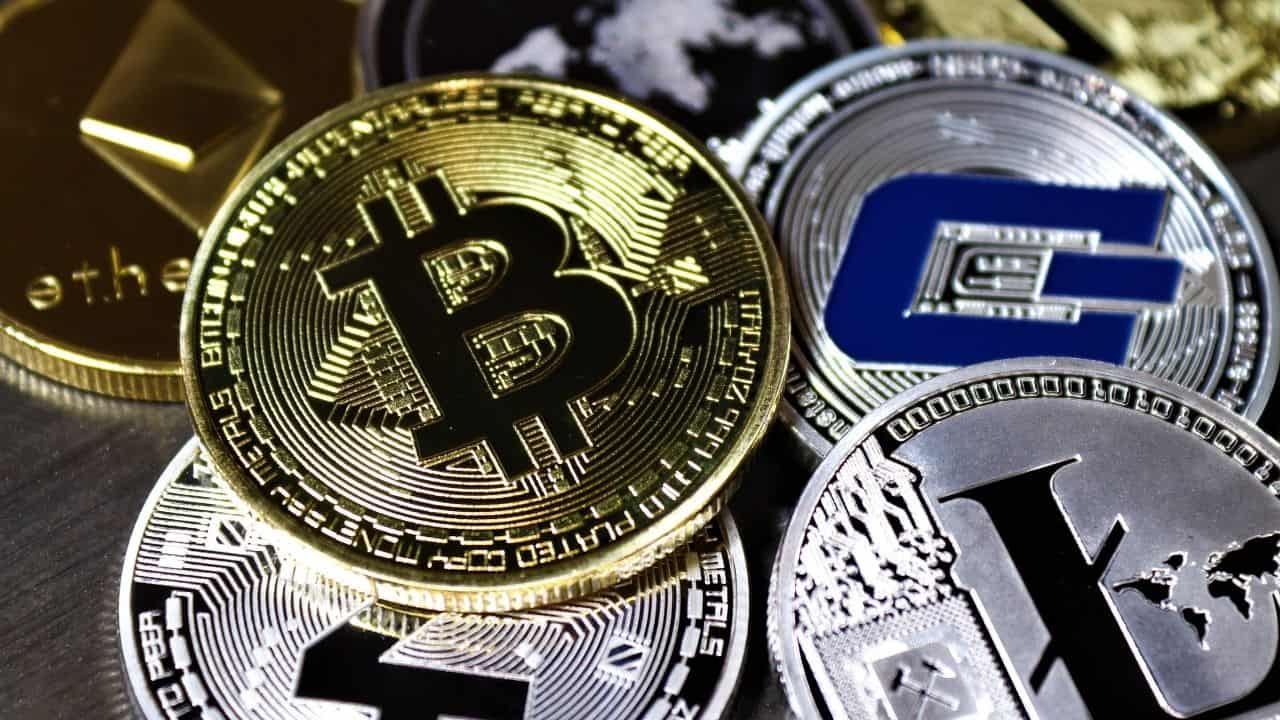 Disclaimer
We only endorse products that we truly believe in. Some of the links below may earn us some extra guac at no additional cost to you. Please pass the chips & thank you for feeding our habit.
BlockFi Review
BlockFi Review 2022
BlockFi is a beginner friendly app, committed to safety as you invest in cryptocurrency. BlockFi has a wide range of financial services for your investments.
Pros
Focus on safety
No minimum to earn interest
Live customer service
Cons
Withdrawal fees may apply
Limited free withdrawals
Withdrawals waiting periods
Crypto is gaining popularity, and naturally, so are the platforms to trade crypto. BlockFi is arguably one of the biggest crypto platforms out there, but is it worth your time? We did a deep dive on BlockFi reviews,  company policies, competitors, and crypto discussion threads, and here's what we found.
BlockFi is a legitimate, U.S.-regulated cryptocurrency platform with one of the best interest rates on the market. With more than 1 million verified clients and $10B in assets, it offers instant trading, interest-earning accounts, crypto-backed loans, and a Bitcoin Rewards credit card.
The key to satisfaction with BlockFi is understanding how it differs from other crypto platforms and whether its features and services are a good fit for your investing style.

Get the answers to your most pressing BlockFi questions below, so you can decide whether it's the best place for you to trade and hold your assets.
We go over everything you need to know about BlockFi, such as whether it's safe, how it compares to other top exchanges, and how to make your first investment, below.
What Is BlockFi?
BlockFi is an online platform where people go to buy, sell, and earn crypto. It offers a range of financial services that include crypto-backed loans, interest-earning accounts, instant trading, and a BlockFi Bitcoin Rewards Visa.
Find out exactly what services BlockFi provides, and why we think it's a legitimate, safe platform for cryptocurrency investors in 2022.
What Services Does BlockFi Offer?
BlockFi caters to investors who prefer some of the advantages of institutional banking services for their cryptocurrency assets.
BlockFi's most popular services include:
Bitcoin rewards credit card
Interest-earning crypto accounts
Crypto-backed Loans
Instant crypto trading
The BlockFi Rewards Visa Card pays 1.5% back in Bitcoin for every purchase you make.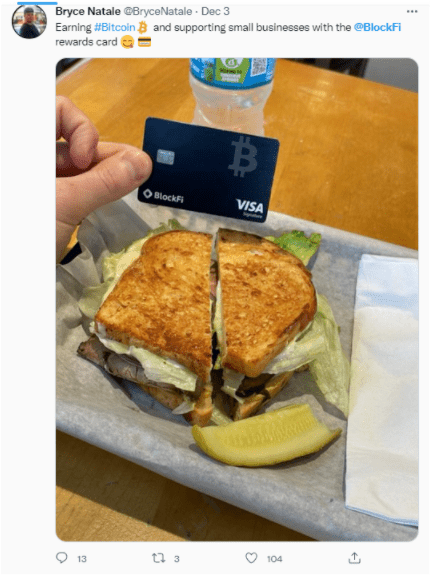 Interest-earning crypto accounts generate passive earnings, up to 9% APY, on the amount you deposit. Interest is paid out monthly, and there's no minimum required to earn.
Crypto-backed Loans allow you to use your crypto funds as collateral and offer interest rates as low as 4.5% APR.
Commission-free trading allows account holders to instantly buy and sell BTC, ETH, LTC, LINK, PAXG, and USD-backed Stablecoins. Purchases begin earning interest the moment you complete your purchase.
BlockFi founder Zac Prince describes the company's services as a way for customers to get "liquidity without selling," according to a recent interview with TechCrunch. If you're looking for a wider range of services for your crypto holdings, similar to what you'd get at a traditional banking institution, then BlockFi may be a good fit for you.
Is BlockFi Legit?
Escaping the scams and fraud that typically accompany growing, profitable technologies is a concern for any crypto investor.
BlockFi is a 100% legitimate, U.S.-based and regulated cryptocurrency platform with more than 1 million verified clients, 350 global institutions, and $10 billion in assets. Its cryptocurrency is held by Gemini Trust Company, which is regulated by The New York Department Of Finance.
As the only independent lender with institutional backing, BlockFi is backed by some of the world's leading financial firms, including Fidelity, Valar Ventures, Akuna Capital, and Coinbase Ventures.
Founded in 2017 by Zac Prince (CEO) and Flori Marquez (SVP of Operations), the BlockFi team includes financial services and technology experts that span the globe from New York to Poland and Argentina.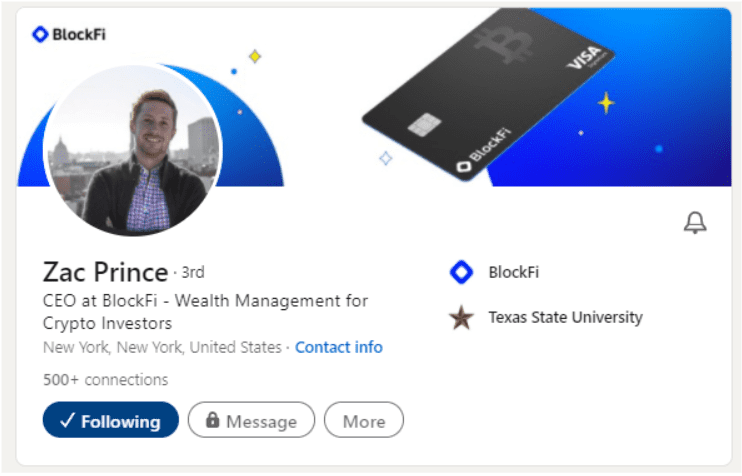 Yes, BlockFi is legit. 
However, you should use caution when investing in cryptocurrency, just as you would with any other type of investment. The company's legitimacy doesn't guarantee the stability of the crypto market as a whole, or that interest rates will remain high. Potential investors should conduct plenty of research before making significant investments in the cryptocurrency market.
Is BlockFi Safe?
BlockFi's focus on safety earns it a top spot among cryptocurrency platforms. 
However, crypto investors need to be aware that:
Digital currency is not legal tender and is not backed by the U.S. government. 

BlockFi accounts are not subject to FDIC or SIPC guarantees and protections.

BlockFi interest accounts are not bank accounts or brokerage accounts.

Interest rates, fees, and withdrawal limits may change, without warning, due to market conditions.

Cryptocurrency is, and always has been, vulnerable to market depreciation, including loss of principal.
If you understand the risks involved in crypto investing, then you'll likely be comfortable with the high level of safety BlockFi strives to provide.
What does BlockFi do to ensure asset safety?
Its assets are held by Gemini Trust Companny LLC which is regulated by the New York Department Of Finance.

Gemini holds 95% of its assets in cold storage and 5% in hot wallets insured by Aron.

BlockFi strives to provide a

best-in-class compliance program

to safeguard customer assets.
BlockFi is a legit cryptocurrency platform that offers a wider range of services than most platforms and strives to provide best-in-market safety for investors.
BlockFi Pros And Cons 
BlockFi promises several advantages over other crypto platforms, including a wide range of services and high interest earning potential for your holdings.
Many customers are happy with the service and give it five-star reviews.
"I'm not sure what the last time was that a product pleased me as much as BlockFi. The website and app are intuitive, informative, and easy to use. Great interest rates on stablecoin, and I just got the credit card with generous limits that pays interest in Bitcoin!" – John Plewa, BlockFi customer

Get the information you need to determine whether BlockFi is right for your investing needs with the reviews summary and pros and cons chart below. 
BlockFi Ratings And Reviews
Not everyone is thrilled with BlockFi. Its rating on Trustpilot, for example, is just 3.6 out of 5 stars. Trustpilot reviewers tend to run to one extreme or the other when it comes to BlockFi, either very satisfied or completely unhappy. 
Keep reading to find out why customers either love or hate the popular cryptocurrency platform.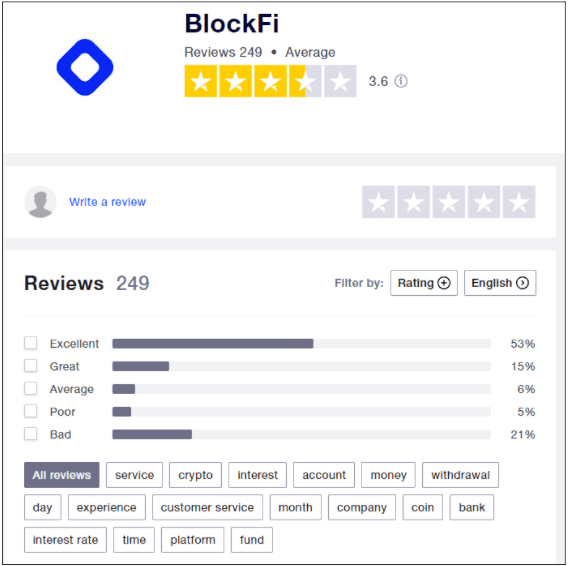 What's the difference between happy and unhappy customers on BlockFi ? 
Happy customers

feel the BlockFi is trustworthy, provides excellent customer service, and keeps their holdings safe while earning decent interest.
"I've been a BlockFi client since 2019 and love it, its super easy to use, the team is very responsive and helpful on a couple of occasions when I had questions. I've earned thousands of $ on my crypto over the years…" – Cullen O' Brien, BlockFi customer
Unhappy customers are surprised by the company's withdrawal terms and fees, which are clearly laid out in advance on the company's website.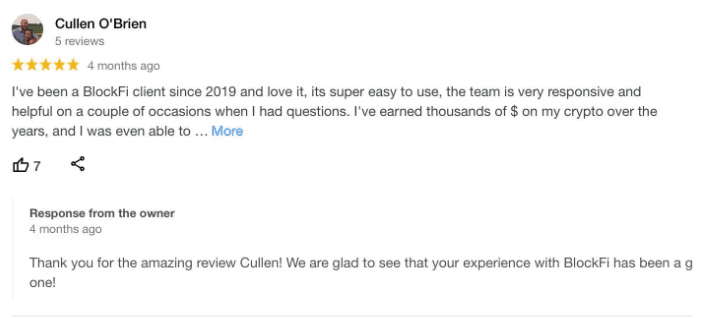 Fortunately, BlockFi is transparent about its withdrawal limits, terms, and fees. You can simply review the terms before signing up and determine whether they'll work for you. 
Its interest rates for holdings are some of the best for crypto, allowing you to generate passive income that you can withdraw monthly.
What Are BlockFi's Withdrawal Limits, Fees, And Policies?
BlockFi's withdrawal policies are clear, but if you assume it works like a typical traditional bank account (and forget to read its policies/fees in advance), you may be dissatisfied.
Let's clear up the withdrawal fees right now. BlockFi's fee schedule and policies are listed in the chart below.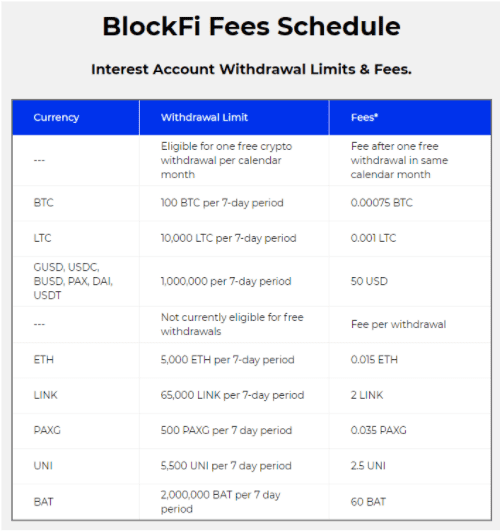 You should also be aware that:
It may take up to 7 days after submitting a withdrawal request to process it for return,

however

, the company states this feature has never yet been used and that all outgoing transfers have been honored on demand.

People who run into delays often do so because of routine holdups such as identity verification.
If you're looking to earn high interest on your crypto holdings and take advantage of crypto-backed loans or credit cards with Bitcoin rewards, BlockFi may be the best platform for you.
Pros And Cons
Determine whether BlockFi is right for you by reviewing its top pros and cons below.
BlockFi Pros And Cons
Pros
Cons

Live, human customer service

Withdrawals may take longer than expected

No minimum required to earn interest

Withdrawal fees may apply

Above-average interest paid monthly on holdings

Withdrawal limit may apply

Easy cross-trading of different assets

Limited free withdrawals

Beginner-friendly app and website

Waiting period on some withdrawals
BlockFi provides customers with a long list of features that help them save, earn, and benefit from crypto investments. Its withdrawal fees and policies are reasonable, but potential customers should review them carefully before signing up, to avoid any surprises.
How To Get Started With BlockFi
Getting started on BlockFi is easy, but if you're new to the platform or to cryptocurrencies, there are a couple of steps you should take first:
Review the policies, fees, and structure of the platform before signing up.

Understand the risks involved in crypto investing.

Develop a crypto investment strategy.

Submit your application to BlockFi.
Step 1: Review BlockFi  Policies, Fees, And Structure
BlockFi policies, fees, and structure are fairly straightforward and transparent. However, take a few minutes to ensure that you understand what you're getting into before you get started.
BlockFi's fees are listed on its fees page, which you can read by visiting https://blockfi.com/fees/.
From the fees page, you can navigate toward the top menu for further resources and FAQ's that should answer all your questions about the service.
You can also find BlockFi's full terms and conditions on the first page of its application process, by clicking on the links provided.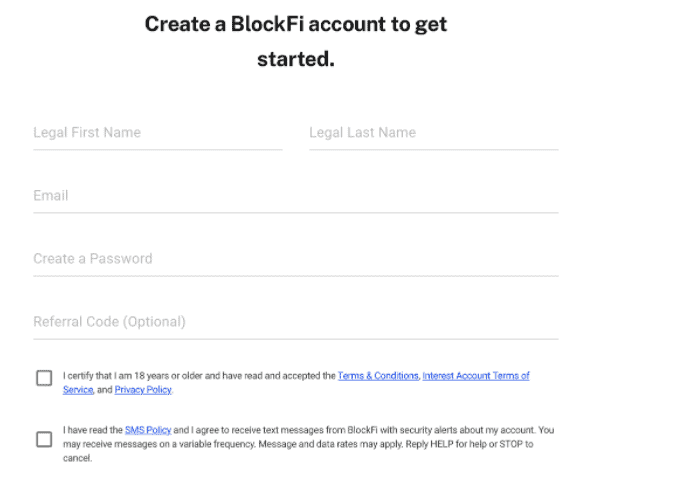 Step 2: Understand The Risks Of Crypto Investing
No matter what type of investment you make, there's always risk involved. 
Whether you invest in the stock market, real estate, crypto, or your own business, you can't earn profits without taking some level of risk. The key to investing wisely lies in understanding the risks before you invest, so you can develop a plan that balances your risks with potential profits.
Rising crypto values have increased consistently over the years. We've seen its worth rise and rise again, steadily for a long time, without dramatic depreciation or a crash.  Its success and popularity are exciting, but can also lead you to believe that crypto (even unconsciously) will always continue to appreciate in value.
Historically, all investments rise and fall over time. The stock and real estate markets crash and rise again, and crypto investments aren't immune to that type of market vulnerability. 
Invest in cryptocurrency with logical thinking and avoid emotional decisions, as you would any other type of investment. Don't take out loans or use credit cards to invest. Don't gamble with your savings or skip the electric bill.
Understand and measure your risks before investing in crypto, and you'll make better decisions while increasing your potential profits.
Step 3: Develop A Crypto Investment Strategy
Deciding, in advance, how you'll invest in crypto assets will help you avoid the riskiest type of behavior — emotional investing.
Emotional investing happens when you allow your decisions to be swayed by dramatic market swings, and it can end in disaster.
How will you handle your assets if their value drops suddenly? What will you do if there's an opportunity to buy promising assets for a super-low price?
Developing an investment strategy doesn't mean that you can't take advantage of market swings or good deals. It just means that you decide, in advance, how you'll approach it so that you're not caught up in an emotional roller coaster when prices spike up or drop down.
An investment strategy can be as simple as one typed paragraph on your computer. Making that simple effort can boost your earnings today and long into the future.
Step 4 – Sign Up
Signing up on BlockFi is easy, even if you're new to crypto platforms.
As with any other legitimate financial or investing platform, you'll need to include private information such as your social security number, address, and phone number on the application. You should also have your ID handy, since they'll ask you to upload it to verify your identity.
To get started, you'll fill out your name and email address, plus create a password.
Then, check the box to certify that you're 18 years or older and that you've read the terms & conditions, interest account terms of service, and privacy policy.
Finally, check the SMS policy box agreement and tap or click "submit" to get started.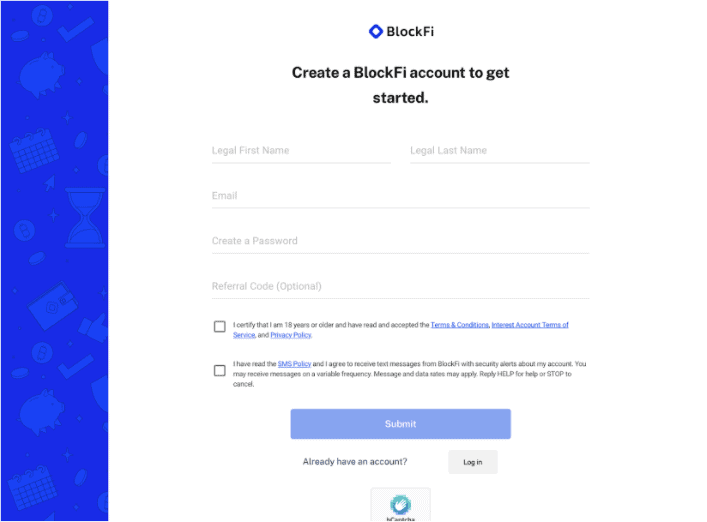 You'll be met with a captcha screen, and once you pass it you'll receive an email verification request.
Once you verify your email address, you can begin filling out all the information you need to request approval and activate your BlockFi account. 
You'll start by filling out basic information such as your address.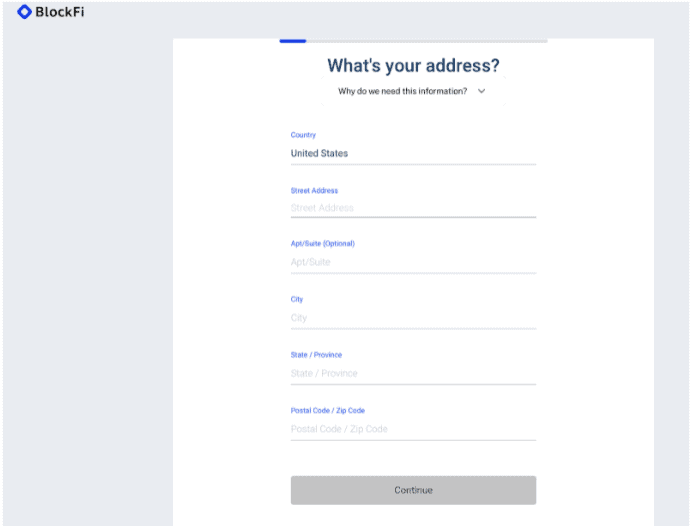 As you progress through the application, you'll need to prove your identity by uploading an official ID such as a passport, driver's license, or other government ID card.
Most BlockFi applications are approved within 20 minutes, so you can apply, get approved, deposit your assets, and start earning passive income from your cryptocurrencies almost immediately.
Final Opinion On BlockFi: An Excellent Platform For Most Crypto Investors
BlockFi is a legitimate cryptocurrency platform that prides itself on its best-in-class security measures. In addition to instant and commission-free trading, the platform offers additional services such as crypto-backed loans, interest-earning accounts, and a Bitcoin Rewards credit card.
Compared to competitors' platforms, BlockFi offers a wider range of financial services, above-average interest rates on interest-earning accounts, and live, human customer service that reviewers rave about. 
Blockfi's withdrawals can take longer than expected, and you may encounter fees and limits on occasion. However, the company's policies, terms, and fees are clearly laid out on its website for you to review before signing up.
When compared directly with Coinbase, BlockFi comes out as a winner for people wanting to do more with their crypto. Investors looking to do a heavy amount of trading or who prefer to transact with several types of cryptocurrency may prefer a platform such as Coinbase, which accepts 61 types of crypto compared to BlockFi's  8 (including Bitcoin, Ethereum, and Litecoin).
Opening a BlockFi account is simple, and you should be prepared to provide the same personal information you need to open any financial account, including your social security number and proof of identification. Review the BlockFi terms, conditions, and fees before you sign up to ensure that you're satisfied with the program's terms. 
Additionally, if you're new to cryptocurrency investing, it's helpful to understand the risks of crypto investing and to develop an investment strategy before you get started. 
Is BlockFi right for you? Investors who want to earn passive income and use their crypto holdings to build or take advantage of credit services are an excellent fit for BlockFi.