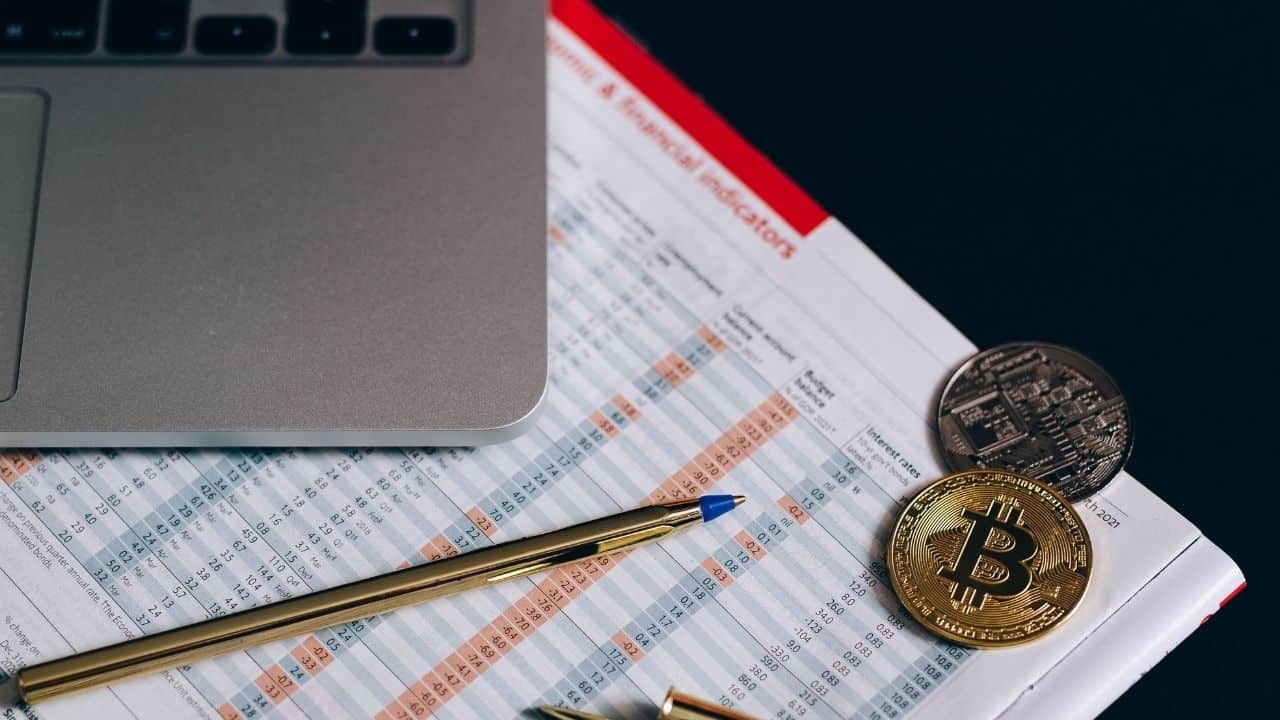 Disclaimer
We only endorse products that we truly believe in. Some of the links below may earn us some extra guac at no additional cost to you. Please pass the chips & thank you for feeding our habit.
Shiba Inu has been growing in popularity since its inception in 2020 and many investors are eager to get their hands on some of this Ethereum-based coin. Seen as an alternative to DOGE, this abundant crypto is certainly appealing to many but investors may have a hard time getting their hands on it. Only a few platforms will allow you to purchase SHIB, and many are wondering if Robinhood is one of them. 
Investors can now purchase Shiba Inu (SHIB) on the Robinhood platform. Robinhood supports 11 types of cryptocurrencies including Shiba Inu (SHIB).
If you want to learn more about how Shiba Inu is bought and sold, here is what you need to know about Robinhood and its competitors.
Platform
Fees
Promotions
Link
$0 Fees

Earn up to $250 in BTC bonus when you sign up and fund your new account.

Learn More
0.5% - 4.5% Other fees may apply.
Get $5 in Bitcoin when you complete your first trade.

Learn More
0.9% - 2% Other fees may apply.

No promotions at this time.
Learn More

0.5% - 3.99% 

$20 of BTC 

for new users after trading $100 or more within 30 days.

Learn More
Can You Buy Shiba Inu (SHIB) on Robinhood? 
While many people are interested in the user-friendly platform found on Robinhood, there are some major drawbacks to using it for crypto investments. The most significant is that they lack the variety of cryptocurrencies that are found on other platforms. 
Update: Robinhood has since added new coins and now supports Shiba Inu. Click here for more information on the full Robinhood crypto list.
While Robinhood may be great for beginners who only want to dabble in some of the most sought-after types of crypto, they are missing out on a major part of the market. To date, there are more than 18,000 cryptocurrencies in circulation. Many do not have a major following, but some do and are still excluded from Robinhood's investment platform.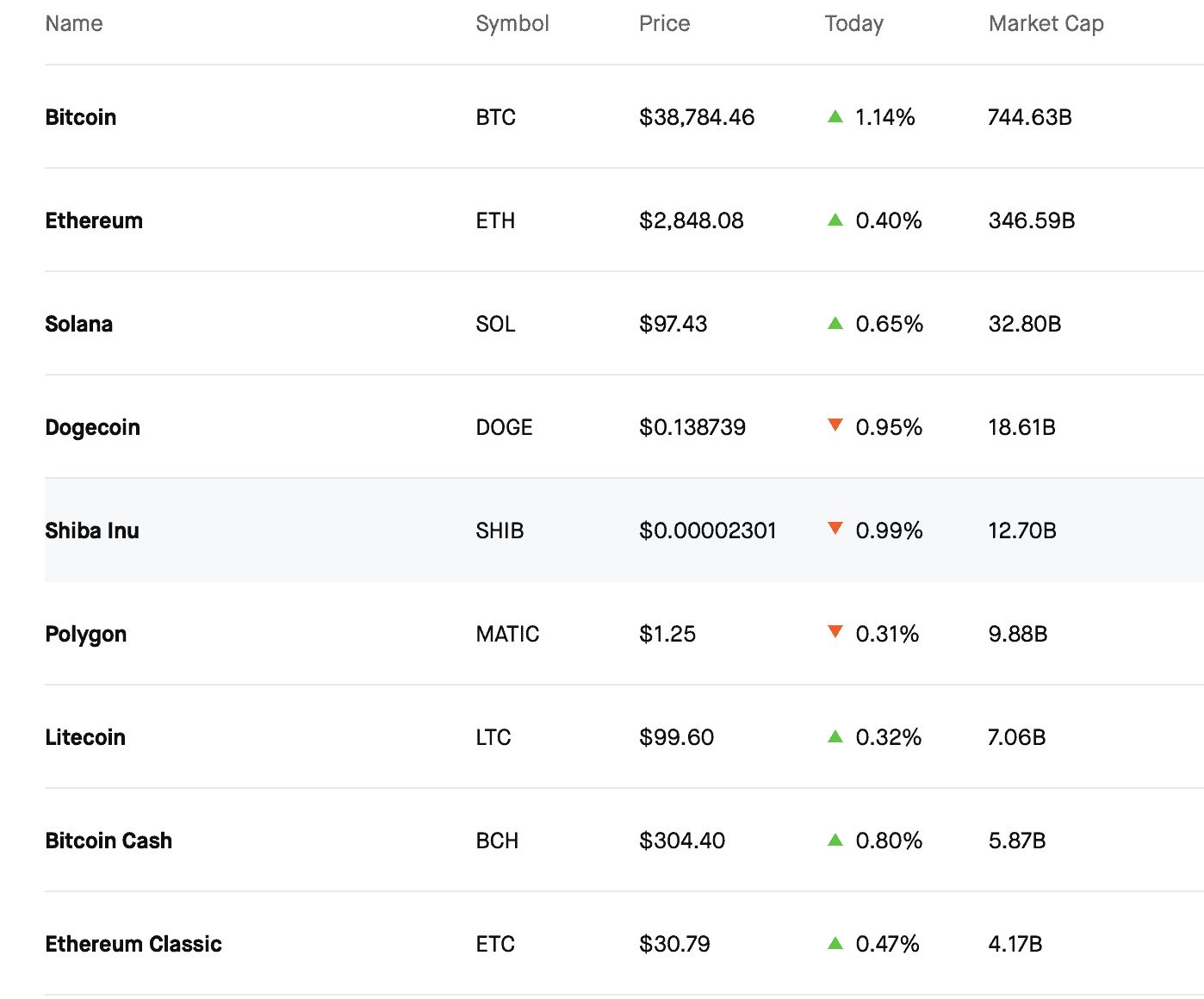 The benefit of Robinhood is that they do not charge any trade fees. This is one of its major draws for investors who want to make some serious investments in crypto but are worried about how fees will eat up their initial investment. 
Robinhood also allows you to invest in some of these pricier cryptocurrencies with as little as $1. This makes entry into the market accessible to just about everyone, even if investors only want to stake a small part of their portfolio in crypto. The only downside to Robinhood is that they do not have the robust offerings of other platforms.
Additional Places You Can Invest In Shiba Inu
If you want to take advantage of this relatively new investment opportunity, be sure to compare the fees and the user-friendly aspects of any competitor before you make a trade. Both Binance and Coinbase are great options that will allow you to purchase SHIB.
Binance
For investors who are looking to invest in SHIB without the hefty trading fees, Binance may be a great first option. Compared to other platforms, they charge just a 0.1 percent transaction fee for those who want to buy or sell their Shiba Inu coin. 
Fees are even lower if you choose to pay for them using Binance Coin (BNB). You will get a hefty 25 percent trading fee discount if you choose this payment method. 
Binance is a great option for investors who are just beginning to make their foray into the world of crypto because they offer a comprehensive educational resources center to help investors get up to speed. If you have questions about how crypto works, this should be one of the first places you turn to. 
They also have some benefit when it comes to security with a robust identity verification process. 
Keep in mind that there is a minimum trade amount to purchase crypto on this site, but it is still relatively low and certainly achievable for most investors. They request a $10 minimum trade to get started with your first purchase of SHIB or any other form of crypto. Binance is home to 65 different cryptocurrencies, so you will have plenty of options.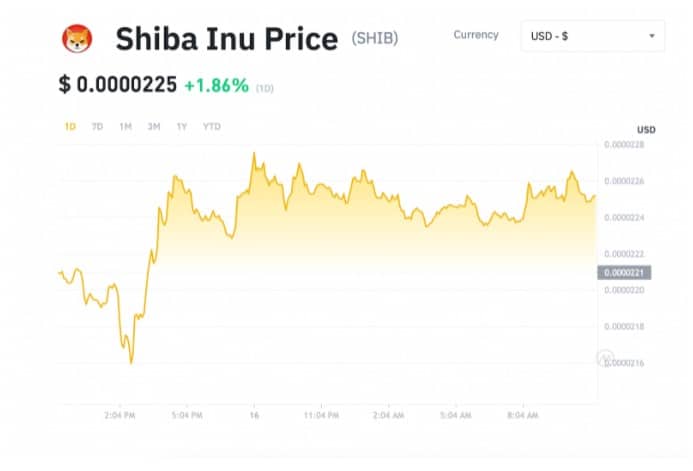 Coinbase
If you want to keep all of your crypto investments in one place and think that you might want to branch out beyond Shiba Inu in the future, Coinbase should be your first choice. They support over 100 different cryptocurrencies with more making a debut all the time.
One thing to keep in mind is that Coinbase does have higher fees associated with it compared to platforms like Binance. They have a flat-rate fee based on the trade size of your purchase. To give investors an idea of the fees that they will be hit with, here is what you need to know: 
Trades of $10 or less: $0.99

Trades from $10 to $25: $1.49

Trades from $25 to $50: $1.99

Trades from $50 to $200: $2.99

Trades about $200: Percentage-based fees
There is also a spread fee of 0.5 percent in addition to the flat-rate fees listed above. 
Coinbase is simple to use for beginners which is a huge draw for those who want to dabble in SHIB without much experience with other crypto. Coinbase even gives you the opportunity to earn crypto via eligible balances and through their Coinbase Earn program.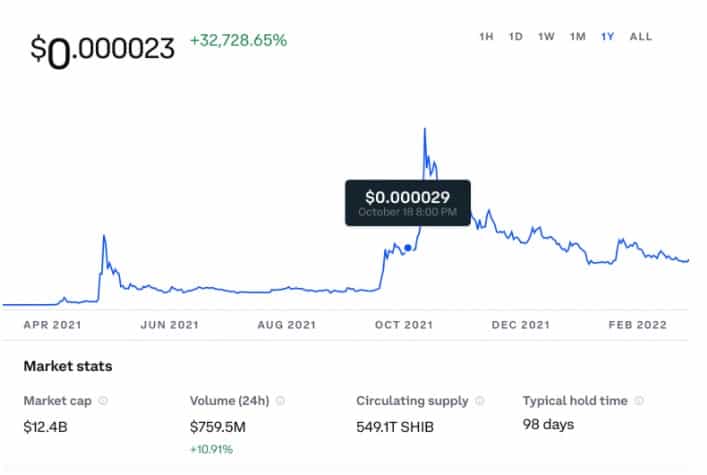 Shiba Inu On Robinhood
Robinhood is a great platform for trading crypto because it features no trading fees, is excellent for beginners, and does not require hefty trade minimums. However, they are extremely limited in what you can invest in through their platform. With a select few coins available, SHIB has mad the cut for what you can invest in. 
Instead, both Binance and Coinbase are also great options to make your move when it comes to your first crypto investment in Shiba Inu. While they do charge fees, they are relatively minimal so that you get to keep more money in your initial investment. These platforms are very user-friendly and are well-suited to beginning investors who are just starting to dabble in crypto. 
If you have been thinking about purchasing SHIB, there has never been a better time.