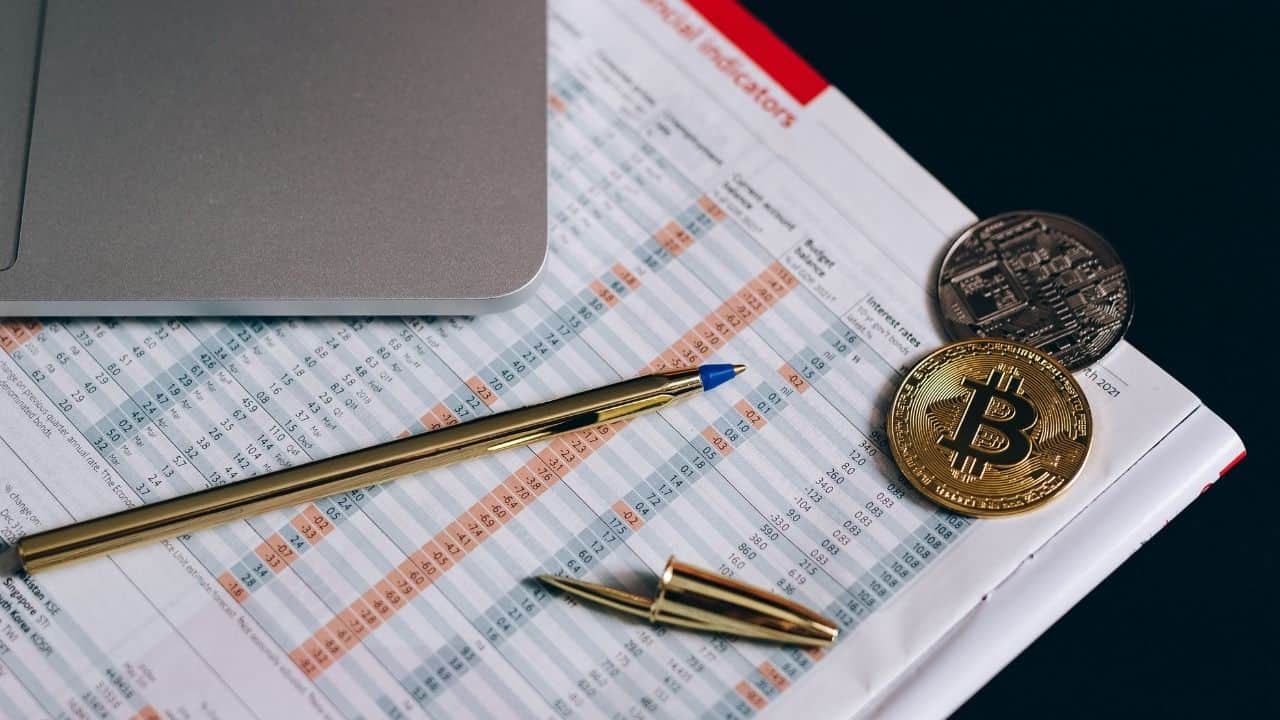 Disclaimer
We only endorse products that we truly believe in. Some of the links below may earn us some extra guac at no additional cost to you. Please pass the chips & thank you for feeding our habit.
If you're a normal, well-adjusted adult, you've probably come to dread tax season. Unless you're one of the lucky folks who are due for a refund, you likely aren't looking forward to April 18, 2022. 
And if you're investing in cryptocurrency via exchanges like Coinbase, your tax season might be a little more complicated. With 16% of US adults investing or trading in crypto, more and more folks are realizing the tax implications of buying and selling cryptocurrency in the United States. 
Cryptocurrency might be the wild west of personal finance, but it's still taxable. With millions of people investing in cryptocurrency, you can bet that the US government—and especially the IRS—wants its cut. So, I'm sorry to break it to you, but if you exchanged cryptocurrency on Coinbase, you probably have a 1099-MISC coming your way, courtesy of Uncle Sam. 
You can find your Coinbase 1099 by logging in and going to Documents. If you didn't opt for paperless statements, Coinbase will mail you a copy of your 1099-MISC, too. 
You need a Coinbase 1099 because: 
It can affect your tax bracket. 
You need it to file your taxes. 
The IRS will look for discrepancies between your filing and their copy of your 1099-MISC.
Are you wondering why you received a 1099-MISC from Coinbase, and what you should do with it? Learn how Coinbase taxes work, why your 1099 matters, and where you can find your Coinbase 1099 form.
Platform
Fees
Promotions
Link
$0 Fees

Earn up to $250 in BTC bonus when you sign up and fund your new account.

Learn More
0.5% - 4.5% Other fees may apply.
Get $5 in Bitcoin when you complete your first trade.

Learn More
0.9% - 2% Other fees may apply.

No promotions at this time.
Learn More

0.5% - 3.99% 

$20 of BTC 

for new users after trading $100 or more within 30 days.

Learn More
How To Find The Coinbase 1099 Form
If Coinbase issued you a 1099-MISC, the platform will send you an email letting you know it's available in your account Documents. 
Just go to your Coinbase account > Documents and you'll see a digital copy of your 1099-MISC. If you didn't opt into paperless documents for your account, Coinbase will also mail you a paper copy. 
Keep in mind that 1099-MISC is only for income earned on Coinbase, not for capital gains. To find the data to claim your capital gains, Coinbase recommends using CoinTracker.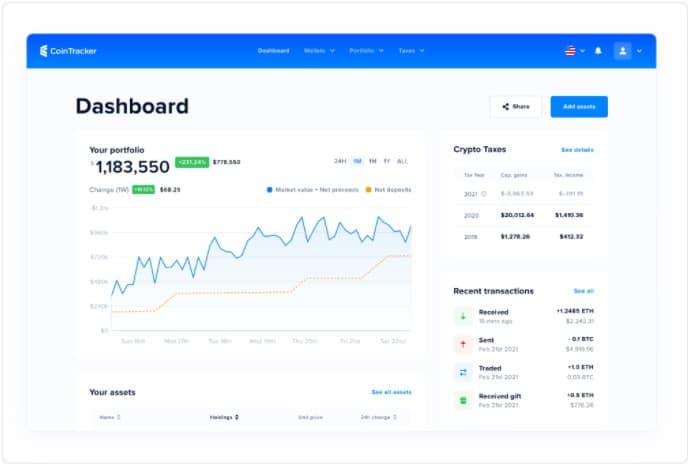 But if you don't want to do that, go to Coinbase > Reports to see your transaction history and statements. If you're using Coinbase Pro, go to your "Statements" section to export all of your transactions for tax purposes.
How Coinbase Taxes Work
Yes, cryptocurrency is taxed in the United States, especially when you're selling through an exchange like Coinbase. The IRS classifies cryptocurrency as a capital asset, just like stocks. 
So if you've ever claimed capital gains from stocks on your taxes, it's a similar situation with Coinbase. It isn't fun, but it's good to understand how Coinbase taxes work so you aren't caught unprepared in April.
According to Coinbase, these actions are taxable: 
Selling crypto

: If you sold cryptocurrency in exchange for US dollars, you're taxed if you made money. 

Crypto conversions

: If you bought Bitcoin and used it to buy another cryptocurrency, that's actually taxable because it's a sale. 

Buying stuff

: If you buy items with cryptocurrency and didn't pay tax at the time of purchase, you'll be taxed on it. 

Crypto payments

: If you accept cryptocurrency as payment for work, you need to pay taxes on that.

Mining

: Yes, the IRS taxes mining! They consider mining to be a form of self-employment, so it follows

the tax rules for self-employed folks

. They will tax you at the coins' value at the time you mined them. 

Staking rewards

: The IRS treats staking just like mining.
But these actions aren't taxable: 
Holding crypto

: If you buy crypto and did nothing with it, you don't owe taxes. You only pay taxes when you sell your cryptocurrency, and pay taxes on the gains in value. 

Donating crypto

: As long as you donate to a qualified 501(c)(3) charity, you don't have to pay taxes on that transaction. 

Gifts

: If someone gifted you crypto, you don't pay taxes on it until you sell it yourself. If you want to give someone else a crypto gift, the IRS allows you to transfer $15,000 worth before you have to file

a gift tax return

.

Transferring crypto: If you're moving crypto between different accounts or wallets, you don't have to pay taxes.
Capital Gains
In the eyes of the IRS, the earnings you make from selling Bitcoin are considered capital gains. But it isn't all bad news: if you sold your Bitcoin for less than you bought it for, you can write it off as a deduction because you lost money. You only pay taxes on the profits you made. 
Here's a very simple breakdown of how capital gains taxes work on Coinbase: 
You buy $10,000 in Bitcoin on Coinbase.

You hold onto Bitcoin for a while until its value increases. 

When you sell that Bitcoin for $50,000, you're taxed on the gain you made from the sale, or $40,000. 
Coinbase won't send you any tax forms for capital gains. If you made even $1 on crypto trades, it's your responsibility to report every cent to the IRS on your own. So no, if you don't get a tax form, it doesn't mean you get a free pass from the IRS. Sorry. 
In this situation, you need to pull all of your Coinbase transactions for the year and report your net gain (or loss) to the IRS as capital gains or losses.
Income
The second way that Coinbase taxes work—and the reason you received a 1099-MISC—is because the IRS also taxes you on earned income. Coinbase will only send you a 1099-MISC if you earned over $600 in income last year on the platform.
What If I'm Not In The US?
If you aren't located in the US, you won't receive any tax forms from Coinbase at all, even if you earned more than $600 in income. But that doesn't mean you're completely off the hook. 
You're still responsible for following up with your local tax authority. Coinbase recommends downloading your transaction history and filing your taxes according to your local laws.
What Is The Coinbase 1099 Form? 
Coinbase and the IRS haven't exactly seen eye to eye in the past. Because of this, Coinbase takes tax reporting very seriously. 
If you're a frequent user of the platform, you might receive a 1099 form from Coinbase. A 1099 tells the IRS that you've earned some kind of income outside of a traditional W-2 job. It's just like a 1099 you'd receive from platforms like Rover for dog-sitting or UpWork for freelancing. 
There are three types of 1099s you should be aware of as far as it relates to cryptocurrency and taxes.
1099-B
You won't receive a 1099-B from Coinbase, but it's still good to know what it is. A 1099-B is for the disposal of property through a broker. Since cryptocurrency is classified as an asset, you might receive a 1099-B someday. Platforms like Robinhood issue these, but there are rumors that Coinbase may start issuing 1099-Bs in the future. 
1099-K
From 2017- 2019, Coinbase issued 1099-Ks to users who: 
Did more than 200 trades.

Had transactions totaling $20,000 or more. 
But there's a big downside to using 1099-Ks in cryptocurrency: 1099-Ks just show aggregated data, not specific transactions. This doesn't show the expenses incurred during cryptocurrency transactions, so the IRS thought Coinbase users were drastically under-reporting their income. 
After thousands of Coinbase users received what I call "love letters" from the IRS, Coinbase realized this wasn't a smart way to do tax reporting. 
For the 2021 tax year, Coinbase will not be issuing 1099-Ks any longer. They will only issue 1099-MISC for the 2021 tax year.
1099-MISC
If you're reading this blog, it likely means you received a 1099-MISC from Coinbase and you have no idea why, or what to do with it. 
If you received a 1099-MISC, it's a report on income you earned specifically from Coinbase rewards. This isn't for capital gains (which you need to report on your own), but for income paid to you by Coinbase. 
1099-MISC covers all of your miscellaneous income earned on Coinbase, including: 
Staking rewards

Interest earned on Coinbase

Rewards like USDC, Dai, Tezos, Algorand, or Cosmos

Payments received via Coinbase Commerce

Sweepstakes winnings from Coinbase

Coinbase referral rewards

Coinbase Earn rewards

Coinbase user research payouts
To receive a 1099-MISC from Coinbase, you need to meet these criteria: 
You're a person living in the US

You're a Coinbase customer

You earned $600 or more in income from Coinbase
Why Do I Need A Coinbase 1099-MISC?
When Coinbase sends you a 1099-MISC, they're also sending a copy of the form to your best friends at the IRS. Because the IRS requires Coinbase to report your activity, you'll receive either a paper or an electronic form from Coinbase to do your taxes this year. 
But if you received a 1099-MISC, don't throw it away! You need your Coinbase 1099-MISC form because: 
Crypto affects your tax bracket

: Nobody likes unexpected tax hikes, but your 1099-MISC could be an early warning that you can expect to pay more taxes. Your cryptocurrency earnings can actually put you in a different tax bracket if you earn enough. Depending on whether you earned a lot or lost a lot, you'll need to declare that on your taxes. Most people don't think about this when they make a lot of money on crypto, so it's good to set money aside for tax day. 

You need it to file your tax return

: Cryptocurrency is an asset, just like any other investment you own, like stocks. If you're using a solution like TurboTax, you need the Coinbase 1099-MISC to accurately file your taxes. If you like to do everything yourself, you add this information to

Schedule 1, Line 8

of your tax return. And if you're self-employed like me, you add it to your Schedule C.

The IRS is using it: Like I said, the IRS already has a copy of your 1099-MISC. If you ignore the form, it means you're going to submit your taxes incorrectly. There's a very good chance that the IRS will get in touch with you about underreported income if you do this, so don't ignore your Coinbase 1099.
Coinbase 1099: A Necessary Headache
We like to think that crypto is the next big thing. But even though so much of crypto is decentralized and unregulated, it doesn't mean you can do whatever you want. As a law-abiding citizen and crypto enthusiast, you're required to report your earnings to the IRS, both for capital gains and income.
If you frequently trade crypto or make a lot of money doing it, taxes can be messy. In my opinion, it's worth the nominal fee you would pay an accountant to help you file your taxes. I mean, do you really want to draw the ire of the IRS? 
The IRS is eagle-eyed already, and with the tremendous gains in the crypto market, it's serious about getting its money. If you didn't receive a 1099-MISC from Coinbase, you likely didn't earn enough to receive the form. However, just because you didn't receive a form doesn't mean you earned "free" money. Claim every dollar you earned through Coinbase to stay on the good side of the IRS.