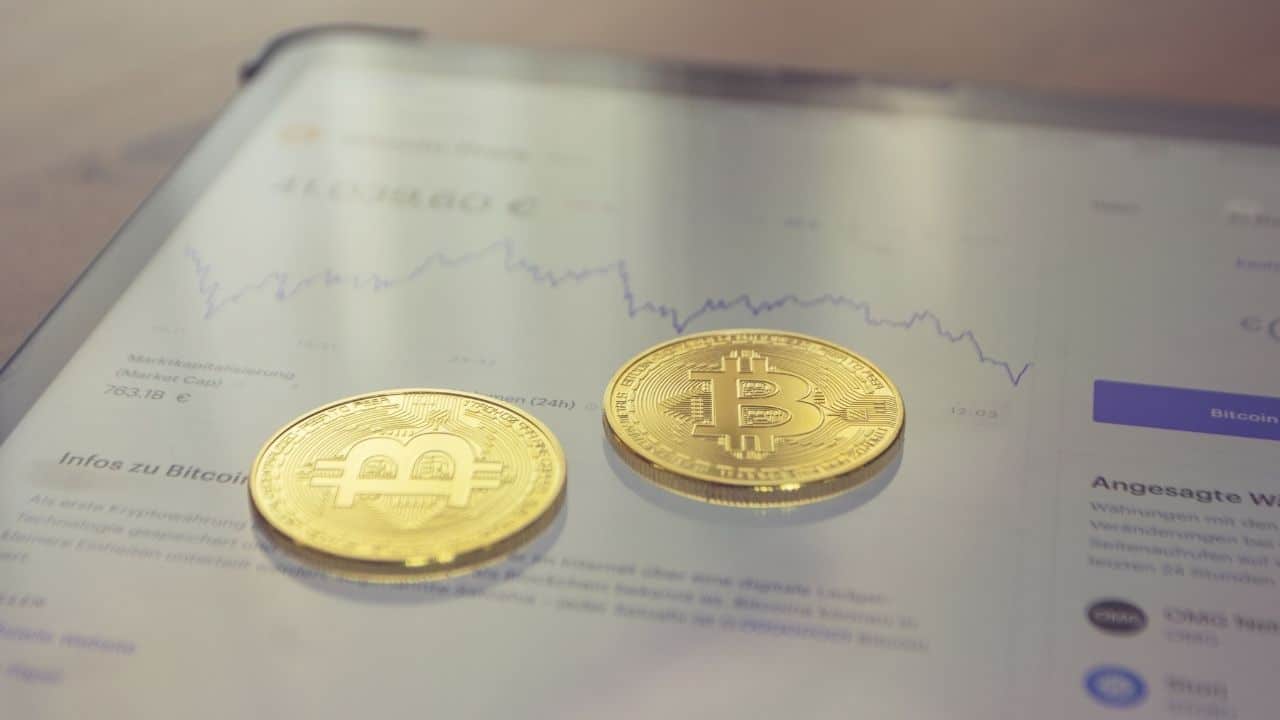 Disclaimer
We only endorse products that we truly believe in. Some of the links below may earn us some extra guac at no additional cost to you. Please pass the chips & thank you for feeding our habit.
Day trading is pretty self-explanatory: it's trading investments more than once per day. Typically, when we think of traditional investing, we picture stock brokers on Wall Street putting in orders to trade investments that are a part of a bigger portfolio that they manage for their clients.

But investors, as well as brokers, can now take full advantage of price fluctuations for each stock on a daily basis and trade their stocks multiple times per day.. 
Cryptocurrency is the perfect investment candidate for this type of back and forth trading. Since cryptocurrencies are known for their volatility when they hit the market, and continued consistent daily movement, crypto is a great medium for day trading. And Coinbase is the most popular platform for user-friendly day trading to happen for investors everywhere. Read on to see why and how Coinbase could be a perfect place for you to day trade cryptocurrency.
Platform
Fees
Promotions
Link
$0 Fees

Earn up to $250 in BTC bonus when you sign up and fund your new account.

Learn More
0.5% - 4.5% Other fees may apply.
Get $5 in Bitcoin when you complete your first trade.

Learn More
0.9% - 2% Other fees may apply.

No promotions at this time.
Learn More

0.5% - 3.99% 

$20 of BTC 

for new users after trading $100 or more within 30 days.

Learn More
Coinbase Day Trading Tips
There are several ways to make the most of your Coinbase day trading experience, and if you heed these two top tips you'll be in good shape: start out on the right foot and take full advantage of Coinbase rewards.
Getting Started 
After creating your Coinbase profile, you'll get $5 in free Bitcoin after making your first cryptocurrency purchase. This extra boost in funds makes it easy to start day trading in a small or big way – whatever you're comfortable with. 
Getting started is easy – users are required to enter some personal information so their investments stay secure, and verify their identity with a few steps. Once a user completes the initial setup – voila! They are ready to get started buying crypto.
Once you have a profile and a valid form of payment set up, it's time to dive into which cryptocurrencies will be most beneficial to start day trading with. Here are a few factors to consider when you look at a new crypto investment possibility:
The background and invention of this currency.

Just like any other investment, you want to know where you're money is going. Look into the major stakeholders and founders to tell if you trust placing an investment with this "company" or currency.

The historical daily movement of the stock.

You can look at the stock's price history right on Coinbase, we'll talk about the specific place later on. Look at the stock's history of pricing and see if it's a major daily mover in the past – perfect for day trading.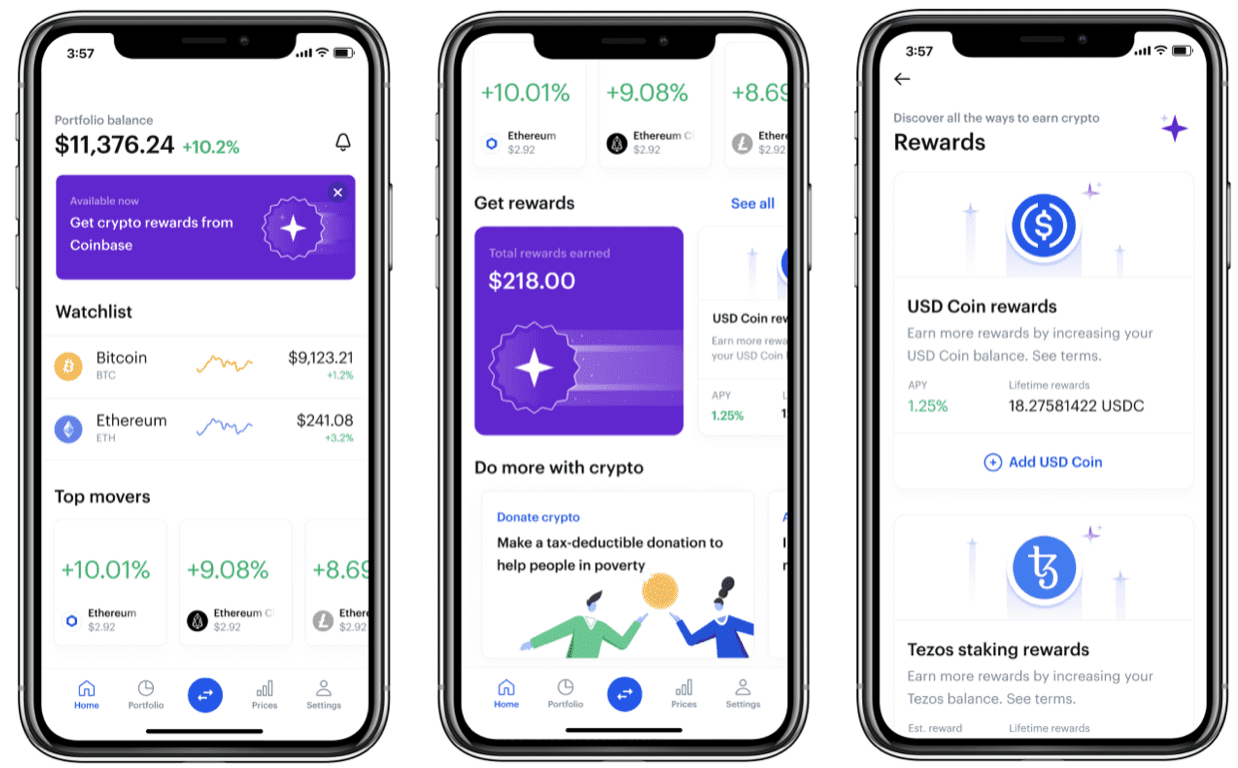 Making The Most Of The Rewards
After you start using Coinbase, you'll get the chance to have a go at earning some rewards. There are two pretty simple ways you can earn rewards in the form of crypto, or real money, on Coinbase. Don't miss out on this "free" money!
Each month, for as many days as you have a balance greater than $1, Coinbase provides users with a reward in proportion with their balance. Keep this in mind as you day trade.




If you're into crypto education, you can watch educational resources and complete a quiz to test your knowledge, earning you free crypto. Now you have even more resources to fuel your day trading!
Setting Yourself Up To Day Trade On Coinbase
Once you're all set up with a Coinbase account, you'll need to learn to navigate the ins and outs to be truly successful with day trading on Coinbase. 
Probably the most important feature of the app will be your

Home

tab, where you can view your crypto balances, watch crypto that you might be interested in trading, and check out the major movers of the day.

Next, you'll want to look at your

Portfolio

tab, which holds a more detailed view of each of your investment holdings.

Under the

Trade

tab you can sort through all the crypto options you're looking to buy or sell, and trade as you need. Click on any crypto and see it's historical price changes to make a decision if this could be a good crypto to day trade. Day traders on the app typically use this tab the most, as they buy and sell frequently as the prices of crypto move up and down.

On top of the dashboard, investors can also view their

Profile & Settings

page and have access to a lot of good information, including:
Account limits show the user the amount of money their bank allows them to withdraw to buy crypto on any given day. Paypal also limits usage of their platform to buy crypto. One can view these limits under Profile & Settings at any time. These limits will be key to knowing where to stop when day trading. You'll need to keep in mind how much your bank and Paypal allow you to spend on crypto on any given day.

If you have trouble with any trades, you can chat with a Coinbase expert to help solve any issues. These issues might not be able to be solved, depending on their nature.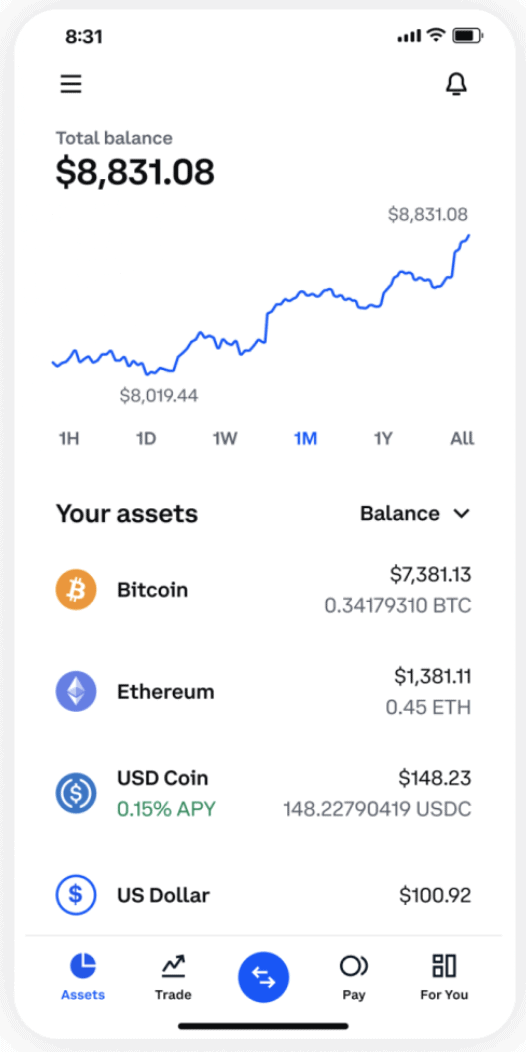 For now, part of the reason Coinbase can be a bit riskier is if your investment loses its complete value during a glitch in the app or a user error, you won't be getting that money back. Most crypto investing apps like Coinbase aren't known for their forgiving policies on application-based issues, or user error issues.

Under the Financial Services tab, the investor can toggle different rewards available to earn on specific balances held in specific crypto. Check out the rewards available to you and turn them on to start earning!
Is Coinbase Pro The Right Choice For Day Trading On Coinbase?
Coinbase Pro is a more in-depth version of Coinbase that offers more features for investors. 
Coinbase Pro offers:
Lower fees than Coinbase, lessening the blow of those fees that could cut into investor earnings. For the basic Coinbase usage, fees for using a credit card are at

3.99%

. For Coinbase pro, they are 0%.




More cryptocurrency investing options. Currently there are more than

250

types of crypto for investors to choose from, and on the basic Coinbase app there are just 107.




Currently, Coinbase Pro rules allow investors to trade an unlimited amount of cryptocurrencies balances on their platform. When you first sign up for your account, you'll be able to withdraw up to

$50,000

of these assets per day, but as you continue to trade this the limit might vary or increase.




Helpful charts are also available on this platform to help the investor navigate their journey toward building wealth with crypto.
With these perks, day trading can be done with minimal fees, and maximum trading limits. If you're considering day trading on Coinbase, you're a great candidate for signing up for Coinbase Pro.
Coinbase Day Trading Risks
Now that you know more of the insider scoop about Coinbase, you're well on your way to navigating day trading successfully. There are several ways to hedge yourself against any downfalls that come with trading on Coinbase, so stay informed on the current problems users are encountering within Coinbase:
Limited Security For Coinbase Day Trading
Many Coinbase users have found that the platform is not as secure as they'd hope. News stories have outlined investors who have experienced waking up one day to a 0 balance in their accounts. Whether due to falling for a scam, or a hacker getting a hold of their account, several users are currently developing and enacting lawsuits against the famous crypto trading platform.

The good news is, as an investor, you have options! Your crypto doesn't need to just stay held in Coinbase, where it might be stolen. You can move it out into a new cryptocurrency wallet.
A cryptocurrency wallet is a physical or digital wallet used to securely hold cryptocurrency assets to protect investors against scammers and hackers that might try to intercept their crypto on a less-secure exchange.
In the process of moving your crypto to a new wallet (whether physical or digital), you as the investor have the upside of gaining additional security for your investment holdings. This prevents hackers from entering your account by providing another level of encryption.

As a day trader, you'll probably want to set up an encrypted wallet that keeps your assets secure when you're done trading at the end of the day. When you're ready to transfer your balance to your more secure wallet, just open up your Coinbase App and send your crypto out of the Coinbase system. When using my alternative wallet, Trust Base, it looked like this:

Coinbase Day Trading Customer Service
Many investors have dealt with hackers intercepting their crypto right out of their Coinbase wallet in the past, and during this headache, it can be cumbersome to try to get Coinbase customer service to assist in this frustrating process.

As of now, crypto exchanges are not easily traceable, and these transactions can't be reversed. In other words, when your crypto is gone, it's gone. In the future, many investors hope for more secure and traceable transactions that can be reversed just like a credit card transaction.
All in all, it's good to recognize that currently, cryptocurrency isn't a very forgiving method of holding money – it can be hacked and the transaction can't be reversed. Coinbase customer service can only go so far in assisting their users with these problems. Keep this in mind as a present risk as you day trade.
Coinbase Day Trading Fees
Coinbase is known in the investing world as posing higher fees for its investors. If you want to make smaller trades while you day trade, these fees will definitely make it hard to get a profit. For larger trades, you can definitely make up the fees in earnings if you play your cards right. Here is their most current fee chart: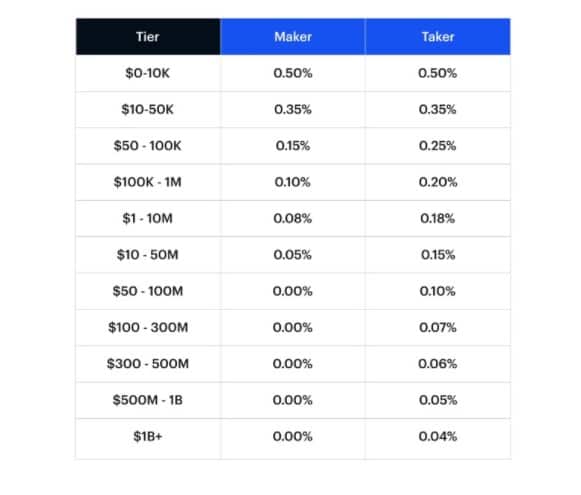 In addition to these tiered fees, there are also spread fees that Coinbase charges, in order for Coinbase to lock in the price of a certain crypto. Watch out for these fees, and make sure your buy or sell will still be worth it with the fee tacked on. They change day to day based on the different cryptocurrency's individual volatility.
Finding Success In Day Trading On Coinbase
To truly find success on Coinbase, investors should know the Coinbase terrain, consider the possible downfalls and protect themselves against these, and have some essential investing knowledge.
If you've made it this far, you're well on your way to becoming a Coinbase expert, and now the key is to start making a feasible plan for day trading to match with your personal risk tolerance. 
Check out our Beginners' Guide to Cryptocurrency to make sure you're ready to navigate the nuances of day trading on Coinbase. Day trading can be a risky game, but if you're a seasoned investor who feels comfortable with the risks involved, day trading on Coinbase could be an incredibly lucrative opportunity for you.