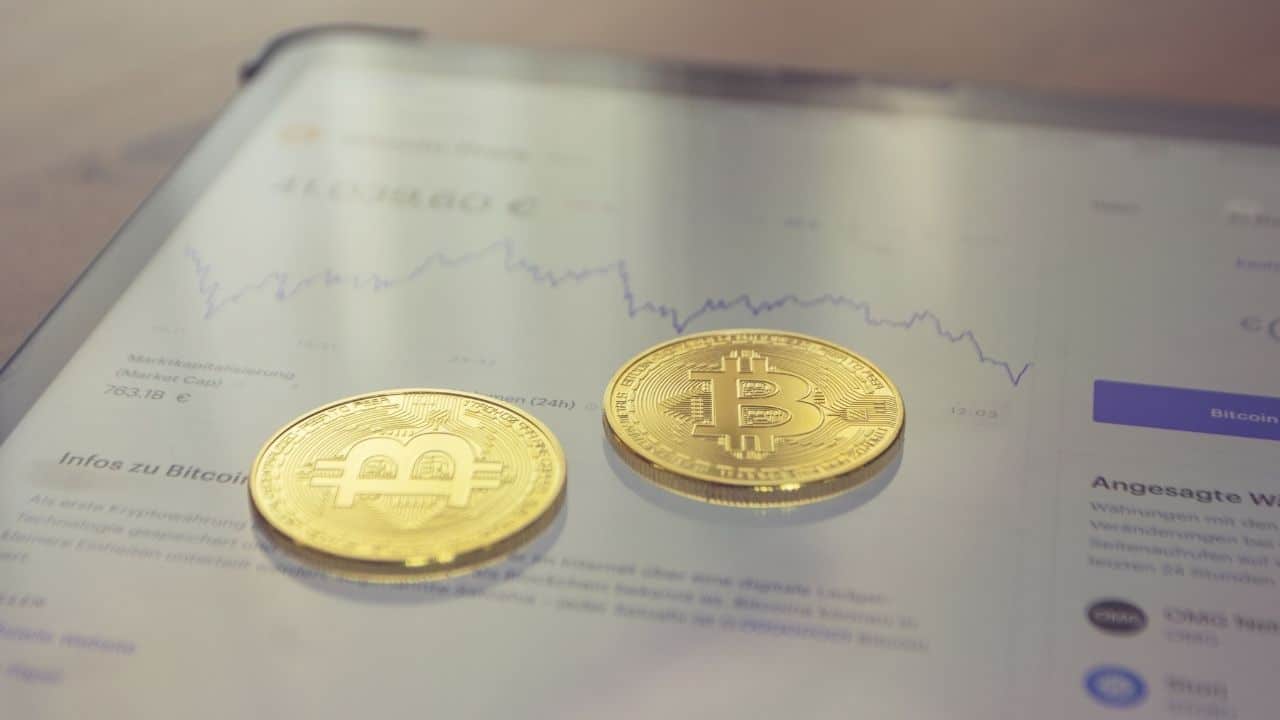 Disclaimer
We only endorse products that we truly believe in. Some of the links below may earn us some extra guac at no additional cost to you. Please pass the chips & thank you for feeding our habit.
Coinbase Review 2022
Coinbase Review 2022
Coinbase is one of the leading centralized crypto exchanges on the market today. Despite it's lack of straightforward fees, its popularity and ease of use shine through.
Pros
Easy To Use
Secure
Insured Platform
Cons
Complicated Fee Structure
Only Crypto Trading
Lack Of Technical Analysis
With more than 50 million users in over 100 countries, cryptocurrency exchange Coinbase is the most popular crypto marketplace for pros and amateurs alike. More than $300 billion worth of cryptocurrency is traded on Coinbase each quarter.
Coinbase is a popular cryptocurrency investing and trading application that lets users buy and sell cryptocurrencies and crypto tokens. Coinbase Pro also allows users to swap certain crypto assets for other crypto assets in what are called trading pairs. The platform offers both desktop and mobile applications plus a crypto wallet that allows users to take self-custody of their crypto.
What Is Coinbase?
Coinbase is a centralized cryptocurrency exchange that was launched in 2012. In 2021, Coinbase became the first crypto exchange to go public under the symbol COIN via a direct listing on NASDAQ. COIN is now considered by many investors, such as Ark Invest's Kathy Wood, to be a must-have in any crypto-focused stock portfolio. 
Coinbase offers two platforms: The standard Coinbase application and a more powerful Coinbase Pro application. The standard Coinbase application only lets users buy and sell crypto for cash. In that sense, the non-pro version of Coinbase is more of a crypto broker than a crypto exchange. 
If you're wondering whether or not we recommend this popular centralized crypto exchange (CEX), here's a hint: Coinbase recently landed atop our list of the Top 10 Crypto Exchanges To Buy And Sell Crypto On In 2022, largely because of its extensive list of coins and tokens and ease of use. 
According to the site's help section, "For customers in the US, the USD wallet is only available to states where Coinbase is either licensed to engage in money transmission, where it has determined that no such license is currently required, or where licenses are not yet being issued with respect to Coinbase's business." At the time of writing, Coinbase is still not available in Hawaii.
What is Coinbase Pro?
In addition to its basic application, Coinbase also offers Coinbase Pro. The pro app offers far more assets and trading pairs. It also brokers swaps between various coins and tokens rather than limiting users to cash purchases. 
Coinbase Pro also includes a few extra charting and technical analysis features plus several order types including limit, market, and stop orders. 
Not all capabilities in Coinbase Pro are available in all regions. We found this extensive list of countries where Coinbase is available. It also lists which services are available in each country: Coinbase Pro is available in the United States (USD), European Union (EUR), United Kingdom (GBP), and more than 100 other countries.
Coinbase Fees And Limits
Before we get into our review of Coinbase, let's just look over some numbers to give you an idea of what it costs and to use this popular crypto trading app and what your limits are. 
Coinbase min. and max. purchase — The minimum purchase on Coinbase is $2. (However, you can earn more than $2 worth of crypto just by going through their promotional quizzes.) The maximum daily trade on Coinbase is $25,000. Coinbase Pro members can make unlimited trades but are subject to a default daily withdrawal limit of $25,000 which can be raised upon request. 
Coinbase trading fees — Coinbase trading fees all told can be as high as 4.99%. The actual fee depends on the type of transaction, which application you use, whether or not you're paying in cash, and how much you're buying.  
| | |
| --- | --- |
| Payment method | Fee |
| U.S. bank account  | 1.49% |
| Coinbase wallet | 1.49% |
| Debit/credit card | 3.99% |
| Instant withdrawal | Up to 1.5% (minimum fee of $0.55) |
| Wire transfer | $10 ($25 outgoing) |
| ACH transfer | Free |
One of the nice things about Coinbase is that it has low minimum purchases. This is great for people just getting into crypto trading and want to practice with small amounts of money. However, they also have minimum fees. The lowest is $0.99 for trades under $10.
| | |
| --- | --- |
| Trade amount | Minimum fee |
| >$10 | $0.99 |
| < $10 up to $25 | $1.49 |
| < $25 to $50 | $1.99 |
| < $50 to $200 | $2.99 |
Because you can swap assets in addition to buying and selling in cash, Coinbase Pro fee structure is a bit different. It depends on the availability of the coin or token. If an asset is immediately available, you are charged a taker fee. If your desired trade doesn't have a current buyer/seller, you'll be charged a maker-fee. On Coinbase Pro, you can't purchase crypto with a credit or debit card. You must deposit fiat cash into the account. 
| | | |
| --- | --- | --- |
| Coinbase Pro Pricing tier | Taker fee | Maker fee |
| Up to $10K | 0.50% | 0.50% |
| $10K – $50K | 0.35% | 0.35% |
| $50K – $100K | 0.25% | 0.15% |
| $100K – $1M | 0.20% | 0.10% |
| $1M – $10M | 0.18% | 0.08% |
Coinbase Applications
Coinbase offers both desktop and mobile apps and a mobile wallet.
Coinbase Desktop — Although Coinbase doesn't offer a native desktop application, its desktop platforms are available on all major web browsers in Windows, macOS, and Chrome computers.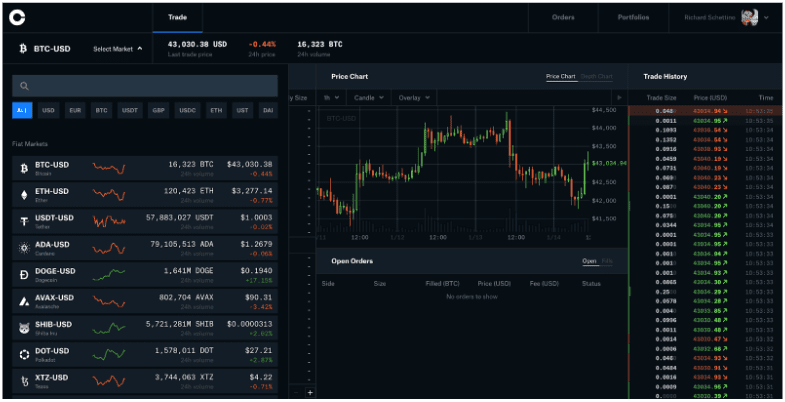 Coinbase Mobile App — Coinbse also offers mobile apps for iOS and Android devices. 
Download Coinbase for iOS
Download Coinbase for Android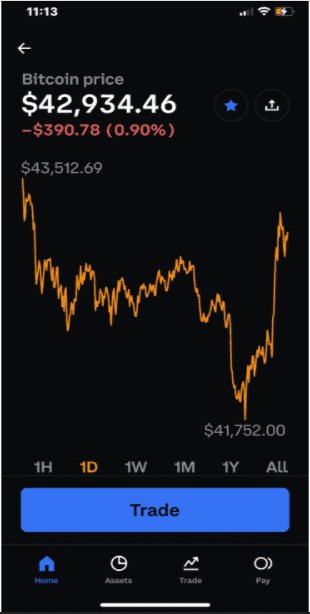 Coinbase Wallet — Coinbase's mobile crypto wallet is available to users with iOS and Android devices who wish to take self-custody of their assets. Coinbase wallet gives users the ability to trade assets on several other crypto exchanges and also lets users connect with a list of several other 3rd party wallets. 
Coinbase stablecoin USDC — Coinbase has its own stable coin (symbol USDC). USDC is backed by U.S. dollars and is used for lending, borrowing, and staking. Users can earn interest on their USDC balance. Moreover, hundreds of companies and platforms support USDC including most digital wallets, crypto exchanges, and DeFi protocols
Number of Coins and Tokens on Coinbase — Coinbase is adding (and removing) new coins and tokens on a regular basis. However, as of the time of writing the number is hovering around 50 for basic users. And there are approximately 100 different coins and tokens plus 80 trading pairs available in Coinbase Pro.
How To Sign Up For A Coinbase Account
Signing up for a Coinbase account is fairly straightforward.
Step 1 after opening the app or website is to provide basic account/identity information such as name, email, password. You'll then be prompted to verify your email address by retrieving a security code, after which they'll ask you to add and verify a phone number, as well.
Step 2 is to add all your contact information.
Step 3 requires you to prove you are who you say you are by uploading a value I.D. such as a passport or driver's license. 
While you await confirmation of identity verification you should be able to add funds to your account and purchase coins and tokens. (If for some reason something goes wrong in the process it will have to be repeated or the account will be closed.)
Read more: Coinbase Day Trading Rules – Getting Started For Beginners
Coinbase Review 2022
As with all choices in life, choosing a crypto exchange comes with compromises. 
In this Coinbase review, we'll discuss the features of both Coinbase applications, its coin and token selection, and its benefits and drawbacks.
Benefits Of Coinbase
Coinbase offers several benefits. For starters, both desktop and mobile applications offer excellent user experiences. They're very clean, easy on the eyes, intuitive, and easy to use. 
Here are some additional features that we like about Coinbase:
Coinbase is secure — Coinbase is about as secure as a CEX can be. For starters, they keep about 98% of their crypto assets in cold storage greatly reducing the risk of loss to hackers. Coinbase also uses AES-256 encryption for digital wallets and login requires multi-factor verification. 
Coinbase accounts are insured — All Coinbase cash accounts are insured by the Federal Deposit Insurance Corporation (FDIC) for up to $250,000 per individual. Moreover, Coinbase's insurance policy also covers losses due to cybersecurity breaches.
Large selection of assets and trading pairs — Coinbase offers one of the largest selections of coins and tokens of any centralized exchange. Coinbase lite offers several dozen assets while Coinbase Pro lists over 100 different coins and tokens. They are constantly adding new assets and removing those that aren't worthy.
Coinbase offers interest-bearing accounts — Coinbase offers up to 5.00% interest on certain crypto assets such as Ethereum 2, Tezos, Algorand, and Cosmos, as well as stablecoins DAI and USDC. The site says they are "constantly reviewing and adding new interest-earning assets." The interest on some assets is paid daily while others are paid over days, weeks, or months. Learn more about Coinbase interest-bearing accounts here.
Additional Benefits For Coinbase Users
Coinbase Visa debit card — Coinbase offers a Visa debit card that pays up to 4% cashback with no credit check or annual fees. And you don't need a cash balance to use it. Coinbase will automatically convert all assets into U.S. dollars for debit card purchases. 
Watch lists — Coinbase facilitates the creation of watchlists so users can track the daily activity of their favorite coins and tokens at a glance. 
Send money and make payments — Similar to PayPal, Coinbase lets users receive funds and send assets to an email address or phone number. You can also send crypto as a gift. (The recipient will have to open an account with Coinbase to claim it.)
Referral rewards — Coinbase offers users $10 for every new member referred.
Learn and earn program — Coinbase offers crypto rewards amounting to about $30 just for learning about various coins and tokens such as Stellar, Amp, and Fetch.AI. The whole process takes well under an hour. 
Educational content — Coinbase offers users a comprehensive library of educational resources. The library includes education resources, crypto basics, beginners' guides, tips and tutorials, tax and banking advice, the latest news, and much more. Users can also subscribe to a periodic newsletter.
Drawbacks Of Using Coinbase
While we think Coinbase is the best bet for new crypto investors, there are a few drawbacks to using Coinbase that we'd like to point out. 
High/complicated fees — The main weakness of Coinbase is its fee structure. It's expensive and confusing for some users. Coinbase Pro fees are a bit lower. That being said, the good folks at Coinbase have hinted that the fee structure might improve in the near future. So if the fees listed here don't look right that might be the reason.
KYC requirements — Unlike some DEXs and wallets, Coinbase requires users to provide personal information — name, address, social security number, and so forth — and also to supply identity verification in the form of a driver's license or other valid I.D. While this isn't a problem for most people, it's a deal-breaker for some. 
Lack of technical analysis features — Although Coinbase Pro offers a few TA features, the selection is extremely limited compared to applications such as Webull or TradingView. They only offer users standard candle and line charts (no solid or Haiken Ashi candles), and they only offer 12-day and 26-day moving average lines (nothing like RSI, MACD, Bollinger bands, etc.).
No stocks, only crypto — You can't buy stocks and ETFs on Coinbase. If you want both, you might check out stock trading platforms such as Webull and Robinhood that offer crypto. However, the menu of crypto assets is very limited on these platforms. Also, you can't swap coins and tokens on Webull and Robinhood; you can only buy and sell crypto with cash.
Customer service is severely lacking — One of the main complaints from Coinbase users is that their customer service is all but nonexistent. You can't talk to a human being and technical support tickets are slow to be resolved.
Take a look at our video review below!
Coinbase Review 2022: Final Thoughts
Although Coinbase has a few drawbacks such as having high/complex fees and poor customer service, its applications are top-shelf. They're very clean and easy to use with intuitive user interfaces. Coinbase also offers a hefty selection of digital assets and recently launched an NFT platform. Not only is Coinbase a good place to invest in crypto, many analysts believe the company itself is also a good investment. 
For those who want to dig a little deeper into cryptocurrency exchanges, here ere are some additional articles you might enjoy: