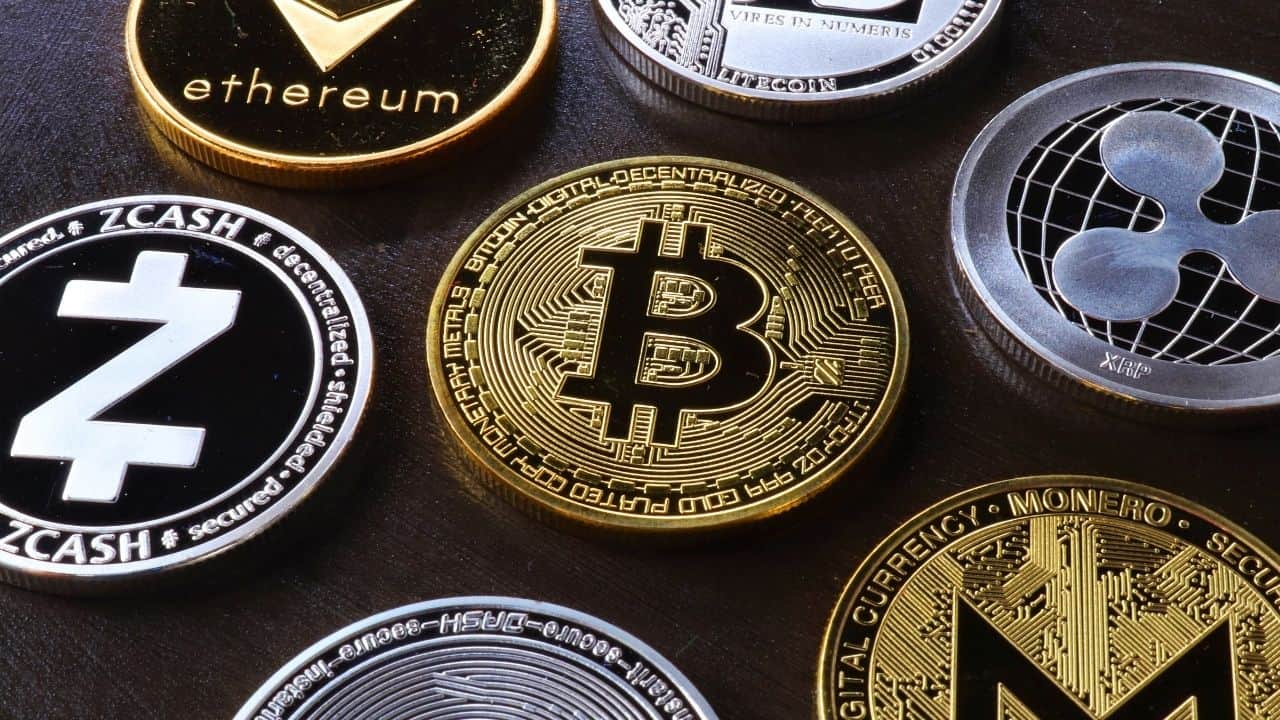 Disclaimer
We only endorse products that we truly believe in. Some of the links below may earn us some extra guac at no additional cost to you. Please pass the chips & thank you for feeding our habit.
Back when I started investing in crypto, there weren't many apps to choose from. Today, there're tons of different apps that cater to a variety of different investors' needs. Coinbase & BlockFi emerge as the two largest and have some similarities, both are unique and offer users completely different crypto investing experience.
BlockFi offers users low fees, eight different coins to buy and trade, and is better suited for the long-term investor, while Coinbase caters more to the beginner investor, offering its users better customer service and learning opportunities, but does have higher fees and over 141 coins to invest in.
If you're on the fence about which option to choose, this article is going to compare both apps in terms of UI, features, and security. In addition, we'll go over some of the top pros & cons of each option, so you can decide which one is right for you and your crypto holdings.
Coinbase VS BlockFi: A Quick Overview
Coinbase and BlockFi are both US based digital  cryptocurrency exchanges that allow users to trade Bitcoin (BTC), Ethereum (ETH), Litecoin (LTC), and other popular cryptocurrencies. 
Both allow you to purchase crypto assets, store them in a digital wallet, and even earn interest on your crypto holdings. 
Think of them both like a brokerage, but for crypto investments, instead of stocks. Coinbase and BlockFi connect you with all of the top cryptos and altcoins on the planet, like Bitcoin and Ethereum.
| | Coinbase | BlockFi |
| --- | --- | --- |
| Number Of Coins Available | 50+ | 6 |
| APY Rates | Up to 5% | Up to 8.6% |
| Security | ID Verification, Cold Storage, Wallet Security and 2FA | ID Verification, Cold Storage, Insured Hot Wallet, 2FA |
| Countries Available In | 100+ | 100+ |
| Fees | Up to 0.50% spread per trade and 1.49% for Coinbase wallet or bank account purchases | Up to 1% spread per trade |
| Learn More | | |
Coinbase also has its cryptocurrency exchange, GDAX, offering advanced trading features to traders who want more than just a simple broker platform. It also provides custodial wallet services for individuals and institutions so they can keep their coins safe in cold storage.
BlockFi is a cryptocurrency lending platform that allows users to earn interest on their crypto assets by placing them on the platform as collateral. They offer up to 8% APY on USD stablecoins, which makes it an excellent opportunity to earn passive income from your crypto investments.
Coinbase and BlockFi both have strong reputations and excellent customer support. However, there are essential differences between these companies that you should be aware of before choosing one.
Coinbase VS BlockFi – What Each Offers
When it comes to Coinbase vs. BlockFi cryptos, it's all about which type of investor you are. Are you the crypto-curious type, the HODLer, or the native professional trader? 
You need to know what your purpose is for investing in crypto. Is it to get rich quick ? Is it to build some long-term capital? Or are you looking to hedge against the volatile economy? It's best to choose either Coinbase or BlockFi based on the kind of investment you need. What your purpose is for buying crypto, here's how you can decide which of the two platforms is better for you.
Who Is BlockFi Best For?
With BlockFi, it's preferable if you're a long-term investor (which means you plan on holding your investment for the long-term). Even though BlockFi only offers a handful of coins, it gives you a decent compounding interest that's beneficial in the long-term. 
However, you'll have to deal with very minimal withdrawals since it allows only one free withdrawal per month. So, if you're a frequent crypto trader, who likes to invest based on changing markets, then BlockFi isn't your cup of tea. BlockFi is mainly a place for lending and borrowing and not so great for exchange.
BlockFi Interest Account
BlockFi allows you to deposit Bitcoin (BTC), Ethereum (ETH), or Gemini Dollar (GUSD) into an interest account that accrues compound interest monthly.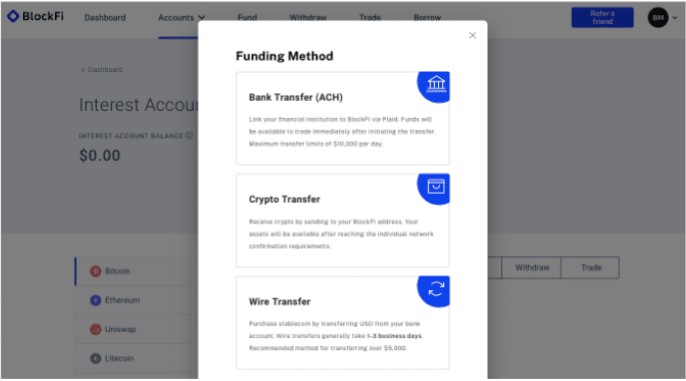 Interest rates vary by asset and whether your balance is greater than $25,000 or less than $25,000. Crypto deposited into BlockFi Interest Accounts is not available for trading.
Who Is Coinbase Best For?
On the other hand, Coinbase is perfect for newbies. Thanks to the 141+ coins it offers, you can experiment with all kinds of cryptos. This also makes it a perfect place to trade crypto. And because of its unlimited monthly withdrawals, Coinbase lets you trade as often as possible. 
Some of the coins offer amazing interests, which are great earning opportunities. They also don't have hidden fees except for 0.5% on conversions.
Coinbase Earn 
Coinbase Earn offers users the chance to learn about specific cryptocurrencies and earn money for doing so. The program is free to use and does not require you to purchase any asset in order to participate.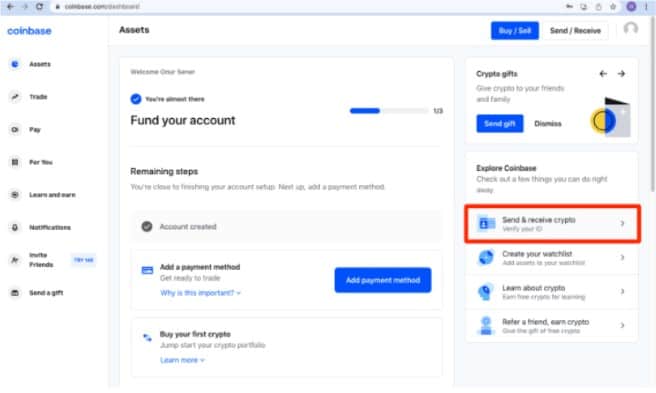 The amount of money you can earn from each course varies, but some people have reported earning $30 or more for completing a course.
To participate in Coinbase Earn, you must create an account with Coinbase and complete your KYC verification. Once you're signed up, scroll down on the dashboard and locate Earn. Click View All Earn Opportunities to browse through available courses.
Nonetheless, it's advisable to read up all fees for both BlockFi and Coinbase before investing in either platform. For instance, except for the major coins like BTC and ETH, Coinbase may invoke some significant costs on other coins. At the same time, novice crypto traders tend to make expensive mistakes when moving their cryptos. So be cautious. 
The bottom line though, is to try using both platforms based on their respective strengths – BlockFi for long-term investments while Coinbase is perfect for frequent crypto traders and newbies who can experiment with coins other than BTC and ETH.
Coinbase Pros
User-friendly Interface
Coinbase has a user-friendly interface that makes it easy for beginners to navigate the platform easily. The exchange provides users with a large amount of information on each cryptocurrency, including short videos describing them.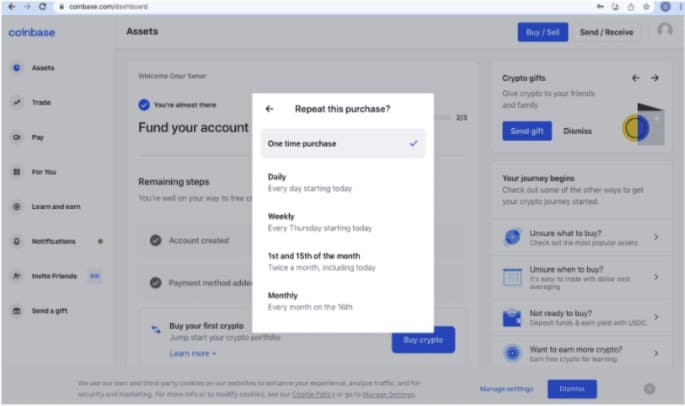 Coinbase also has an intuitive dashboard that displays information about the user's account balance and current market prices for cryptocurrencies. 
Additionally, users don't need to use complex wallet addresses when sending or receiving funds on the platform. They can link their accounts and transfer money using email addresses or phone numbers.
Easy To Transact 
You can load your account with a debit/credit card or via a bank transfer quickly and easily. There are only 2-3 fees involved when you buy from Coinbase. These include:
 

The spread (fee) between the buy and sell price of Bitcoin on Coinbase is typically 1%.

Fixed percentage fee (varies depending on the payment method used) when you buy or sell digital currency. This is typically 3.99% if you use a debit/credit card and 1.49% if you use a bank transfer. 
In addition, Coinbase offers very high limits. Limits depend on your account level, which is determined by how much information you have verified. Fully verified US customers may buy up to $50,000 worth of bitcoin daily.
Wide Range Of Cryptocurrencies
Coinbase offers its users access to a 141+ crypto related assets, wide range of coins and tokens, including Bitcoin (BTC), Ethereum (ETH), Litecoin (LTC), Bitcoin Cash (BCH), and Basic Attention Token (BAT).
Secure
Coinbase uses two-factor authentication (2FA) where customers are required to submit phone numbers for verification purposes when signing up for an account. 
Once you have enabled two-factor authentication, each login will require you to enter both your password and a code from your phone. You can also choose to receive a text message or a voice call to receive the code.
It also has the Google Authenticator code. You can generate one-time passwords on Coinbase's website by linking your Coinbase account to Google Authenticator and scanning the QR code shown on the dashboard of your account.
Coinbase Cons 
High Fees
Fees might be higher than other exchanges as Coinbase primarily targets new users who might not be aware of other cheaper options that offer instant conversion to fiat money equivalent amounts.
It's access fees are some of the highest in the industry, meaning, you'll be charged a percentage fee every time you deposit money into your account or make a transaction.
Here's the basic access and transaction fees for Coinbase: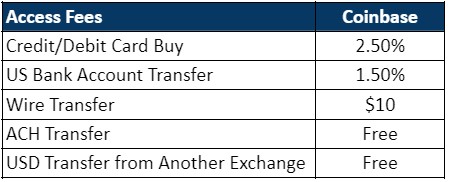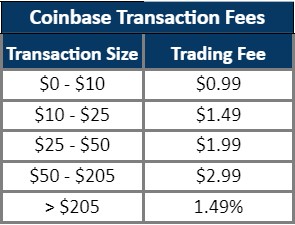 Accepts Mostly US Customers
The downside of Coinbase is that it is a US company that only accepts US customers. This means if you are not located in the United States, you will have trouble finding a local exchange. However, many other exchanges around the world work with other countries as well as the United States, so this should not be a problem for most people.
BlockFi Pros
Monthly Interest
BlockFi Interest Account (BIA) pays out monthly interest on cryptocurrency assets stored on the platform and allows users to earn compound interest on their holdings.
Clients are able to deposit BTC or ETH into their BlockFi Interest Account (BIA) and receive interest in BTC or ETH based on the balance held in their BIA at the end of each month. 
There are no deposit limits, meaning you can keep your entire portfolio with BlockFi if you would like to do so. Their clients come from all over the world and they have been featured in well-respected publications such as Forbes, Bloomberg, CNBC, & Yahoo Finance.
Excellent User Interface
Their website has an excellent user interface (UI), making it easy for users to sign up for an account, deposit funds, apply for a loan, withdraw funds, and more without any technical knowledge of how cryptocurrency works.
Offers Credit Card For Cryptocurrency Purchases
BlockFi is one of the few platforms offering a credit card for cryptocurrency purchases. The BlockFi Rewards Credit Card offers unlimited 1.5% cash back in Bitcoin on every purchase and no annual fee or foreign transaction fees.
Backed By Industry's Biggest Names 
The crypto-backed loan product is backed by the leading crypto asset accounting firm BPM, LLP. The company also works with Gemini Trust Company LLC, a New York State trust company, for banking services and custody of cash reserves.
BlockFi Cons
Lack Of Many Withdrawal Options
The lack of withdrawal options can be a disadvantage to some people as they are not able to withdraw their funds in fiat currency. The only withdrawal option available to them is a cryptocurrency, which will take time for the transaction to complete.
Interest Account Is No Longer Available To US Citizens
Due to legal issues from the SEC, the interest account that many investors were eyeing for is no longer offered for US citizens.
In replace of that, BlockFi is exploring new options that allow users to earn interest on their crypto investments as an SEC approved security.
How They Compare – Comparison Between Coinbase VS BlockFi
Both are giants in the crypto lending and borrowing space. We'll take a look at all their features side-by-side so that you can see the key similarities and differences between these two platforms and decide which one is best for your needs.
| | Coinbase | BlockFi |
| --- | --- | --- |
| Number Of Coins Available | 50+ | 6 |
| APY Rates | Up to 5% | Up to 8.6% |
| Security | ID Verification, Cold Storage, Wallet Security and 2FA | ID Verification, Cold Storage, Insured Hot Wallet, 2FA |
| Countries Available In | 100+ | 100+ |
| Fees | Up to 0.50% spread per trade and 1.49% for Coinbase wallet or bank account purchases | Up to 1% spread per trade |
| Learn More | | |
Which One Should You Choose? – Coinbase VS BlockFi
All in all, your preference will depend on the investing style you admire. If cost isn't a factor to you, then feel free to use either one: they'll both help you earn in 2022.
Therefore, if you're looking for lower fees with better, low minimums, then Coinbase is your go-to for cryptocurrency. It's such a perfect option for long-term investors. 
On the other hand, if you prefer trading more coin options, and an impressive user interface is your cup of tea, then BlockFi is exactly what you need.
What about security? Well, both Coinbase and BlockFi guarantee safety and both platforms hold your funds in cold storages, with third-party insurances. So it means you don't have to worry about losing your funds.