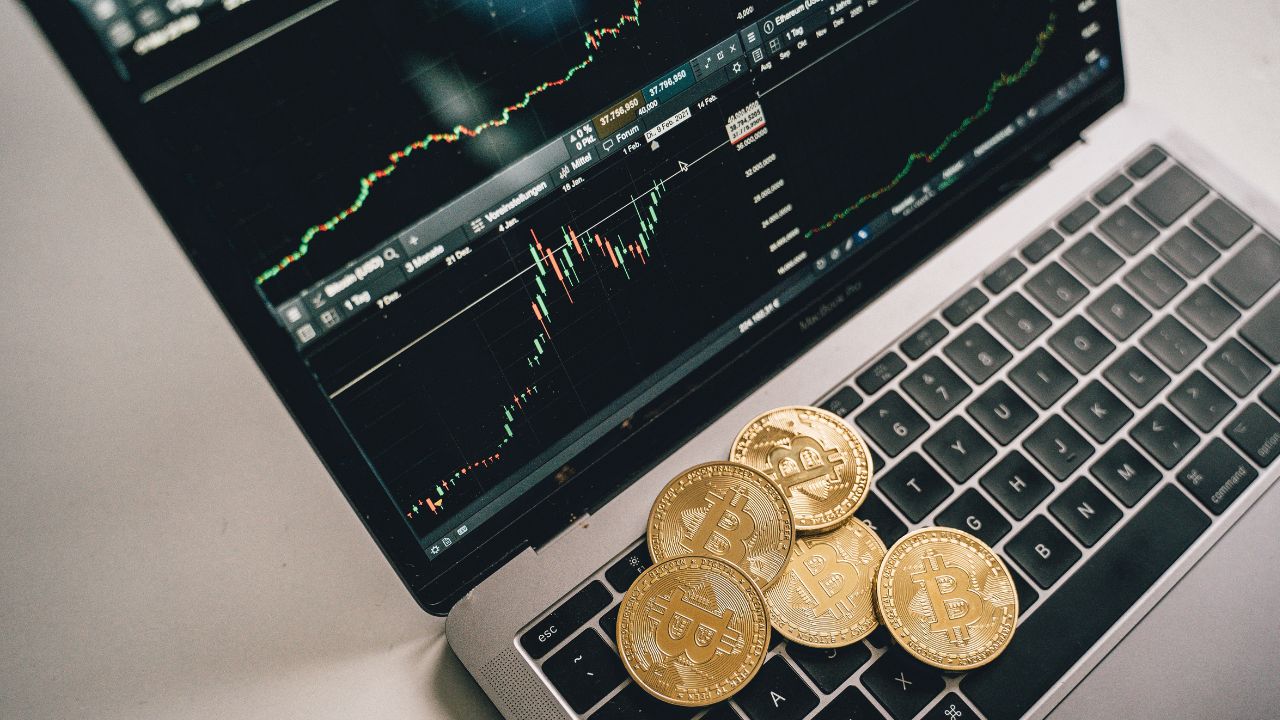 Disclaimer
We only endorse products that we truly believe in. Some of the links below may earn us some extra guac at no additional cost to you. Please pass the chips & thank you for feeding our habit.
One of the biggest concerns for cryptocurrency investors is where they are going to actually store their coins. In the past, many have simply stored their cryptocurrency on an exchange account, but today, there are far safer and more efficient methods of storing your crypto.
In fact, in 2022, some are turning to hot wallets as their preferred crypto storing medium.
Gemini Wallet is a free-to-use, highly insured, hot wallet, that supports 80+ cryptocurrencies & 7 fiat currencies like USD, EUR, and GBP. Wallet users will have their first $250,000 in crypto 100% insured and zero fees on 10 withdrawals a month.
With that said, let's explore Gemini Wallet in detail in terms of its security, user features, fees, and how it compares to other wallets in the industry.
Gemini Wallet Review – What Is It And How Does It Compare?
Gemini Wallet is a hot wallet, which means it is always connected to the internet. It operates directly on a Gemini Exchange account and doesn't have a separate user interface, which saves you from the hassle of downloading and setting up a wallet account. 
With many exchange hot wallets, you need to download and set up a separate wallet.
Hot wallets are growing in popularity because they are much faster in sending and receiving crypto compared to regular exchange accounts and cold wallets. 
A cold wallet is not connected to the internet and cryptocurrency funds are stored offline, so it is a safer alternative. But in return, cold wallets are highly slow to transact compared to hot wallets.
Gemini's Wallet is one of the most widely used in the industry, but does it hold up against BlockFi and Coinbase?
Here's everything you need to know about the Gemini Wallet and how it compares to the competition:
Security Features
Although using an online hot wallet is convenient for fast crypto transactions, it makes your funds prone to security breaches and hacks as the wallet is connected to the internet. 
Gemini offers a number of solutions to compensate for this vulnerability: 
Insurance:

Gemini provides digital insurance for your wallet which covers 100% of your funds against security breaches, hacks, fraudulent transfers, and employee thefts. The insurance however, does not cover fund transfers due to unauthorized access to your Gemini wallet.

Wallet whitelist: On Gemini, you can whitelist the wallet addresses that you send funds to. With this feature, a hacker cannot withdraw the funds in your Gemini wallet into their wallet.
Two-step verification:

You need to enter multiple pieces of security information when signing in to your Gemini account. On the website, you need to enter both your password and a security code sent to your cell phone. On the mobile app, you need your password and biometrics to login.

Hardware security:

Gemini offers hardware security keys with a USB outlet for desktop login and near-field communication (NFC) chip technology for the mobile app. 
Here is a comparison of Gemini Wallet's security features against its major competitors:
| | Passive Security | Active Security |
| --- | --- | --- |
| | Wallet whitelisting, digital insurance, federal insurance up to $250,000 | Two-step verification, USB security keys, NFC chips |
| | Federal insurance up to $250,000 | Two-step verification, multi-signature wallet, cold wallet |
| | Wallet whitelisting, digital insurance, federal insurance up to $250,000 | Two-step verification |
The Coinbase Wallet neither offers digital insurance nor wallet whitelisting but on the other hand, it is a cold wallet so users have the custody of their own funds. 
Another negative side-effect of Gemini's hot wallet is that you cannot transact anonymously with the wallet, which has been cryptocurrency's number one use case since its inception. 
Gemini is a "qualified custodian" under the New York State regulations, due to which it is required to collect numerous personal information from its clients. As a consequence, all transactions you make in and out of your Gemini wallet will include your name on the record.
User Features
Multiple funding methods:

There are multiple payment methods to fund your Gemini wallet. The easiest and fastest method is linking your debit card to your Gemini account. You link your debit card by verifying it via photo instantly or via microtransactions, which takes up to two business days.





Other funding options include ACH transfers, bank wire transfers, Apple Pay, or Google Pay. Please note that ACH and bank wire transfers may take up to five business days.

Support for 80 cryptos + 7 fiat currencies:

The Gemini Wallet doesn't just store cryptocurrency. You can deposit fiat currencies to your Gemini wallet as well.

There are seven different fiat currencies offered on the Gemini Wallet, which include the US Dollar, Euro, and the British Pound

.





You can deposit fiat to your Gemini Wallet using your debit card, making an ACH or wire transfer to Gemini's bank account (typing your account number in the description), or transferring funds with Apple Pay or Google Pay. The same payment methods are used to withdraw fiat from your wallet.





Apart from fiat currencies, Gemini Wallet supports all major cryptocurrencies starting from Bitcoin, Ethereum, the Tether stablecoin (USDT), USD Coin (USDC), Solana (SOL), and Terra (LUNA).

Supported networks:

Gemini Wallet only supports the Ethereum and Solana networks for token transfers and only the Ethereum network for stablecoin transfers. Other major exchanges offer much cheaper alternatives

like Arbitrum, Polygon, Avalanche, and BNB Binance Smart Chain, which cost around $1 to make a token or stablecoin transfer, while the same transaction costs $40-$50 on the Ethereum network.





Please be advised that

if you attempt to send coins into your Gemini wallet from another network than Ethereum (or Solana depending on the coin), your coins will be lost forever

with no option to return them to the sending wallet.

Staking services:

Gemini Wallet allows you to earn interest on your investments with cryptocurrency staking. Your eligible coins in your Gemini wallet can be designated to Gemini Earn for staking with varying annual returns. Staking rewards are directly credited to your Gemini wallet with new coins. Staked coins can be transferred out of Gemini Wallet at any time with no minimums, transfer fees, or redemption fees.

Retail shopping:

Gemini Wallet allows you to spend your crypto funds at select retail partners using just your smartphone and the mobile app. Using Gemini Pay on the mobile app, you can pay at stores like Barnes & Noble, Lowe's, and Petco with Bitcoin, Ethereum, Dogecoin, Gemini USD, and seven other cryptos.
Here is a comparison of Gemini Wallet's user features against those of Coinbase and BlockFi:
As you can see, Gemini offers the largest selection of fiat currencies while the Coinbase Wallet can store the largest number of cryptocurrencies and it supports the largest number of new, cheaper transfer networks in the competition.
Fee Structure
On Gemini Wallet, you can deposit cryptocurrencies from other wallets for free. Making fiat currency transfers from other wallets are also free. 
However, if you deposit fiat via a bank transfer, there will be a 1.49% transfer fee, and if you buy fiat or cryptocurrency with your debit card, there will be 3.49% commissions. 
Also, the first 10 withdrawals on Gemini are completely free. You will still be required to pay the requisite network fees to send currencies between wallets such as using the Ethereum network to withdraw tokens from your Gemini wallet. 
If you withdraw from your Gemini wallet 11 or more times per month, you will pay a fee in the cryptocurrency unit that you withdraw. Here are the withdrawal fees for the top major cryptos:
Bitcoin:

0.001 BTC per transaction

Ether:

0.001 ETH per transaction

Litecoin:

0.002 LTC per transaction

USD Coin:

0.5 USDC per transaction

Solana: 0.005 SOL per transaction
How To Set Up And Use A Gemini Hot Wallet
A Gemini hot wallet is created automatically when you sign up for a Gemini exchange account. You can deposit coins on your Gemini account to your Gemini wallet directly on the browser website or on the mobile app. 
To do that, users need to click on the Transfer button on the right top corner of the website and select Deposit into Gemini (boxed in red in the image below), or tap the Account button (the button that looks like a person's silhouette) and select Deposit into Gemini on the mobile app.
Likewise, you need to select Withdraw from Gemini to send funds from your Gemini wallet.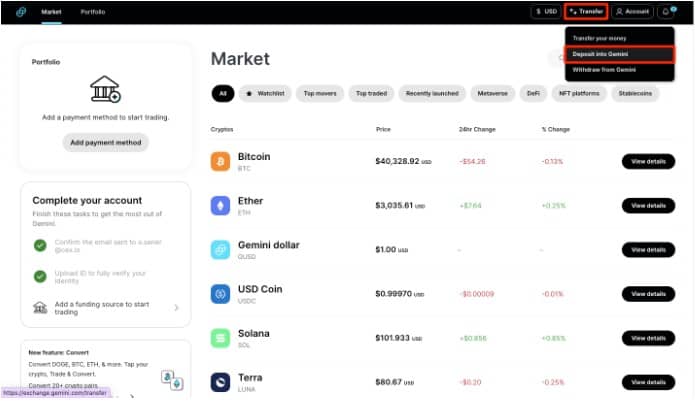 View of the Gemini website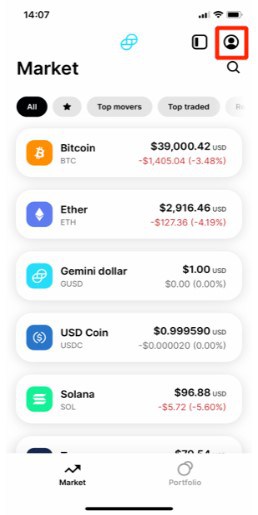 View of the Gemini mobile app
Gemini Hot Wallet Pros And Cons
Pros 
Easy to use: The Gemini Wallet does not require any additional downloads or setup procedures once you have a verified, active Gemini account. In fact, it doesn't even have a separate interface. Anything you buy on the Gemini exchange is directly stored in your Gemini wallet.

Support for 80 cryptocurrencies & 7 fiat currencies: Gemini allows you to purchase and store almost all cryptocurrencies that rank in the top 100 (like Bitcoin, Ethereum, Dogecoin, Shiba Inu Coin, Solana, Terra). The Gemini Wallet also provides storage for the most commonly used fiat currencies in the world.  
Security features: Gemini Wallet provides numerous safety measures such as wallet insurance, address whitelists, multi-factor authentication, and hardware security keys.
Cons
Lack of cheap networks: While the available Solana network on Gemini is fast and cheap, you can only use the Ethereum network for stablecoin transfers, which is very costly and slow. 
Lack of anonymous transactions: While many other wallets allow users to transact without sharing personal identification information, Gemini requires all accounts to provide their name, date of birth, and Social Security number. 
No live customer support: Unlike the majority of its competition, live support is not available for the Gemini Wallet. There are no support agents to ask questions or get account support, nor is there a ticket system to track the issues you are having. Instead, you need to write an email to the support team for assistance and wait for at least a few business days.
The Gemini Hot Wallet – Is It Worth It?
Because Gemini is a hot wallet, it is best for storing smaller amounts that you may regularly be purchasing on the Gemini Exchange. 
If you are looking for a place to store large funds, like your life savings, you may need to look elsewhere, like a non-custodial cold wallet. 
Although the Gemini Wallet offers convenient features like storing a lot of cryptocurrencies and fiat currencies, staking services, and shopping directly with your crypto, the lack of cheaper transfer networks will be a huge roadblock for you if you are going to use this wallet on a daily basis (especially for stablecoin transfers). 
You will be paying $40 network fee for a single withdrawal (excluding for Bitcoin and fiat currencies), instead of $1 or even less with newer, more efficient money transfer networks.
So, if you are an absolute beginner making smaller crypto transactions, Gemini's wallet might be right for you because it's easy to use, highly insured, and has super low fees.
But, if you're a more advanced cryptocurrency investor, looking to make larger transactions on a regular basis, other hot wallets might prove to suit your needs better.