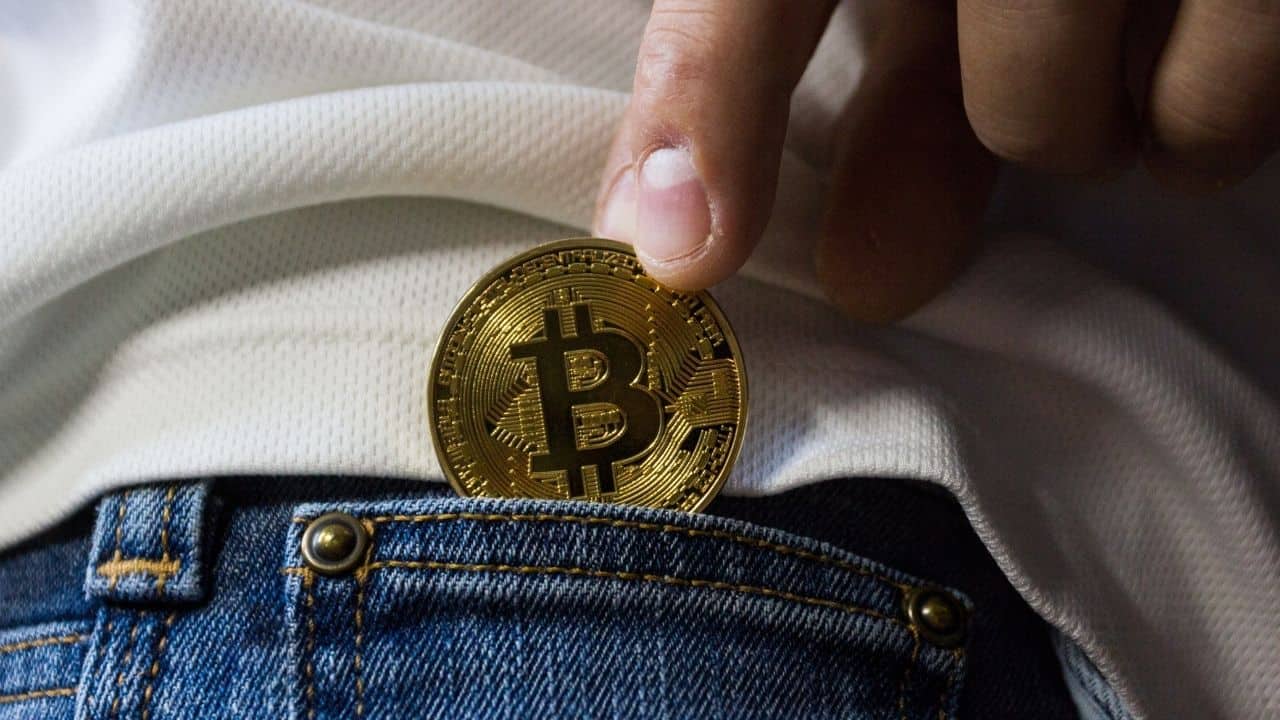 Disclaimer
We only endorse products that we truly believe in. Some of the links below may earn us some extra guac at no additional cost to you. Please pass the chips & thank you for feeding our habit.
When I started investing in Bitcoin back in 2017, one coin was valued at right around $1,000. Today, it would cost you nearly $50,000 for one coin! Those who could afford to hold this asset for long years were able to generate some of the greatest returns any asset has ever seen in human history. And while Bitcoin has seen a lot of crazy changes over the last few years, literally anyone can start investing in Bitcoin right now and capture some of these massive gains.
You can invest $100 in Bitcoin today by buying a fraction of Bitcoin from a cryptocurrency exchange. All you need to do is register for an account on an exchange and buy $100 of Bitcoin with your credit or debit card, which takes only minutes.
Buying Bitcoin as a fraction gives the same percentage of returns that are normally seen when you buy a whole Bitcoin. Which means you'll get all of the power and potential that Bitcoin offers, without dropping $50,000 into one coin!
After the 4 years I spent in the cryptocurrency space, I can tell that even very small amounts of Bitcoin that you invest today can make you a fortune in the future. And there's no better coin out there in terms of potential than Bitcoin.
So, let's explore exactly how you can invest $100 into Bitcoin today and some other things you may need to know before you get started.
Invest $100 in Bitcoin with an Exchange Account
The most accessible and common way that anyone can invest $100 into Bitcoin right now is by using a cryptocurrency exchange, like Coinbase. An exchange is like a middleman between you and the asset you want to buy, and it allows everyday investors to buy cryptocurrencies like Bitcoin from anywhere in the world.
In addition, exchanges offer investors added safety measures like offline cold storage, and some like Coinbase even insure the money you invest on its platform, so you don't have to worry about hackers or scammers trying to steal your Bitcoin.
Below is a step-by-step process on how to invest $100 into Bitcoin using Coinbase, one of the largest cryptocurrency exchanges in the world, which includes registering for an account, verifying your account, and buying $100 of fractional Bitcoin with your credit or debit card. 
Register For An Account
Before you invest your first $100 into Bitcoin, you'll first need to sign up for an account. Sign up on Coinbase is completely free, and open to anyone 18 and older. As you register for an account, Coinbase will need a few pieces of information from you, so you might want to keep the following things handy throughout the process:
Government issued photo-ID

Smartphone with active phone number

Stable Internet connection
You can register for an account with Coinbase here. Then, you'll want to click the Get Started button at the top right corner of the page. On the next page, you will enter your name, email, a password you will use to access your account, and then click the checkbox to certify that you are at least 18 years of age and agree to Coinbase's terms and conditions.
Type in your phone number to enable the two-step verification login. Then, click the link Coinbase sends you via text. Setting up your phone number immediately takes you to your new Coinbase account's homepage.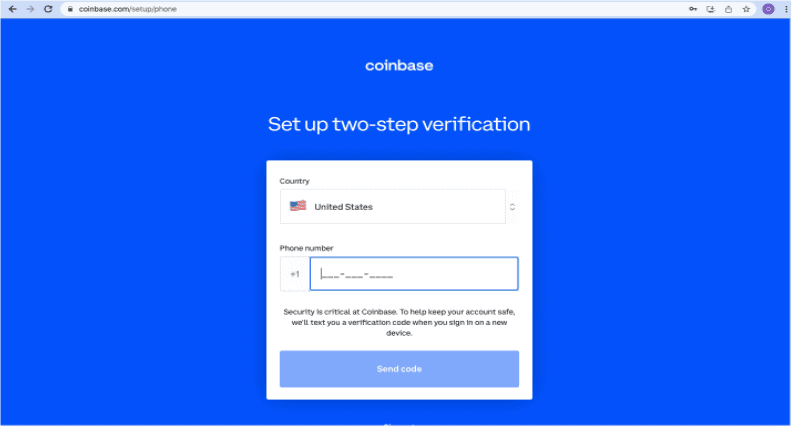 From here you can check the status of your trades, a general overview of your wallet, and check any other important notifications.
The last step you need to do before you invest your first $100 into Bitcoin is to verify your identity. To do that, just click on the Send & receive crypto / Verify your ID button on your homepage, which is framed in red in the sample screenshot below: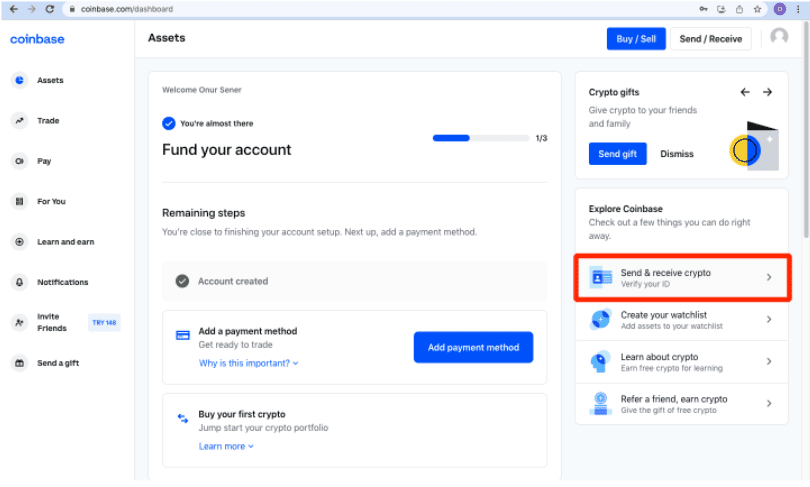 Then in the Identity Verification page, just fill in your date of birth, street address, employment status, source of funds, and upload an image of your government-issued ID (identity card, driver's license, or passport). Coinbase's ID verification system verifies your ID automatically and instantly.  
And that's it! Your account is verified and you are now ready to invest $100 into Bitcoin! 
Using cryptocurrency exchanges used to be cumbersome in the earlier days. I remember the time I opened my first exchange account back in 2017. User interfaces were quite primitive like the early online banking websites in late '90s and it could take days for your account to get verified!
Nowadays, exchanges like Coinbase are far more simple and more efficient than even the digital banks of today. In fact, all major cryptocurrency exchanges now have their mobile apps as well, thus buying Bitcoin has become as simple as online shopping!
Verify Your Account
After that, Coinbase should send you an email, which will help them verify your identity and the information you provided earlier. I know this looks totally tedious but it is required by law and trust me, it doesn't take more than a few minutes.  
In order to verify your account, you'll need to open the email Coinbase sent you. Clicking on the link in the email will do the job, which will take you to the phone number verification page, as shown below:
Invest $100 Into Bitcoin With Your Credit Or Debit Card
The easiest way to invest $100 into Bitcoin is by using your credit or debit card, just like how you pay for your online shopping. You add your credit or debit card information by clicking on the blue Add payment method button on your Coinbase homepage, as shown in the red box below: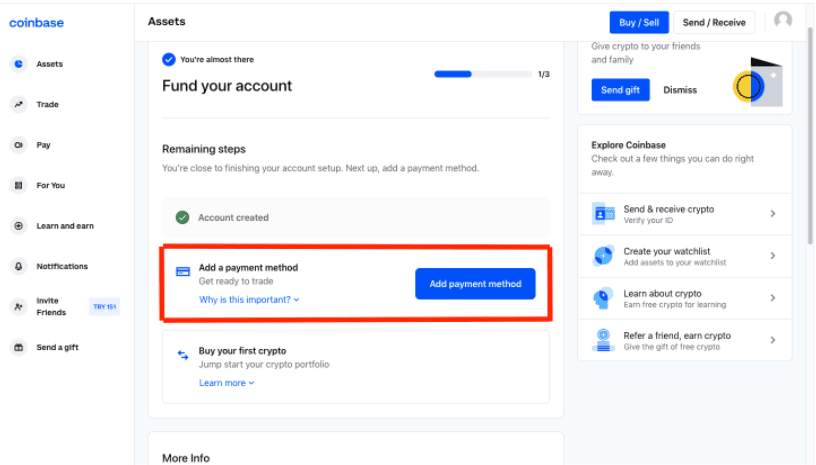 Once your credit or debit card is linked to your Coinbase account, all you have to do is click on the blue Buy/Sell button at the top right corner of your homepage. The first page down below will appear next, where you select the $100 box. Then on the next page, click Buy Now to confirm your purchase and bingo! You just made your first $100 investment into Bitcoin!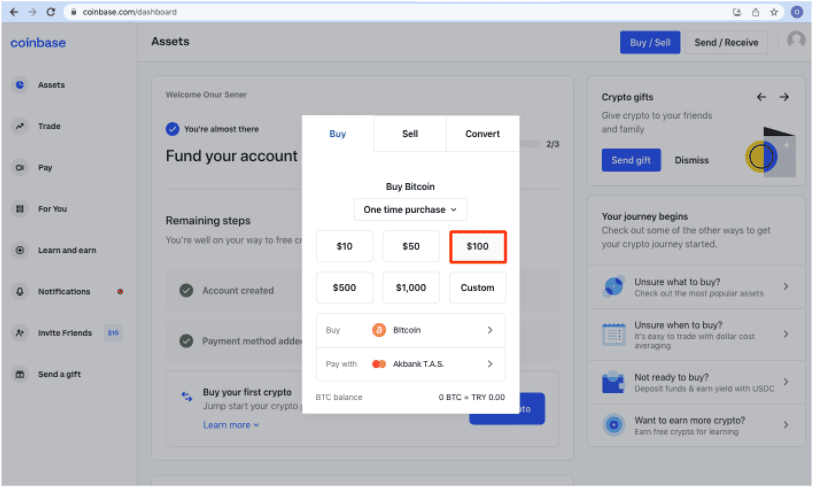 At current pricing ($50,000 per Bitcoin), $100 should give you around 0.002 units of Bitcoin. Thanks to Bitcoin's divisibility, any amount is enough to invest in Bitcoin today; you could invest as low as $10!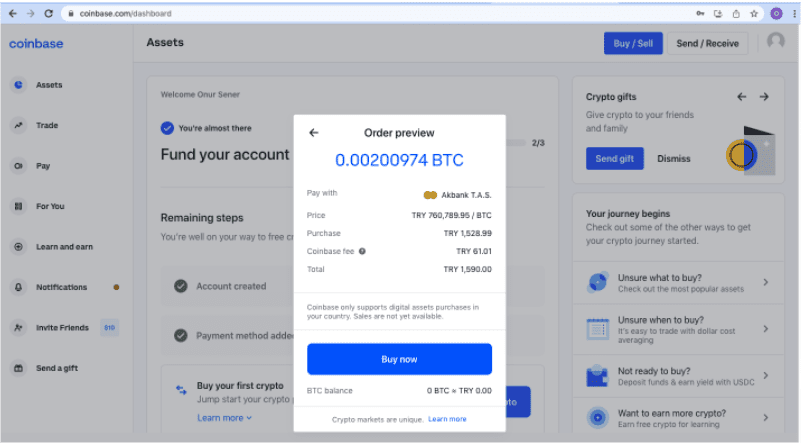 Coinbase also allows you to invest periodically in Bitcoin using your linked credit or debit card. When you click on the Buy/Sell button on your homepage, you will see a dropdown menu in the popping Buy tab, with the title One Time Purchase. 
Clicking on that dropdown menu will give you the available time intervals to make automated Bitcoin purchases with your card, at the dollar amount that you like (please see the below screenshot). The purpose of periodic investing is to benefit from discounted prices if the price of Bitcoin drops in the future.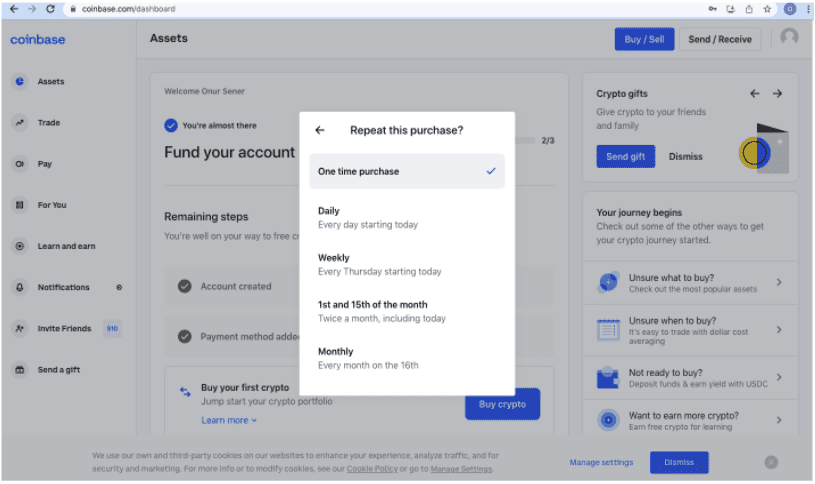 Transfer Bitcoin To Your Own Wallet
The fractional Bitcoin you purchase sits in your wallet on your Coinbase account. You may choose to leave it there like a bank account or traditional investing account, but this leaves you vulnerable to possible exchange hacks. 
Although the current financial and technological capabilities of major exchanges allow them to immediately and fully compensate for any hack incidents, you may still choose to set up your own Bitcoin wallet and take your Bitcoin out of the exchange.   
To do that, you need to download a Bitcoin wallet into your computer or smartphone, or buy a hardware, offline Bitcoin wallet. These are all "non-custodial" wallets, which means the keys to access your wallet are under your possession only, unlike your account at a cryptocurrency exchange. 
However, you should also note that if you ever lose your wallet key, which consists of a long and random sequence of letters and words, you will lose access to your wallet forever. Considering that angle, keeping your Bitcoin at the exchange could be safer because you can always reset your exchange password or other login credentials, but you can never reset your non-custodial wallet key. 
In addition, leaving your Bitcoin on Coinbase will allow you to trade it whenever you want to, with anyone that has a Coinbase account, anywhere in the world.
To withdraw your Bitcoin from your Coinbase account, you need to click on the Send/Receive button at the top right corner of your homepage. In the box that appears, you need to enter the Bitcoin amount you want to withdraw and your Bitcoin wallet address, and then click on the Continue button. A separate verification code will be sent both to your email and phone for safety, entering which will execute the transfer of your Bitcoin to your non-custodial wallet.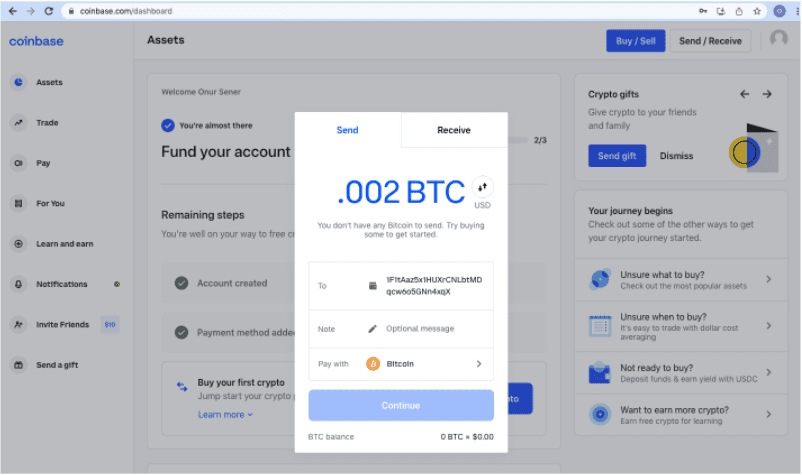 $100 Is Enough To Invest In Bitcoin 
Bitcoin's current 5-digit price shouldn't intimidate you from investing in it. Anyone, anywhere, can invest $100 into Bitcoin today, thanks to Bitcoin's divisibility.
Make sure that anytime you invest in Bitcoin, you use a safe and reputable exchange like Coinbase. The whole process of  registering for an account, depositing funds, and buying your $100 of fractional Bitcoin takes only a few minutes and gives you access to one of the most diverse and expanding asset classes on the plant, for only a few bucks at a time. 
You can even invest less than $100 if you'd like to play it safe and then choose automatic deposits from there depending on your risk tolerance. Once you've done that, $100 of Bitcoin will be in Coinbase wallet and you can choose to leave it there or take it offline by using a non-custodial wallet.
Finally, you should always keep in mind that no investment is ever guaranteed, so only invest what you can afford to lose. And maybe your $100 investment will one day 50x just like Bitcoin has done since 2017!