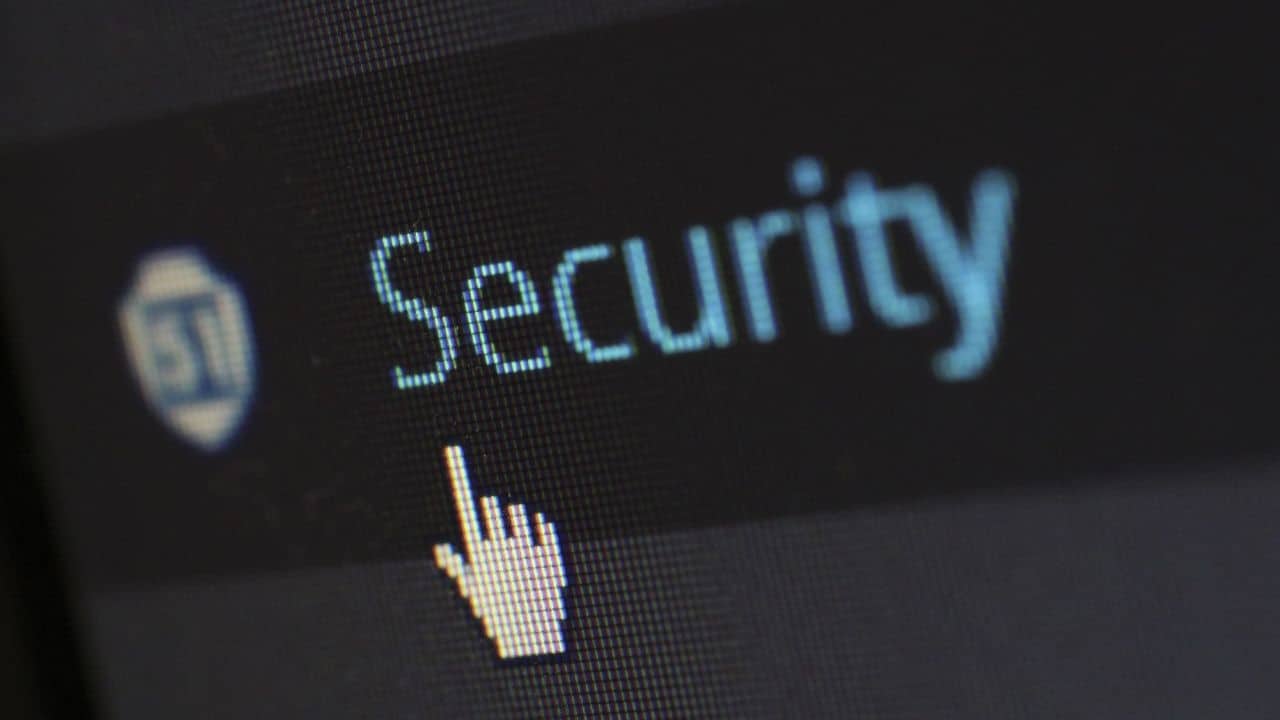 Disclaimer
We only endorse products that we truly believe in. Some of the links below may earn us some extra guac at no additional cost to you. Please pass the chips & thank you for feeding our habit.
Crypto investing is currently a super hot topic in the investing world, and it has been for some time. This method of investing that was once thought of as taboo is now getting more widely accepted and seen as an extremely viable way to make your money work better for you. I was certainly a little wary of crypto as it rose to fame, but now I'm a crypto fanatic! 
BlockFi is currently one of the most popular platforms to invest your funds in crypto while earning interest on your investment (a feature that makes BlockFi stand out among its competitors). Because of its many beneficial features, investors are starting to take a look into the platform's safety and security measures to see if BlockFi really is safe.
Because of its user identity security measures and cold wallet capabilities, BlockFi is an incredibly safe platform to invest and earn interest on compared to its competition.
Platform
Promotions
Link

Earn up to $250 in BTC bonus when you fund your new account.

Invest Today
Get $5 in Bitcoin after your first trade.

Invest Today
No promotions at this time.
Invest Today

$20 in BTC 

after trading $100 or more within 30 days.

Invest Today
Is BlockFi Safe?
If you're like me, you want to know that your investments are safe. The whole point of investing is to make money on our money, right? If we lost it all to a fraudulent site or a hacker that would certainly be a shame. As years go by, we as investors have more and more access to different platforms and investment options.
This can be overwhelming at first, but ultimately it provides us with more choices, and the opportunity to compare and contrast the options out there. If you're looking at BlockFi as a possibility for your next crypto investing platform, I have good news for you. BlockFi is rising up as a secure and effective way to invest and earn interest in comparison with other crypto investing platforms.
Right now there are many options for investing in crypto online, and because of the relatively new nature of crypto investing, many of these options have less safety features than would be ideal. As the crypto world expands, investors hope to see more security and accountability measures built into these many platforms, but as of now BlockFi is one of the more secure options out there.
BlockFi Identity Security
At first glance, it seems like BlockFi has many features to maintain the safety of its platform for investors. As you set up your account and enter your personal information, several verifications of identity are required to even secure a BlockFi account. 
When I first signed up, I was asked to enter general personal information, then verify my email, provide my social security number, confirm my phone number, and upload a form of identification. On top of all of this I was asked to pose in front of my computer camera to verify that I matched my identification. It was a pretty lengthy process.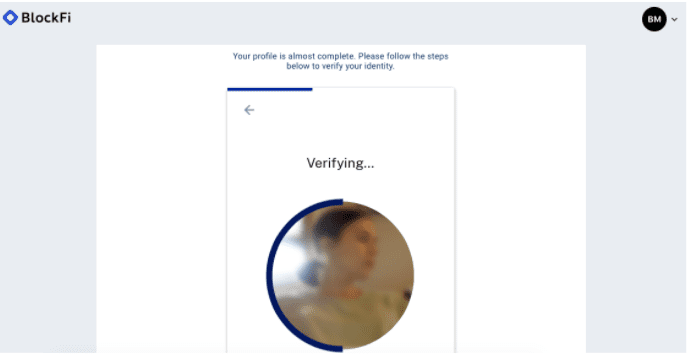 All in all, this made me feel like my account was very secure. It would certainly be hard for someone to pose as me to create this account. After all this was done, I received a unique code to save in a secure place that would allow me to get back into my account if needed. Now, whenever I log in, I have 2 factor authentication using my Google authenticator app that protects my account and the money inside from hackers.
BlockFi Cold Wallet Storage
Another feature that ensures the security of your BlockFi funds includes the fact that they store your funds in a cold wallet. This means that your money isn't stored on the internet (which would be called a hot wallet), where it's readily accessible to hackers. 
To do this, BlockFi uses a company called Gemini as it's primary custodian (meaning Gemini primarily holds the funds traded over BlockFi's platform) and Gemini holds the money traded offline to keep it safe from hackers. The good news about Gemini is that it's highly regulated by the US government. Speaking of regulations, there are a few things to keep in mind when investing in BlockFi's platform that have to do with crypto regulation and insurance.
BlockFi's Limited Insurance
Because of the nature of cryptocurrencies, BlockFi isn't currently insured by the SIPC and the FDIC (which typically insure and secure funds that are held in traditional banks, should the bank go under). 
Since your account is technically earning interest, it functions more like a bank account than an investment account (although all the perks of an investment account are still present). Without these two insurers, your money is left more vulnerable than it would be if it was held at a traditional bank.
This is definitely a risk to consider even amidst the enticing interest rates offered by BlockFi.
BlockFi's Limited Regulation
Another point to mention is the lack of regulation currently offered for cryptocurrency to protect investors. The SEC does not view cryptocurrency as a security, therefore the regulations typically offered by the SEC for traditional investments do not apply to crypto. 
Some investors see this as a great opportunity to get in on an investment with very little stipulations, but there can certainly be some risks to this setup.
Investing With BlockFi
Now that we've covered BlockFi's many safety features as well as the possible risks, are you ready to invest on the platform? Here's a step by step look at how to start investing on BlockFi.
First, you'll need to fund your account. BlockFi provides several options for this step.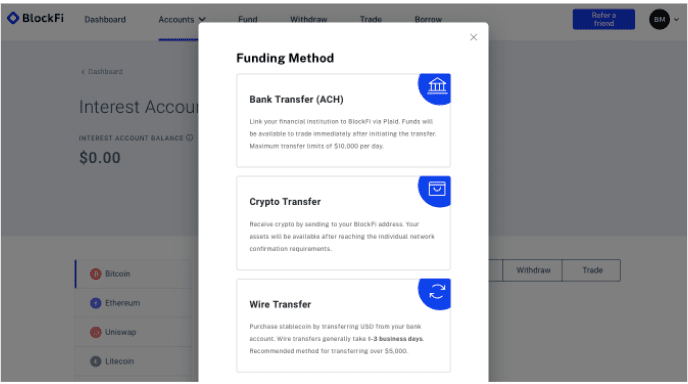 Now, you'll select the investment you want your account to be held in. There are several different options here as well. It's important to note that there are certainly more options for crypto on other platforms, but without the interest-earning power that BlockFi provides.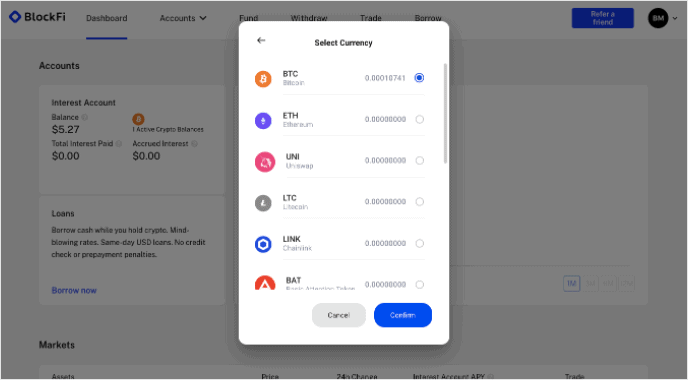 After you've funded your account and chosen your method of investment, you can switch it up at any time through the "Trade" tab, and view your investments at a glance through the "Dashboard" or "Accounts" tab.
The initial investing, trading and withdrawing process on BlockFi are very user friendly and pretty self-explanatory. I was pleasantly surprised that my account was funded within hours of selecting my investment, faster than some other platforms I've tried.
Staying Safe When Investing In Crypto
Crypto might be all the rage right now, but there are definitely some safeguards that can help you invest more safely to ensure you're successful in your endeavors. Some of the most important things I've learned to invest in crypto safely and successfully are:
1.To educate myself
First of all, I have to understand the investment I'm making. This starts with understanding what crypto is and how it works. If you're wondering where to look to start or further your crypto education, checkout our Beginners' Guide to Cryptocurrency to make sure you're starting out on the right foot. In order to invest wisely, you'll need to know how crypto works, and the risks and perks involved.

2. To know the platform I'm using
I've never bought a car without a test drive. It's important to me to understand something I'm about to use before I use it. Like any major money move, investing in crypto requires you to trust the platform you're using to buy and sell it. If you're reading this article, the good news is that you're already on your way to knowing the BlockFi platform. Before you decide on this option, I'd encourage you to check out any others you're interested in and compare.

3. And to do my research
Last but not least, before I put my money in any investment, I do my research on that investment. I look at the company's leaders, how it started, its earnings reports and any news that might be out there about the company. I want to trust the companies I'm investing in and have good faith that they are going to give me a great return on my investment.
Whether you chose to use BlockFi to invest and earn interest, or you decide to go a different route, the cryptocurrency world is currently growing and changing every day. Stay on top of the latest news and tips by subscribing to our YouTube Channel, and take advantage of the great investment choices out there to make your money work for you!