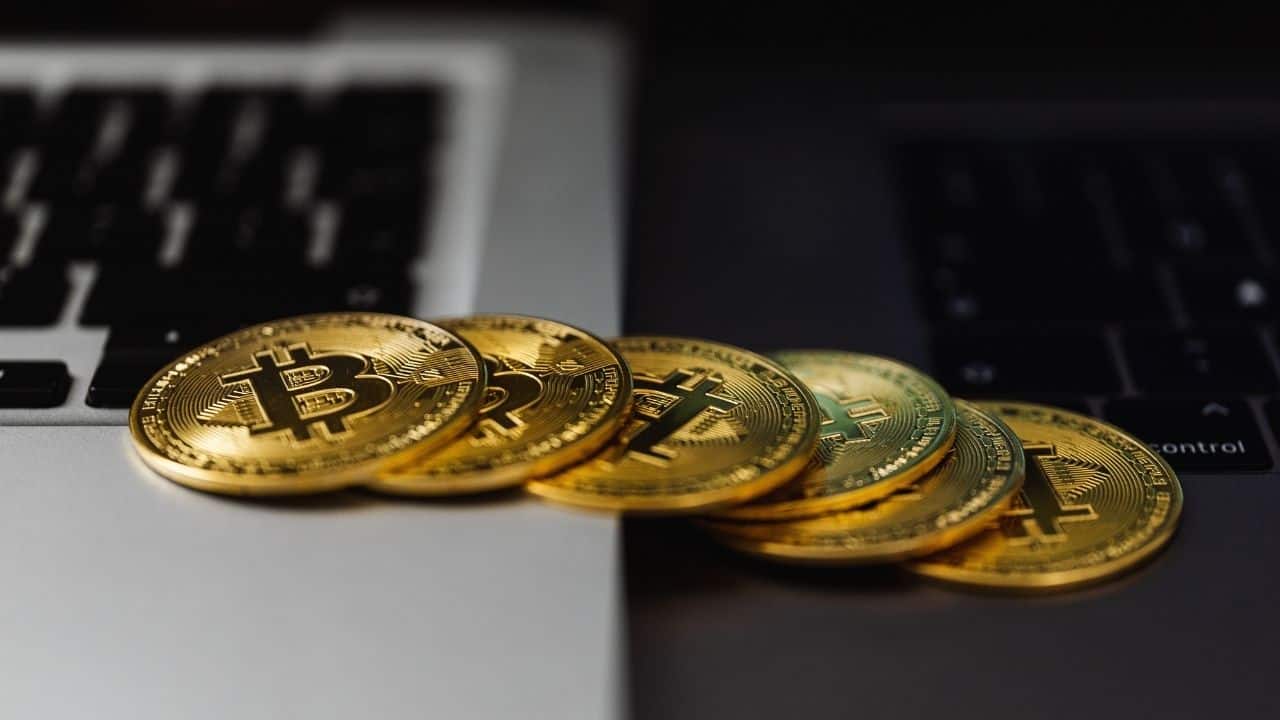 Disclaimer
We only endorse products that we truly believe in. Some of the links below may earn us some extra guac at no additional cost to you. Please pass the chips & thank you for feeding our habit.
Kraken Crypto Review
Kraken Crypto Review
Kraken is been around since 2011. With heightened security and live, 24/7 customer support this crypto investing platform is best suited for more intermediate investors, as it can be a bit complex for beginners to understand.
Pros
Security
Customer Support
Available In 48 States And 200+ Countries
Cons
Not Beginner-friendly
Limited Coin Availability
When I started investing in the crypto market slightly over five years ago, I struggled to find the best crypto exchange platforms to trade on. Back then, these exchanges were still evolving, and even the best of them didn't have some of the efficient user interfaces or features that are basically standard now.
Today, there are many crypto exchange platforms to choose from, and Kraken has emerged as one of the leaders in the industry.
But with so many other high-quality competitors out there, should you really use Kraken for crypto investing?
Kraken is one of the world's largest cryptocurrency investing platforms, with over 6 million users worldwide and 90+ coins to invest in, including Bitcoin and Ethereum. Kraken offers low trading fees from 0.16% to 0.26% per transaction, APY rates up to 12%, and unlimited crypto deposits.
In this review, I'll share a brief overview of Kraken, from its features, fees, security, trading experience, customer service, and even coin options. 
Kraken vs Competitors 
| Platform | Promotions | Link |
| --- | --- | --- |
| | Earn up to $250 in BTC bonus when you fund your new account. | Invest Today |
| | Get $5 in Bitcoin after your first trade. | Invest Today |
| | No promotions at this time. | Invest Today |
| | $20 in BTC after trading $100 or more within 30 days. | Invest Today |
Kraken Crypto Review – What Is Kraken?
Kraken is a cryptocurrency investing platform that connects investors to all of the top cryptos on the market like Bitcoin and Ethereum. 
Kraken was launched in 2011, two years after Bitcoin, and helped stranded Bitcoin customers after the Mt. Gox exchange was hacked in 2013, an event that saw investors lose over $800,000 in crypto.  
Over a decade later, Kraken now has roughly  90 coins that investors can buy, sell, and hold, and the numbers keep increasing every week. Here are some of the most popular crypto assets on the platform:
Bitcoin (BTC)

Ethereum (ETH)

Cardano (ADA)

Ripple (XRP)

Chainlink (LINK)

Polygon (MATIC)

Dogecoin (DOGE)

Litecoin (LTC)

Polkadot (DOT)

Stellar Lumens (XLM)

Solana (SOL)

Sushi (SUSHI)

Uniswap (UNI)
From the list, however, you'll find that some significant cryptos aren't available yet:
Binance Coin (BNB)

Terra (LUNA)

Avalanche (AVAX) 
Kraken Trading Experience
The platform has a comprehensive market and customer base in 200 countries worldwide and is available in 48 US states, minus Washington and New York. Its sole objective is to provide a safe place to buy and sell digital currency. 
Think of Kraken like a stock brokerage, but specifically for cryptos. With Kraken, investors and traders can:
Trade for lower than average fees which range from 0.16% of maker fees to 0.26% of taker fees. To get a better understanding of taker and maker fees, you can

read more here

.

Enjoy strong security features like safe coin storage where 95% of deposits are held offline.

Access to 90+ coins & other crypto assets.
Kraken's UI is divided into multiple panels to allow users to customize them to fit their trading needs. All features are designed to ensure seamless exchange functionality with just a few clicks. Its trading dashboard comes with beginner-friendly tooltips to help you have an easy start. 
Note that you can only deposit US dollars and crypto assets, not any other currency. You can significantly reduce the fees this way and pay for maker-taker trades.
Kraken Pro – An Advanced Trading Option
For the more experienced crypto investor, Kraken offers an advanced version of its trading platform, Kraken Pro. This option comes with more complex analysis tools, an advanced order form, multiple indicators, trade volume, and live order books.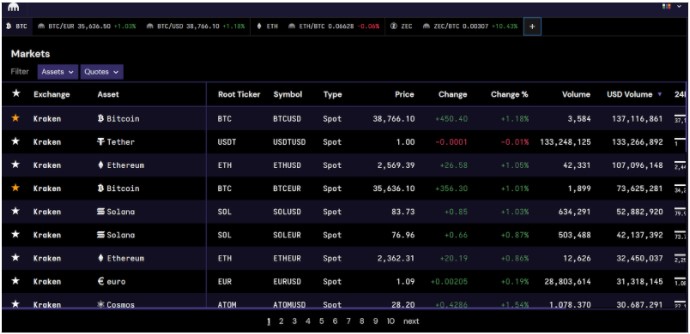 It also allows users to choose from a list of paired cryptos such as ETH-BTC to facilitate trade between two cryptos. As a new user, you may find this mode quite overwhelming. That's why it's explicitly recommended for advanced crypto traders.
Kraken Fees
Fees on Kraken are broken down into two distinct categories: Instant buy fees and pro fees
1. Kraken Instant Buy Fees
Kraken has a "Buy Crypto" feature that helps new investors make straightforward purchases. With a credit or debit card, users can make instant purchases and trade any coins on their accounts.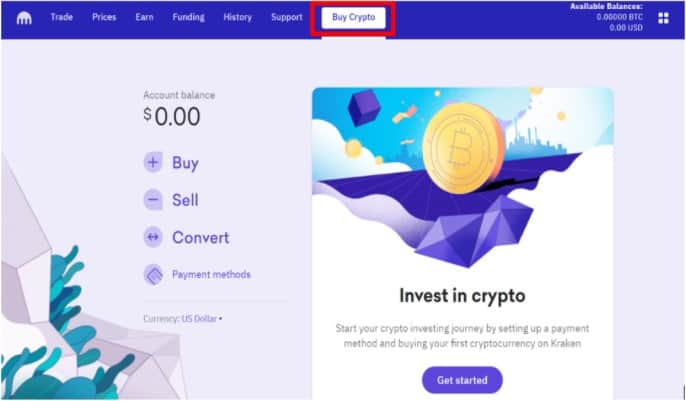 These instant purchases let users buy crypto through a connected wallet. The only challenge for this option is that it comes with additional fees, which cost 0.9% for stable coin purchases and 1.5% for other crypto purchases. Using credit cards on a linked wallet also comes with extra fees. Have a look at the table below to get a glimpse of the Instant Buy fees.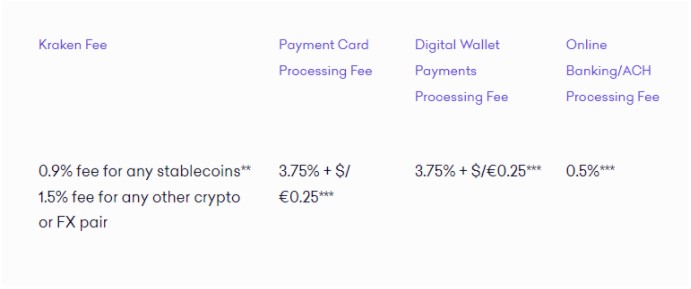 2. Kraken Pro Fees
Kraken Pro accounts must undergo a rigorous "Know Your Customer" (KYC) verification process. As such, it often comes with lower fees. The KYC verification is necessary to prove the identity and traders on the platform and compliance with government regulations. 
The verification process requires traders to submit personal identification documents for manual review.  However, Kraken Pro users can work with a maker and taker fee model like regular users. The fee percentage is based on sliding scales, and more transactions come with discounts.
The fees usually range from 0% to 0.26%. The amount you're charged for maker or taker fees depends on the pair of currencies traded—for example, U.S. dollar to Dogecoin. More trade volumes within 30 days mean lower fees and vice versa. 
When a pro account holder places an order matching the current market price that gets completed immediately, they're charged taker fees. But orders that are not matched or completed immediately are considered maker orders and attract maker fees when they finally get executed. Consider the Kraken fee structure below to understand these fee models better.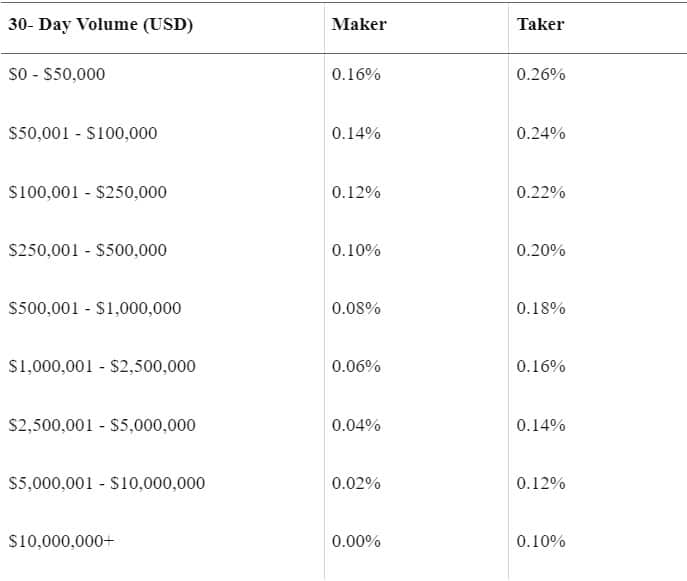 Kraken Security
The company provides a wide array of security features for traders and investors and prides itself on being one of safest cryptocurrency platforms in the industry. Some of these features include:
Global settings lock

: The

Kraken global settings lock feature

instantly freezes a user's account settings for a specific period to prevent unauthorized access if the user is away.

Withdrawal-approved addresses

: All withdrawal addresses must undergo a stringent verification process. The verification process restricts access to all unapproved addresses. 

Cold Storage

: The Kraken platform stores nearly all of its crypto balances in a "cold storage." Cryptos stores in cold storage are not connected to the internet, meaning potential thieves cannot access them.

Two-factor authentication: Kraken utilizes a two-factor authentication through Google Authenticator. This way, the platform can disable the SMS account recovery option to prevent hacking through the phone. Additionally, users can enhance their account safety using the Universal 2nd Factor or U2F hardware key for cryptos kept in cold storage.
Using Kraken For Crypto Investing In 2022
You'll need to sign up with your email and password to have a Kraken account. Once your email has been verified, you'll be required to secure your account further using a two-factor authentication method. 
Kraken provides three different account levels. Each level requires additional account verification measures in order to access extra trading features. These account levels are starter, intermediate, and pro. 
Starter:

The most basic account is the starter account which becomes active once you verify your email. With this account, you can deposit, exchange and withdraw cryptos. The account must be verified before you can deposit and withdraw fiat funds. 

Intermediate

: For this account, the verification process requires some form of identification such as an ID with a photo, proof of residence, Social Security Number, and proof of utility bills. You can deposit and withdraw fiat currencies and even trade futures with this account.

Pro

: A Kraken Pro account requires additional manual verification besides the verifications required for the starter and intermediate accounts. You'll need to take and post a selfie and answer a KYC questionnaire for this account.
With the Pro account, you can access lower fees for trading on the platform. You can also access margin and anonymous trading features to trade on the platform's  "dark pools." Dark pools allow you to view your transactions in the order book while keeping larger trades anonymous.
Kraken Customer Service
Another thing that keeps Kraken ahead of the rest is its customer service. The company offers round-the-clock live chat support on its website and mobile app. This is not common within the cryptocurrency industry since most platforms provide customer support via email and during business hours. 
Additionally, the platform provides phone support during business hours from Monday through Friday. Finally, Kraken delivers an extensive library of resources, articles, and user education materials. These resources are available on its website.
Customer Satisfaction
Despite its security processes and customer care support, not all its customers have good things to say about Kraken. Most customers have issues with its KYC process and inability to access funds. 
This happens when user verification is delayed, resulting in funds being put on hold. As a result, users cannot withdraw funds with unverified accounts. Fortunately, the Kraken team tends to be proactive in responding to these customer complaints and works to ensure the issues are solved. 
Overall, Kraken customer support remains the best in the industry. The only significant issue is the "lost funds" that are not lost but get stuck in the platform awaiting account verification. 
Again, most reviews about the platform are user reports based on personal experience, so take each with a grain of salt.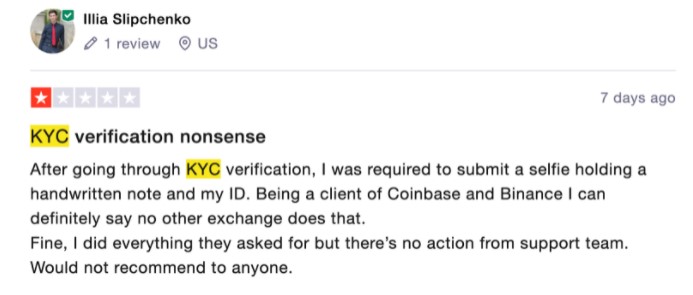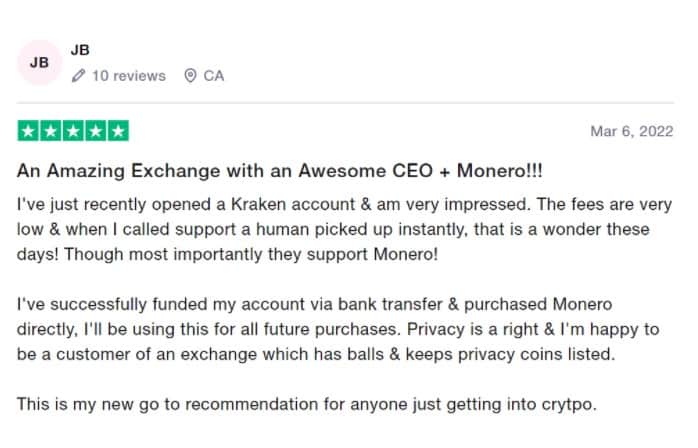 Kraken Account Management
The Kraken platform operates from its website to buy, sell, and trade-in digital currencies. The platform can be accessed via a web browser or a  mobile app. 
Its intuitive mobile app can be used by both regular and Kraken Pro traders. The app features straightforward, simple dashboards, user portfolios display, trading histories, and current crypto market prices. 
You can also access news reports and user training on certain types of currencies. 
Kraken's account limits depend on several factors, including your location, verification level, and the type of currency you want to trade-in.
Cryptocurrency Limit
There are some withdrawal limits to be aware of when moving coins around.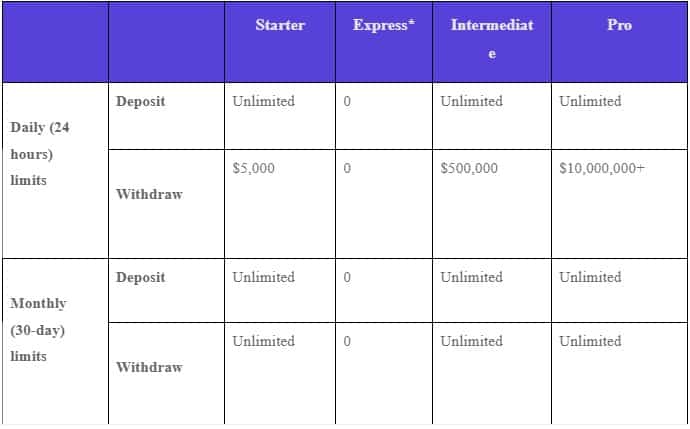 Cash Limit
Additionally, you may run into cash limits for deposit and withdrawal.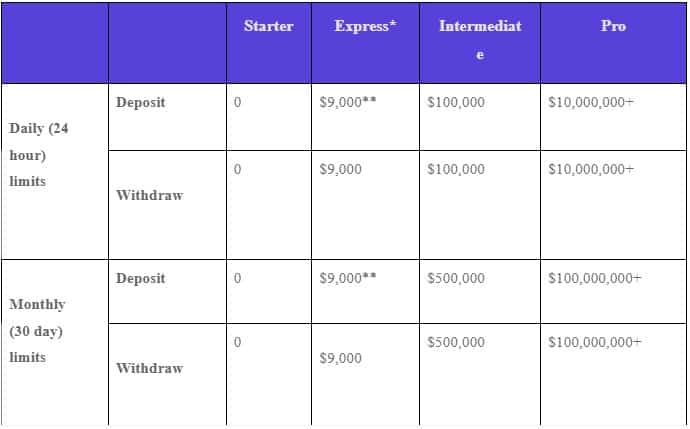 Should You Use Kraken For Crypto In 2022?
Kraken is one of the leading cryptocurrency exchange platforms with a lot to offer its users, particularly advanced crypto traders. While its fees can be high for casual investors, active traders have the advantage of lower fees. These traders can pay as low as 0% to trade on the platform.
Kraken has a particular focus on security that allows for two-factor authentication via Google Authenticator and other different identity verifications requirements to access advanced trading tools. Kraken keeps most digital currencies offline to safeguard user funds from potential theft. 
However, the platform doesn't have the best user reviews.
Most complaints are due to the verification process that delays customer investing, making the funds inaccessible to users until complete verification is done. With that said, Kraken has demonstrated a proactive approach to handling these user complaints. Additionally, the platform provides round-the-clock live chat support to help users receive instant help when they need it.
But after all is said and done, investors should be ready to invest only what they can afford to lose. The volatile nature of the crypto industry calls for caution when trading on Kraken or any other exchange platform for that matter.