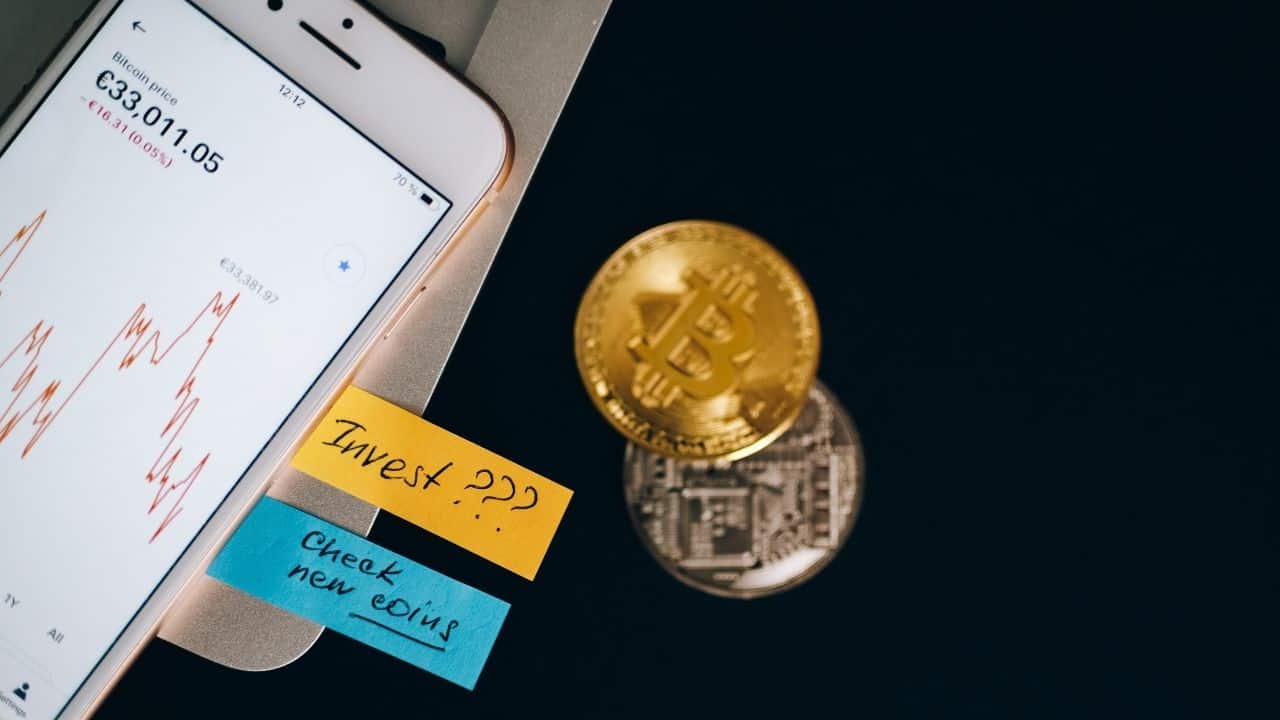 Disclaimer
We only endorse products that we truly believe in. Some of the links below may earn us some extra guac at no additional cost to you. Please pass the chips & thank you for feeding our habit.
Five years ago, cryptocurrency exchanges were pretty much all exactly the same: You could buy, trade, and hold a limited number of coins, and that was it. This was extremely limiting, especially for traders like me, who were looking for a much deeper and enriching investment experience. Things are a bit different in 2022, as there are now a plethora of different exchanges that cater to all sorts of personalities and lifestyles. Kraken, Gemini, and Coinbase are three of today's highly popular cryptocurrency exchanges, all of which are unique and offer users a variety of distinct ways to interact with cryptocurrency.

Kraken typically has the lowest fees when compared to Coinbase and Gemini, saving you sometimes 50% per transaction. Coinbase has the largest global outreach, which means investors have access to fiat currency from around the world, while Gemini offers the simplest interface and a fun and engaging user experience.   

In an effort to understand which exchange suits you the best, let's explore the differences between Kraken, Gemini, and Coinbase in terms of trading fees, deposit and withdrawal limits, payment methods, user interfaces, and the number of available cryptocurrencies. 
Kraken vs Gemini vs Coinbase – A Quick Summary
Coinbase is the second largest cryptocurrency exchange in the world in terms of transaction volume but Gemini and Kraken have also grown in popularity during the recent years and similarly made their way among the top 10 exchanges. 

All three exchanges work on a web browser and offer two separate platforms – a basic platform for beginners and an advanced platform for experienced traders. The advanced platforms possess a different name than their standard peers, so that people can easily differentiate, which are namely Kraken Pro, Gemini ActiveTrader, and Coinbase Pro.

There is also a mobile app available for each exchange (two separate apps for the standard and advanced platforms) but the mobile app for Kraken isn't available in the U.S.
Below is a quick comparison of the three exchanges standard platforms: 
In light of the above comparison table, let's dive in detail into the pros and cons of each exchange. 
Kraken Pros And Cons
Pros
Lowest trading fees: Transaction fees in the standard platforms of all three exchanges are quite expensive, which can be as high as 10% of the order size for transactions under $200. And for transactions above $200, each platform charges on average a 1.5% fee. 
Thus, in terms of standard platforms, no exchange has an edge over another in trading fees. However, Kraken Pro charges the lowest trading fees among its direct competitors.

Kraken Pro, Gemini ActiveTrader, and Coinbase Pro offer a different fee schedule for market and limit orders, depending on your monthly transaction volume. A market order is an order that buys or sells a cryptocurrency at the immediately available market price, whereas a limit order is an order to buy below the current market price or sell above the market price. 
You give a limit order when you think the price of a cryptocurrency is too high right now and you think it will be cheaper in the future, so you want to take advantage of buying it cheaper later.
Below is a detailed comparison of trading fees between the three platforms in terms of different monthly transaction volumes: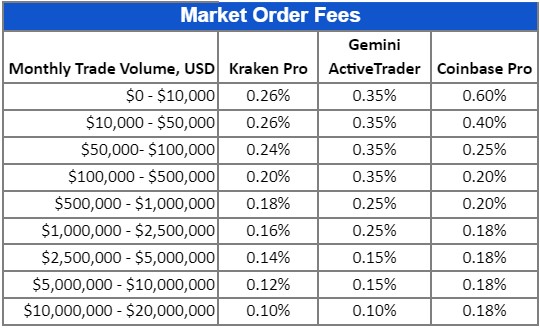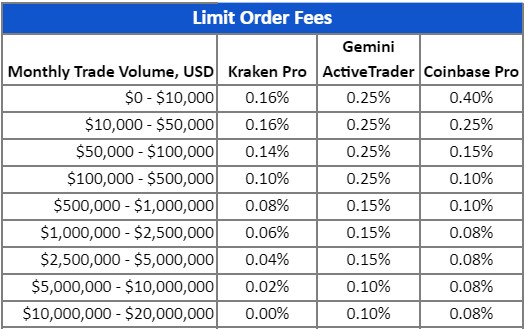 As you can see in the above tables, Kraken Pro has a clear advantage in both market and limit order fees regardless of your monthly transaction volume. For example, to buy $1,000 of cryptocurrency with a market order, you would pay a $2.6 fee on Kraken Pro, while you pay $3.5 on Gemini ActiveTrader and $6 on Coinbase Pro.

Similarly, a limit buy order for $1,000 of crypto would cost you $1.6 on Kraken Pro, $2.5 on Gemini ActiveTrader, and $4 on Coinbase Pro. Savings in trading fees can increase exponentially as your trading volume increases on Kraken Pro. Fees can reach as low as 0% for very large monthly transaction volumes. 
Highest limits for deposits and withdrawals: Kraken provides its customers with significantly higher daily limits for depositing and withdrawing funds from their accounts. Kraken allows a maximum of $100,000 per day for deposits and withdrawals with Automated Clearing House (ACH) transfers, while Coinbase allows its customers only $25,000 per day with ACH. 
Gemini ranks the worst in deposit limits by allowing $5,000 daily and a total of $30,000 per month; however, its withdrawal limit is on par with Kraken at $100,000 per day.  
Cons
Lack of payment methods: Kraken doesn't accept credit or debit cards issued by U.S. banks, so U.S. customers are unable to buy crypto on Kraken with their cards. And unlike Gemini and Coinbase, ACH transfers are not free; you have to pay 1.7% commission when you want to make an ACH transfer to your Kraken account.

To add salt to the wound, Kraken does not have a partnership with PayPal or Apple Pay for fast and cheap fund transfers. So although it does have the maximum limits for daily fund transfers, it is quite inconvenient to use Kraken to fund your account or withdraw any money out of it. 
Limited coins for U.S. customers: Although Kraken supports 110 different cryptocurrencies in its exchange, only 56 of them are available for U.S. customers. Accounts registered with a U.S. residence address are unable to access many popular coins including Terra, Avalanche, and Theta.
Not available in all US states: Kraken is not available in all 50 US states. Customers in Washington and New York cannot access Kraken's services at all. 
Long verification times: Verifying your account when you sign up for Kraken is complicated and time-consuming. Kraken offers different identity verification levels which determine your daily trading, deposit, and withdrawal limits. These levels are Starter, Intermediate, and Pro. 
Applying for Intermediate or Pro levels is akin to opening a traditional bank account, which is unacceptably long and complex considering the verification times at Gemini and Coinbase. In addition, new fiat money deposits (US Dollars or Euros) at Kraken require a 72-hour withdrawal hold. 
This means you will not be able to buy crypto as quickly as you may need to, and with today's volatile prices, that may become a huge problem. 
Gemini Pros And Cons 
Pros
Simplest user interface: Gemini has the simplest user interface among the trio of exchanges. Coinbase's standard platform is also simple to use compared to Kraken's; however, menus and buttons do not appear as prominent as they are on Gemini's interface and sometimes you have to press multiple buttons to execute a single function on Coinbase. 
In that sense, crypto newbies will enjoy their experience on Gemini.

Below is the opening page of Gemini when you login to your account, as well as the two other platforms respective homes pages:
Gemini: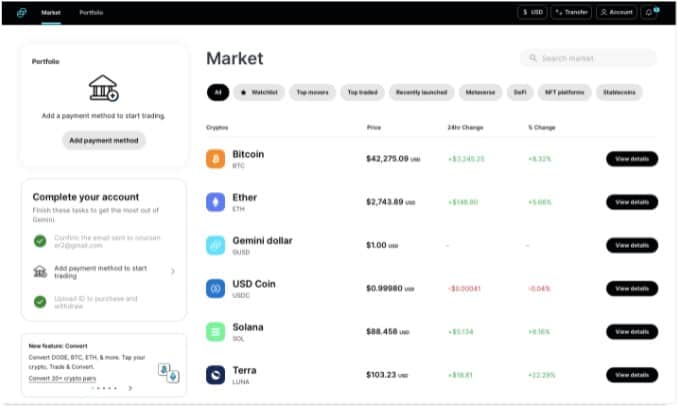 Coinbase: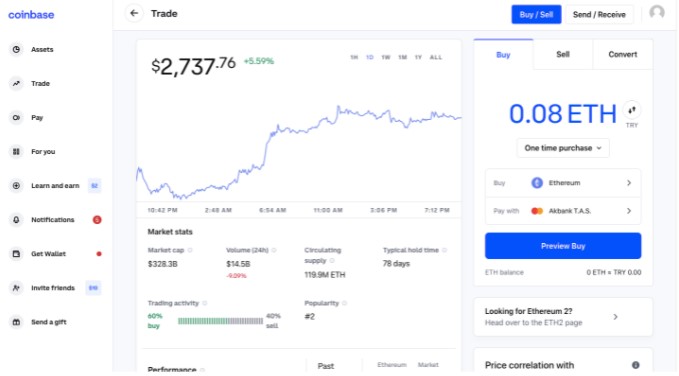 Kraken: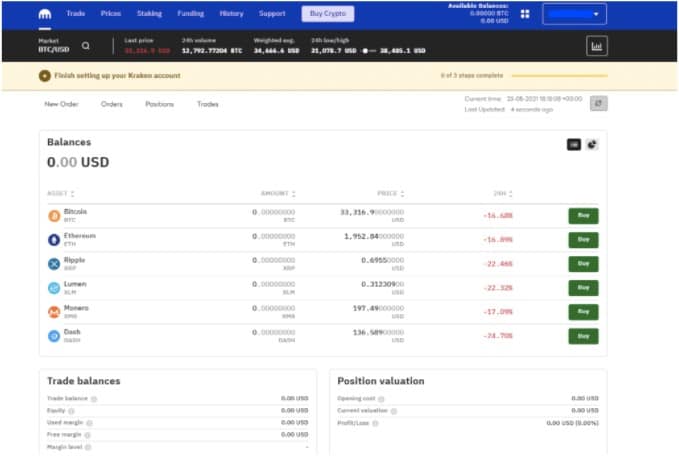 Highest interest for your coins: Gemini currently offers the highest interest rate in the industry with its Gemini Dollar (GUSD), the exchange's in-house stablecoin pegged to the US Dollar. 
The annual interest for the Gemini Dollar is 8.05%. Compare that to 2.46% per year on Coinbase for the DAI stablecoin, which is another popular USD-pegged stablecoin. Stablecoin interest rates on Kraken are also at around 2% per annum. 
You can buy GUSD on Gemini. It is backed 1:1 by the US Dollar, which means Gemini adds an equivalent number of fiat U.S. Dollars in its company balance sheet for every GUSD coin it issues. This way, there will always be enough fiat dollars available on the exchange when you want to cash your GUSD to fiat USD. 
Stablecoins are widely preferred as savings deposits because their values are pegged to major national currencies like the US Dollar or the Euro and they return incredibly high yields, compared to dollars or euros sitting in a traditional bank savings account.
Shop with your cryptocurrency: You can use your cryptocurrency balances on your Gemini account to shop from 30,000 retailers that Gemini has partnered with. Gemini launched its Gemini Pay program, which lets you make retail purchases directly with cryptocurrency on your Gemini account. 
You can pay with Bitcoin, Gemini Dollar, Ethereum, or Bitcoin Cash. This feature is available on Gemini's mobile app, where you can select the retailer and cryptocurrency to spend and start shopping.
Cons
Highest trading fees above $10,000 monthly volume: Although all standard platforms are similarly expensive in their trading fees, Gemini ActiveTrader charges the highest fees among the advanced platform alternatives when you generate a monthly buy & sell volume of above $10,000, including both market and limit orders. 
Savings in trading fees would increase drastically with increasing monthly trade volumes on both Kraken Pro and Coinbase Pro.

Lowest number of cryptos:  Gemini supports the lowest number of cryptocurrencies in the competition with only 76 coins for the standard platform and 21 for the advanced platform. These are very low figures compared to over 110 cryptos available in both Kraken and Coinbase. 
If you are looking to invest in something different than the top major cryptos, you may not find it on Gemini. 
Lowest deposit limits:  Gemini has the lowest daily deposit limits among the trio of exchanges. You can only deposit $5,000 per day and $30,000 per month to your Gemini account. So if you need to execute high volumes of fiat-to-crypto transactions, Gemini will significantly slow down your trading operations.   

GUSD is higher risk: Although the Gemini Dollar is claimed to be 1:1 backed with the fiat US Dollar, it is generally traded on this exchange only so if Gemini ever goes bankrupt, your GUSD holdings could go to zero overnight while trying to benefit from GUSD's 8.5% annual interest.
Coinbase Pros And Cons 
Pros
A truly global cryptocurrency exchange: Coinbase is available in over 100 countries so it will likely satisfy all your crypto-to–fiat conversion needs wherever you travel in the world. You will be able to transfer money to the banks in your jurisdiction from your Coinbase account for your daily cash needs. 
On Coinbase, you are able to deposit or withdraw the equivalent of $25,000 in local currency per day. Although the same figure is at $100,000 on Kraken, Kraken is available in far fewer countries throughout the world.

Highest number of cryptos: Coinbase offers the largest number of cryptocurrencies in the competition, both on its standard and advanced platforms (above 150), which is in line with its market positioning as the second largest cryptocurrency exchange in the world.  
Government insurance for USD balances: All US Dollar deposits on Coinbase (fiat dollars, not stablecoins) are protected by the Federal Deposit Insurance Corporation (FDIC) up to $250,000 per individual, which is the same insurance that protects the deposits in almost all US banks. 
You should carefully keep in mind that this insurance only covers your US Dollar balance in your Coinbase account, not your cryptocurrencies.
Cons
Highest trading fees below $10,000 monthly volume: Coinbase Pro is the most expensive exchange compared to Kraken Pro and Gemini ActiveTrader if you make a low amount of trading activity, which is below $10,000 monthly. 
As discussed, buying $1,000 worth of cryptocurrency on Coinbase Pro would cost you $6 with a market order and $4 with a limit order, while it costs less than half for the same transactions on Kraken Pro.
Kraken VS Gemini VS Coinbase – Which One Is Right For You?
Choosing between Kraken, Gemini, and Coinbase depends on your personal needs and priorities. Each exchange satisfies different preferences. 
If you want to pay the lowest possible fees for your cryptocurrency trades, you can sign up for an account on Kraken Pro and try to make an ACH transfer to your account. 
This would serve you particularly well if you plan to generate a high volume of buying and selling activity every month. 
If you are a globetrotter, Coinbase may serve your instant cash needs well as it has the largest global presence among the trio of exchanges. You can travel while accessing one of the largest selection of cryptocurrencies and cashing out to fiat at your convenience. 
And you will have the assurance of U.S. government insurance for your fiat USD funds, if you are a U.S. customer.   
Finally, if having an enjoyable crypto trading experience with a simple and easy-on-the-eye user interface would attract you above all else, Gemini could do the service while you also enjoy using your cryptocurrency as payment at over 30,000 retailers and earning the industry's highest interest with the U.S. Dollar backed Gemini Dollar.