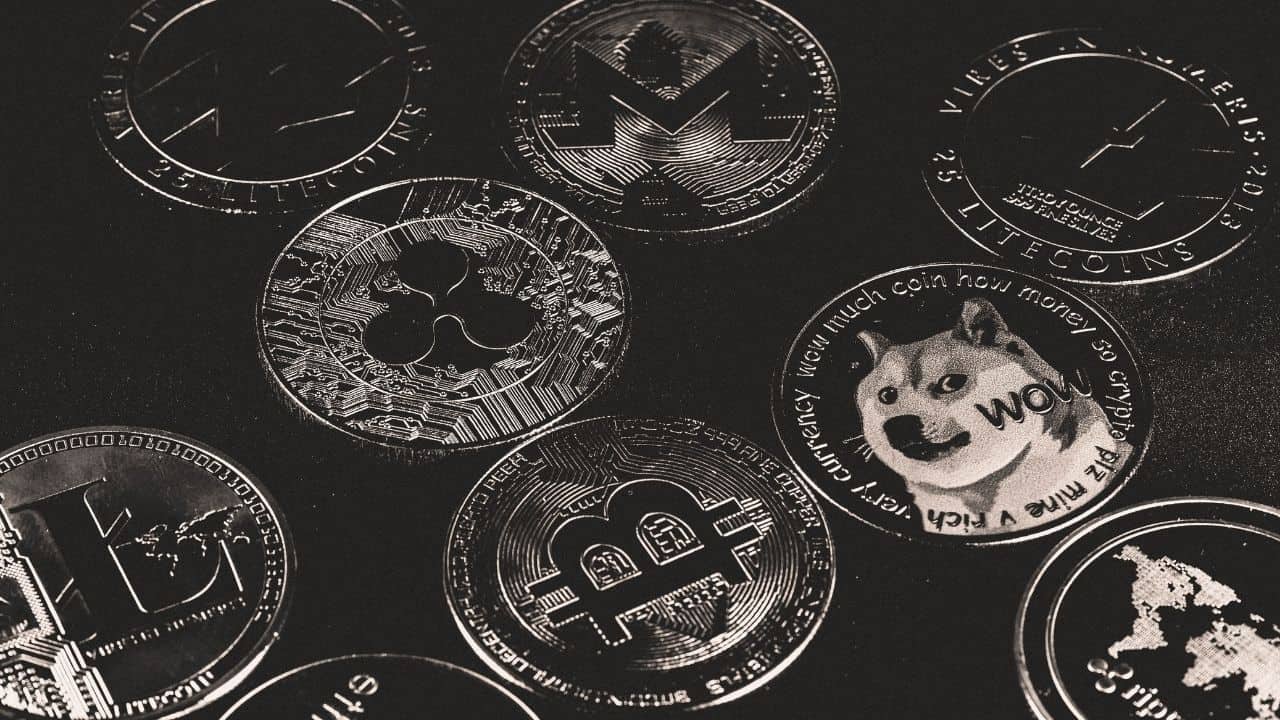 Disclaimer
We only endorse products that we truly believe in. Some of the links below may earn us some extra guac at no additional cost to you. Please pass the chips & thank you for feeding our habit.
People used to invest in crypto with the hope that its price may skyrocket someday simply through appreciation. Alternatively, you could also make money by trading coins, but trading requires a lot of hard work, time, and experience to make consistent income. But, as the market has grown, so has its opportunities, and today, many cryptocurrency investors use a passive crypto strategy in order to make consistent income.
Investors can earn passive crypto income through crypto savings accounts, staking, and peer-to-peer lending platforms. With these methods, you could earn 5-10% dollar interest for your stablecoins and up to 20-30% annual interest for many of the top major cryptocurrencies. 
In this article, we will discuss what crypto passive income is, some of the best ways to earn it consistently, and what investors need to consider when choosing a passive income method.
Platform
Promotions
Link

Earn up to $250 in BTC bonus when you fund your new account.

Invest Today
Get $5 in Bitcoin after your first trade.

Invest Today
No promotions at this time.
Invest Today

$20 in BTC 

after trading $100 or more within 30 days.

Invest Today
Investing for Passive Crypto Income – A Quick Breakdown
Passive income refers to money that you earn without doing any work. With passive crypto income, you invest your cryptocurrency in a particular crypto investment tool and watch it generate profit from the sidelines. 
Your earnings will generally be fixed in terms of the number of coins you earn although their dollar value will fluctuate significantly considering the high volatility of cryptocurrencies. This of course excludes the earnings for stablecoins. 
To see how much you can earn by investing in different passive crypto income products, below is a quick comparison of the annual return rates for the top cryptocurrencies. 
For each passive income product, we provide the percentage ranges that you can get from its most widely-used platforms, which include BlockFi, Coinbase, Gemini, Kraken, Binance, Aave, and Venus: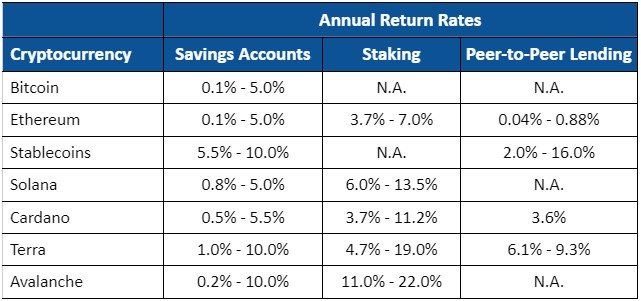 The 3 Best Ways To Invest For Passive Crypto Income 
For savings and staking, we looked at the return rates on major cryptocurrency exchanges as they attract the largest amount of funds for these two products. 
For peer-to-peer lending, we looked at the return rates on major decentralized finance (DeFi) protocols as this constitutes a decentralized, peer-to-peer product. 
Before placing any money into a crypto passive income tool, though, be sure to do your own due diligence and consult with a financial professional as needed.
1. Savings Accounts
Crypto savings accounts are the most popular way of generating passive income along with staking. A crypto savings account allows you to earn interest for your cryptocurrency, just like traditional bank savings accounts. 
But crypto savings accounts generally have much higher interest rates compared to bank accounts. 
Most of the major cryptocurrency exchanges offer savings accounts. Just like a bank, a cryptocurrency exchange collects deposits from customers and lends them out to other customers at a higher interest rate. 
Interest payout periods differ among exchanges. Some exchanges credit your interest earnings daily to your savings wallet while others pay them out at the end of every month.
There are generally two types of crypto savings accounts: flexible savings and locked savings. 
Flexible Crypto Savings Accounts
With a flexible savings account, there is no lock period for your funds. You can withdraw the tokens from your savings wallet at any time you like. 
However, be advised that if you move any funds out of a flexible savings account, you will not be able to receive the full interest for the payout period.
Locked Crypto Savings Accounts
On the other hand, a locked savings account locks the coins in your savings wallet for a specific period of time just like a traditional time deposit account. 
This means you cannot remove the funds from your savings wallet until maturity but in return, you earn significantly higher rates.  
Below is a comparison of interest rates offered by some of the top crypto exchanges for the largest cryptos. You should note that on BlockFi and Binance, interest rates drop with increasing deposit sizes so we provide their rates in terms of ranges: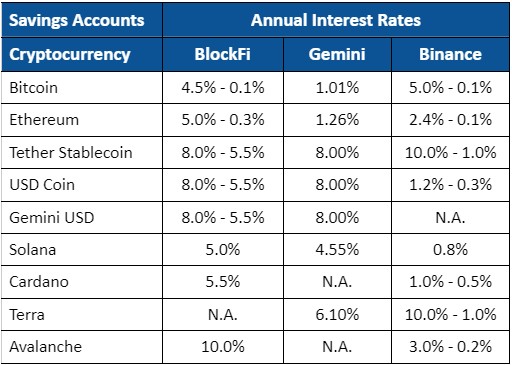 As you can observe in the above table, Gemini is the best overall platform for Bitcoin and stablecoin investors, offering 1% and 8% yearly interest rate regardless of your deposit amount. But if you are a small investor, you will get better rates at BlockFi and Binance. 
A critical thing to note about BlockFi is that as of February 14, 2022, the BlockFi Interest Account is no longer available to new U.S. persons and that existing U.S. customers cannot deposit any new assets to their interest accounts.   
Some major exchanges like Coinbase and Kraken do not offer interest accounts. Instead, they solely focus on providing staking services.
Pros and Cons Of Savings Accounts
Pros
Return rates are definitive:

You will receive the exact same interest rate that is marketed, whereas the return rates for other passive crypto income methods are just estimates.  

High USD interest for stablecoins:

Savings interests for the US Dollar are at around 1% today. Stablecoin savings accounts like Tether, USD Coin, and Gemini USD offer up to 8-10% dollar interest per year.  

Regular interest payouts:

You generate regular cash flow with crypto savings accounts as there are daily or monthly interest payouts.    
Cons
Lower rates:

Crypto savings rates are generally low compared to staking rates. 

Rates drop with more deposits:

On many exchanges, savings interest rates drop quickly and substantially with increasing deposit sizes.

No insurance: Unlike bank accounts, crypto savings accounts are not insured by the Federal Deposit Insurance Corporation (FDIC).
2. Staking
Staking cryptocurrency is very similar to putting funds in savings accounts. However, with staking, your coins are deposited to the blockchain network of that cryptocurrency, not to the savings wallets of exchanges.

And in contrast to savings accounts, your funds are not lent out to other people but they are used to validate transactions on the blockchain network and keep the network running. The network charges a fee for every validated transaction. 
When you stake coins on the network, your coins automatically start validating transactions and in return you receive network fees proportional to your share of staked coins.  
Unless you have very large funds, you cannot stake cryptocurrency directly on its blockchain network. Instead you need an intermediary, which is a crypto exchange. 
The exchange automatically credits your fee rewards to your exchange account. Fee rewards are distributed in the same cryptocurrency that you stake and they have a fixed return rate throughout the staking period. 
However, with staking, there are no reward payouts until the maturity date, unlike the periodic interest payouts on crypto savings accounts. There are different available lockup periods starting from 30 days up to 120 days. When you opt with longer lockup periods, you get higher return rates. 
Below are the annual staking rates that you would get from different exchanges. If there are multiple staking periods available for an asset, then its return rates are expressed in percentage ranges. In contrast to savings accounts, return rates increase with increasing deposit sizes.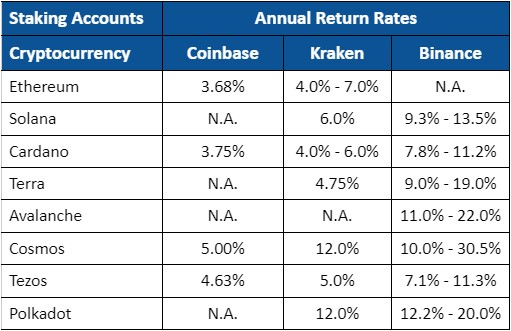 As you can see in the above table, Binance generally provides the highest staking rewards especially if you opt for the longest available lockup period, which is 120 days.
It is important to know that not all cryptocurrencies support staking. For example, you cannot stake "mining" cryptocurrencies like Bitcoin or Litecoin. Staking is for cryptocurrencies that have a Proof-of-Stake (PoS) blockchain, which includes some of the most popular coins like Ethereum, Solana, Cardano, Avalanche, and Terra. 
Stablecoins cannot be staked either because they are just tokens that run on PoS networks so they do not constitute their own blockchain.
Pros And Cons Of Staking
Pros
Highest return rates:

Staking is the only passive income method that can provide you with double-digit annual returns for the largest cryptos in the market (excluding BTC and ETH).  

Best for large investments:

On many exchanges, staking return rates rise with increasing deposit sizes so the more funds you invest, the higher return rates you will get. 
Cons
Declared returns are just estimates:

Your realized staking returns will likely be different depending on the blockchain's network performance and the size of the specific node that your coins are placed in.

Not good for cash flow:

There are no reward payouts until the maturity date, which takes at least 30 days. If you need passive crypto income to create daily cash flow, then staking is not for you. 

High volatility: Cryptos with the highest staking yields are also the most volatile assets. The only way to make good income with such coins is if there is an ongoing bull market. In a bear market you will likely come out with a significant loss on your investment.
3. Peer-to-Peer Lending
Peer-to-peer lending platforms allow investors to directly borrow from other crypto investors, without using a cryptocurrency exchange. You can lend your cryptocurrency to these decentralized money pools and start earning interest immediately. 
Decentralized (DeFi) lending & borrowing applications are managed and operated by pre-programmed, autonomous smart contracts, instead of the centralized oversight of a cryptocurrency exchange. 
Unlike a cryptocurrency exchange, borrowers need to deposit a cryptocurrency collateral that is higher than the amount they want to borrow, which perfectly covers you as the lender against any insolvency risks due to possible loan defaults. 
Below are the interest rates you will get at the three largest DeFi lending & borrowing platforms of today when you lend your cryptocurrency. Unlike cryptocurrency exchanges, there are no interest tiers on decentralized lending platforms for different deposit sizes: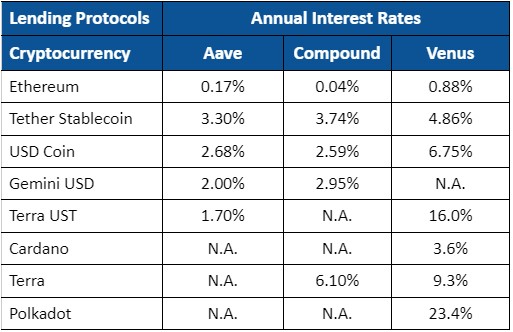 As you can see in the above table, decentralized lending platforms offer considerably lower interest rates compared to cryptocurrency exchanges, except for Venus. 
At Venus, you get the highest interest rate in the industry for the Terra UST stablecoin and the Polkadot cryptocurrency at 16% and 23.4%, respectively. 
Although rates are generally low, they are highly dynamic when compared to those in exchanges. You may be able to lock in a more lucrative interest rate for your cryptocurrency on such platforms during the times of high market volatility.
Pros And Cons Of Peer-to-Peer Lending
Pros
Your funds always stay with you:

Your funds are never transferred to a decentralized lending platform. You connect your non-custodial cryptocurrency wallet and smart contracts and the platform monitors the funds in your wallet and automatically credits your interest earnings to your wallet. 

Dynamic rates:

Rates on peer-to-peer lending platforms can change drastically depending on market conditions so these platforms offer good opportunities if you keep a close eye.

 

 

  
Cons
The least profitable passive income method:

Peer-to-peer lending platforms generally offer the lowest returns unless you make it a full-time job to monitor the interest rates on these platforms, making it the most difficult and time consuming passive income crypto strategy.

Prone to hacks and exploits: Even though you do not transfer funds to a decentralized platform, hacks and exploits in the platform would still gain access to your wallet and drain your funds out. And unlike an exchange, there is nowhere to apply or file a complaint to get your funds back.
Is Investing For Passive Crypto Income Worth It? 
As is the case with any investment tool, passive crypto income is only worth it if the specific method you choose fits your personality, the realities of your life, and your investment goals. 
If you're looking for a more peaceful strategy, that requires little to no adjustments on your end, all while generating regular cash flows and a higher interest for your dollar (5-8% for stablecoins vs. 1% for bank savings accounts), then it would be worth it for you to invest for crypto savings accounts.
On the other hand, if you can afford to be more aggressive and sacrifice guaranteed returns and regular cash flows for chasing double-digit returns (excluding for Bitcoin and Ethereum), then staking would be worth investing for you.
Finally, if you want to keep the custody of your funds while actively chasing for high yield opportunities, then peer-to-peer lending could be worth investing for you. 
Keep in mind though, peer-to-peer lending is the most risky passive income strategy, because the amount you get in income is based on market conditions, which can be extremely volatile in the cryptocurrency market.
However, if you understand what your own goals are, the risks involved, and do your own due diligence, investing for passive crypto income can be highly lucrative, and provide a consistent stream of money for you every single month.