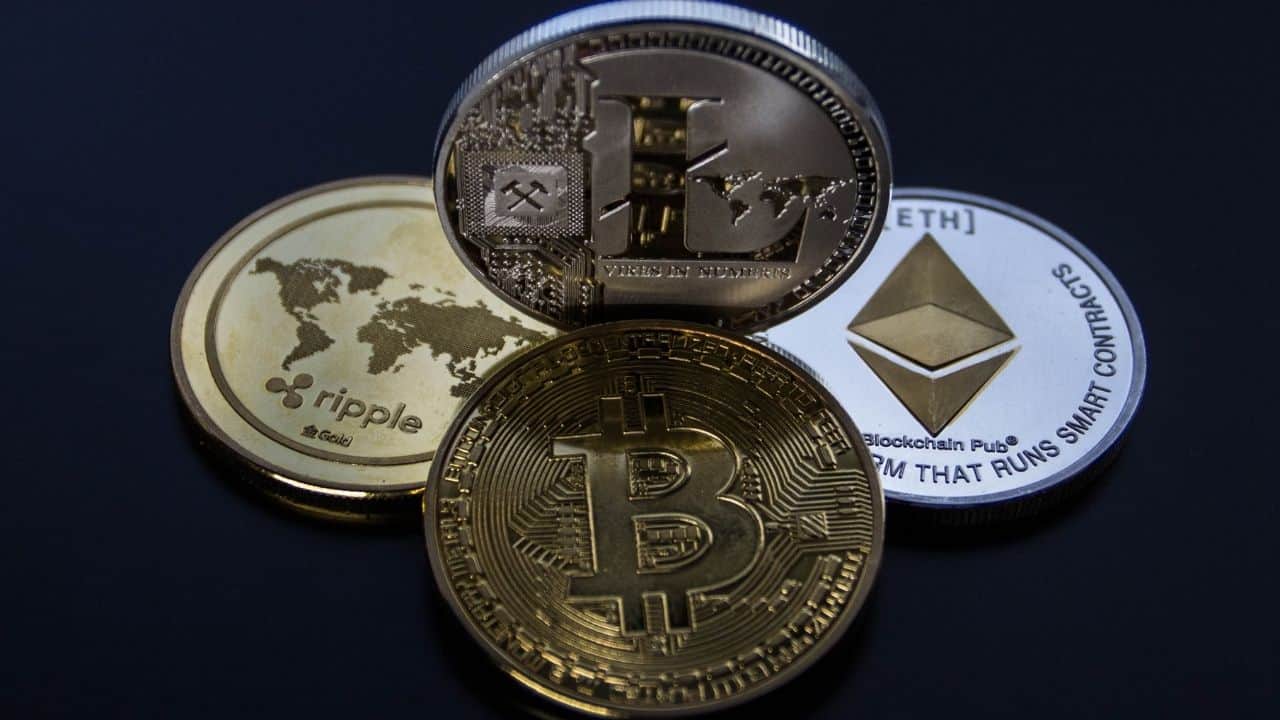 Disclaimer
We only endorse products that we truly believe in. Some of the links below may earn us some extra guac at no additional cost to you. Please pass the chips & thank you for feeding our habit.
In the beginning, you really had to be a computer geek to invest in cryptocurrencies. Slowly but surely over the past decade crypto exchanges and brokers have been making it easier and easier to trade and invest in crypto. Today, several popular banking and stock brokering apps allow customers to buy the top cryptocurrencies at the click of a button. One of the most popular of these among retail investors is Robinhood. 
Robinhood offers several top cryptocurrencies including Bitcoin (BTC), Ethereum (ETH), Bitcoin Cash (BCH), Bitcoin SV (BSV), Litecoin (LTC), Ethereum Classic (ETC), and Dogecoin (DOGE). 
For the purpose of this article, we're going to assume that you know what cryptocurrencies are and why you might want to invest in them or trade them.
What Is Robinhood Crypto?
Before we lay out instructions for buying crypto on Robinhood and look at Robinhood's crypto list, we need to make a couple things clear.
First, Robinhood is not a crypto exchange in the true sense. In other words, you can't exchange one crypto for another on Robinhood. You can only buy and sell crypto for cash. 
Second, Robinhood is a crypto custodian. That means you don't actually hold onto your own crypto, Robinhood holds onto it for you. However, as of of the time of writing, Robinhood has begun beta testing crypto withdrawals with a limited list of customers with plans to roll out the service to all customers before the end of 2022. 
Platform
Fees
Promotions
Link
$0 Fees

Earn up to $250 in BTC bonus when you sign up and fund your new account.

Learn More
0.5% - 4.5% Other fees may apply.
Get $5 in Bitcoin when you complete your first trade.

Learn More
0.9% - 2% Other fees may apply.

No promotions at this time.
Learn More

0.5% - 3.99% 

$20 of BTC 

for new users after trading $100 or more within 30 days.

Learn More
Robinhood Crypto List for 2022
As of the time of writing, Robinhood's crypto list includes seven popular cryptocurrencies. (Editor's note: Robinhood has since added 3 more coins. The table is up-to-date with Robinhood's crypto offerings)
| | Market Cap | Price |
| --- | --- | --- |
| Bitcoin (BTC) | $777,323,862,700 | $40,900 |
| Ethereum (ETH) | $337,432,365,078 | $2,813 |
| Dogecoin (DOGE) | $15,587,134,283 | $0.117483 |
| Litecoin (LTC) | $7,710,951,563 | $110.38 |
| Bitcoin SV (BSV) | $1,485,257,841 | $78.18 |
| Bitcoin Cash (BCH) | $5,642,875,108 | $296.83 |
| Ethereum Classic (ETC) | $3,645,920,418 | $27.29 |
| Polygon (MATIC) | $9,846,719,875 | $1.25 |
| Shiba Inu (SHIB) | $12,660,226,848 | $0.00002307 |
| Compound (COMP) | $827,894,783 | $123.11 |
Bitcoin (BTC)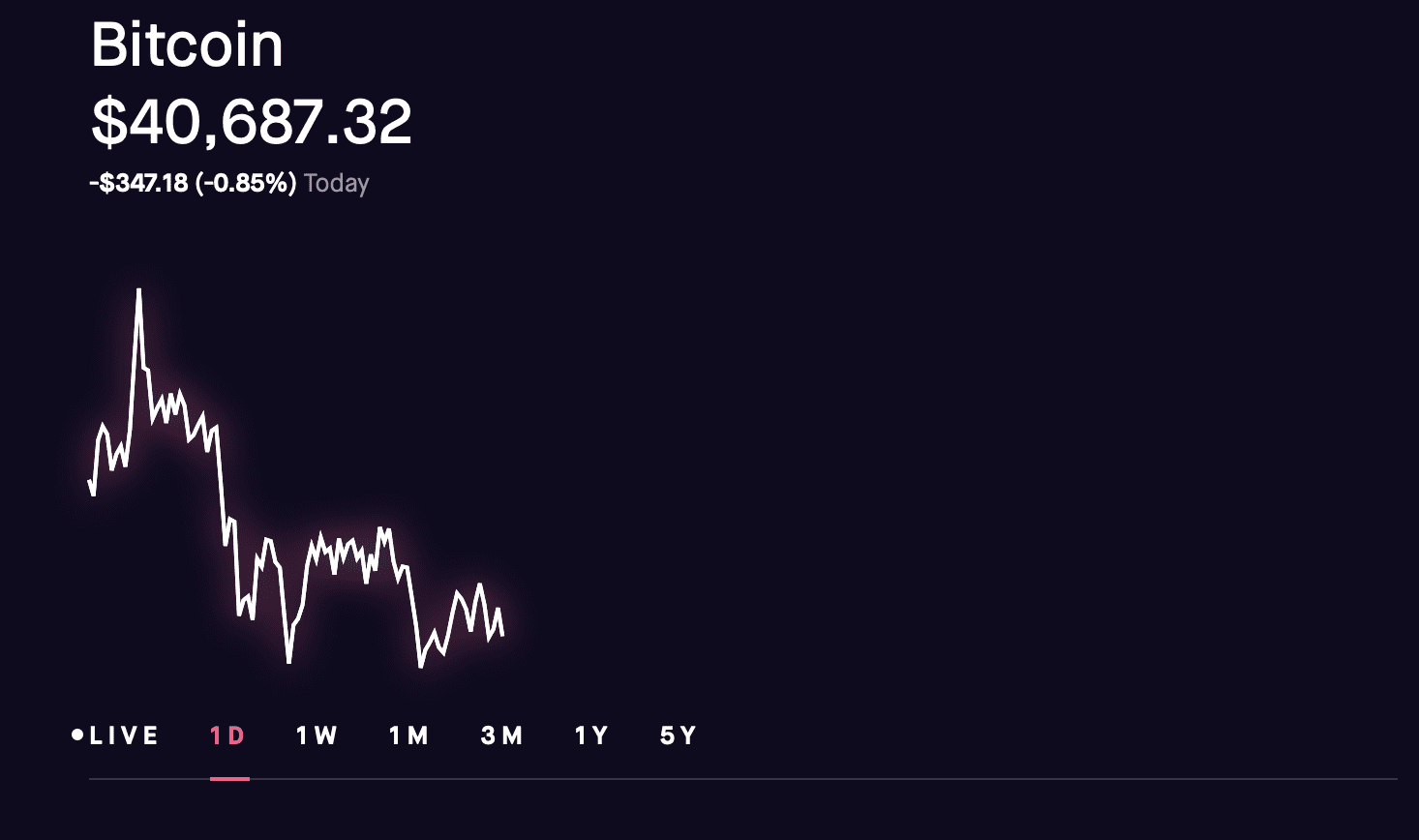 Bitcoin is the grandfather, the progenitor of all decentralized cryptocurrencies. Bitcoin was launched in late 2009. At the time of writing, BTC is hovering around $40,000. Some very intelligent people who have made billions in the financial world believe that the value of Bitcoin could surpass a million dollars before the decade is over. That's a potential 25x to 30x return on your investment if you buy BTC today. 
However, there are also opposing opinions that say Bitcoin and other cryptocurrencies are doomed to failure. So, of course, as with any investment, you need to do some research in order to feel comfortable putting your hard-earned money into it. 
Over the past year, the price of Bitcoin has risen 15%. However, over the past month, the price of BTC has fallen by a third. 
Ethereum (ETH)
Ethereum (ETH), launched in 2015, supports smart contracts. These are computer programs that can automatically execute transactions according to a set of instructions. The native cryptocurrency is called Ether or ETH. And the network is often referred to as the Ethereum Virtual Machine (EVM). 
There is currently no hard cap on the total supply of ETH. There is so much demand for the attention of the Ethereum miners that at the time of writing, bottlenecks are causing transaction fees (aka gas fees) to range between $50 and $300 per transaction. However, recent and upcoming changes to the operation of the network promise to speed things up and reduce gas fees. 
The price of ETH has risen nearly 150% in the past year but has fallen about 20% in the past month. 
Bitcoin SV (BSV)
Bitcoin SV (BSV), aka Bitcoin Satoshi Vision, was founded by Australian technologist Craig Wright and launched in 2018. Dr. Wright felt that the Bitcoin network was going in a direction that went against the vision of founder Satoshi Nakamoto. 
The adoption of the Bitcoin SV network has thus far been limited. Bitcoin SV does have some technical advantages over Bitcoin. Bitcoin SV offers faster transaction speeds, for example. However, there are several other competing blockchains that also offer highspeed transactions but with added functionality. 
Over the past year, the price of Bitcoin SV has fallen about 45%. The price of BSV has been ranging between $120 and $190 for the past few months.
Bitcoin Cash (BCH)
Bitcoin Cash (BCH) was created in 2017. BCH is another hard fork of Bitcoin. It was developed to be more suitable than Bitcoin as an online payment platform. That being said, as with BSV, the adoption of BCH has been very limited. 
Over the past year, the price of BCH has fallen 27%. Over the past six months, the price has been ranging between $360 and $780. In the past three months, the price has fallen 39%.
Litecoin (LTC)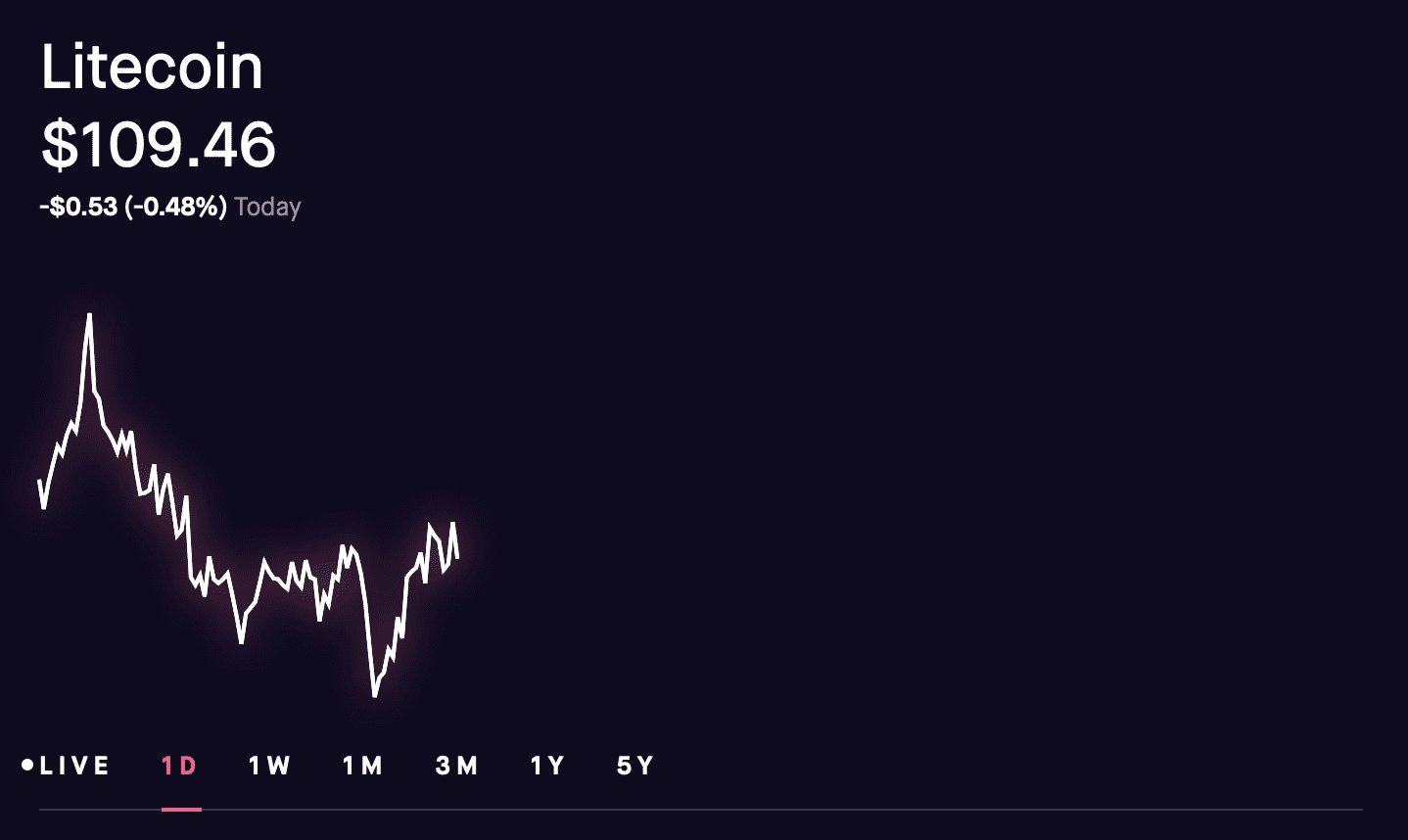 Litecoin (LTC) was launched in 2011. Like BSV and BCH, LTC is another hard fork of Bitcoin. Litecoin is nearly identical to Bitcoin core with a few differences. For example, Bitcoin mines a block of transactions and issues new coins every ten minutes, whereas Litecoin blocks are mined every 2.5 minutes. And rather than a limit of 21 million coins, the LTC limit is set at 84 million.
Similar to Bitcoin Cash, Litecoin was created to be fast enough for ecommerce applications. And, similarly, it hasn't received the level of adoption that many had hoped.
Over the past year, the price of LTC has fallen around 10%. LTC is down 25% in the past three months.
Ethereum Classic (ETC)
Ethereum Classic (ETC) was created in 2016. ETC is a hard fork of the Ethereum network. Like Ethereum, Ethereum Classic is a decentralized computing network that supports smart contracts. The difference between the two networks is simply this: whereas Ethereum developers are constantly upgrading the network, Ethereum Classic developers aim to uphold Ethereum's original, unaltered code. 
Over the past year, ETC is up a whopping 310%. However, the price of ETC has fallen almost 40% in the past three months. 
Dogecoin (DOGE)
Dogecoin (DOGE) was launched in 2013 by software engineers Billy Markus and Jackson Palmer. According to Robinhood, "Dogecoin was created to make digital currency more fun, friendly, and approachable."
DOGE is considered to be a "meme coin" and thus susceptible to manipulation. The cryptocurrency has been on a roller coaster of a ride. Over the past year, DOGE is up a mind-boggling 1,690%. However, DOGE's price has fallen by a third in the past three months. 
What To Watch For On Robinhood's Crypto List
Robinhood has pledged to give crypto investors more to work with in the future.
For starters, the company is purportedly considering expanding the list of cryptocurrencies on Robinhood. Robinhood CEO Vlad Tenev recently acknowledged that Robinhood customers "want new coins" and that the company is giving the matter careful consideration. Expectations are that Robinhood's crypto list will be expanded before the end of 2022.
Second — and most worrisome development for competing crypto exchanges — Robinhood has launched a beta test of a native crypto wallet which would give users the ability to buy, withdraw, and send crypto with zero added fees. More than 1 million customers are now on Robinhood's crypto wallet waiting list. 
Overall, Robinhood is great option for new crypto investors, especially those that also want to trade stocks. Although Robinhood's list of cryptocurrencies is short, its commission-free trading makes it a great option for long-term crypto investors. Don't forget to check out our Robinhood review.