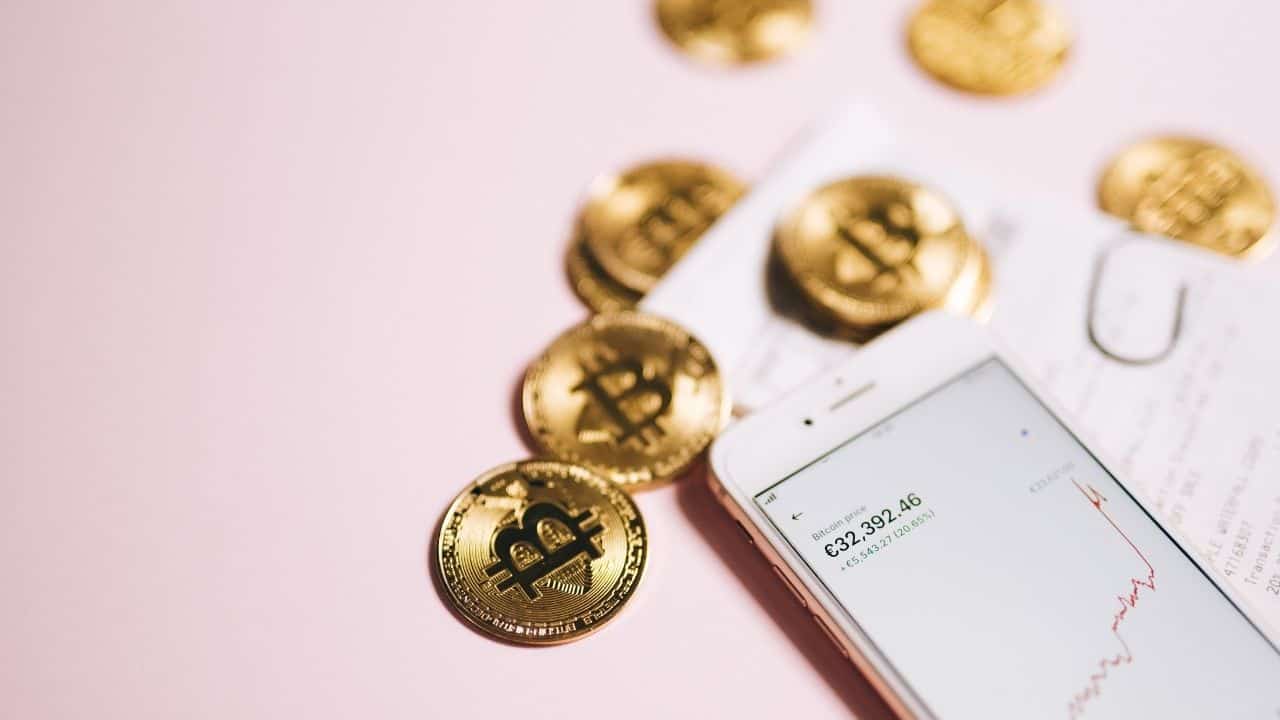 Disclaimer
We only endorse products that we truly believe in. Some of the links below may earn us some extra guac at no additional cost to you. Please pass the chips & thank you for feeding our habit.
Robinhood Crypto Review
Robinhood For Crypto
With commission-free trades, instant access to funds, no minimum deposits, and access to leading cryptocurrencies, Robinhood provides a solid offering and an easy way to dip your toes into the crypto waters if you're new. 
Pros
Easy-To-Use
No Minimum Deposit
Automatic Crypto Investing
Cons
Limited Coin Offerings
No IRAs
Limited Wallet Support
If your crypto portfolio looks like mine, you already know nothing goes straight up in the crypto world. A new breed of brokerages and marketplaces like Robinhood offers innovative ways to invest in crypto in bite-sized chunks that won't break the bank if prices dip. And luckily today, crypto platforms like Robinhood are super accessible, easy to use, and a great place to start if you're looking to get in on the red-hot cryptocurrency investing game.
Robinhood is one of largest cryptocurrency investing platforms in the world, offering investors seven different cryptos to choose from including Bitcoin, Ethereum, and Dogecoin, as well as low fees and no investment minimums, making it super easy for anyone to buy, sell, and hold cryptocurrency.
Despite market volatility, crypto still shows solid long-term gains for many investors, and players like Robinhood help to make popular crypto assets accessible to everyone. But how does Robinhood compare to other brokerages?
Let's review what you can trade on Robinhood, some account features, and some pros and cons before you get started.
Using Robinhood's Crypto Platform
Since its founding in 2013, Robinhood has given investors easy access to over 5,000 stocks and exchange-traded funds (ETFs). Robinhood also promises commission-free trades, now and forever. 
But Robinhood isn't only for stocks and ETFs, it is a major player in the cryptocurrency market as well, and you'll enjoy the same commission-free trading whether investing in crypto or stocks and ETFs.
The addition of popular cryptocurrency assets like Bitcoin (BTC), Ethereum (ETH), and other selected names marks an expansion for Robinhood.
In total, Robinhood offers commission-free trades for seven crypto assets, focusing its platform on the most popular names, such as Bitcoin, Ethereum, Litecoin, and Dogecoin. This scaled-back offering makes Robinhood an attractive option for beginners who don't want to be overwhelmed with choices.
Crypto Assets Available Through Robinhood
Robinhood focuses on assets in the Bitcoin and Ethereum families but also offers two well-known altcoins (Dogecoin and Litecoin).
Bitcoin SV (BSV)

Bitcoin Cash (BCH)

Bitcoin (BTC)

Dogecoin (DOGE)

Litecoin (LTC)

Ethereum Classic (ETC)

Ethereum (ETH)
Although Robinhood offers a limited selection of crypto assets, similar easy-to-use marketplaces also limit choices. For example, PayPal provides only four crypto options. Venmo, another popular digital wallet and payment app owned by PayPal, mirrors PayPal's four crypto options.
How To Set Up An Account With Robinhood For Crypto Investing In 2022
Opening an account with Robinhood is a straightforward process and should only take a few minutes to build. However, account review can take up to an additional seven days if Robinhood needs to confirm your identity. Here are the basic requirements to get started:
18 years of age

Valid Social Security Number (Robinhood cannot accept a Taxpayer Identification Number (TIN)

U.S. residential address (some exceptions for military members stationed abroad)

U.S citizen, permanent resident, or U.S. visa
Step 1: Go to Robinhood and enter your information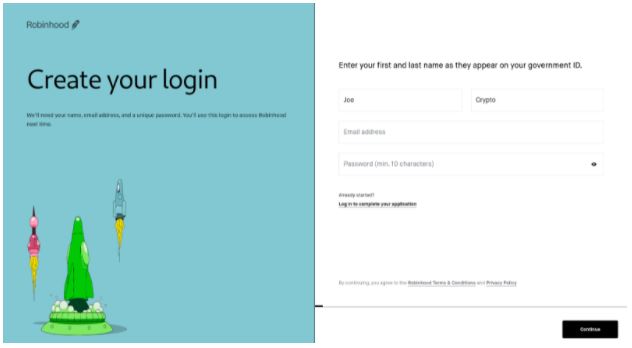 Step 2: Verify your account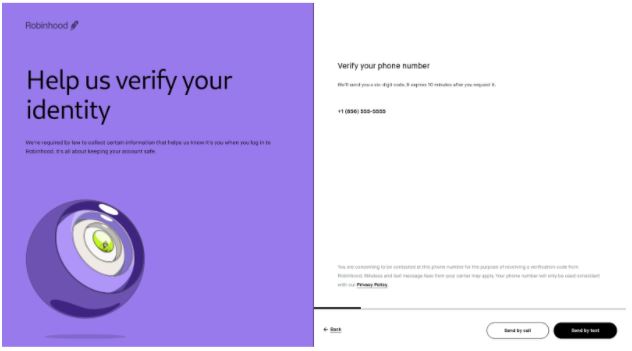 Step 3: Account review: Robinhood will review your application before you can begin trading.
When I opened my account with Robinhood, they gave me one free share of stock. In my case, the free share was Zynga (ZNGA), and my share is currently valued at about $9. Not bad for a freebie, and I have no plans to sell it. Who knows? Maybe I'll be a Zynga millionaire one day, for free.
The free stock offer is still active and new Robinhood accounts get a free share valued at $3 up to $225. Robinhood states that about 98% of new accounts get a free share valued between $2.50 and $10.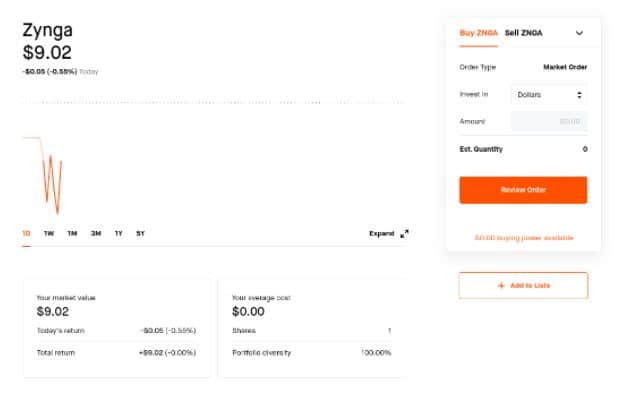 You can also earn free stock for referring a friend to Robinhood. Even if your goal is to use Robinhood for Crypto, the free stock offers are welcome bonuses and you can sell your freebies to buy crypto if you prefer.
Crypto Account Types On Robinhood
Robinhood also lets you choose from three account types, with the default account type (Robinhood Instant) granting you instant access to deposits you've made (up to $1,000). 
Robinhood Instant offers extended hours trading as well, which can be helpful if you're using Robinhood for stock trading in addition to crypto. 
Robinhood Instant:

With Robinhood Instant, you're using a margin account. In effect, the account grants a credit line to give you access to funds faster. This structure allows you to use funds without waiting for funds to settle, giving you more flexibility compared to a cash account. However, although Robinhood Instant is technically a margin account for tax purposes, you'll want to upgrade to a Robinhood Gold account to borrow for trades.

Robinhood Gold:

Robinhood's Gold account level gives you instant access to larger deposits and enables margin investing. With margin investing, you gain access to an approved credit line to take advantage of trading opportunities on the fly. Gold membership costs $5 monthly and includes access to advanced trading tools such as Nasdaq Level II data and market research from Morningstar.

Robinhood Cash:

A Robinhood cash account works much like standard brokerage accounts and requires funds to settle before making new trades. For most stock trades, expect to wait about two trading days after selling a position before you can reinvest funds in a new position. Crypto trades, however, are not subject to settlement rules found in stock trading.
Robinhood Cash and Robinhood Instant don't require a monthly fee. To unlock the extra power of Robinhood Gold, you'll pay $5 monthly. However, standard trades for crypto and stocks are free on all account types. You'll pay a small interest charge (currently 2.5% annually) if you choose to use margin above $1,000 with a Gold account.
How To Fund Your Robinhood Crypto Account In 2022
You don't need to invest a fortune to get started using Robinhood for Crypto. Robinhood has no minimum deposit, so you can fund your account with $10, $100, 1,000, or any amount you choose. 
Funding works by securely linking your bank account and then making a transfer. You can also choose to set up automatic transfers, which you can turn off at any time. With a Robinhood Instant or Robinhood Gold account, you'll have instant access to money you transfer (up to $1,000 with a Robinhood Instant account).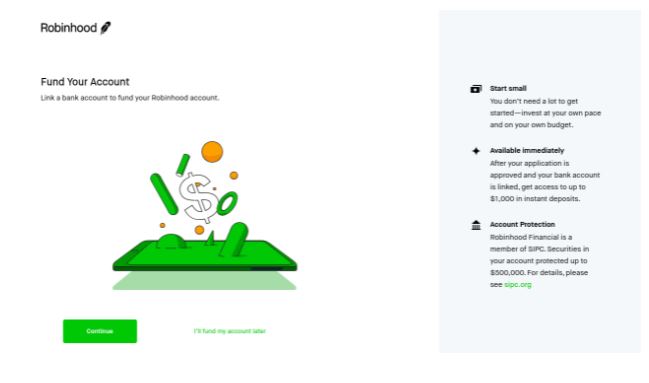 Account Safety Features
Robinhood uses Plaid as a go-between to help you find your bank information easily. Plaid is an easy-to-use and secure service also used by Acorns, Venmo, and other popular finance apps.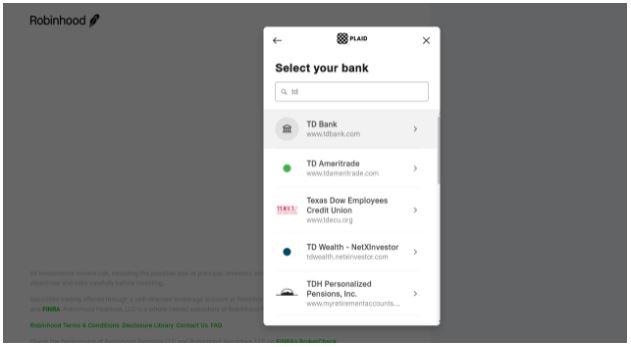 In addition to easy-but-secure money transfers to and from your account, Robinhood offers several other helpful security features. 
Stocks are protected through the Securities Investor Protection Corporation (SIPC) for account values up to $500,000. However, crypto assets are not covered by SIPC protection. SIPC coverage also doesn't protect against losses due to changes in value. Instead, SPIC protects investors against brokerage insolvency.
Similarly, Robinhood offers Federal Deposit Insurance Corporation (FDIC) protection for account holders who opt into Robinhood's Cash Management program. Expect coverage of up to $250,000 per program bank to a total maximum of $1.25 million.
Password safety and account security are job one at Robinhood. The brokerage never stores passwords in readable plain text. Instead, Robinhood encrypts passwords using an industry-standard BCrypt hashing algorithm. In short, your password is as secure as you would expect from a leading brokerage, keeping your crypto safe and sound. 
Robinhood also uses Two-Factor Authentication (2FA), using an authenticator app or a security code sent to your phone. If you log in from a new device, you'll receive an alert as well.
How Does Robinhood Compare to BlockFi Or Coinbase?
You'll find several differences in using Robinhood for crypto compared to well-known crypto brokerages like BlockFi or Coinbase. One of the most significant differences is the fee structure. Robinhood offers commission-free crypto trading and free withdrawals.
BlockFi also offers commission-free trades, but crypto traders pay a 'margin' of about one percent when trades execute. BlockFi charges for withdrawals in many cases as well. However, BlockFi offers one free crypto withdrawal and one free stablecoin withdrawal monthly.
Fees for trading on Coinbase can be more complex and start at 1.49% for a standard Coinbase account.
| Brokerage | Promotion | Fees | Link |
| --- | --- | --- | --- |
| | Get $15 to $250 in BTC | $0 | Sign Up |
| | Free $5 in BTC | Starting at 1.49% | Sign Up |
| | - | $0 | Sign Up |
To be fair, each of these trading platforms serves a different purpose. 
Coinbase offers the widest selection of crypto assets of the three, boasting over 90 different crypto choices. 
BlockFi offers a slimmed-down selection of seven options and is known for high interest rates on crypto deposited in a BlockFi Interest Account (BIA). 
By comparison, Robinhood does not pay interest on crypto and offers seven crypto options. However, Robinhood gives you easy, commission-free trades and free withdrawals. 
Neither Coinbase nor BlockFi provides stock trading, giving Robinhood a notable advantage for traders who want to diversify. Robinhood offers over 5,000 stock and ETF choices.
Pros Of Using Robinhood For Crypto 
There's a lot to like about Robinhood for crypto traders, making it the right tool for the job in many situations. 
Commission-free crypto trades:

Robinhood promises commission-free trades on stocks and crypto, now and forever.

Secure mobile-friendly platform:

Invest securely from home or on the go with a web app or a mobile app.

Instant access to funds:

With Robinhood's default account type, Robinhood Instant, you'll have immediate access to transferred funds or funds from sales of crypto or stocks. 

Stocks, options, ETFs, and Crypto:

Unlike some competitors, Robinhood gives you access to more than just crypto. You can also trade stocks, options (if approved), ETFs, and even get access to new IPO stocks.

Fractional purchases:

You won't have to buy a whole Bitcoin or a round number or satoshis, the smallest unit of Bitcoin. Instead, Robinhood lets you buy fractional crypto or stocks so you can put your money to work more efficiently.

Easy to use:

Robinhood's easy-to-use platform invites new traders to get started without all the complexity. Search for a crypto asset or stock. Click the buy or sell button. It doesn't get easier than this.

Cash Management service:

As an opt-in service, Robinhood's Cash Management lets you earn interest on your cash, pay bills, or even cash your paycheck.

Limit and market order support:

Use limit or market orders to gain more control over your trading. Some competing platforms only allow market orders.

Automatic crypto investing:

Crypto price action can be challenging to predict. For many traders, the best option is to invest on a fixed schedule and let time work its compounding magic. Robinhood allows recurring investments in stocks, ETFs, or crypto to put dollar-cost-averaging on autopilot.

No minimum deposit: Robinhood makes it easy to get started with crypto. There's no minimum deposit and no minimum trade. Only have a few bucks to get started? That's no problem. Invest whatever amount you can afford.
Cons Robinhood's Crypto Platform 
No brokerage is perfect for everyone, and Robinhood has a few areas best described as less-than-perfect. 
Limited crypto wallet support:

Currently, crypto wallets are in beta with Robinhood, rolling out to 1,000 customers at first then expanding to 10,000 for further testing. For the time being, you may not be able to transfer crypto to or from Robinhood.

Limited cryptocurrencies: Robinhood's crypto list is low at seven coins. While Robinhood's seven options represent some of the most popular crypto choices, you may need to use another brokerage want to diversify your crypto holdings.
No IRAs:

Robinhood does not offer Individual Retirement Accounts (IRAs). All trades occur in taxable accounts rather than tax-deferred accounts.

Stock trades can affect your crypto account: Robinhood splits crypto and stocks between two internal companies with connected accounts. Daytrading in cryptos is fine with Robinhood Crypto. But if your stock trading account through Robinhood Financial becomes restricted, your crypto trades may become limited as well. In a fast-moving market like crypto, it's helpful to know which potential obstacles might lie ahead.
Should You Use Robinhood For Crypto?
Robinhood sets its sights on newer investors and those who value the convenience of trading from anywhere. For crypto specifically, Robinhood makes a good choice — if you're willing to overlook the limited selection of crypto options. Fortunately, Robinhood offers many of the most popular crypto assets, like Bitcoin, Ethereum, and Dogecoin. 
More experienced crypto investors might want to supplement their Robinhood account with other brokerage services, allowing easy access to commission-free trades in top crypto assets through Robinhood while diversifying elsewhere.
With commission-free trades, instant access to funds, no minimum deposits, and access to leading cryptocurrencies, Robinhood provides a solid offering and an easy way to dip your toes into the crypto waters if you're new. You'll find many of the tools you'd expect with more advanced platforms, such as limit orders, combined with a convenient set of features unique to Robinhood.
Opening a Robinhood Cash or Robinhood Instant account is fast and free, and the free stock offer is still valid. Or you can unlock advanced trading tools and margin trading for just $5 monthly with a Robinhood Gold account. 
Ready to get started? Open a Robinhood account today.