Disclaimer
We only endorse products that we truly believe in. Some of the links below may earn us some extra guac at no additional cost to you. Please pass the chips & thank you for feeding our habit.
Without a doubt, cryptocurrencies have certainly changed the way that people think about investing. While many buy digital assets in hopes of double-digit returns, some still feel uneasy given the erratic price behavior of the market as a whole.
According to the Pew Research Center, only 16 percent of American adults say they have ever personally invested in, traded, or otherwise used crypto. Even though many believe digital assets have strong long-term potential, they also still have some strong reservations about treating it as an investment. 
Thankfully, the market has evolved, and there's a new way for investors to capitalize on cryptocurrency. In fact, they buy an asset that has virtually no price fluctuations at all: stablecoins.
Crypto investors looking for high yield but low risk can take advantage of stablecoin interest. Stablecoins are digital assets that are pegged to a fiat currency. Not only are they intended to maintain their value, but crypto exchanges are paying handsome interest rates to owners to use them.
Of course, when it comes to investing, there can never be returns without risk, and stablecoins are no different. In this post, we'll take a closer look at these digital assets, learn why they pay so well, and how government regulation could change their future.
Best Crypto Promotions
Platform
Promotions
Link

Earn up to $250 in BTC bonus when you fund your new account.

Invest Today
Get $5 in Bitcoin after your first trade.

Invest Today
No promotions at this time.
Invest Today

$20 in BTC 

after trading $100 or more within 30 days.

Invest Today
How To Earn Interest On Stablecoins
Before we can talk about why crypto platforms are paying account holders so much interest, it will be crucial to understand what these assets are and what makes them so unique.
What Is A Stablecoin?
A stablecoin is a specific type of crypto where its value trails a major fiat currency such as the U.S. dollar. Its generally backed by financial reserves or other assets (such as gold, oil, other cryptocurrencies, etc.) so that its value can always be maintained.
Examples of popular stablecoins include:
Tether (USDT)

USD Coin (USDC)

Gemini Dollar (GUSD)

Binance USD (BUSD)

TrueUSD (TUSD)
A good stablecoin will remain relatively fixed as close as possible to its target price. For instance, if we look at the value of the Gemini Dollar over the past year, we'll see that it's maintained a value of one dollar plus or minus approximately one penny.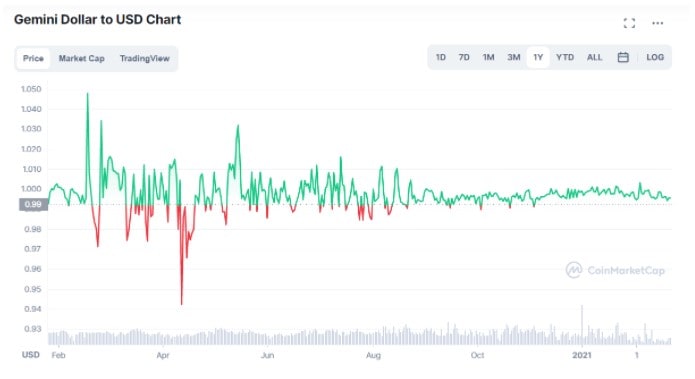 What Are Stablecoins Used For?
Back when Bitcoin and other cryptocurrencies first became available, most of the platforms that traded them didn't have access to traditional banking. This made it nearly impossible for the average person to buy or sell crypto. 
What these platforms needed was a sort of go-between for converting fiat currency to crypto. As a result, developers began to create what we know of today as stablecoins to bridge this gap. Suddenly, investors could convert their dollars to stablecoins, buy crypto, and then convert it back when it was time to sell and cash out.
Today, stablecoins are used for more than just buying crypto. Many companies in the DeFi (decentralized finance) space use them for smart contracts. This helps them to obtain faster capital without the traditional barriers and costs involved with centralized finance practices.
What Is A Crypto Interest Account?
As more investors began buying and holding crypto, it became apparent to some exchanges that there were a lot of assets just sitting idle. To entice account owners into letting the exchanges "borrow" their crypto, they started offering a new product: the crypto interest account. 
In many ways, this is not much different than what banks do with savings accounts. Account owners effectively "lend" their money to the banks who then use the capital to issue mortgages and business loans. In exchange, banks pay the account owners a small variable rate of interest each month.
How Much Interest Can I Earn From Crypto?
If it seems like crypto interest accounts are getting a lot of attention, there's a good reason for that: They pay extremely well!
How much exactly? Crypto interest account holders are earning anywhere from 4 to 12% depending on the type and number of coins they own.
The most lucrative assets to hold are stablecoins. For example, check out the rates being offered by Gemini. Notice the ones with the highest APRs are stablecoins.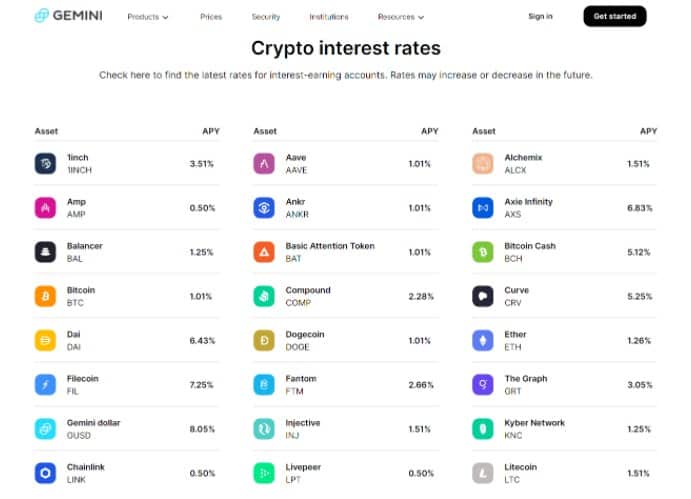 For reference, many crypto interest accounts will also pay for the use of more popular assets like Bitcoin and Ethereum. However, the rates are not nearly as high.
Where To Get The Best Stablecoin Interest Rates
Over the past few years, many crypto exchanges have expanded their product line to include interest-bearing accounts. Some of the most popular ones include:
Note that each platform has its own rules about liquidity. There may also be some fees included for making withdrawals that should be considered.
Why Do Crypto Platforms Pay Such High Interest?
If you're wondering why or how these crypto platforms are able to pay such high rates of interest, then you have every reason to be skeptical. At a time when the average bank pays somewhere around 0.06 percent, how in the world can some of these companies offer yields of 10 percent or higher?
The first thing to understand is these are not savings accounts. That's a point that's worth repeating: Crypto interest accounts are not the same thing as a bank savings account.
Essentially, a crypto interest account is an agreement between you and the crypto exchange platform allowing them to borrow your assets. The idea is that they will lend this money out to people who which to borrow it, make money off of these borrowers, and then share those profits with you.
How Crypto Interest Is Made
To better understand how crypto platforms make their money, let's return to our earlier traditional banking example. Banks earn money by making mortgages, business loans, and other loans. They borrow cheap (paying depositors almost nothing), issue loans at 3 percent, can keep the difference.
Effectively, crypto platforms are doing the same thing. However, the major difference is that because centralized finance doesn't deal in crypto, there are only a few reputable companies in the world that can offer this service.
So who wants to borrow crypto and why? This can range from retail customers (like you and me) to large-scale institutional traders (such as hedge funds). The idea is that they wish to leverage their returns by investing as much as possible on the coins that they believe are going to prosper.
Additionally, businesses seeking capital through DeFi might also borrow from these platforms. Not only is it easier, but there's also less red tape than going through traditional channels of borrowing.
While all of this may sound good, there is one major caveat to crypto borrowing: zero government oversight. In a nutshell, investors are running on faith that these companies are operating in their best interest, and that's got regulators very worried.
Stablecoin Interest And Government Intervention
Given the popularity of crypto interest accounts, it didn't take long before they caught the attention of the U.S. Securities and Exchange Commission (SEC). For several months, regulators have been taking action against many of these platforms, and recently they just made a landmark settlement with the most popular one: BlockFi.
BlockFi is Ordered to Pay $100 Million
On February 14, 2022, the SEC charged BlockFi with failing to register the offers and sales of its retail crypto lending product. In a first-of-its-kind action, the SEC also charged BlockFi with violating the registration provisions of the Investment Company Act of 1940.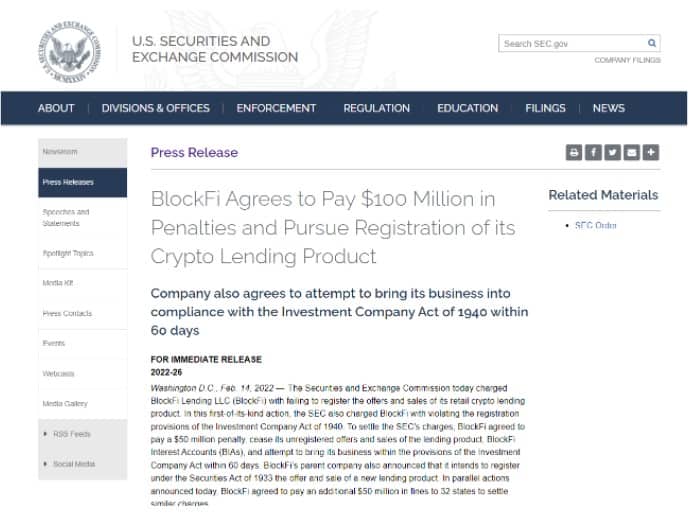 To settle the SEC's charges and pay fines in 32 other states, BlockFi has agreed to pay a massive $100 million in penalties and fees. In addition, they agreed to discontinue offering their BlockFi Interest Account (BIA) to new U.S. customers.
What Are Regulators Worried About With Stablecoin Interest Rates?
In addition to failing to register with the SEC, there were allegations that BlockFi made "false and misleading statements" on its website that their crypto loans were over collateralized. Collateralization is when banks ask for an asset that they get to keep if the loan goes bad (such as how a bank will repossess your home or car if you fail to make payments). According to the SEC, less than a quarter of BlockFi's loans from May 2019 through June 2021 were actually over collateralized. 
Why so much interest in crypto? The bigger picture here is that the SEC is trying to avoid a potential financial disaster. 
If there was ever to be a major default on these crypto loans, then it could cause the collapse of the platform or even the destabilization of stablecoin values. Such an action would not only disrupt the crypto industry, but it could also have a ripple effect on the traditional financial markets and possibly throw the whole economy into a recession.
That may sound pretty extreme, but it's happened before. Think about the subprime mortgage crisis that brought on the Great Recession of 2008. Banks lent money to people who couldn't afford it, and when they couldn't repay their loans it brought devastation to almost every industry.
What's Next For BlockFi?
While $100 million is no small slap on the wrist, BlockFi's CEO and founder Zac Prince seems to be taking it positively. In a written statement, Prince said that "the settlement provides regulatory clarity for other crypto lenders. Today's milestone is yet another example of our pioneering efforts in securing regulatory clarity for the broader industry and our clients, just as we did for our first product – the crypto-backed loan."
In the short term, BlockFi has stopped offering its BIA to new U.S. customers. Existing account holders will be grandfathered into the plan but cannot make any additional deposits. Also, if they make any withdraws from their BIA accounts, then they can't transfer the money back in.
Going forward, BlockFi said it will apply with the SEC to register a new crypto savings product called BlockFi Yield. Similar to BIA, this will allow customers to accrue interest on their digital currency holdings while complying with government regulations.
There has not been any date as to when the application for BlockFi Yield will be submitted. There is also no guarantee that it will be approved by the SEC. However, BlockFi is optimistic.
Can I Still Open a Crypto Interest Account?
Despite BlockFi being hit with such a major penalty, several other platforms such as Gemini and Celcius continue to offer crypto interest accounts. However, regulators are on to them as well. 
In the case of Celcius, the SEC recently sent them a cease and desist order. Nexo and a handful of other crypto companies have also been ordered to shut down by New York.
Many in the industry are waiting on the sidelines to see where things go. Last year when Coinbase had plans to launch their version of a crypto interest account called Coinbase Lend, the program was canceled after the SEC warned they would be fined. For the time being, it seems the future of products will look different than they do today.
Investing Wisely in Cryptocurrency
No matter how safe an investment seems to be, it's always wise for an investor to consider all of the possible risks and possible outcomes. Below are a few risks to consider before investing in cryptocurrency and stablecoins in particular.
Crypto Interest Accounts are Not FDIC Insured
While it may seem on the surface that a crypto interest account is the same as a saving account, again, it's not. Any money that you put into it should be considered an investment, not a guaranteed return of principal.
Traditional bank accounts are FDIC insured up to $250,000 per depositor. This means if for any reason the bank fails that account owners will be reimbursed by the federal government. 
However, crypto accounts do not qualify for FDIC insurance. If the stablecoin or crypto loses value in the market, then it will be at the risk of the investor. Therefore, just like stocks, investors should only put as much money into a crypto account as they are comfortable losing.
Crypto Coin Risk
While many of the major stablecoins claim to be backed by physical reserves or are seeking government compliance, there will be others that don't. In fact, some coins may not even be around in the next five years.
For that reason, investors need to be diligent about which assets they choose to invest in. Research the stablecoin before investing and definitely don't chase it just because some platform is offering an interest rate that seems too good to be true.
Crypto Platform Stability
Investors also need to be wary of the platform they choose to use. Because of the popularity of crypto interest accounts, many new exchanges are popping up online all of the time. However, some might not be based in the U.S. or follow government regulations which could be problematic.
In some cases, a few sites may not even be legitimate and designed to defraud you of your crypto. Before transferring tokens or sharing bank information, investors should do their homework to make sure that the platform is reputable. 
Government Intervention
As we saw with BlockFi, the SEC made an example of them to the rest of the crypto industry that failure to comply as registered securities would not be tolerated. However, SEC intervention could be just the tip of the iceberg.
For some time now, the Federal Reserve has hinted that it may create its own version of a digital currency: the Central Bank Digital Currency (CBDC). If that were to take place, it's possible that the government may no longer allow the use of stablecoins and other cryptocurrencies. This would send investors into a panic and spark a major sell-off.
Cryptocurrency Taxes
For the time being, the IRS is treating most cryptocurrency trades like capital gains earned from the sale of stocks. However, this could change at any time as regulators look to tighten crypto trading activity.
If you do happen to have a crypto interest account and earn some interest, remember that it counts as taxable income according to the IRS. Despite this fact, many crypto exchanges are not required to send account owners a 1099-INT tax form.
Unfortunately, it will be up to the account owner to record these interest payments and establish the fair market value (FMV) of their interest received. For the most accurate information, consult a tax preparation professional.
Does Stablecoin Interest Belong in Your Portfolio?
Investing in cryptocurrencies can be lucrative, but not everyone will be comfortable with its wild price fluctuations. People who are looking for a more reliable way to make money off of crypto can invest for stablecoin interest. 
Stablecoins are digital assets whose values are pegged to fiat currencies such as the U.S. dollar. Although they're primarily used as a go-between for crypto trades, stablecoins are also are used for DeFi smart contracts.
Many crypto platforms have discovered that there's big money to be made if they loan out assets to interest borrowers. As a result, account owners who agree to this are paid handsomely for what's been called crypto interest accounts. Particularly for stablecoins, some of these platforms pay 8 to 12 percent annually; a yield that's well above and beyond what a traditional bank offers. 
While this may seem lucrative, regulators are urging investors to use caution. In a recent landmark settlement, BlockFi was ordered to pay over $100 million in penalties and cease allowing any new U.S. users to open an interest account. While BlockFi plans to replace it with a new SEC-approved product, the message is clear to the industry that regulation will be tightening.
The bottom line is that while stablecoin interest may seem like a sure thing, it's not completely risk-free. It's an investment just like any other where there's a potential that you may lose principal. This is not meant to discourage people from investing in crypto interest but rather to be conscious of what they're agreeing to and understand the possible consequences.