Disclaimer
We only endorse products that we truly believe in. Some of the links below may earn us some extra guac at no additional cost to you. Please pass the chips & thank you for feeding our habit.
As the buzz surrounding cryptocurrency continues to flourish, more and more people want in on the action. However, something many of these investors may not realize, especially if this is their first time dealing with appreciable assets, is that any money you'll earn could trigger a tax bill to the IRS.
According to a survey from CoinTracker, 40 percent of U.S. crypto investors didn't know that they'd have to pay taxes on their trades. In fact, 96 percent of the same respondents said that as of March 27, 2022, they still hadn't filed their taxes due to confusion about the rules surrounding the treatment of crypto.
Nevertheless, the message from IRS Notice 2014-21 is clear: Cryptocurrency is considered to be property and owners must report any gains or losses.
Just like stocks, investors are required to pay taxes on crypto each time they complete a trade and earn a profit. In addition, anyone who received interest or wages in the form of crypto will also need to report it as taxable income on their federal return and pay the applicable tax rate.
Understandably, regular taxes alone can get pretty complicated. That's why in this post we'll try to keep things as simple as possible by breaking down what counts and what doesn't when it comes to taxes on crypto.
How To Prepare For Taxes On Crypto
Whether an investor just started trading crypto last year or they've been at it for a while, there are a few basic steps they can take to prepare for their federal filing and determine if any of their investment activity qualifies as taxable events.
Download Tax Statements From Your Crypto Exchange
The first place to start is by getting any official tax forms from the exchange where you buy and sell your crypto. This may include:
Form 1099-B which details how much you've gained or lost

Forms 1099-MISC or 1099-NEC if you earned crypto in other ways (such as interest) 
Most reputable exchanges will produce these forms automatically and send them to you. For instance, Coinbase, one of the largest and most well-known platforms in the U.S., provides its users with statements containing summaries of all the pertinent tax information. Learn how to download your 1099 from Coinbase here.
Note that even if you use an exchange that doesn't provide you with any tax forms, you're still legally required by the IRS to report any taxable events. Fortunately, this can be done either by compiling the information yourself or with the help of a qualified tax professional after downloading your transaction history.
Review Your Transaction History For Completed Trades
Alongside your tax forms, it's a good idea for an account owner to scan through their transaction history and make sure it aligns with what will be reported to the IRS.
When it comes to trades, just like stocks and ETFs (exchange-traded funds), the account owner will want to look for two things:
When they bought an asset and how much they paid in equivalent U.S. dollars (USD). This is called "basis".

When they sold the asset and how much they earned or lost in equivalent USD. The difference between what they sold it for and what it cost will be either a "gain" or "loss".
In order for a trade to be considered a taxable event, it needs to have completed both 1 and 2 above. This is the difference between what's called unrealized and realized gains. In short, realized gains are taxable whereas unrealized gains are not. 
Unrealized gain – Crypto that was bought but not yet sold does not get reported.

Realized gain – Crypto that was bought and then sold this year does get reported.
Here are a few real-life examples. Suppose you bought one bitcoin back in January 2020 for around $8,000.
If you sold your bitcoin in November 2021 when it peaked at around $65,000, then you'd have a realized gain of $53,000 and would owe taxes on this event.

If you did not sell your bitcoin at all in 2021, then you'd have an unrealized gain of $40,000 since your bitcoin was worth $48,000 at the end of 2021. This would not be a taxable event since you still have yet to sell it.

If you traded your Bitcoin during 2021 for another crypto such as Ethereum and the trade was worth the equivalent of $40,000, then you'd have a realized gain of $32,000 and would owe taxes on this event. 
Again, the tax forms from your crypto exchange should provide you with a summary of this information. But in case they don't, you'll want to comb through your transactions and determine which gains are realized.
Have You Received Any Crypto Interest?
Investors who received interest payments in the form of crypto will also need to report these earnings on their federal income tax returns. Payments should be converted into their equivalent USD value at the time of the transaction.
Until earlier this year, crypto interest accounts were all the rage among investors looking for high-yield alternatives to savings accounts and CDs (certificates of deposit). However, the SEC sent a shockwave through the cryptocurrency industry when they fined the popular exchange BlockFi $100 million for the marketing of their interest accounts that they labeled as misleading. Although BlockFi discontinued their interest accounts, many other companies such as Gemini continue to offer them.
Another way investors will also earn interest from crypto is through another popular strategy called staking. Staking is when a validator puts up their crypto to be selected for P.O.S. or "proof of stake" and validates the next blockchain of transactions. Because validators need more crypto than they own to stake, investors will lend them their coins in exchange for a cut of the crypto they'll earn.
Were Your Wages Paid In Crypto?
Finally, if you were paid in crypto by an employer or working as a freelancer performing a side gig, then it will count as taxable income. Collect any financial statements, transactions (i.e., PayPal), or even emails that can be used to validate these payments and their equivalent USD value.
What Crypto Earnings Do I Report to the IRS?
After receiving your tax forms from the crypto exchange and reviewing your transactions, you're ready to start entering the information into your federal tax return. Here's what you'll need to do next.
General Crypto Activity
Near the top of IRS Form 1040 where you enter your personal information, you'll also notice a line that says: 
At any time during the year, did you receive, sell, exchange, or otherwise dispose of any financial interest in any virtual currency? – Yes or No
Whether you do your taxes manually, online, or with a tax preparation service, you are expected to answer this question honestly.
In a nutshell, if you bought, sold, traded, or earned crypto as interest or wages, then you should check "Yes" to this box. However, you can answer "no" if you did any of the following: 
Bought crypto before 2021 and just held onto it throughout the year

Transferred crypto from your exchange into a digital wallet (this is not considered the same thing as a trade)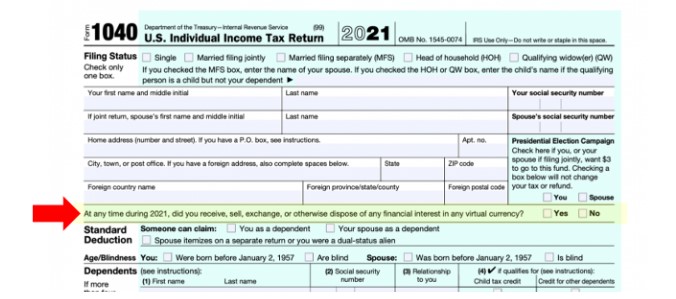 Realized Capital Gains
Again, any money you made from the sale or trade of crypto has to be reported to the IRS as a realized capital gain. This should be summarized in the tax statements you'll receive from the crypto exchange.
Note that when it comes to the tax rate that will apply, the IRS differentiates between short-term and long-term capital gains. Just like with stocks and ETFs, the difference between the two are as follows:
Short-term capital gains are the profits made from assets that were held for one year or less. They are taxed at ordinary income rates (i.e., the same rate your paycheck is taxed at).

Long-term capital gains are the profits made from assets that were held for more than one year. They are taxed at a more favorable "

capital gains tax rate

".
For instance, a single filer who is already in the 22 percent tax bracket and earned a short-term capital gain of $50,000 might bump up into the 24 percent tax bracket. However, if that same $50,000 was a long-term capital gain, then the IRS would charge them a more favorable 15 percent tax rate.
Interest And Wages
If you earned any interest or wages, then these should also be reported as taxable income to the IRS. These earnings will be taxed as ordinary income according to your applicable marginal tax bracket. Again, these transactions should be converted to their corresponding USD value at the time of the transaction.
Crypto Staking
Generally speaking, investors who staked their crypto during 2021 are being advised by tax preparation resources to consider staking rewards as ordinary income per IRS guidelines. However, it's worth noting that one unique staking case could change the way staking gets taxed in the future.
This all has to do with a couple from Nashville known as the Jarrets who filed a complaint in 2021 after their amended return for a refund of $3,793 went unanswered by the IRS. In their amendment, they argued that the staking rewards they originally claimed as income should have never been included because they had not realized them yet through a sale. Ultimately, the IRS issued the Jarrets their requested refund.
This case has profound implications for crypto stakers all over the world because if the IRS made this their universal policy going forward, then stakers could essentially earn crypto and defer the taxes on them indefinitely. The IRS has yet to issue an official position on how they will define crypto staking rewards going forward.
For now, many experts assume that this was likely a one-time situation due to the relatively low payment amount of $3,793. Until the IRS makes its position crystal clear, stay on the safe side and assume that crypto rewards should be treated as ordinary income.
How To Reduce Your Crypto Taxes
Investors who have been fortunate enough to invest in a cryptocurrency that's increased in value or even multiplied several times over need to be careful about what they do next with their investment. Making the wrong move could trigger tax consequences that they'd probably rather avoid.
Here are a few tips on how to keep your crypto taxes to a minimum.
Don't Cash Out (If You Don't Have To)
Remember – a trade is only taxable after you sell the asset that you invested in. So as long as you buy and hold on to your crypto (or HODL – hold on for dear life – as crypto enthusiasts say), then you won't have any realized gains.
Note with speculative investments, if the market rises to a price you feel is in your favor, then it absolutely makes sense to sell at that moment. For example, if you bought Bitcoin at the start of 2021 and then somehow predicted you should sell during the November peak, then you would have made a much larger gain than your peers who sold it at the end of the year after the price came back down. This all depends on your style of investing.
In the absence of all other influences, try to wait more than one year to sell your crypto. That way you'll pay lower long-term capital gains.
Minimize Your Trades
If you buy or are paid in one type of crypto but then later decide to trade it for something else, again, think strategically. The sale of crypto triggers a taxable event, even if you didn't convert it back to USD. Again, if the gain is significant, then try to wait at least a year so that you'll pay fewer taxes on it.
Tax Harvest Your Losses
Did you lose any money on your crypto investments? If so, that lost capital could be used to offset the taxes you owe on your winners using a strategy called tax-loss harvesting.
Tax-loss harvesting is a commonly used strategy by investors where losses (up to $3,000 per year) are subtracted from gains to effectively lower your taxable income. For instance, if you made $5,000 from the sale of crypto but lost $3,000 on another crypto, then your taxable gains would be the difference of $2,000.
If you lost more than $3,000 for a given tax year, then you are allowed to carry the additional losses forward to later tax years (up to the same $3,000 limit). To do this properly, be sure to keep good documentation and use the assistance of a tax professional.
Don't Count On Like-Kind Exchanges
If you're familiar with a strategy known as a "like-kind exchange" and were hoping to use it with your crypto, unfortunately, the IRS says no.
The classic use of a like-kind exchange is when a real estate investor sells a property, earns a profit, and then uses those gains to buy another similar property. By doing this, the investor is basically deferring their capital gains tax until the sale of that next property – or indefinitely for as long as they can continue this cycle.
Crypto enthusiasts were hoping that the IRS would allow similar swaps when exchanging one cryptocurrency for another. However, the IRS has limited the definition of property to physical property. Therefore, digital assets don't count for like-kind exchanges.
Best Way To Prepare For Taxes As A Crypto Investor
If you dealt with cryptocurrency last year, then yes, the IRS wants to know about it. Investors are required to pay taxes on crypto every time they profited from a trade or earned it as interest or wages. From the government's perspective, Bitcoin and other digital assets are considered to be property just like any other financial assets you might already own.
The best place to know if you owe any taxes on your crypto is to start with your exchange's tax forms. If they don't provide them, you can also download your transactions and review them manually with a tax professional to see if you had any taxable events.
A standard taxable event is anytime a trade starts and ends. In other words, you bought crypto and then sold it for a profit (called a realized gain). Crypto that you've bought and has gone up in value but hasn't been sold yet is not taxable (called an unrealized gain).
Other taxable events are when you received crypto as interest or wages. For reporting on your federal tax return, don't forget to convert the value into USD at the time of the transaction.
Just like stocks, you can minimize the amount of taxes you owe by holding off on trading your crypto for more than one year so that it will be taxed more favorably as a long-term capital gain. You're also allowed to offset your gains with up to $3,000 of losses from crypto you sold at a lower price than what was paid.
Overall, taxes are a complicated topic not to be taken cavalier since it can result in penalties if reported incorrectly. If you have any questions or doubts, work with a reputable tax professional who understands digital assets.
Knowing how to properly apply the IRS rules should be done in a way that allows you to legally pay your taxes in the most favorable way possible.