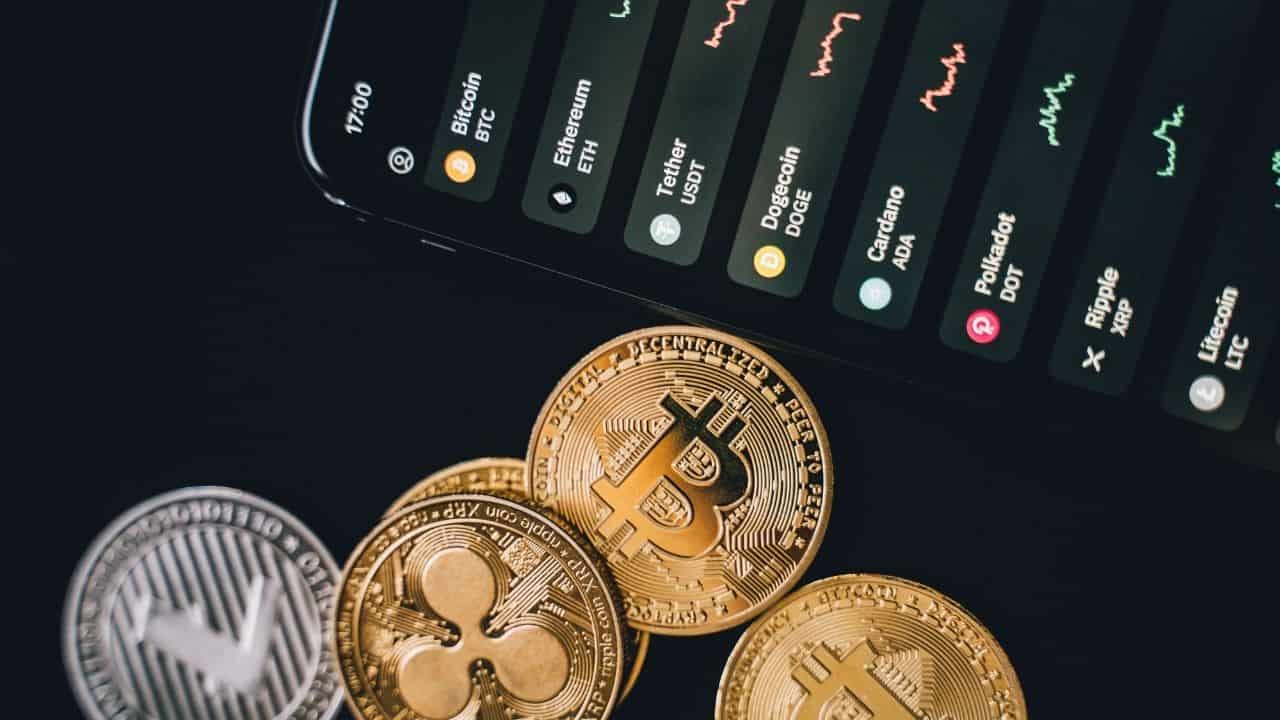 Disclaimer
We only endorse products that we truly believe in. Some of the links below may earn us some extra guac at no additional cost to you. Please pass the chips & thank you for feeding our habit.
Are you ready to enter the wonderlands of crypto investing? Or are you still just peering down the rabbit hole with crypto curiosity? Either way, our list of the top 10 crypto exchanges for 2022 should help to illuminate the darkness and make crypto investing a bit more welcoming.    
As always, step one in any investment journey is to DYOR (do your own research). Before you jump, take some time to learn what cryptocurrencies are and why folks are investing in them. You might want to poke around at these articles before attempting to digest this list of top cryptocurrency exchanges for 2022. 
Go ahead, we'll wait.
Okay, so you understand crypto enough to get started. And you understand that cryptocurrencies are highly speculative and oftentimes volatile investments and this article isn't investment advice. 
The next leg of your quest is to identify the ideal crypto exchange application for your level of experience and investing or trading style. Fortunately for our valued Minority Mindset readers, we've done some initial research on your behalf to get this ball rolling.
What Is A Crypto Exchange? 
If you've come this far, then you're probably at least somewhat familiar with the idea of a crypto exchange. For those who are not, before we get into the top 10 crypto exchanges for 2022, let's review. 
Simply put, crypto exchanges are very similar to stock brokerages. However, instead of, or in addition to trading in stocks, they allow clients to trade cryptocurrencies and tokens. 
Unlike stock brokerages which only trade stocks for cash and not for other stocks, crypto exchanges let users tade one crypto for another.
What's Not A Crypto Exchange?
Not all crypto brokers qualify as "crypto exchanges." Banking apps such as PayPal and Square come to mind. These apps don't let users withdraw crypto to a cold wallet or trade it for other assets. And they only offer a few coins. 
Two Types Of Crypto Exchanges
There are two different types of crypto exchanges: 
Decentralized

crypto exchanges (DEX) 

Centralized

crypto exchanges (CEX) 
DEXs are decentralized autonomous organizations (DAOs). They run directly on blockchains. They're not usually beginner-friendly. They offer no customer service. DEXs should only be used by expert crypto traders. And we're assuming that if you're reading this article, that's not you. So we won't delve into those here. 
Centralized exchanges are more like traditional banks. CEXs are privately held companies rather than DAOs. They offer some level of customer service. They also keep their own ledgers; accounts are not connected directly to crypto blockchains. 
For this beginner-friendly article, we're going to focus on CEXs – centralized crypto exchanges.
Top 10 Crypto Exchanges for 2022:
Now let's delve into the world of crypto investing and trading and talk about the good, the bad, and the ugly of our picks for the Top 10 Crypto Exchanges for 2022.
1. Coinbase


Coinbase is the go-to application for most crypto newbies. Coinbase has more than 43 million users in over 100 countries and offers over 100 cryptocurrencies and tokens. It boasts more trading features than crypto brokers such as Robinhood while still maintaining ease of use. 
One of the reasons that Coinbase is popular with total newbies is that it offers free crypto to learn about a handful of cryptocurrencies. (I was able to earn about $32 worth of free coins by going through a handful of short tutorials.)
Coinbase also has both desktop and mobile versions of its application. Coinbase's premium (paid) application, Coinbase Pro offers robust trading tools and more tokens than their free platform.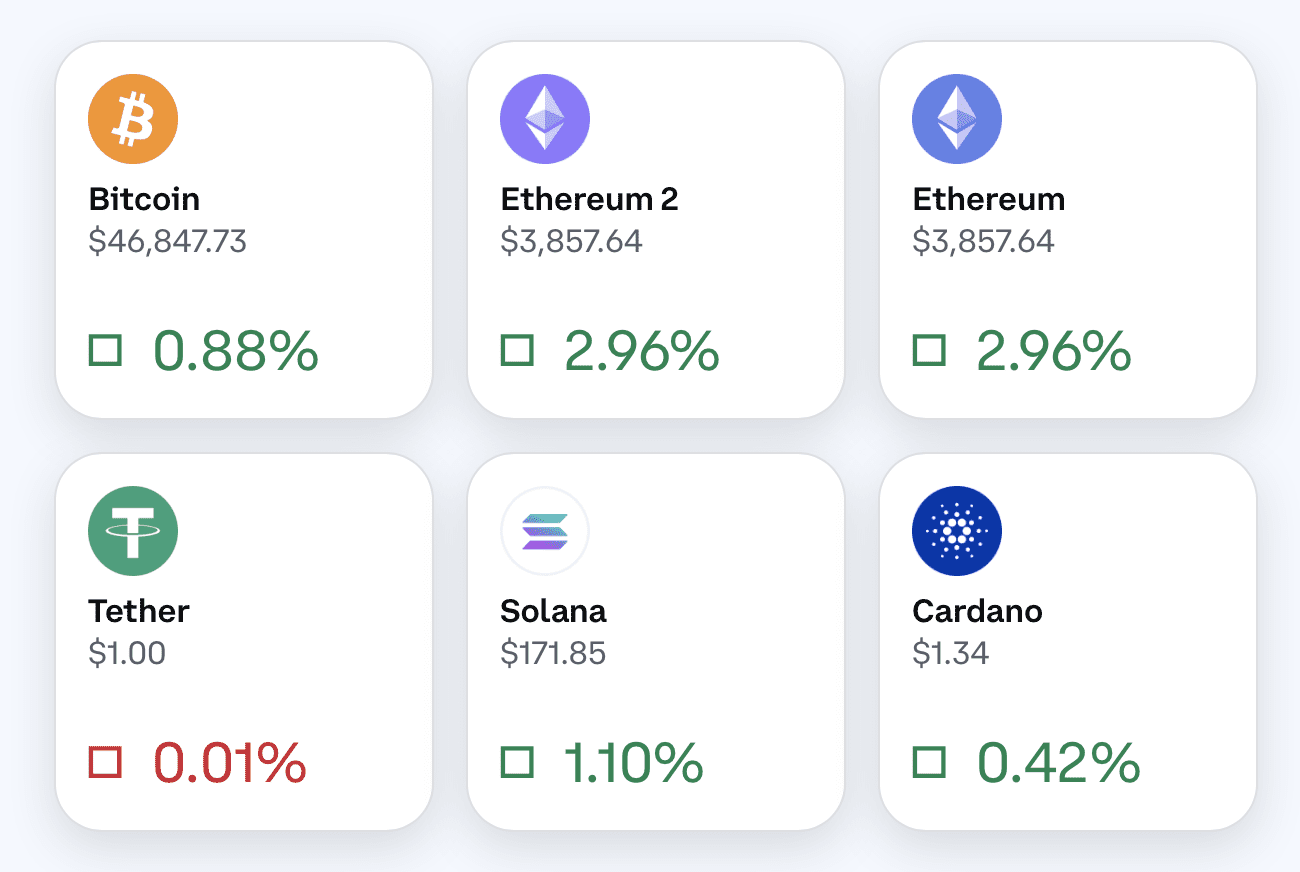 Coinbase's Superpower
Coinbase is a publicly-traded company and one of the largest crypto custodians on the planet. It keeps 98% of its assets in cold storage to assure its clients' funds are secure. 
Coinbase's Weakness
Coinbase's fees are higher than those of some of its competitors making it prohibitively expensive for active traders. However, Coinbase Pro subscribers pay lower fees. 
2. BlockFi


BlockFi is second on our list of the Top 10 Crypto Exchanges for 2022, but not for lack of quality. BlockFi is actually a step up from Coinbase in terms of sophistication. 
One of BlockFi's best features is its BlockFi Interest Accounts (BIA). When you deposit assets into a BIA, you'll earn 8.6% on stablecoins and up to 6% on bitcoin. This makes BlockFi one of the best options for long-term crypto investors. 
BlockFi is better for users with some level of experience in trading crypto. You'll need at least a parochial level of crypto knowledge to make the most of it. 
BlockFi's Superpower
BlockFi's interest accounts are hulking and its trade fees are small. 
BlockFi's Weakness
We don't have much bad to say except that Interest account holders only get one free crypto and one free stablecoin withdrawal per month.
3. Robinhood


Robinhood is a favorite amongst amateur retail investors. Users of both a web and mobile app can trade NYSE, AMEX, and NASDAQ stocks and ETFs, plus a selection of seven longstanding cryptocurrencies including BTC, ETH, BCH, LITE, DOGE, ETC, and BSV.  
Experienced traders will tell you that Robinhood isn't the best place to trade. And, well, they're right. But if you're more of a hodler than a trader, and you don't want to have to deal with self-custody of your crypto, then Robinhood might be for you.
Best of all, crypto trades are fee-free on Robinhood. Robinhood also offers a debit card and 6% interest on cash balances which at least makes it a step up from PayPal.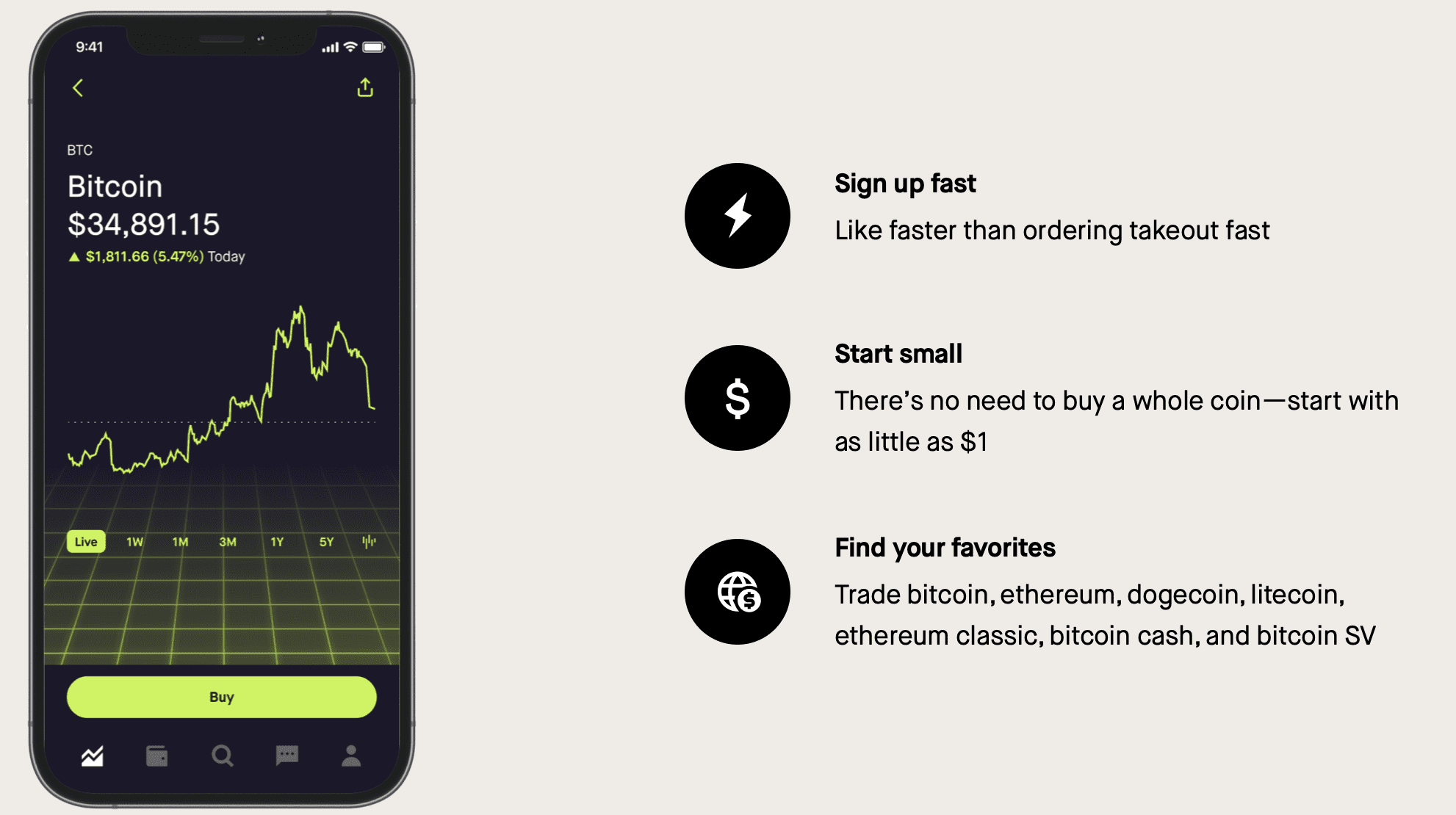 Robinhood's Superpower
Robinhood has one of the cleanest and easiest to use stock/crypto trading apps on the planet. It's hands down, the easiest app to use if you've never invested in anything in your life. 
Robinhood's Weakness
Robinhood's technical analysis tools are almost non-existent (although they do offer simple charts). Also, Robinhood does not allow crypto to be transferred to a wallet for self-custody.
4. Binance.US 


Binance is far more than just a crypto exchange. Binance offers advanced trading features and technical analysis tools you might find in top stock trading applications. Binance.US offers residents of most U.S. states a less robust version of Binance but includes trading pairs for 50+ altcoins and tokens. 
The chain's native token, BNB boasts a top-ten market cap and powers a wide array of DeFi capabilities. While Binance is a robust system, its interface is still intuitive enough for an intermediate-level crypto trader. 
Fees for spot trading on Binance.US are on the lower end. If you're a trader rather than just an investor, and you have some experience, then Binance is a good bet. 
Binance also scores highly for security. 
Binance's Superpower
The full version of Binance offers more than 300 different cryptocurrencies and tokens and the types of advanced trading features and technical analysis tools you might find in top stock trading applications.
Binance Weakness
Sadly, the full version isn't yet available to U.S. residents who are stuck with the fairly limited set of features and assets found on Binance.US. Moreover, the application won't accept residents of Connecticut, Hawaii, Idaho, Louisiana, New York, Texas, and Vermont. 
5. Voyager

Voyager is the winner of Benzinga's 2021 FinTech Awards for Best Software for Trading Cryptocurrency. Voyager is another CEX that offers interest-bearing accounts for stablecoins (up to 10%) and Bitcoin (7.4%). 
Voyager's coin selection is limited — but for a good reason. (See Voyager's superpowers below.) Though the selection is limited, there are enough assets there for beginning traders to get their ball rolling. 
Voyager's Superpowers
Voyager's algorithms aggregate prices from several exchanges to find the best rates on your trade. Also, trading is completely commission-free on Voyager. These two features add up to a big plus for lower volume day traders who need to squeak every point out of a trade.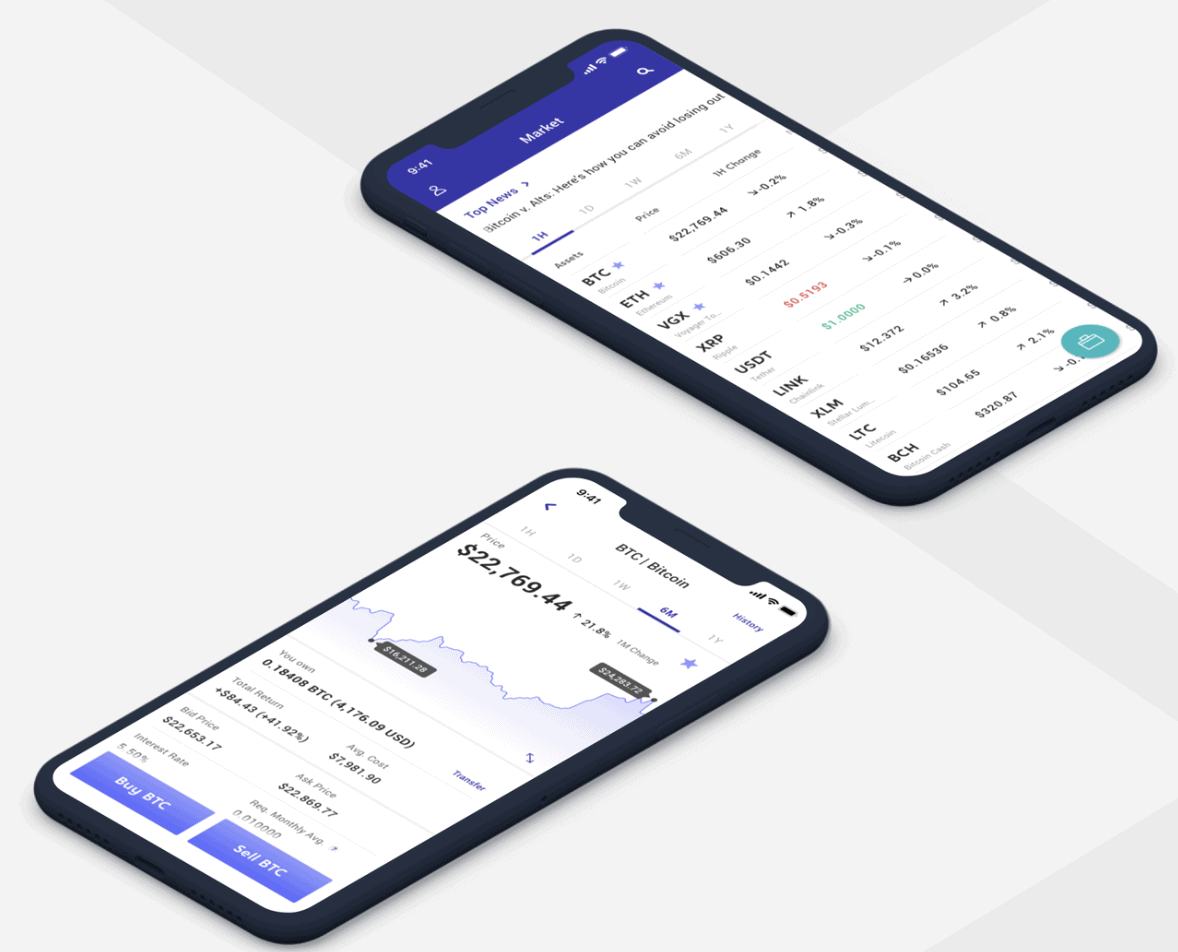 Voyager's Weakness
Voyager is only available in a mobile app. There's no desktop platform. Full-time traders might prefer to use a desktop computer.
6. Webull

We like Webull. Webull offers a web app, a mobile app, and a super-fast desktop app all of which include powerful technical analysis and stock screening tools pleasing even the most seasoned traders. For anyone who is familiar with the old-school Think-or-Swim stock trading platform, Webull is a great place to branch out into crypto-trading. 
No, Webull doesn't offer a large selection of crypto assets. But it does offer several larger-cap cryptos. 
If you plan to invest in stocks and also hold a few top cryptocurrencies, then Webull is just what the doctor ordered. However, 1% commissions on crypto trades might rule this platform out for many crypto day traders.
Webull's Superpower
Webull offers beginning traders a "paper trading" platform that lets users pretend-invest with proverbial Monopoly money. Paper trading is a great tool for learning on the street, so to speak. Once you're confident that you can beat the market by paper-trading, you can move up to the big leagues and put your money where your mouth is.
Webull Weakness
Although stock trades are commission-free on Webull, they do add a 1% fee for crypto trades. Also, you can't trade crypto pairs, you can only buy and sell crypto for cash. This means that you pay 1% to buy, another 1% to sell, and then another 1% to buy a different coin. Also, like Robinhood, Webull does not offer self-custody of crypto assets. You can't transfer them off the site to a crypto wallet. 
7. Crypto.com


Crypto.com is a great app for beginning investors looking to hodl, but not so much for traders. The most endearing feature for beginning crypto traders is the Crypto.com app's understated user interface. The app is similar to Robinhood in its simplicity making it a good choice for beginners. However, the lack of technical tools will be a deal-breaker for more advanced traders.
Another feature we like about crypto.com is that it offers more than 170 different coins and tokens and growing. That being said, however, some traders might be annoyed that they still can't find that obscure, currently mooning coin. 
Crypto.com offers a variety of fancy metal credit and debit cards. The cards offer nice bennies such as cashback and staking rewards. The more of Crypto.com's native token CRO that you stake, the more substantial the rewards. 
Fees can be high on Crypto.com if you're buying on credit (or debit), however, if you're not in a hurry you can do an ACH transfer to fund your account and pay no extra fees for trades. 
Crypto.com Superpowers
Crypto.com gets extra high marks for security as it was founded by some heavy-hitting cybersecurity tycoons. Crypto.com also offers interest-bearing accounts in which users can earn up to a very respectable 14% annual interest. 
Crypto.com Weaknesses
The app is a bit quirky in that its "charts" are a bit cartoony, the percent-in-price-change is measured over the past 24 hours rather than from a particular time zone, and the thumbnail charts don't even go back the complete 24 hours. These issues might make investing on Crypto.com confusing to some newbies. 
8. eToro

eToro is famous for its "social trading" system, as they call it, which allows traders to mimic the trades of popular crypto traders. If you're just not the DYOR type (but you should be), then auto-trading with CopyTrader might be your jam. Or you can use OpenBook for inspiration and make your own trades.
eToro's Superpowers
eToro's superpower is, by far, its CopyTrader and OpenBook features. Also, users earn $10 for signing up with a meager $250 balance. 
eToro's Weakness
Before you bounce on over to eToro, know that it only supports a couple of dozen cryptocurrencies.
9. Gemini

Gemini is another easy-on-the-eyes crypto trading mobile app that's a good choice for beginners. Gemini's coin selection is smaller than the big guys and bigger than the small guys at somewhere around 50 coins. 
Gemini's Superpowers
Gemini offers up to 8% interest on crypto balances, not just cash balances. This makes it great for stacking sats or altcoins. Also, unlike many other crypto exchanges, New York State residents are able to use Gemini. 
Gemini's Weakness
Gemini's fee structure can be confusing and might give spot traders a headache.
10. Kraken

Founded in 2011, Kraken is a very early mover in the crypto exchange space. Their lineup of assets is on the smaller side with under 100 coins and tokens. However, Kraken offers some hefty DeFI and trading features such as buying on margin. 
Kraken's Superpowers
Kraken has stood the test of time and is a favorite of some hard-core crypto traders. Kraken's security is also highly rated.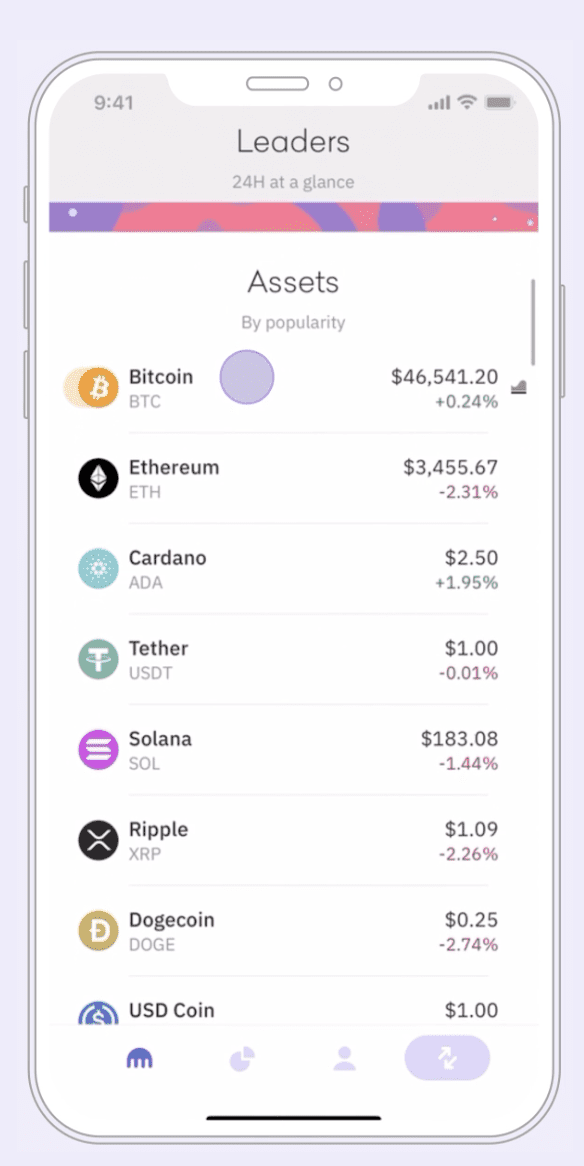 Kraken's Weakness
The complexity of the application makes Kraken a non-starter for beginners.