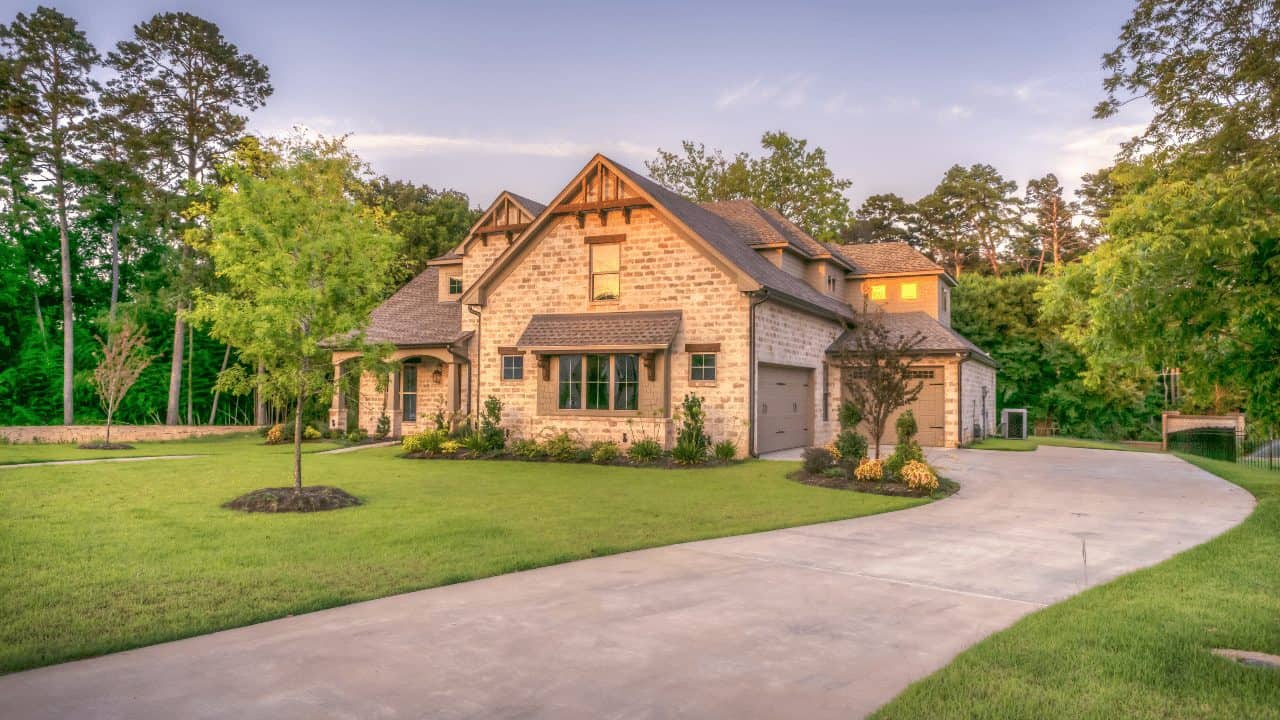 Disclaimer
We only endorse products that we truly believe in. Some of the links below may earn us some extra guac at no additional cost to you. Please pass the chips & thank you for feeding our habit.
Buying a home is exciting, but unfortunately, common mistakes new and even second-time homeowners make can sour the mortgage purchasing process and make you wish you never bought a home in the first place. 
There are a few tips I wish I would have known before I bought my first home so I could have avoided some mortgage buying mistakes.
Some of my mistakes included not saving up for a down payment, not calculating all unexpected expenses, getting into the wrong loan, and not properly budgeting first. 
By being well prepared before you purchase your mortgage, you can save thousands of dollars and prevent years of headaches over your mortgage loan.
Find the best mortgage interest rates at Credible.com! Get up to 10 quotes from vetted lenders in minutes!
We want to help prevent you from making common home-buying mistakes and set you up for a successful mortgage purchase. In this article, we will cover:
Not budgeting first

Not having an emergency savings fund

Shopping for your home before your pre-approved

Buying a house you can't really afford

Getting the wrong mortgage loan

Not considering closing costs

Purchasing a home without an inspection

Not calculating all expenses

Taking on debt before closing

Not saving for a down payment.

Buying in a seller's market

Not budgeting for moving expenses
Not Budgeting First
If you don't budget before getting a mortgage, you are setting yourself up for financial failure.
Do yourself a favor and create a budget to see if you are financially ready to become a homeowner before you consider purchasing a new home. To be approved for a mortgage loan, your debt-to-income ratio needs to be 36% or lower. 
Lenders apply the 28/36 rule when considering a mortgage loan. This means no more than 28% of your gross income should be spent on housing expenses, and no more than 36% of your income should be on debt services.
If it's not, you will need to pay down your debt before applying for a new mortgage.
I didn't correctly budget before I bought my home, and it caused some preventable mistakes.
I should have budgeted for an emergency fund to help with home repairs and vehicle repairs. I also didn't research personal property tax for our town and found out the hard way I have to pay city tax and county tax—ouch. 
Creating a budget can prevent you from getting in over your head and taking on more debt than you can handle. When making your budget, you want to include all living expenses and your new expenses you will acquire as a homeowner, such as: 
Mortgage Payment

Homeowners Insurance

Property Taxes

Utility bills

Landscaping

Home Repairs & Upgrades

Food

Credit Card loans

Student loans

Car loans
Not Having an Emergency Savings Fund
An emergency savings fund is money set aside for unexpected expenses and financial hardships such as a job loss, a broken-down vehicle, home repair, etc. The goal is to have 3-6 months of basic living expenses saved for these types of situations.
This may seem like a challenging goal to attain, but you can start with your first goal of $1,000 and grow from there. 
78% of Americans live paycheck to paycheck, which is a big problem if you are a homeowner. Unlike renting as a homeowner, you are responsible for all repairs. If something breaks, it can be very costly, and the last thing you want to do is rack up unnecessary debt because you didn't prepare. 
I had an issue with our plumbing and was quoted $150 an hour, including their drive time to get to my home!
Thankfully my husband was able to fix it, but this would have cost us thousands of dollars that we were not prepared for. Not having an emergency fund was a huge home-buying mistake I had made and do not want to make again. 
Having an emergency savings fund is an excellent safety net for unexpected expenses that will come your way as a homeowner. 
Shopping for your home before your Pre-Approved
The saying "don't put the cart before the horse" rings true when it comes to purchasing a home. It's easy to get excited and start shopping around before you even have financing, which can cause more issues.
You may be wasting time looking at homes before knowing whether you will be approved for a mortgage. 
By getting pre-approved, you will know how much home you can afford and will have an edge when shopping for your new home. Sellers will know that you are capable of getting approved, and you will likely land a contract faster with it than without.
Getting pre-approved is as close as you can come to prove your creditworthiness without a contract in place on a home.
Most pre-approvals are good for ninety days, making it easier to place a contract on a home, and getting multiple pre-approval letters within a few weeks shouldn't hurt your credit score, either.
You can get a rate quote for up to ten lenders at once at credible.com and then proceed to get pre-approved for your new mortgage. 
Buying a house you can't really afford
Some may desire to have a celebrity style home but don't have the budget to attain it. Just because you may get approved for a higher mortgage loan amount doesn't mean you can technically afford it.
Meaning you may be able to afford the payments but it may leave you what is known as "house poor." This is when you have just enough money to pay your living expenses but nothing extra for savings or emergencies. 
When searching for a new home, be realistic, and make sure your budget is stable with consistent income. With a more affordable home, you will save more money and prevent financial burden for yourself in the long-term.
Getting the wrong mortgage loan
One of the worst mortgage buying mistakes you can make is getting into the wrong mortgage loan. When shopping for a mortgage, you want to be sure to find the best lender, rate, and loan type that benefits your financial needs.
One of the most common mistakes is getting an adjustable-rate mortgage because the introductory rate may be better than a fixed rate.
However, once the introductory period ends, your interest rate can increase significantly depending on market rates at that time. This can cause your payment to increase so much you may not be able to afford it! 
This happened to my husband back in 2008, when the market crashed. In 2006 his lender suggested an adjustable-rate mortgage loan and said to refinance once the introductory rate matured.
The problem was the house appraised for $160,000 when the loan was originated; once the market crashed, it dropped to $60,000, preventing him from refinancing. Then the introductory period ended, and the rate doubled-making the payments unaffordable.   
Sometimes getting an FHA Loan or a Conventional Loan with a lower down payment may be a good option for you at first, but you will have to pay Private Mortgage Insurance which can cost thousands of dollars over the loan term and is a way for your bank to protect themselves in the case you can't make your payments.
However, if you save at least 20% for a down payment, most lenders won't make you pay PMI because you'll be seen as a responsible borrower.
Overall, you want to be sure to get the best rate & loan possible when shopping for your mortgage too. Getting a lower rate can save you a ton of money and make your monthly payments more affordable.
Purchasing a home when rates are high is a huge mortgage buying mistake, so make sure to set yourself up for success by choosing the loan that's built right for you and your new home. 
Not considering closing costs
With your first home purchase, you may be shocked to find out about closing costs. Closing costs are the fees associated with attaining your mortgage loan. The price of closing costs ranges from 2%-5% of the loan amount.
This adds up to thousands of dollars and you will either need to pay them along with your down payment or have them included in the loan. 
For instance, if your loan amount is $150,000, your closing costs can range from $3,000-$7,500, which is quite a bit of money. Remember if they are included in the loan, you will be paying interest on that money too.
The fees associated with closing costs are:
Origination fee

Application fee

Credit report fee

Appraisal fee

Title insurance

Title search

Underwriting fee
Forgetting about closing costs is one of the most frequent home-buying mistakes. You can prepare for this mistake by either saving up the money to pay for closing costs upfront or consider the expense of the closing costs if you include them into the loan. 
Another tip is to try to negotiate with the seller to pay some or all of the closing costs as an incentive for them to sell their home faster. It depends on how motivated the seller is on selling their home, but you don't know if you don't ask.
Purchasing a home without an inspection
Whether your lender requires it or not, you should always get a home inspection before purchasing your new home. Not getting a home inspection can cost you quite a bit of money if something is wrong with the home and you don't know it beforehand.
A home inspection will reveal any problems with the home you may be unaware of and can also be used as a bargaining tool when buying your home. 
You can use it to get the issues fixed or have the asking price reduced to compensate for the repairs that are needed. A home inspector will check the electrical systems, HVAC System, plumbing, structural components, foundation, and more.
It is essential to have a home inspection to ensure you aren't getting into a home that requires more repairs than you can afford. 
Not calculating all expenses
You may have created a budget for your new mortgage but did you consider all of the new expenses as a homeowner? Expenses such as homeowners insurance, property taxes, and HOA Fees need to be added to your budget. 
You may have a yard now and will have to purchase lawn equipment or pay someone to maintain your landscape. I didn't consider I needed lawn equipment to maintain our yard, and even though I purchased a used lawnmower, it was money I had not planned on spending. 
If your home is bigger than your previous residence, you may see an increase in your utilities and will also have to pay for set-up costs and deposits. This was an expense I forgot to include when I bought my house.
I had to pay deposits for electricity, water & sewage, and cable. The set-up costs for utilities racked up hundreds of dollars I didn't consider when I bought my home. 
Not calculating all of these expenses is one of the top home-buying mistakes and can add up quickly. These expenses need to be considered when purchasing your new home to prevent any financial mishaps from breaking your budget.    
Taking on debt before closing
One thing you should never do is, take on new debt prior to closing on your new mortgage. This mortgage buying mistake can cost you from getting that fabulous home you had a contract on because now your debt-to-income is over the 36% ratio.
Taking on debt also impacts your credit score and can cause your mortgage rate to increase. 
A friend of mine decided to get a personal loan right before he was going to close on his new house, and it actually prevented him from purchasing his new home! Once he took out the additional debt, it put his debt-to-income over 36% and prevented him from getting the mortgage loan. 
Being debt-free is ideal even after closing. Debt is expensive and can prevent you from saving money because you have to pay high-interest credit card payments or loans instead. If you want that new home do whatever it takes to prevent yourself from taking on additional debt prior to closing. 
Not saving for a down payment
There are loans available to those that don't have much of a down payment for their new mortgage; however, it's not always the best option. By not saving a down payment, you will not have as much equity in your home.
Having a larger down payment can increase the equity in your home and protect you from dips in the market. If you owe less on your home, if the market dips, it may prevent you from getting upside down in your mortgage. Which means you owe more on your home than it is worth.  
My first home loan was an FHA Loan and only required a 3.5% down payment. This was convenient at the time, but I didn't have much equity in my home, and I had to pay Private Mortgage Insurance until I refinanced my loan into a conventional mortgage loan.
I wish I would have saved a 20% down payment because I would have had more equity in my home and saved thousands of dollars in PMI costs.
Typically to prevent from paying Private Mortgage Insurance, you will need a down payment of 20% of the home's purchase price. With a 20% down payment, you will have a better loan to value ratio.
The LTV (loan-to-value) is what you will owe on your home after your down payment. For instance, if you purchase a home for $150,000 and pay a 20% down payment of $30,000, your loan will be about $120,000, about 80% of the purchase price. 
A smaller down payment makes your loan risky to lenders and may cause you to pay a higher interest rate.
A larger down payment equals more equity and makes your loan to value ratio better, and can qualify you for a lower rate mortgage loan. Saving up a down payment can help you from making this home-buying mistake and also save you money. 
Buying in a seller's market
A seller's market means that the demand for houses exceeds the supply of homes for sale. This can increase the prices of homes and gives the seller more power because there are less homes on the market.
This can result in bidding wars on homes and can leave you stuck paying more than you may have desired for your new home. 
If possible, it's best to try to purchase your home during a buyers market. In this situation, there are plenty of properties for sale, and the power resides with the buyer because there is less demand.
The prices of homes are more affordable, and you can prevent the mortgage-buying mistake of purchasing during a seller's market if possible. 
Not budgeting for moving expenses
This is one of the sneaky home-buying mistakes that is usually forgotten until it comes time to move. Renting a U-haul or vehicle to move your stuff to your new place can get pricey. Even if you have a truck or can borrow one from family or friends, you still need to factor in the price of gas. 
Other costs are supplies to pack up your beloved items. Boxes, tape, and bubble wrap add up. You can save money on these items by checking with friends and family for boxes or stores that may throw their boxes out after getting in shipments.
Order tape, bubble wrap, and packing peanuts from sites like eBay to save money too. 
Mortgage Mistakes Recap 
It may seem overwhelming when you start out on your new mortgage journey, but by taking the right steps, you can prevent making home-buying mistakes and get the right mortgage that benefits you most. 
Remember to take these steps to prevent making a mortgage buying mistake:
Make a budget

Build an emergency fund

Get pre-approved before shopping for your home

Buy a home you can afford

Get the right mortgage loan

Prepare for closing costs

Get a home inspection

Calculate all new homeowner expenses

Do not take on new debt

Factor in moving expenses

Save a down payment

Purchase during a buyer's market
Don't forget to find the best rate at Credible.com!
By taking the time to purchase your mortgage the right way and avoid mortgage buying mistakes, you can purchase your dream home and save thousands of dollars along the way.
Contributor's opinions are their own. Always do your own due diligence before investing.
*Advertisement from Credible Operations, Inc. NMLS 1681276, not available in all states. Click here for important information about Credible's licenses. Address: 320 Blackwell St. Ste 200, Durham, NC, 27701.
Keep Reading: